June is Pride month on Zwift, and a slate of events plus a fresh mission have just been announced. Here are all the details…
"Ride with Pride" Mission
Getting Started
To begin the Mission, select the mission card on your homescreen and click to register: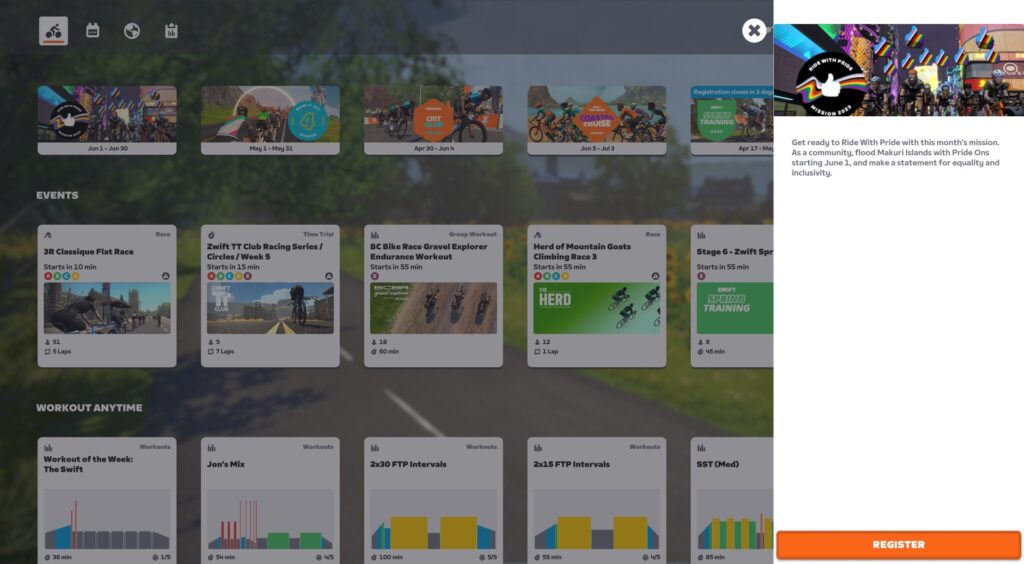 Once you've registered, clicking the mission card will show your progress for the Mission.
Note: signups opened last week in game, but the Mission doesn't begin until June 1st.
Completing the Mission
To complete the mission and earn the achievement badge, ride at least 250km total on Zwift during the month of June. You'll earn the "Ride with Pride 2023" badge upon completing the mission!
Pride On Events

Pride on Zwift is all about riding together, so Zwift has scheduled social Pride On rides and runs throughout the month. Rides and runs happen 4x daily at the following times: 1:30pm UTC/6:30am PDT, 6:30pm UTC/11:30am PDT, 12:30am UTC/5:30pm PDT, 6:30am UTC/11:30pm PDT.
This year's Pride events will be hosted on Zwift's Makuri Islands map, with events rotating between routes daily.
See all upcoming Pride On events at zwift.com/events/tag/prideon
AIDS/LifeCycle Rides
For over 30 years, AIDS/LifeCycle has worked to raise awareness to end the stigma surrounding HIV/AIDS and fund the fight against this global pandemic. Every spring, the organization hosts a 7-day bicycle trek from San Francisco to Los Angeles.
In addition, this year Zwift is hosting 3 days of social rides on Zwift to support their mission! These 45-minute rides happen on June 4, 8, and 10th at 3pm UTC/8am PDT.
Donate to support AIDS/LifeCycle >
Kit Unlock
Complete any Pride On event and unlock the Pride On 2023 kit and socks: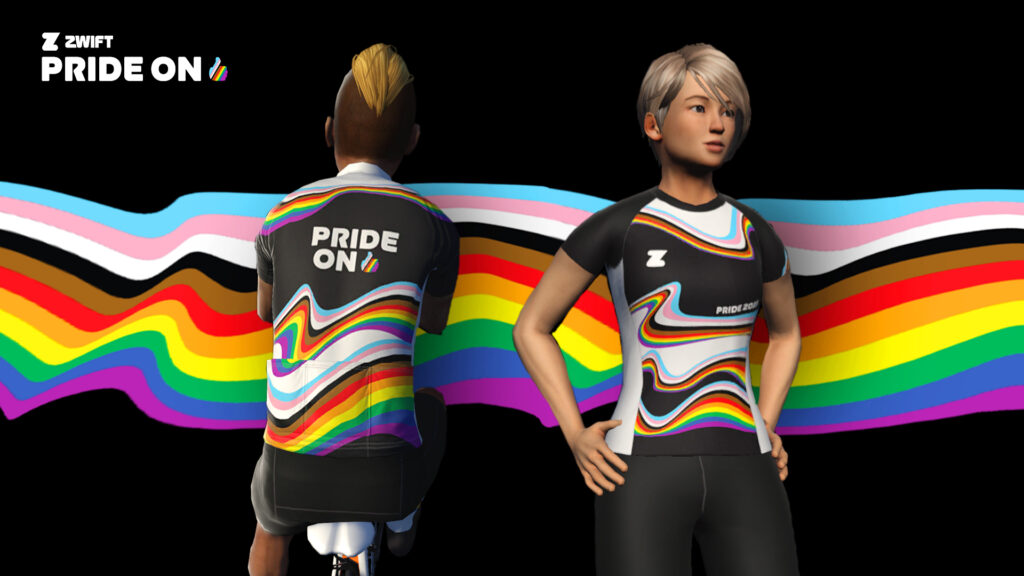 Questions or Comments?
See Zwift's Pride On homepage for more information, or you can always post your questions or comments below.