James Bailey and friends have been hard at work over at Zwift, testing and tweaking Pace Partners to dial in the best mix of bots, paces, routes, and events.
This week we're seeing a Zwift first: events led by Pace Partners. And they're heading up the Alpe! We've also got a pile of running bots on trotting around the 5k Loop, and some other changes. Let's dig in…
Alpe du Zwift Pace Partners
The biggest news this week is a series of test events happening every three hours this Wednesday, Thursday, and Friday (see upcoming events).
These events are held on the Road to Sky route and have 5 categories to choose from, each "led" by a Pace Partner at a pace that gets them up the Alpe du Zwift climb within a particular target time:
A – Andrew Alpinist – 4.0 w/kg – 49 minutes
B – Beth Baroudeur – 3.3 w/kg – 59 minutes
C – Christopher Climber – 2.8 w/kg – 69 minutes
D – Danielle Danseuse – 2.15 w/kg – 89 minutes
E – Émile Étape – 1.6 w/kg – 119 minutes
These events start at a lower pace so riders can warm up through the Jungle on the way to the Alpe. Warmup pace is just 1/2 of the climbing pace listed above.
If you're wanting to finally break that 1-hour Alpe mark, or just need a consistent pace set for another target time, give one of these test events a try!
These events have been set up thoughtfully. All categories are visible, and the faster groups start first. That means if you get dropped from your starting group, you'll have the next-slowest group just behind. Then you can choose your own adventure: try to stay away ahead of those chasers, or drop back and join the slower pace group.
Read "Fastest Climbing Bike Frames and Wheels at Each Zwift Level" for tips on the best bike for your record attempt!
Events include this note: These are Futureworks Events. Futureworks Events use functionality that we haven't officially released in full. This means that the event has been set up with our best possible endeavours to ensure that the pacing is as accurate as possible, but may not be 100% accurate.
5k Loop Runners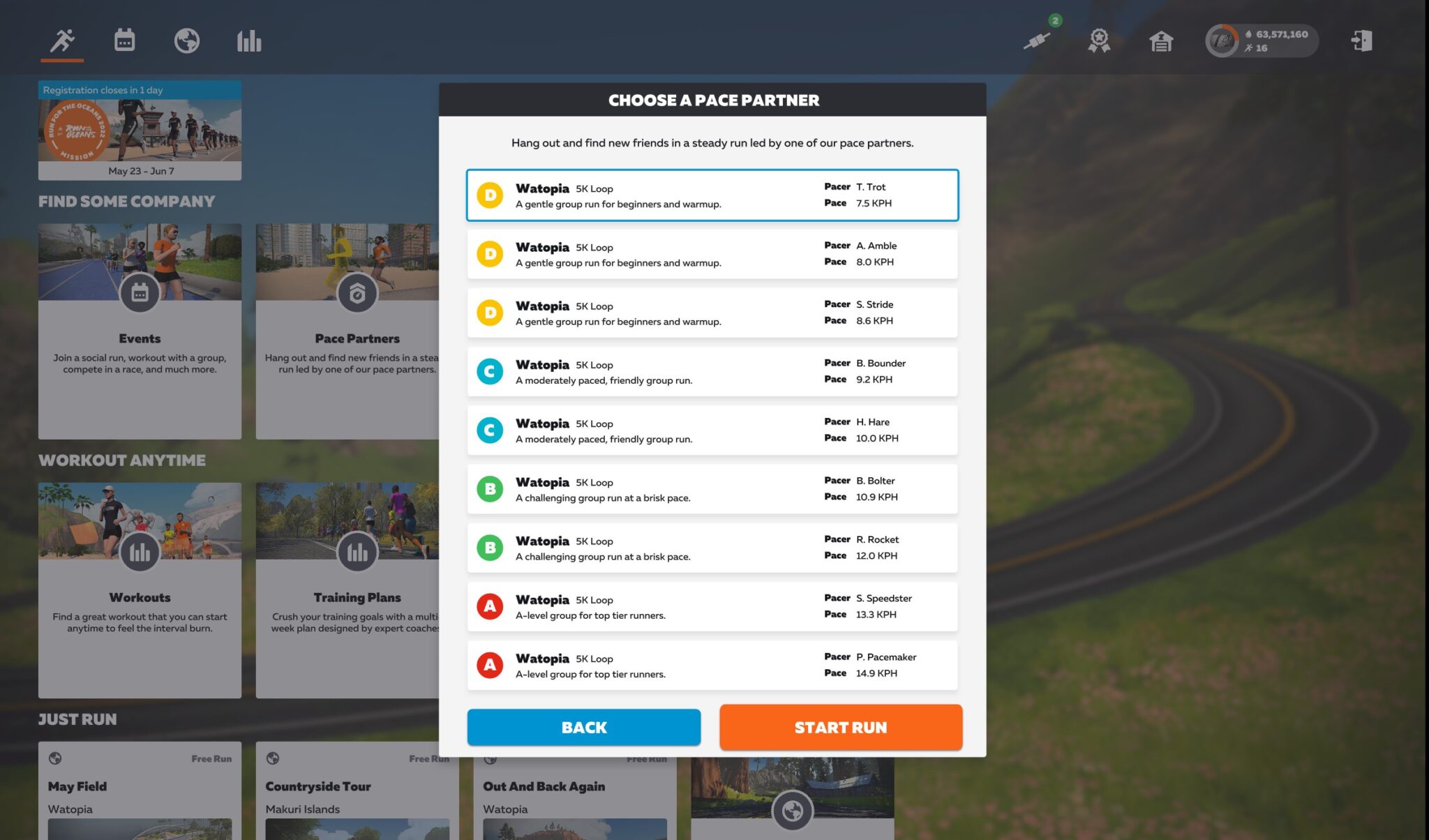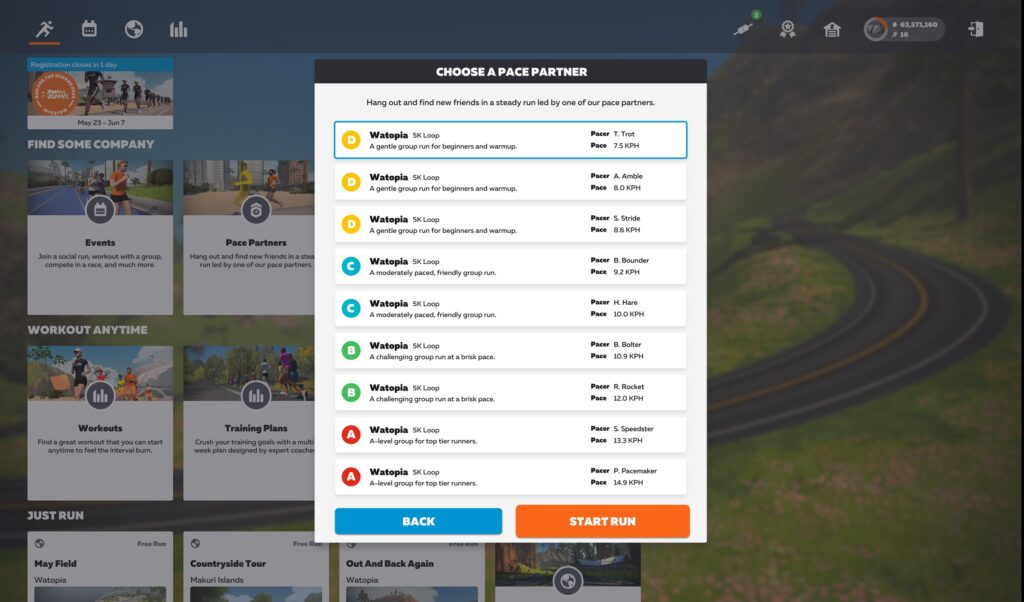 Nine new bots are now trotting along Watopia's 5k Loop at various paces, so if runners want a bit of company, there's a bot available:
Tracey Trot: 8:00/km
Albert Amble: 7:30/km
Sarah Stride: 7:00/km
Benito Bounder: 6:30/km
Hettie Hare: 6:00/km
Brendan Bolter: 5:30/km
Rebecca Rocket: 5:00/km
Stuart Speedster: 4:30/km
Patricia Pacemaker: 4:00/km
This Week's Ride Routes
James has also updated the riding routes for each Pace Partner this week:
Watopia:
Makuri Islands:
Bug Fixes
Two Pace Partner-related bugs have been fixed, according to James:
"We believe that we have fixed the issue that those on tvOS, iOS and Android were experiencing when trying (and failing miserably) to join a Pace Partner."
"Stealth Mode on the Epic KOM bridge should be fixed in our next release" (which should arrive in the next day or two).
Share Feedback
James is looking for feedback on the new Alpe du Zwift events, as well as the fresh running Pace Partners. He requests that you share feedback (and any questions) in one of these spots: