Jesper over at ZwiftHacks has found info on as-yet-unreleased new Watopia routes. Most of the routes seem to utilize all or part of the upcoming flat expansion, and there is definitely a focus on TT rides based on the route names alone (I discuss this more below.)
Here's a screenshot from ZwiftHack's excellent routes page: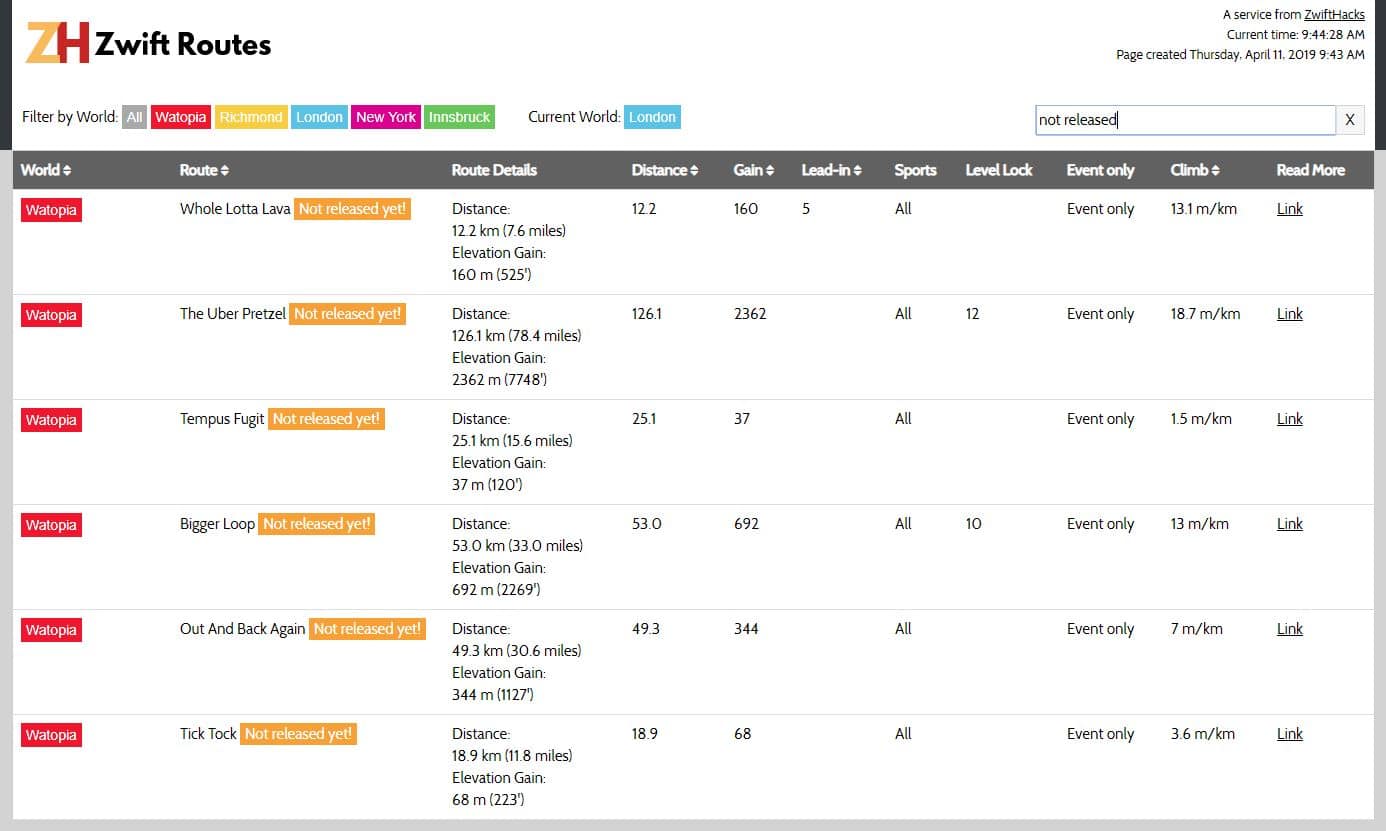 Whole Lotta Lava
12.2km (7.6 miles) long
160m (525′) elevation gain
5 mile lead-in
This route certainly involves the Volcano KOM, but since that KOM involves 414′ of climbing the rest of this route must be quite flat.
The Uber Pretzel
126.1km (78.4 miles) long
2362m (7748′) elevation gain
Level Lock: 12
Bigger even then Watopia's Mega Pretzel, this route adds nearly 20km and 700m of climbing to Zwift's longest route. My guess is this route will include everything in the Mega Pretzel, as well as the new flat route expansion being released soon (see notes below).
Tempus Fugit
25.1km (15.6 miles) long
37m (120′) elevation gain
This route was announced for the Tour of Watopia, so we know it will be available by May 6th. "Tempus Fugit" is Latin for "Time Flees" (aka, "Time Flies"), and is actually the name of some TT races we've had here in Northern California. So my guess is this is a TT-friendly route. Here's what Zwift says about the ToW stage:
We're bringing a whole new climate to Zwift. A little bit of California here. A little bit of Arizona there. Some Utah. And a dash of Colorado. Shake well and serve. We can't wait for you to ride it. Remember to stay hydrated and keep the dust out of your eyes.
At 1.5m of elevation gain per kilometer of distance, this new route will be the flattest in game. If you're wondering why Zwift is releasing another flat route, just ride Watopia on a busy day and note how crowded the flat routes are. They get much more traffic than the hillier routes, so it makes sense to expand the list of flat options.
Bigger Loop
53km (33 miles) long
692m (2269′) elevation gain
Level Lock: 10
Probably this "upgrade" from the existing Big Loop route includes the new flat tarmac used in the Tempus Fugit route.
Out and Back Again
49.3km (30.6 miles) long
344m (1127′) elevation gain
An out and back route? I don't think we've got one of those on Watopia at this point, so this is a bit novel for that reason alone. Chances are this involves the new flat expansion as well, since that expansion appears to be targetting TT work (and we know TT racers love out and backs).
Tick Tock
18.9km (11.8 miles) long
68m (223′) elevation gain
Another allusion to racing against the clock. This route will probably be based in the new flat expansion roads.
---
Exciting times! My guess is we'll see these new routes available sometime in the next 3 weeks, possibly as soon as next week. Fingers crossed…