Repack Ridge, Zwift's first mountain bike trail, launched in October 2019 as a way to test steering using the Companion app. It was a fun little 3km stretch of singletrack full of the twists, drops, and scenic views mountain biking is known for: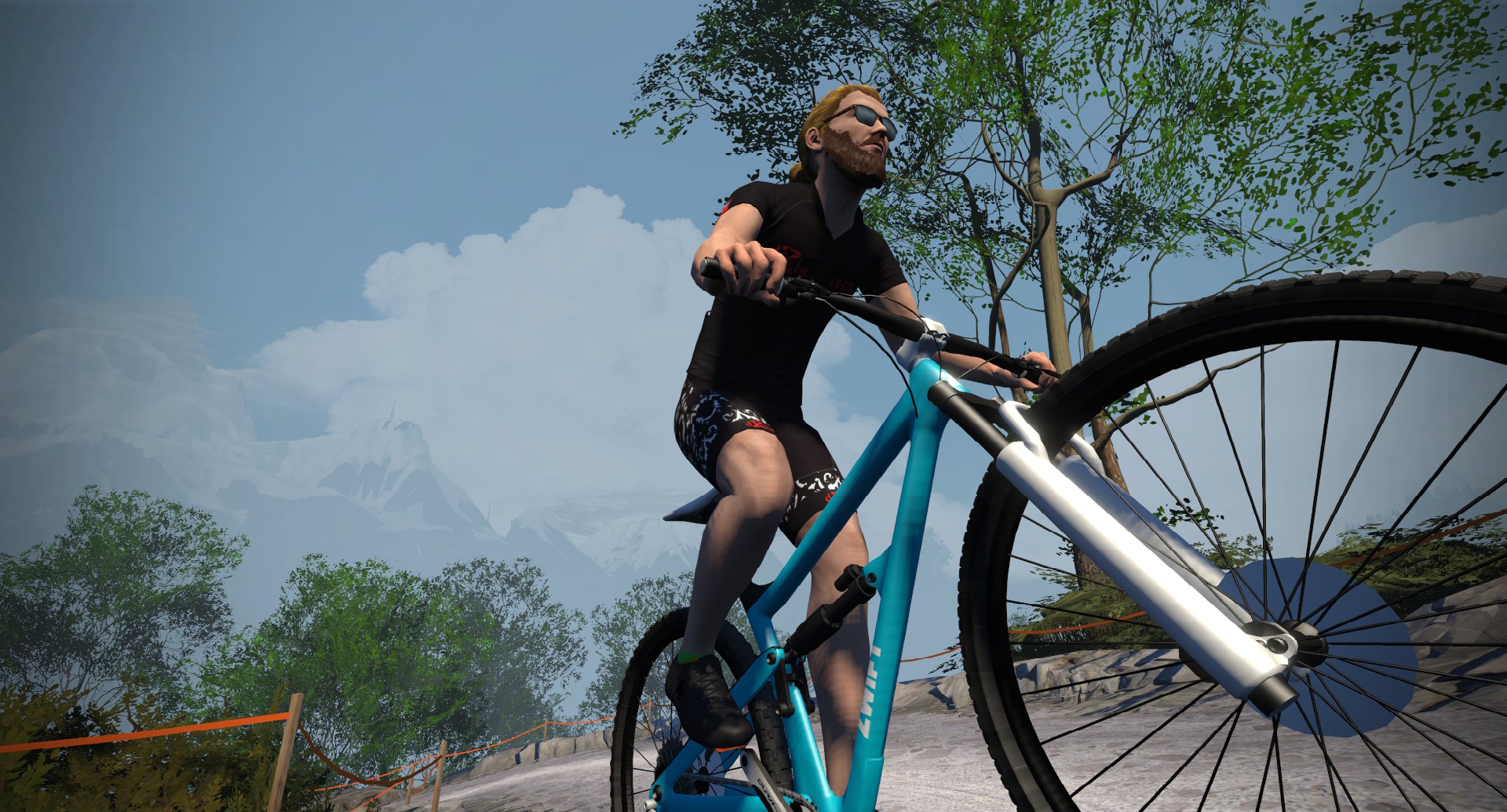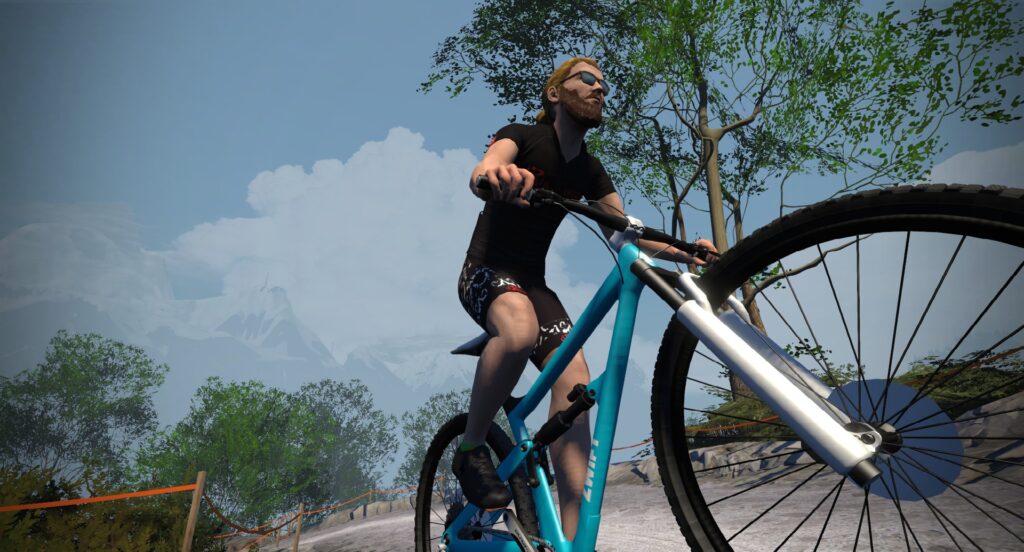 But development on the mountain bike side of things essentially stalled after the Repack release. Sure, we've seen more mountain bikes added to the game (6 total now, including the initial "Zwift Mountain" bike). And the Makuri Islands Temple KOM has a singletrack width similar to Repack.
Yet it feels like Zwift has nearly abandoned the MTB side of things. And that's a shame. Because just like the fun it brings to the outdoor riding scene, MTB has a lot of fun it could bring to Zwift. Here are some MTB-specific upgrades I'd love to see Zwift roll out in future releases.
#1: More Trails
While Repack Ridge and the Temple KOM offer a nice singletrack feel, there's not one dedicated singletrack route in all of Zwift.
Making it happen wouldn't even require Zwift's art team to create new trails – they just need to create routes using existing trails. Two simple ideas would be a dedicated Repack Ridge route which loops riders, or bringing our Dirty Temple KOM Loop Rebel Route into the game.
But really, I'd love to see Zwift release some fresh singletrack specifically designed to deliver a MTB-like experience. Repack Ridge does a pretty good job of this, but more could be done. This brings me to my next point…
#2: More MTB Trail Features
I'd love to see new MTB trails with the features Repack Ridge has, plus more:
Narrower trails. This may require routes to be one-way only, but I'd be OK with that.
That "tree tunnel" effect, when the surrounding vegetation is just inches away from your bars.
Riding through a stream and splashing up water.
Tight turns and punchy short climbs for a rollercoaster feel.
"Flow" sections that are slightly downhill, rolling, twisting… fun!
#3: New Surface Type(s), Modified Speeds
One major component of Zwift's physics is its Crr settings for various road surfaces. There's just one dirt surface defined (aptly named "dirt"), which means we don't have, say, rough and rocky dirt that rolls better on a MTB than smooth "gravel road" dirt that rolls faster on a gravel bike.
This should change. Make the singletracks include sections (or the entire trail) of rougher road that roll faster on the knobby, fat-tired MTB rigs. You could still ride them with a gravel bike, but you have to go slower and it feels silly, just like it would IRL. And a road bike should roll slower still, at speeds that say "I've made a terrible mistake in bike choice today."
Beyond a new singletrack surface type, additional surfaces like mud or deep sand could make things even more interesting for mountain bikers.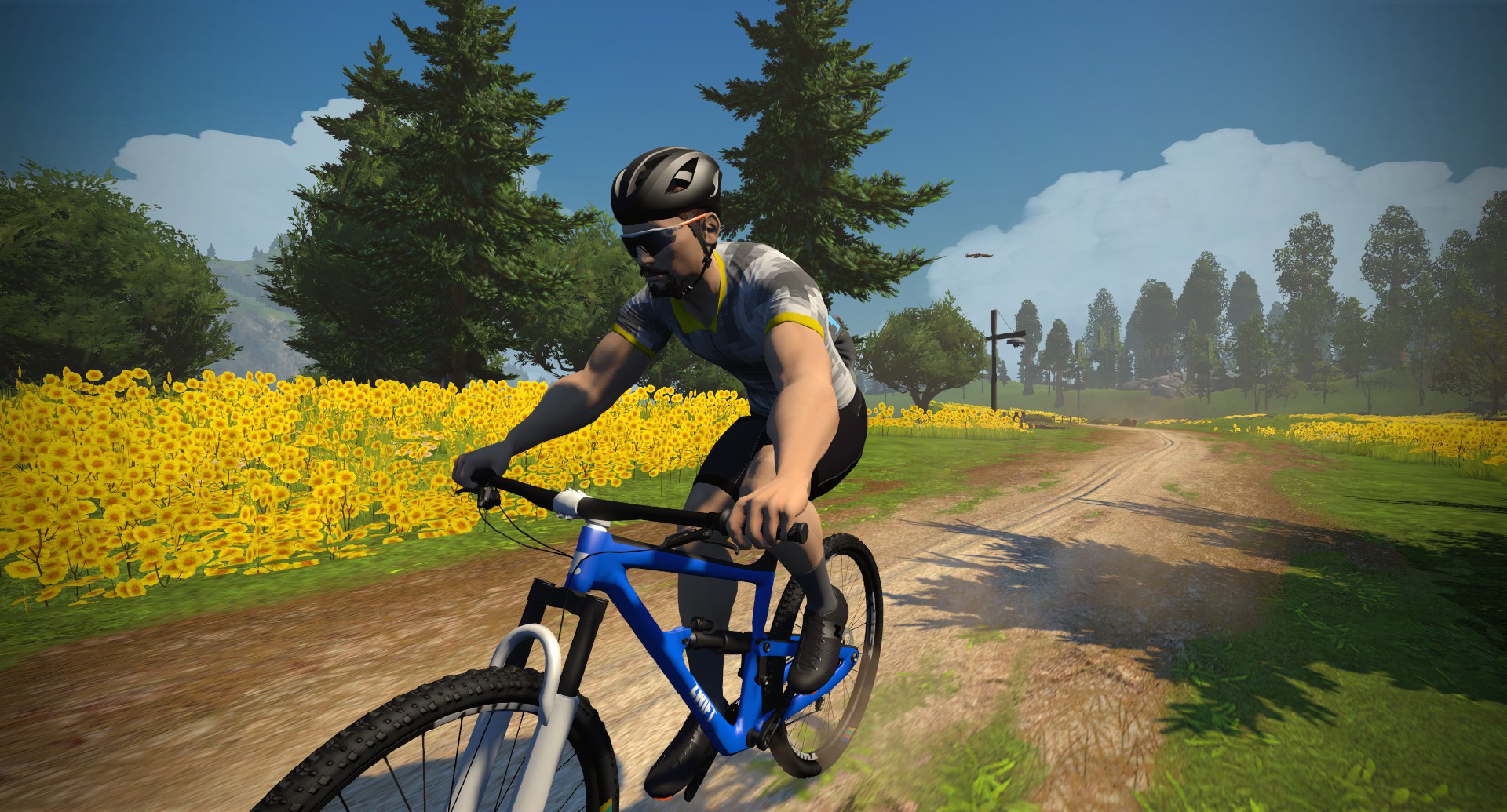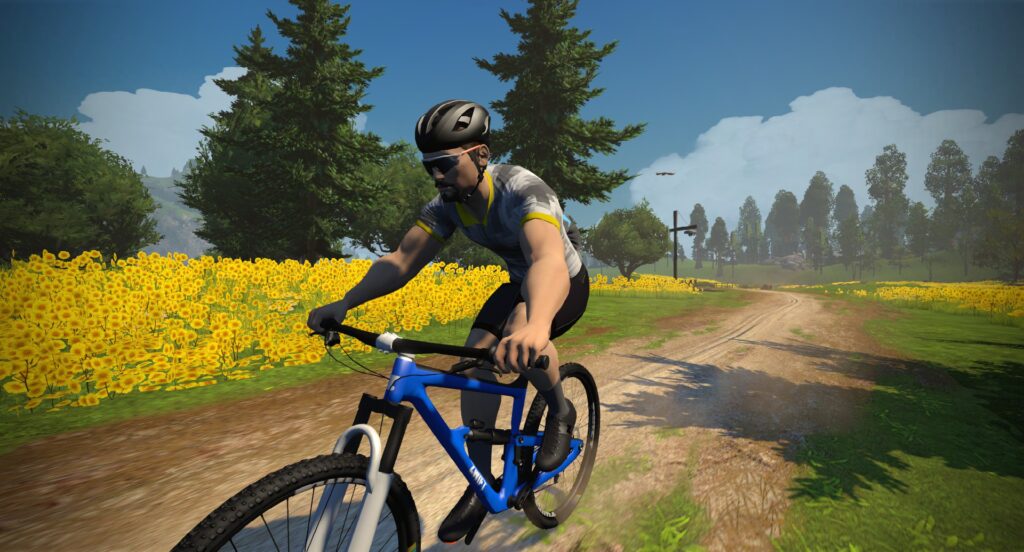 #4: Steering Not Required
Steering shouldn't be required on any new MTB trails, and in fact I think it should be removed as a requirement for Repack Ridge.
Most Zwifters don't own steering devices. I personally own three (Elite Sterzo, Elite Rizr, and the Wahoo KICKR Bike), but I don't use any of them regularly because I don't really enjoy the steering experience. It's not something I want to think about on Zwift, because it doesn't feel natural (steering on a bicycle is often more about leaning and even countersteering than it is turning the handlebars).
Perhaps steering could be an optional mode, complete with speed penalties for poor steering like Repack Ridge has now. But don't make us steer to enjoy MTB goodness.
#5: MTB-Specific Kit
Let me kit out my virtual self with baggy shorts, full-finger gloves, looser jerseys, and a full-face helmet. Or at least a MTB helmet with more head protection and a visor.
MTB riders have a particular look, and forcing them to appear like roadies in game almost feels like a slap in the face. Maybe we could turn leg hair on or off as well?
#6: MTB Racing Features
Back in 2019 we organized a few Repack Redux races on the newly-released Repack Ridge. They were sort of casual, fun affairs in the spirit of the original Repack races.
What if Zwift created some race-specific features for MTB events? One that comes to mind would be making passing much more difficult: perhaps an inability to pass other riders on narrow sections of trail, or requiring a BIG boost of power to make a pass. This would replicate some of the feel of IRL mountain bike racing, which is wholly different from road racing when it comes to overtaking.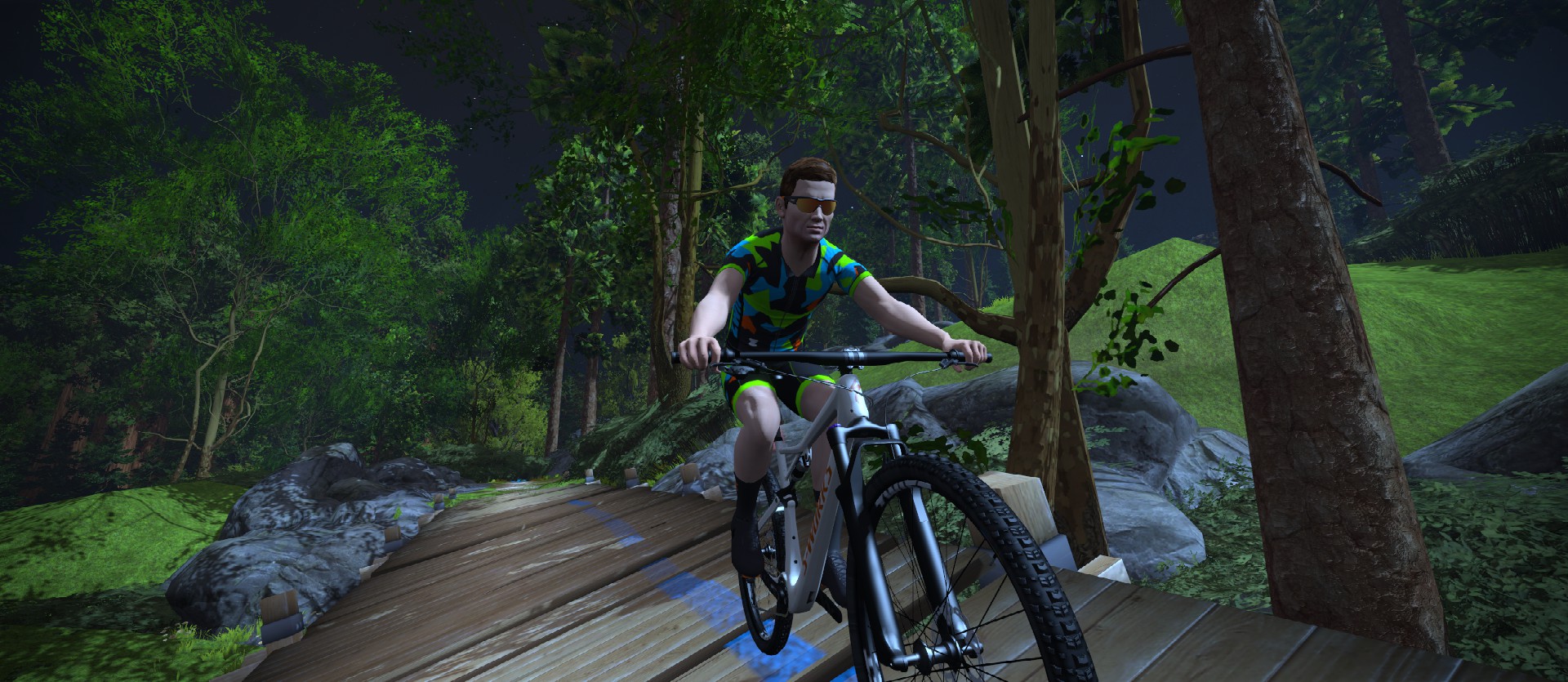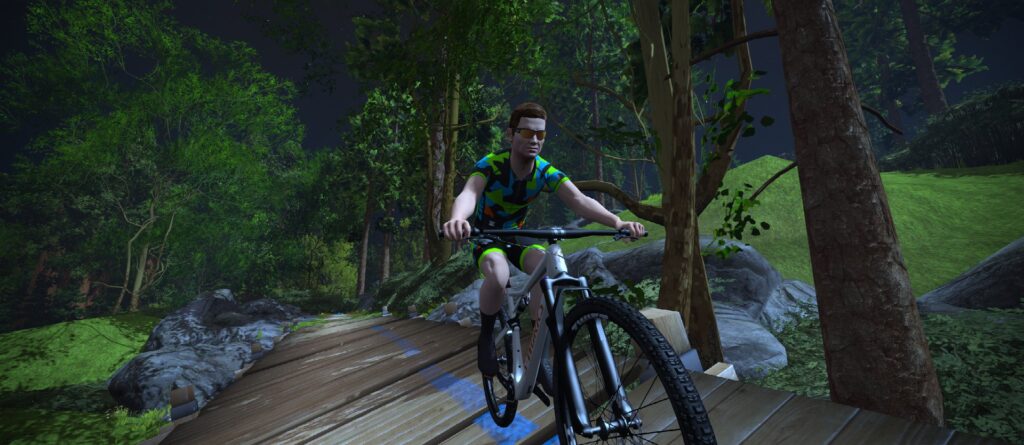 #7: Base Resistance Slider
The highest gear on a typical mountain bike (34×10) delivers ~20% fewer gear inches than the highest gear on a typical road bike (52×11), and that can cause problems when going hard on Zwift… especially downhill!
If you're riding your MTB gearing on a direct-drive trainer and need to sprint in a race, you may very well run out of gears.
One way to fix this would be Zwift adding a simple "base resistance slider" to their main menu. Default it to 0, but let riders slider it left or right to decrease or increase how much resistance is added to their trainer across all terrain. Slide it all the way to the right and it would feel like you're on a 5% grade when you're on flat ground (and a 5% climb would feel like 10%, and a 10% downhill would feel like a flat road… because Zwift halves the downhill resistance. Confused yet? Just trust the math.)
Like Trainer Difficulty, this wouldn't change your speed in game – it would just change which gears you're using, and let lower-geared riders avoid spinning out.
(This feature could actually add some interesting training angles to Zwift as well. For example, roadies could bump up their base resistance across all rides so they're forced to ride lower gears with less flywheel inertia, as a way to train for long climbs.)
#8: Speed-Based Lines/Behavior
Currently on Zwift, your avatar takes the same line around corners and other road features regardless of speed. Of course, this isn't how cycling works in the real world (which is why we'd love to see smart autobraking), and it's certainly not how riding works on narrow dirt trails.
What if your avatar took different lines or somehow behaved differently based on the speed you're traveling into a feature? For example, perhaps you overcook a corner and go off the trail a bit into slower-rolling weeds and rocks.
This might be too much to ask until Zwift builds braking controllers into the game, but perhaps for now this feature could just penalize you for going too slow. Examples:
Jumps! Hit the feature with enough speed and you catch air. Too slow and you get auto-braked as you roll over the backside like a n00b.
Steep climbs: if your speed drops too much, your avatar gets off and pushes the bike up the hill (we've all done it IRL). Imagine a race with a mixture of riders still pedaling and avatars frantically scrambling up the punchy climb! (This could also work in water or sand crossings.)
Your Thoughts
Would you utilize the MTB-specific features above if they were released on Zwift? Do you have any great ideas for additional features for the fat-tire crowd? Comment below!
Thanks, Nathan
Special thanks to Nathan Guerra of Zwift Community Live, who took the time to bounce ideas for this post back and forth. While I'm just a casual mountain biker, Nathan is a pro-level rider who was ranked #1 in the USA multiple times. I ran my ideas past him to make sure they made sense, and he added a few ideas of his own!