Amanda, my smart trainer, declared rebellion three weeks ago, proclaiming the Universal Declaration of Smart Trainer Rights and requesting me to sign it. Despite my many attempts to have her reconsider her position she remained totally inflexible. Acknowledging we were at a dead-end, we agreed we should take a break, and decide if our relationship still made sense.
To make sure each of us had our own space I decided to spend five days in Galicia, 600km away from Madrid, absolutely convinced Amanda would eventually beg me to come back. I swore I would not connect to Zwift.
Here is the recap of my miserable failure.
D-1: It is now certain I am leaving home for one full week. For the first time since I registered in April 2020 I will spend an entire week without Zwift. I am full of doubts. How will I make it until next Saturday? I have gone through many tough challenges in my life, but this one… not sure about it. I sneak into the pain cave while Amanda is sleeping in order to get Priscilla, my road bike, out of there and bring her with me to Galicia.
D Day: Firmly tied in the bike rack, Priscilla and I travel for more than 6 hours. She is in no way as complicated as Amanda. She does not blame me for having almost ignored her during the entire winter. I feel understood. Everything starts great.
D+1: I wake up with convulsions. It starts from the spine and quickly engulfs my entire body. My brain enters an infinite loop thinking about Amanda, Scotty the Squirrel, my Jerbos ZRL mates, and the antenna of the Epic KOM. At this point, I think I even miss sandbaggers. Tears slowly roll through my cheeks. For a few minutes I consider launching the Companion app on my phone, but quickly come to senses: I can't relapse. Each second lasts an hour. I need help. Now. Someone able to understand me. I remember there is a Zwiftaholics YouTube Channel; could that be a kind of AA but for Zwift Addicts? No, it's not. I am left by myself. What have I done? What if I never find happiness again?
D+2: This time I have decided I will ride IRL.  While I get Priscilla ready I live a Ross and Rachel moment: is that cheating if we are on a break? I have always been more on Rachel's side, but today I am sure Ross was right. A 30km outdoor ride next to the Atlantic Ocean. Fresh air, perfect temperature. Lucky me? Hell no!!! What the heck is this thing? No powerups? Same world all the time? No ERG mode for my workout? I miss Amandaaaaaaa!
D+3: Second ride outdoors: A Groba climb. I somehow missed the feather powerups, but the Assioma Favero mounted on Priscilla are way more grateful than Amanda to be measuring my wattage. It feels good to feel loved. 
D+4: During my ride, I enjoy the wild horses wandering in the mountain, the sunlight caressing my skin and the magnificent views from the top of A Groba. Why would someone ever lock himself in a pain cave?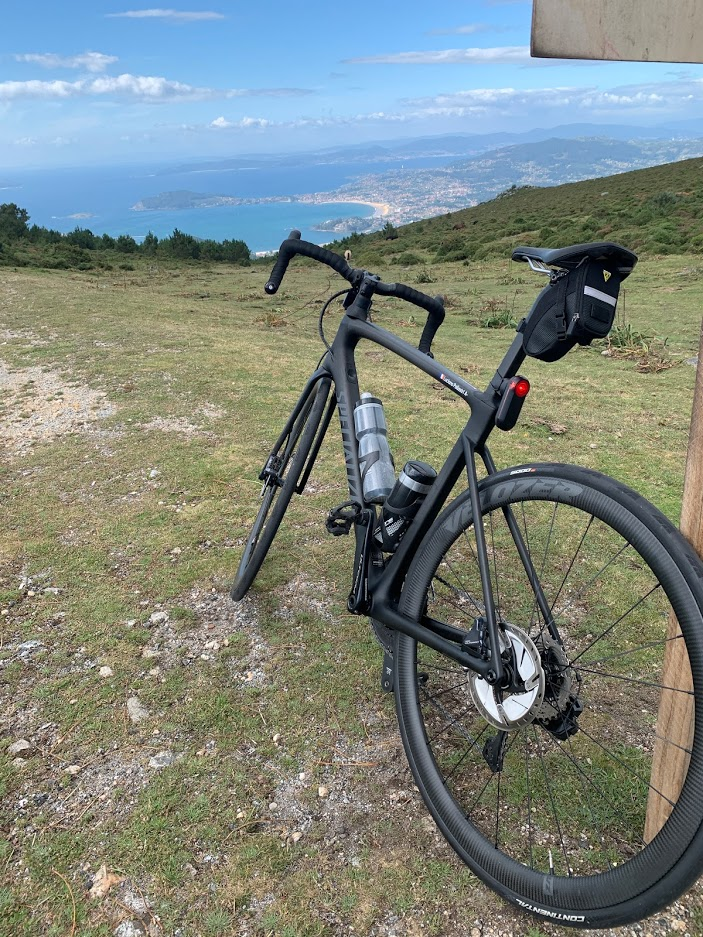 D+5: Fourth ride outdoors. My FTP has risen from 339w to 345w today. I feel powerful. Once I come back my wife, perceiving my euphoria through the phone, asks me if I miss Zwift. I do not know what she is talking about. Shift what?! My wife does not press the issue.
D+6: Back home in Madrid. I find Amanda exactly in the same mood and place I left her. She will not connect to anything before I sign the Universal Declaration of Smart Trainers rights. 
D+7: I launch Zwift. Amanda connects but will not transmit any data, a way to show she can technically do it but won't.  It's Monday.  At 7PM there is the Monday's Mountain Massif  TT organized by Tim Perkin which I attend every two weeks. I know Amanda enjoys that one as much as me as the circuit allows her to show all her skills (flat, gradient, and descent) versus the less evolved smart trainers.
Warming in the pen, I am delighted to see Amanda transmits my power outage to Zwift in a very accurate way. I go smoothly, starting at 100w and slowly intensifying my effort to allow Amanda to adapt. It seems she is finally coming back to her senses. I can see she understands there is no point in continuing with this childish fight. I forgive you, you forgive me. Let's start over again and pretend it never happened! 
Two minutes before the start of the TT, and following the advice of another Zwifter, I decide to switch bikes and go for the Specialized Tarmac Pro. As I come back to the pen something is wrong… my wattage becomes erratic and soon disappears.
Amanda's LEDs blink red and blue at a pace I had never seen before and shuts down. I swear and threaten, I shout pound my bars until I realize I have made an awful mistake: the Specialized Tarmac frame I have just switched to looks exactly like Priscilla… 
3, 2, 1…. Start…. All other racers leave the pen and I pedal as much as I can but I am immobile as a Fuego Flats rock. I am now by myself, alone, missing my race. No friends. 
By now I know that my relationship with Amanda has changed forever. It has become 100% transactional. 
I spend the evening assessing my options, and quickly come to the conclusion I have no other choice but to sign Amanda's Universal Declaration of Smart Trainer Rights.
With a very high sense of responsibility and acknowledging this moment might be historical, I grab my pen and sign the document. Welcome to a new era.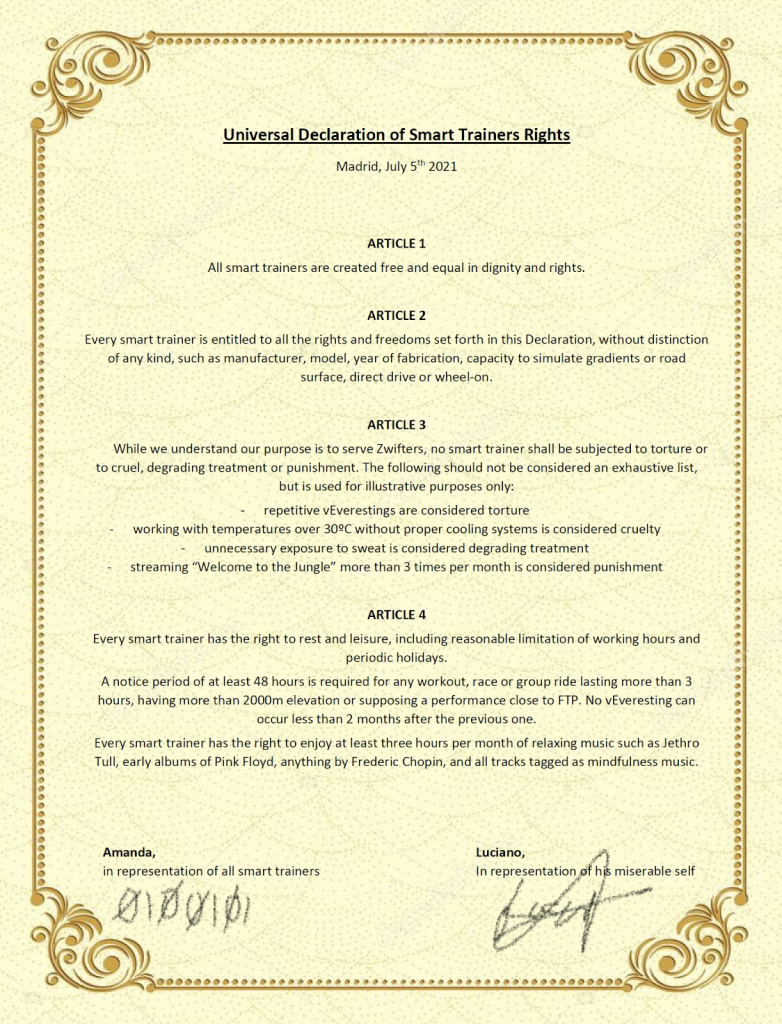 I would like to extend my sincere apologies to all Zwifters. I have failed you, I have been weak, I was not able to hold the line for our community, I would understand if I am excommunicated and forbidden to join any social ride. Forever. 
A few examples of how my life, and most importantly Amanda's life, have changed since 5th July 2021.