The Zwift community is special. When you do something that the community does not like, they will tell you about it. But equally, when you do something they like, they will let you know. Those are rules I like and can relate to because it makes things clear.
The event that I created for the purpose of the 'Behind the Scenes' article left me nervous. I was nervous that people would not attend, I was nervous that people would not like the format of the event, I was nervous about the feedback I would receive. I was nervous. All week.
The name was "Monday's Mountain Massif TT," a 12.2km TT up the reverse side of the Epic KOM, finishing up the Radio Tower. I developed the event concept for the purpose of explaining the work that goes into setting up an event. The event created an internal pressure within myself to deliver an exciting and new experience for my fellow Zwifters. How did I do?
The stats
460 signed up riders. 188 finishers on Zwift Power, across all categories.
Feedback
"Very nice event! If this becomes a regular event it would be great." – Ole Christian Fagerli
"Thanks for organizing! I'll certainly do more of these if it becomes more of a regular event! Nice addition could be to make it into a real TT event. Would be cool to have another climbing TT besides Bologna." – Joris
"Great event Tim and a real race of truth, at least for finding your FTP. Perhaps next time (I hope there will be a next time) you might want to call it sandbaggers exposed." – Russell
"It was a great event! It was a long time ago that my legs were so sore. I really enjoyed it. I blew up on the radio tower climb. It was also the first event where I was so overthinking my bike choice. I really loved the prep for the event. All total it made a great experience." Ronald
"Love it hate it and love it and again and again and again. Heart, legs shouts to stop but after finish line and some downhill ride thoughts come maybe i will do it again! Thanks and till the next time!" Rob
Next Steps
The Zwift community had spoken, they liked my event, I was relieved as much as I was delighted. I promised that if people liked this event, I would approach Zwift about hosting it on a permanent basis, with a couple of minor tweaks to enhance the experience, including:
Changing the time to 19:00 CET
Moving the finish line back by 50 meters, so it just finishes a little closer to the top of the Radio Tower summit.
I contacted the Zwift Events Team who responded that they would see if it was possible.
Mountain Massif HQ
Behind the scenes, I did feel nervous in the lead up to the event. The day before, I had to reach out to the Zwift Events Team to enquire if everything was setup correctly because it was not visible on my Companion app, it had literally disappeared when I looked for the Monday event. Saturday night, the clocks had changed to signal the start of summertime and I feared that the change in time had impacted things.
In my previous article, I rightly praised the Events Team stating "If the IT function of Zwift are the cranks of the bike, then Mark's [Cote, Director of Content Programming] Events Team are the handlebars, brakes, shifters and saddle, because his team is so integral to our experience and the unsung heroes."
I should have added that "they are the mechanics too, fixing any issue we experience."
I was extremely impressed when Mark personally responded and investigated the potential issue. Shortly after, he confirmed that the event was visible on all apps. I had previously checked the filters and had done all the obvious error checking, but no sooner had it disappeared; it reappeared in my Companion app, along with a few other events. It was strange, especially as I had taken screenshots and sent to Zwift to assist with error checking and verified with several friends.
What all this experience did was to reinforce my established belief that the Zwift Events Team do an excellent job and deliver first class service, even on a Sunday. Without them, these events we all enjoy and look forward to would not happen. Furthermore, I was impressed with Mark's leadership in personally taking responsibility and ensuring everything was correct. I am confident that Mark's vision of having "any Zwifter being able to find any content, within 15 minutes" will be achieved, sooner rather than later and for the benefit of the entire community.
The Event – The View from the Back
The time arrived to start the event. I had set up a Discord server and was pleased to warm up while chatting to my fellow Zwifters who were taking part. This was set up to provide a user experience similar to real life where you meet before an event and exchange stories whilst warming up. I was wanting to create an inclusive experience, to make this more than just a race. With 10 minutes to go, I left Discord and entered the pen. There would be no last minute joining for me.
It was nice to see the pen full of people; my one fear of putting on an event and being the solo participant was averted.
I'm not going to write my usual detailed story of my struggles, but let's just say the race could be split into 3 sections, 1) the start 2) the climb 3) the Radio Tower.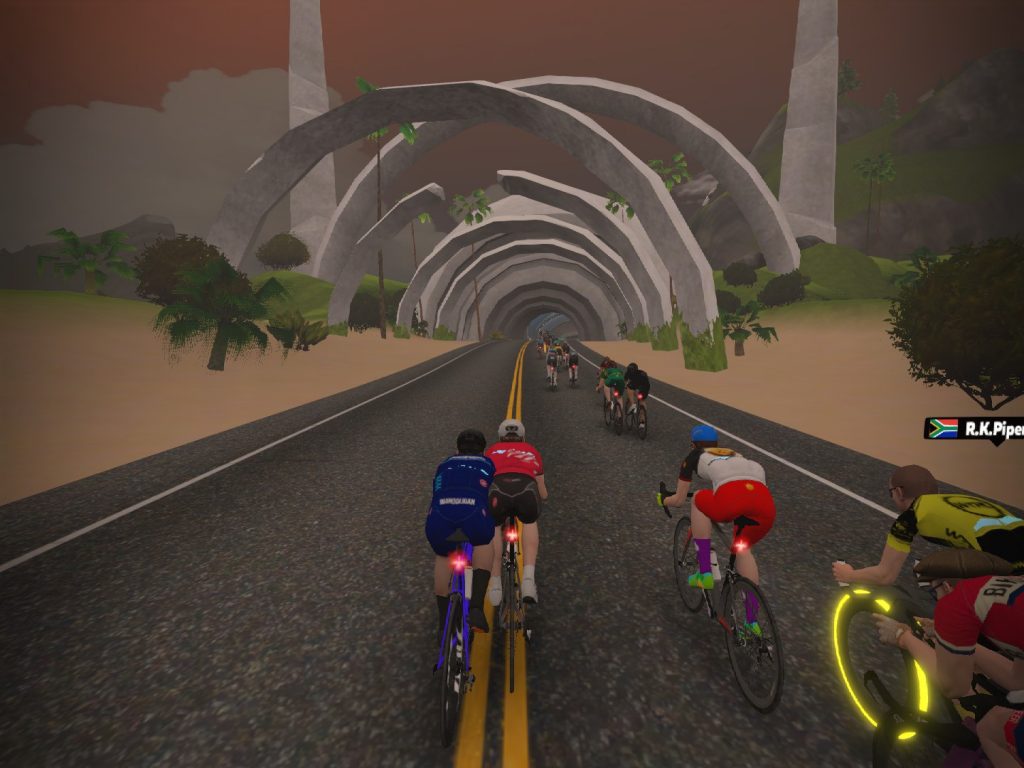 The first 6-10 minute flat section, before the start of the climb, was punishing. I opted for a climbing set-up of the Specialized Tarmac Pro and Env 3.2 wheels, as recommended by Ben in this YouTube video. My tactic was not to go too deep and push too hard but at the same time not let the people on the TT bikes get too much of an advantage. This was more difficult than I thought, as you naturally try to keep pace.
My heart rate tipped into the 170s, which was an indicator that I was pushing too hard. Part of my trouble was my heart rate was naturally elevated due to nerves. I don't normally get nervous before a Zwift race, but when it is your event, it's a totally different experience!
The start of the climb couldn't come fast enough and fortunately I was able to make up several places as I noticed some people who had started on a TT bike had stopped and were changing to a climbing setup. I thought that was an interesting tactic, but I'm not sure how successful it was.
Onto the climb. I tried to get into a rhythm, but couldn't find it. I certainly wasn't in my groove like my previous mountain climb. Despite this, I just kept turning the cranks, trying to do myself proud in my own event.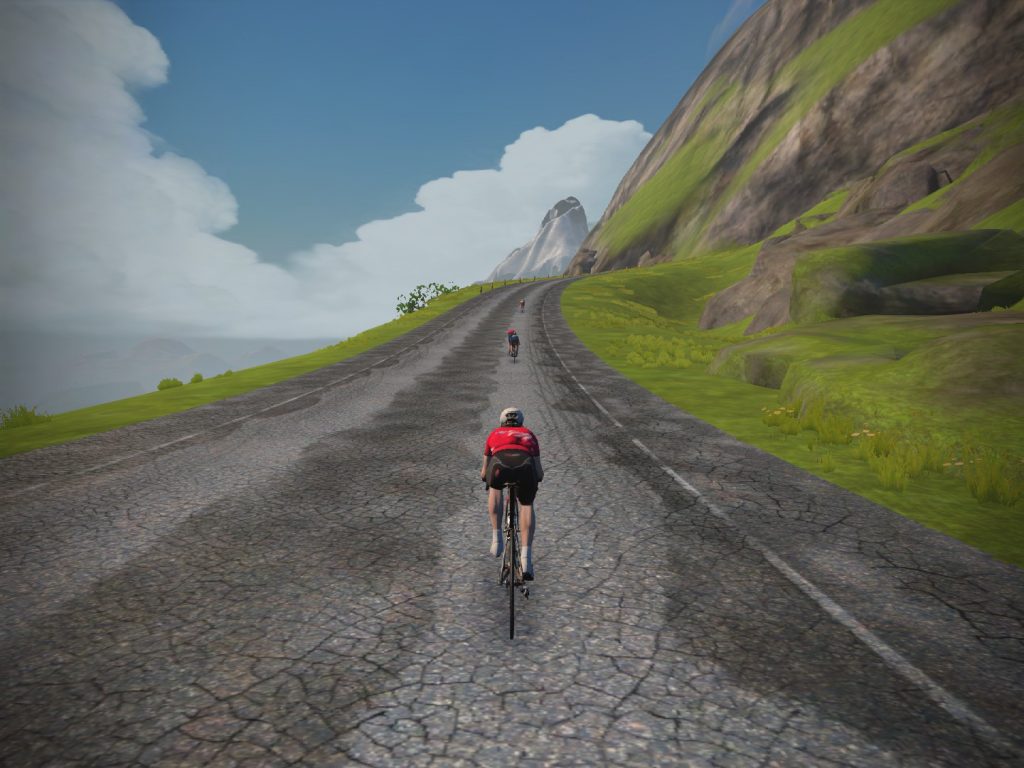 As I progressed up the mountain, I was trading places with various riders and was starting to tire, a long way before the last difficult climb up to the Radio Tower.
I would say the last 8 minutes was pure torture. But, I had nobody else to blame except myself. This was harder than I expected. A lot harder. I would go as far as to say "brutally hard!"
On the final climb up to the Radio Tower, I was able to pass a fellow competitor on a TT bike. They had done exceptionally well; it just looked like the TT bike seemed too heavy to make it up the 13% gradients. That put me in 11th place and now it was simply a question of holding on to the end. I became more focussed on the gap to the people behind me instead of ahead.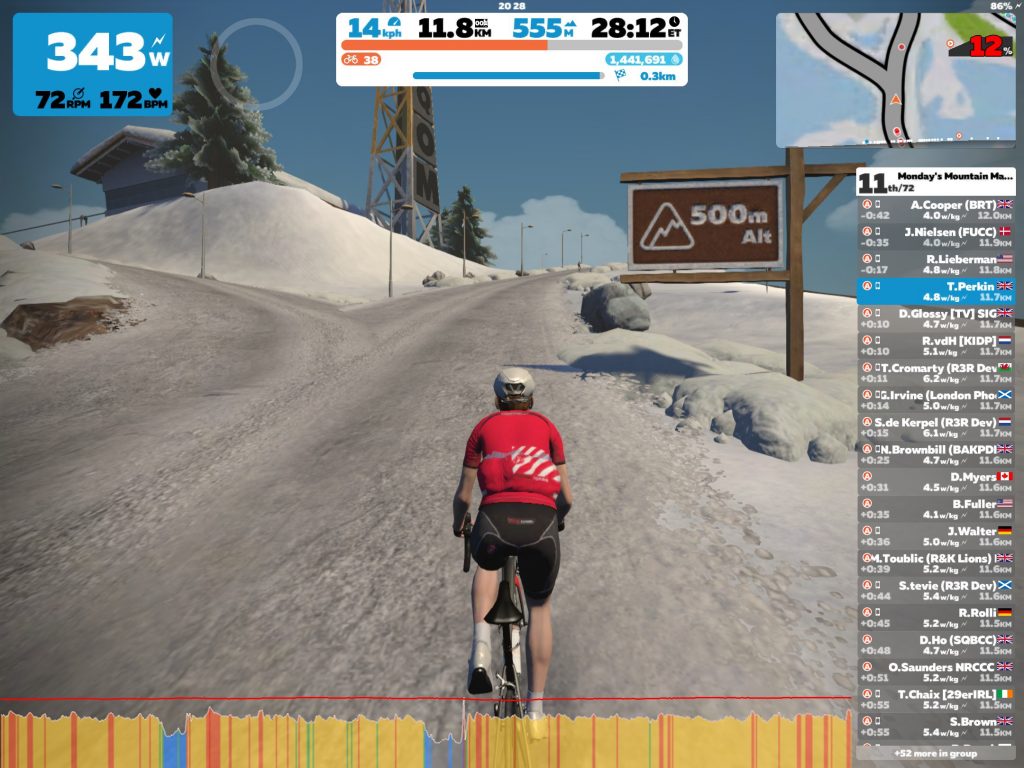 As I crested the climb, I was expecting the finish line to be just at the top of the final little climb, by the Radio Tower. But it was probably 50 meters further than I planned, which was simply too much for me. My legs gave out and I coasted over the line.
Despite the exhaustion, I was happy. I had competed in a race of my own design and enjoyed it. Then as other racers finished, I started receiving live feedback, which delighted me. The Zwift community had spoken – they liked the event. Mission accomplished!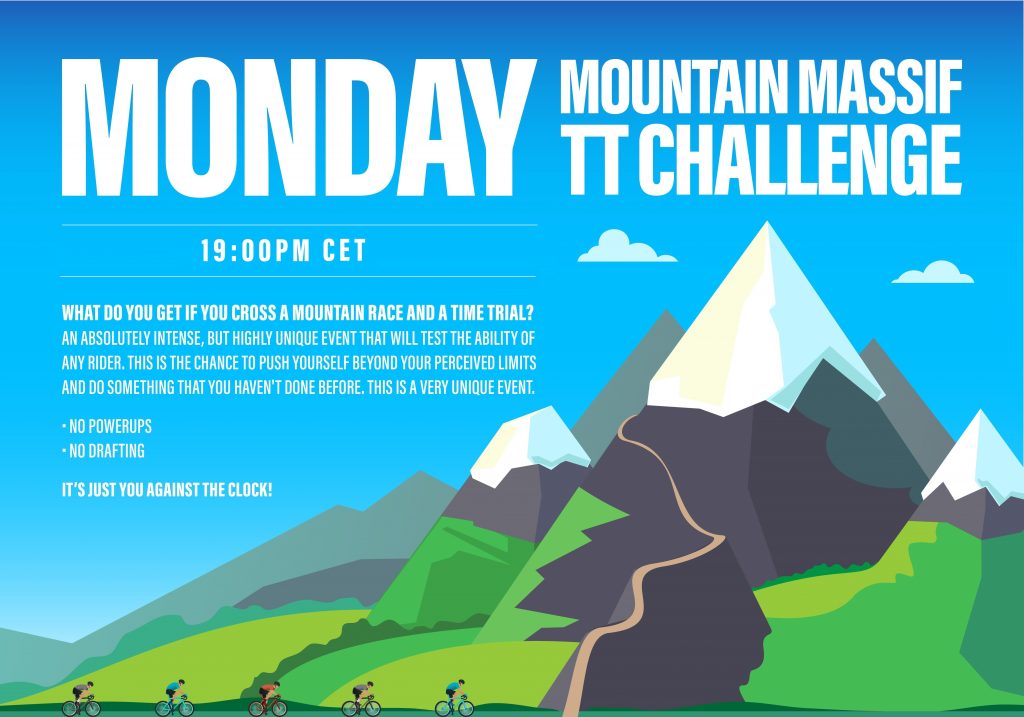 My final thoughts
I thoroughly enjoyed the process of designing an event and engaging with Zwift to get it built. Equally, I enjoyed my attempts to promote it through my network. I was worried about the outcome but the pilot showed that I had delivered something the community liked. Ted, a rider from Race3R told me on Discord that the 30 minutes all-out effort was a thoroughly intense workout and that he enjoyed the fact that the event was slightly shorter than the normal Zwift races.
The Zwift Events Team deliver – again!
As I finished writing this article, my e-mail "pinged," Mark had responded. The opening sentence read:
Hey Tim,

I added this event to our recurring schedule and it's on every Monday. Next week's event is here: https://www.zwift.com/events/view/1981008
Brilliant! I had established a new regular recurring event for the Zwift community to enjoy. I could not be happier. That's my Monday nights taken care of, for the foreseeable future.
I will leave the final words to the first-ever event winner, Ed Laverack who posted on Twitter "A great event it was too! Absolutely cracking format."
Watch Ed's race recording:
See you all Monday night, 7pm CET. Thanks to all of those who participated.
Questions or Comments?
Share below!