I've been a fan of pedal-based power meters for several years ,because they can be easily swapped to another bike, and they're measuring power right where it's happening.
Garmin Vector 2 pedals were the first power meter I ever owned, and I used them for a few years, both indoors and out. And while they worked decently well, they were far from perfect – prone to accuracy problems if not properly torqued, chain clearance problems, and those annoying little plastic pods stick out weirdly and like to get bumped, which can affect accuracy as well.
So I went looking for a new set of power pedals in early 2020 – and the first place I looked was Favero. Their Assioma pedals seemed to have the best reputation of any in the Zwift Community, and they are also the most affordable. Here's how the pricing shakes out for dual-sided power pedals currently on the market:
SRM Look Exakt: $1700 USD (included just for grins – who is paying $1700 for power pedals?)
Garmin Vector 3: $1000 USD
Powertap P2: $900 USD
Favero Assioma: $696
Like the Garmin and Powertap offerings, Assioma isn't a first-generation product. Favero's initial power pedals were called the bePRO. Assioma is the next-generation product, released in 2017. And it's clear this isn't Favero's first power pedal rodeo.
After spending hundreds of hours riding the Assioma both indoors and out, I figured it was time to write up a review post. I hope you find it useful!
Favero Assioma Specs
Weight: 151.5 grams per pedal*
Q Factor: +54mm
Stack Height: 10.5mm
Accuracy: +-1%
Battery Life: ~500 recharge cycles at 50+ hours per charge
* At 303 grams per pair, the Assioma is the lightest power meter pedal on the market, beating out the Garmin Vector 3 (324 grams) and Powertap P2 (432 grams).
What's In the Box?
Whether you buy the single or dual-sided version, the pedals ship with all you need:
The pedal(s) (of course)
A USB charging cord for each pedal – with a cool magnetic connection (more on that later)
A dual USB adapter to power the charger(s)
A pedal wrench
New cleats for your shoes: these are Xpedo-based cleats. Very similar to Look Keo cleats (which I already use) – but slightly different.
Pedal washers
Instruction booklets
Adapters for various world outlet types
Getting Set Up
Set up is easy, provided you have a smart phone and the tool needed to remove your current pedals.
First, activate the pedals via the Assioma app on iOS or Android. This is easily done – you click to search for the pedals (wiggle them a bit if they aren't awake), then click to activate each pedal. (Your pedals won't broadcast power until activated, which I assume is Favero's way of tracking/enforcing warranty periods.)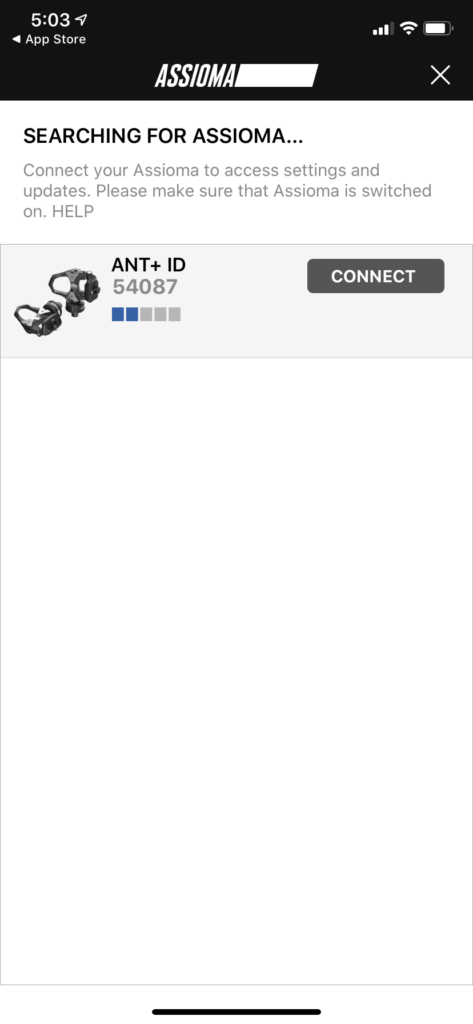 Next it's time to install the pedals. First remove your current pedals – depending on your current pedals you may need a pedal wrench for the job, or you can use the 8mm allen wrench included with the Assioma pedals.
I like to apply a bit of grease to my pedals whenever I install them, just to keep things smooth and happy. Then use any washers needed in order to offset the pedal body from your crank, and twist the pedals on using the included allen wrench. Easy peasy!
Once the pedals are installed you'll want to do a zero offset in the app. Super easy – just connect to the pedals, then click "Settings" the arrow on "Zero offset".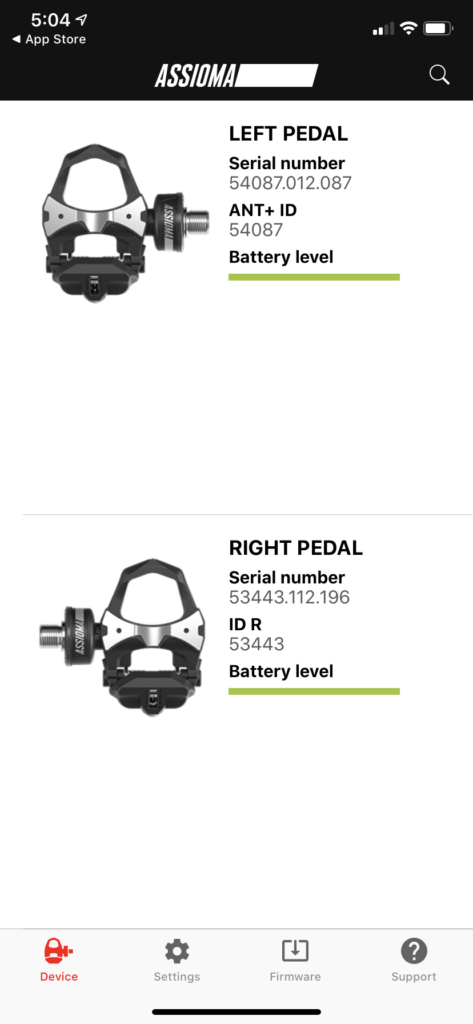 Unlike the Garmin Vector 2 pedals, Assiomas aren't super picky about being torqued to a precise setting. So just snug them up like you would any other pedal, perform the zero offset, and ride.
Bedding In
With any power pedal, I recommend performing a zero offset before each ride, for the first several rides. Some riders will install the pedals and perform a few max effort sprints, then do the offset. Basically, what you're wanting is to get the pedals "bedded in" – sometimes they move microscopically after being installed, and that affects the power readings. But typically after a few decent rides and hard sprints, pedals settle in and perform in a stable fashion moving forward.
Pairing in Zwift
Pairing in Zwift is super-simple as well. Just click "search" in the "Power Meter" box, and the Assioma will come up as an option. These pedals broadcast on both ANT+ and Bluetooth, so if your Zwift device supports both protocols, you'll have the option of connecting via either method.
Many riders pair their power meter as the Power Source, and their smart trainer as "Controllable". This is what I've done for years on Zwift, only recently switching to using my smart trainer's power (more on that later). Riders do this for a few reasons:
Because they use the same bike indoors and out, and want the same power meter used for all their efforts
Because they trust the accuracy of their power meter over their smart trainer
Because they want the extra watts of a pedal, crank, or spider-based power meter which reads wattage before drivetrain losses
Increasingly, though, we're seeing racers dual-record their power, using their direct drive smart trainer as the power source in Zwift, and their power meter as the backup source, recorded on their bike computer. High-end Zwift Esports races now require that the direct-drive trainer as the primary power source, in fact, so we'll probably see this practice continue to trickle down to the community racing level.
Charging
The pedals use a rechargeable built-in battery, unlike the Garmin and Powertap offerings which use replaceable batteries. Which is better? While there is something comfortable about the idea of being able to easily swap in fresh batteries, I lean toward built-in rechargeable batteries, for these reasons:
Since the manufacturer knows the characteristics of their batteries, they can provide accurate battery charging readouts
You don't have to worry about "battery door" problems including water intrusion or oxidation which have plagued other pedal models
No need to buy batteries
A full charge cycle takes about 6 hours. Hooking the pedals up to charge has become one of my simple pleasures in life, thanks to Favero's magnetic charger design. Check it out:
Battery Life
Favero says the batteries will last approximately 50 hours on a charge. I find it's even more than that – closer to 60 hours.
One valid concern with a built-in battery is: what happens if it goes bad? The good news is, it's a replaceable part – Favero can send you a new sensor unit. But you should never need it, because according to Favero the batteries are good for ~500 recharge cycles. And that's 500 cycles at 50+ hours per charge, before it may decrease by up to 20% below that 50 hour mark!
If you do the math, 500 recharges at 50 hours per charge is 25000 hours of riding. If you ride 10 hours a week, that's 25000/10/52=48 years of battery life.
User Experience
The pedals have performed flawlessly across hundreds of hours of Zwifting and outdoor riding.
I've used them mostly in conjunction with my Wahoo KICKR v4 (2018 model), then with my Wahoo KICKR v5 (2020 model). I also used them a bit on Monica's OG Tacx NEO, as well as outdoor rides. Across all setups, they never failed to broadcast reliably and accurately.
Power Accuracy
Here are two sample rides that show the sort of data I'm typically seeing when riding with my KICKR 5 on Zwift while recording the Assioma data via my Wahoo ELEMNT bike computer:
I generally see the Assioma average power being 1.5-2.5% higher than the KICKR v5 power. Given the Assioma's +-1% accuracy and the KICKR 5's 1% accuracy, we're well within spec given that drivetrain losses can easily amount to 2%.
One nice thing about the Assioma hardware is it uses Instantaneous Angular Velocity to computer power – which means they are accurate on oval chainrings. That's something Garmin Vectors cannot do, although Powertap says their pedals are capable of it.
If you want to dig into power accuracy more you can always check out GPLama's review or DC Rainmaker's review.
Sticky Watts
One thing worth mentioning is Zwift's sticky watts issue which affects anyone using an event-based power meter as their Zwift power source.
The summarize the issue: if you're using an event-based power meter as your power source in Zwift (this would be any pedal, crank, or spider-based power meter) you'll find your watts "stick" for 2-4 seconds when you suddenly stop pedaling. For the details on why this is and how it affects the Zwift experience, read Sticky Watts: Why They Exist, and How They Affect the Zwift Experience.
To be clear, this isn't a weakness of the Assioma – but it is an issue Zwifters will encounter due to how Zwift works. For me, it's annoying enough that I've moved to using my KICKR v5 as my main power source, with the Assioma as my backup source.
Cycling Dynamics
If you have certain Garmin head units (I don't), the IAV Cycling Dynamics supported by the Assioma may interest you. Specifically, the Assioma detects and transmits two advanced metrics:
IAV Power Phase: detects where in your pedal stroke the power is being applied
IAV Rider Position: shows often often you are seated or standing
To the following Garmin head units: Edge 520 Plus, 530, 820, 830, 1030; Forerunner 935, 945; Fenix 5 Series, 5 Plus Series, MARQ Series.
These metrics are ANT+ only, and (as far as I know) only available on Garmin head units. It's up to the creators of the head units to support these metrics. For more on this topic, here's an in-depth post from DC Rainmaker.
More on the Assioma App
Favero's iOS/Android app for the pedals works great, which is a welcome thing in a world where cycling apps are often sub-par (I'm looking at you, Tacx Utility!)
Along with allowing you to activate and zero offset your pedals, the app also lets you configure crank length and perform a static-weight calibration, which I tried just for the fun of it. This involves hanging a known weight from each pedal, which overrides the factory calibration.
Serviceability
Pedals, like other moving bike parts, can wear out. Favero has designed the Assioma so the pedal body is separate from the (much more expensive) electrical parts, so you can purchase an entire replacement pedal body (bearings, oil seal and closing parts) for €59.90.
You can also replace or lubricate the pedal bearings, just like other high-end pedals.
Two Negatives
There are just two negatives in my experience with the Assioma, and both feel a bit silly and minor. Still, here they are:
Xpedo? Really? Assioma uses the Xpedo cleat instead of Look, which is just different enough that you can feel a bit of tightness when riding the Xpedo cleat on Look pedals. This won't matter at all for people with only one road bike. If you're like me (with an indoor bike and outdoor bike), I've found that using the Xpedo cleats on my Look pedals just feels a bit tighter than I'm used to – but not a big enough deal for me to fuss about. Still, it would be nice if the pedals used a more common standard.
No Cycling Dynamics for Wahoo Head Units: this is a Wahoo problem and not a Favero one… but I'm still annoyed that I can't get IAV Cycling Dynamics on my Wahoo ELEMNT head unit! If anyone knows a way for me to access the Assioma cycling dynamics via a PC, iOS app, or my ELEMNT, I'm all ears. Comment below!
Concluding Thoughts
With impressive accuracy and the best price of any pedal power meter on the market, it's no surprise that Zwifters love the Assioma. I wouldn't hesitate to recommend them as my first choice for anyone looking for a pedal-based power meter.
Where to Buy
The Favero Assioma can be purchased direct from Favero (based in Italy) or at these Zwift Insider affiliate partners:
Questions or Comments?
Share below!