The power of positivity is an undeniable force, especially in the case of Larry Parker. But as Zwift racers know all too well, it is watts that push the pedals!  After reading the story of this incredible man's struggle to overcome adversity while maintaining perception, neophytes like us were left with one big question: how?
Editor's note: if you haven't read part 1 of Larry's story, we recommend you check that out before continuing, so you can read what's below in its proper context.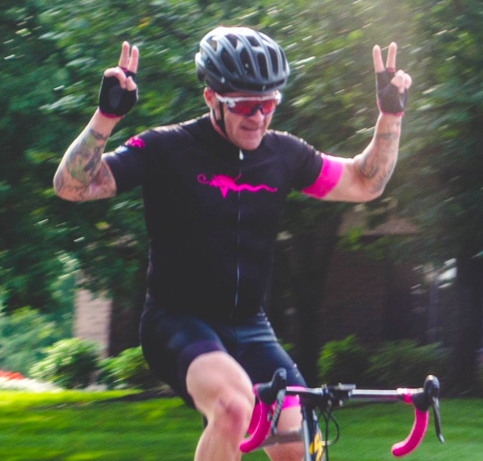 How did this remarkable individual go from the cardiac ICU to pulling piles of books behind his mountain bike to strengthen his ticker to one of the top-ranked Zwifter racer in the world?  
While I would never accuse the Zwift racing community of being a cynical bunch, I would admit that when I first heard Larry's story, the random remorseful "Is he legit?" thought entered that deep dark recess of my subconscious reserved only for cutthroat competition.
No Question: Larry's Legit
I feel uneasy by the mere allusion, so let's get this out of the way: the proof of Larry's veracity is transparent and as his ZwiftPower profile clearly demonstrates, he has nothing to hide. 
Larry utilizes a Tacx NEO 2T direct-drive smart trainer, known within the industry to be extremely accurate and reliable. Used in the recent UCI ESports Worlds, the NEO 2T does not require calibration, and as numerous user reviews attest, it's not the preferred choice of 'Trainer Dopers'. 
Larry also uses a Quarq DZero crank-based power meter as a secondary power data source to confirm the reliability of his trainer's data readings.  A weigh-in video can be found on ZwifTransparency.  Nope…not a 'Weight Doper'.  In fact, there is nothing to see here, but you can look if you are so inclined. 
Larry's Comeback: Where He Started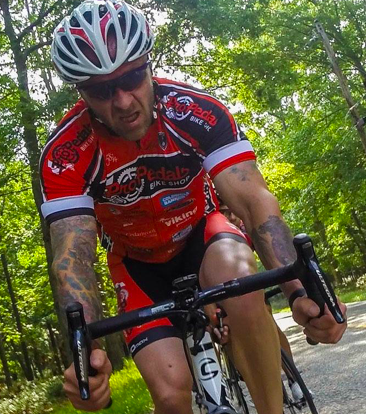 Larry was always physically active, racing motocross, training in mixed martial arts, weightlifting, and running. But he denies being a serious endurance athlete or having a genetic gift.   
Prior to 2009, Larry had no health concerns, warning signs, familial history, or genetic predisposition to cardiac issues. However, in hindsight, Larry does feel his lifestyle was the major contributing factor to his illness.
"I burnt the candle at both ends", acknowledges Larry, who worked 40-60 hours a week while attending college, exercising vigorously, and raising a family.  
Despite thoroughly enjoying his rewarding work in law enforcement, Larry agrees that it was extremely stressful and laments, "the stress of the job, long hours, poor sleep, diet, and hydration were all factors."
Larry's Cardiac History: A Deep Dive
Between 2009 and 2011, following multiple hospital admissions, assessment by the foremost cardiac specialists in the field at The University of Pennsylvania, several cardiac ICU stays, and countless ER visits, Larry was formally diagnosed with:
Congestive Heart Failure: Occurs when the heart works less efficiently than normal and cannot pump enough oxygen and nutrients to meet the body's needs
Cardiomyopathy:  An enlarged heart due to a medical condition
Ventricular Tachycardia (Sustained): A heart rhythm disorder (arrhythmia) causing the heart to beat faster than normal (>100bpm) preventing it from pumping enough blood to the body
Atrial Fibrillation: When the heart's two upper chambers (atria) beat out of coordination with the lower (ventricles) increasing the risk of heart failure
Cardiomegaly: An enlarged heart caused by a medical condition
Secondary Complications
He also experienced the following related/secondary complications:
Cardiac Ejection Fraction of 22: The percentage of blood leaving the heart each time it contracts (normal >55%).
Acute Renal Failure: When the kidneys become unable to filter waste products from the blood.
Traumatic Brain Injury: When ischemic in nature is due to a lack of blood flow to the brain.
Treatments
Larry underwent the following treatments:
Multiple Cardiac Catheterizations
6 Cardiac Ablations
Surgical Implantation of Pacemaker/Defibrillator in January 2010
Cardiac Rehab
Cognitive Therapy
Medications: anti-arrhythmia, Beta blockers, Blood thinners, Diuretics
"I was 200 pounds and seriously out of shape," states Larry, who was advised to avoid exercise and stress, denied return to the job he loved in law enforcement, and "basically told to go home and wait to die."  This was not an option for Larry who was motivated to beat CHF and be there for his family.  
Larry started by climbing the staircase in his home several times a day, and when not exhausted and out of breath from doing so, progressed to taking short walks outside with a portable oxygen machine.  That is when the mountain bike and book buggy came in, and his cycling career was born.
Larry's Comeback: Where He Is Now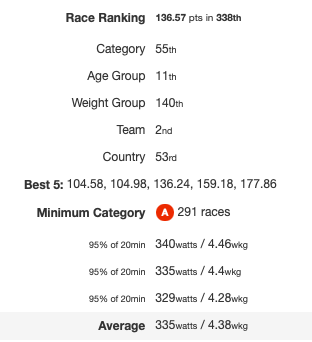 Larry is a level 50 Zwifter with 25,000 plus miles and close to a million vertical feet of climbing on the platform, including over 300 races and 46 victories, after beginning his racing career in January of 2018.  Presently, Larry is ranked 10th in the world in the 50+ age group and 54th overall in A, and at one time was ranked first in each category. 
Larry was forced to stop riding with the elite Saris-The Pro's Closet team in May of 2020 due to the increased demands upon his heart, but does fondly recall his greatest Zwift accomplishment to be his first victory with the team in January of 2020. 
Always concerned about the strain placed upon his failing heart, Larry never rides without wearing two heart rate monitors, and keeps antiarrhythmic meds close at hand.  "There have been numerous times that I have stopped racing due to an erratic or high heart rate," states Larry, whose max is between 174 and 182bpm. His defibrillator set to cardiovert at 210 sustained.
"There have been days that I felt horrible at the beginning of a race and for some reason I settle in, control the anxiety, and have a great race," describes Larry. "Other times I can't mentally control it and have to take a DNF."  Larry credits the Zwift racing platform with giving him the confidence to push his limits, since "if I have a medical issue my family is just up the stairs."
Larry's Comeback: How He Got There
With Zwift as a safe venue to pursue his passion, Larry began building a cycling base, firmly believing the "stronger the foundation the sounder the structure" by learning the basics of bike fit, positioning, pedal stroke, cadence, and power.  He further fortified his base through "long sufferfests on the trainer" and averaged 12 to 14 hours per week and over 13,000 miles per year, while turning "micro-improvements into macro-gains."  
"The mental and emotional effect is incredible," Larry excitedly remarks, "going from terminal CHF to winning elite Zwift races" fuels his desire to beat the odds.  Larry's doctors consider him an anomaly worthy of study and believe his perseverance may explain his improvement from a cardiac EF of 22 to its present near normal level of 48.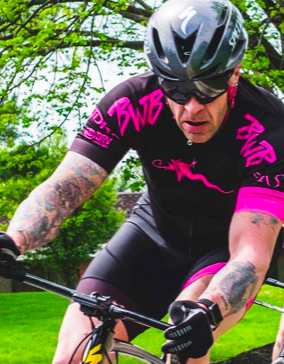 Larry's Training Plan
2 Zwift races per week
2 Tempo rides of 3-4 hours with multiple 1 to 5 minute intervals
1 to 2 Hard Group rides (or race simulations)
1 Flexibility and Core Session
Larry's Zwift Racing Tips
Learn the game! Know the routes, climbs, sprints, and distances.
Learn the draft! Practice during group rides to conserve energy for the sprint.
Be efficient! Know when to go and save your watts because you only have so many.
Know your opponent! Research your competition's strengths and weaknesses.
Be honest with yourself! Know your own strengths and weaknesses and use them.
Maintain your equipment! 
Be strict with hydration and cooling!  20oz. of fluid per 20 minutes of racing, and 165 daily.
Be analytical! Zwiftpower has all the data on your competition and you have your own.
Recover as hard as you ride!  More is not always better.
Love to suffer!  Embrace the suck and push beyond it.
Have fun! Zwift is all about fun, fitness, and friends.
My Apologies
Please forgive me, my pack fodder brethren, for leaving you feeling unsatisfied if you read this hoping to find the secret which was going to push your performance over the edge.  The truth when it comes to Larry Parker is that there is no special sauce, no secret, nothing which he does which is new or revolutionary, except to say that Larry is all of those things.  
Larry is that rare individual who has the ability to just do things better, like that guy in your group ride who makes it look easy, or the kid you admired growing up who could do everything.  He prepares more, trains harder, studies more thoroughly, races smarter, and digs deeper.  This coupled with an innate ability to thrive under pressure in the face of extreme adversity is what makes him a great cop and Dad, allowing him to excel in a sport that rewards those who can just plain suffer better.  
Don't give up hope my fellow domestiques. Although most of us will never rise to Larry's level, the good news from the gruppetto is that we all can prepare more, train harder, study more thoroughly, race smarter, and dig deeper.  Ride on! 
What About You?
Do you have any riding or racing tips which are so simple that they are super?  If yes, let us know how you use your secret to become the best cyclist you can be.