Tacx NEO 2T
Direct Drive Trainer

Released in September 2019, the Neo 2T is the latest version of Tacx's flagship trainer. Tacx says, "with an improved design and revamped components, it provides even more immersive features, new pedal stroke analysis capabilities and even more improvements that make it one of the most quiet, realistic and accurate bike trainers available."
One big change in this model is an improvement in torque (hence the "T" in the name). That means no more of the "virtual tire slip" that some Zwifters have complained about in the past when putting out big watts at low flywheel speeds.
Key Specs
MSRP: $1399.99 USD
Accuracy: +-1%
Flywheel: Virtual
Max Wattage: 2200 W
Max Incline: 25%
Overall Rating

4.8 stars
based on 53 reviews
Easy setup
87%
Accurate power
94%
Realistic inertia
92%
Well-built
87%
Helpful support
25%
Portable/storable
45%
Quiet
92%
Budget-friendly
2%
First smart trainer from jakelski October 14, 2020 


Price is a little high otherwise no complains

Easy setup Accurate power Realistic inertiaWell-built
One of the best, but will it last a lifetime from McDry October 6, 2020 


As read on social media there are quite some issues on bearings, which seem to be not that reliable during time. Since oktober 2020 garmin offers a replacement set on that, so it's covered, but should not be needed on a 1400 euro trainer!
also heating seems to throw issues; the cooling of the trainer, not the artist. Maybe only on the upper level usage.
As i'm not that highclass artist with 7 hours trainingtime/week and in the 200~350 W range the trainer does not throw issues, but not shure whether I stay out if them.
Overall I'm happy with it.

Easy setup Accurate power Realistic inertia Portable/storable Quiet
The Rolls Royce of Smart Trainers! from Robin.Craigen September 30, 2020 


For the serious Zwifter, direct drive is the only way to go! The Tacx Neo 2T is quiet, accurate, solidly built and super easy to use. It's not cheap, but you are getting what you are paying for.

Easy setup Accurate power Realistic inertiaWell-built Portable/storable Quiet
TACX NEO 2T from castellari.franco September 30, 2020 


TACX NEO 2T Top of the range of the Tacx line. The trainer is very stable and allows many degrees of oscillation. It is already assembled, just open and lock the legs, mount the pinions and it is ready for use. It does not require calibration. Very fast connection with PC or Android using Ant + and FE-C or bluetooth connections. The trainer is certified by Zwift with which it works correctly. The pedaling is extremely smooth both sitting and standing. The simulation of the road is like a video game but the simulation of the descent is very valid. The trainer powers itself but for the simulation of the descent it is necessary to connect it to the mains. Updates are managed by a special app, the premium version is paid.
Pros:
• Stable
• Power measurement accuracy ± 1%
• Great connection
• Already assembled
• Simulates climbs up to 25% incline
• Does not require calibration
• Simulation of descent
Cons:
• Minimal instructions
• High cost of the premium version of the app.

Easy setup Accurate power Realistic inertiaWell-built Portable/storable Quiet
Solid, reliable and built to last from ryathlete September 29, 2020 


I can't fault this trainer whatsoever. After only ever previously owning a 'dumb' trainer that I used fewer than 5 times due to boredom factor, and having dabbled with the thought of buying power meter pedals for my outdoor road bike but not fully justifying the cost, I combined the two and invested in the Tacx NEO 2T. Is it cheap, no, but it is worth it - hell yes!

From opening the box it's obvious the NEO 2T is a serious bit of kit.

Setup was very straightforward (recommend buying a new chain and cassette if yours are well used), and firmware easily updatable with the app via bluetooth.

Within the hour I was up and riding using the free Tacx Premium software trial, but was only a few days until I forayed into the world of Zwift, and haven't yet looked back.

Performance wise, the Neo 2T is superb, have used on both ANT+ and Bluetooth and never suffered a dropout.

My favourite feature? Without a doubt it's the inbuilt road feel that takes it to another level and sets it above the competition. There are 8 (I think) types of road surface the trainer can simulate, including ice, gravel, cobbles, wooden planks, and more. The roads in Zwift simulate a good propotion of these, and you can use the Tacx firmware app to test out all the modes.

The NEO 2T generates its own power, so it doesn't have to be plugged in to use it (great if you're on the move. However I always use mine plugged into the mains for the free wheel effect (another unique feature to the Neo 2T) which simulates the freewheeling noise when going down gradients without pedalling, rather than everything suddenly going silent.

If you're still in doubt, don't me. I'd whole heartedly recommend the NEO 2T.

I spend far more time on this trainer (permanently paired with a now retired Cannondale CAAD 8) than I do riding outside. I've made improvements I'd never have made with a dumb trainer, and a personal goal to achieve 4W/Kg average by the end of the year.

Easy setup Accurate power Realistic inertiaWell-built Helpful support Portable/storable Quiet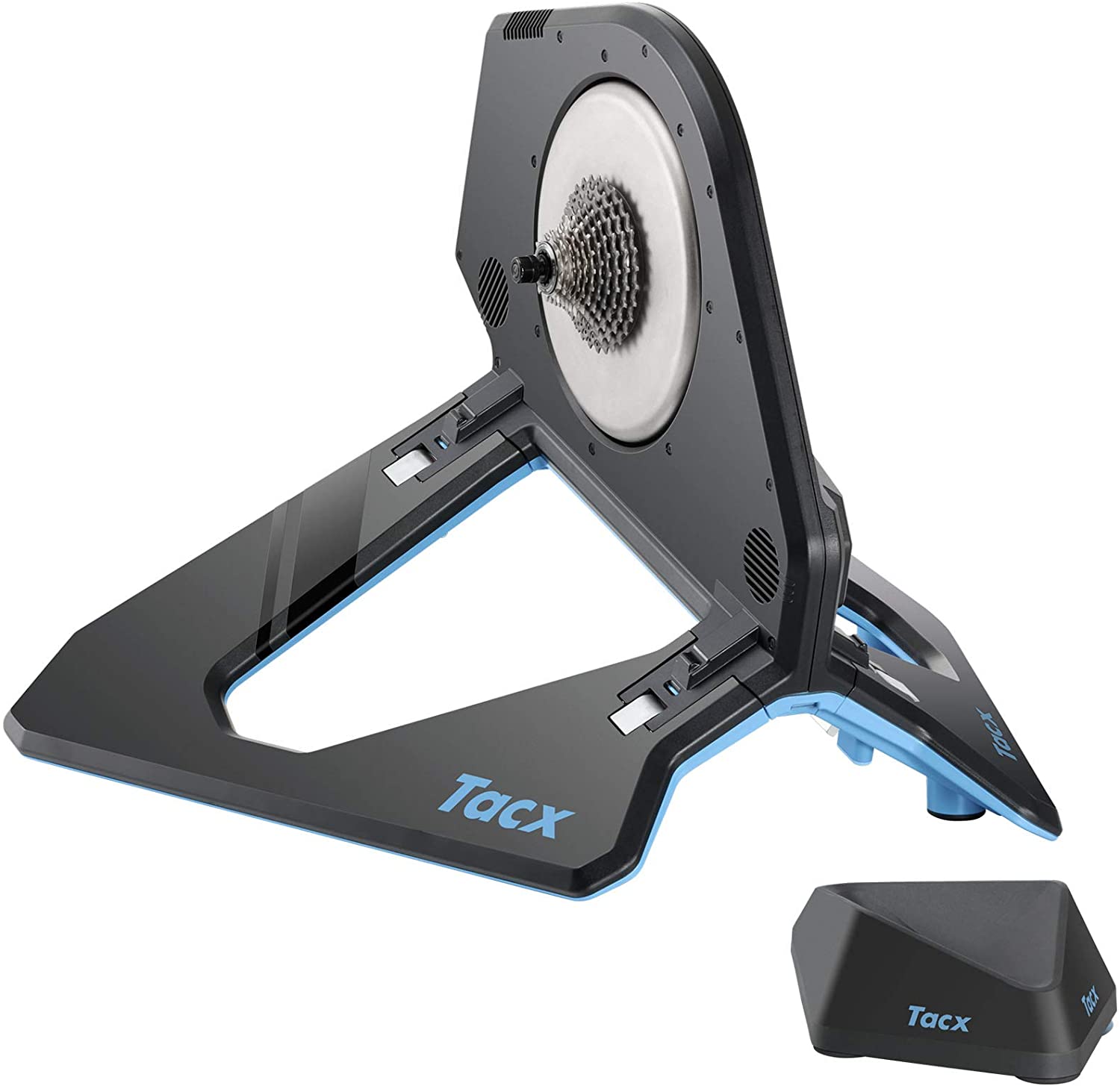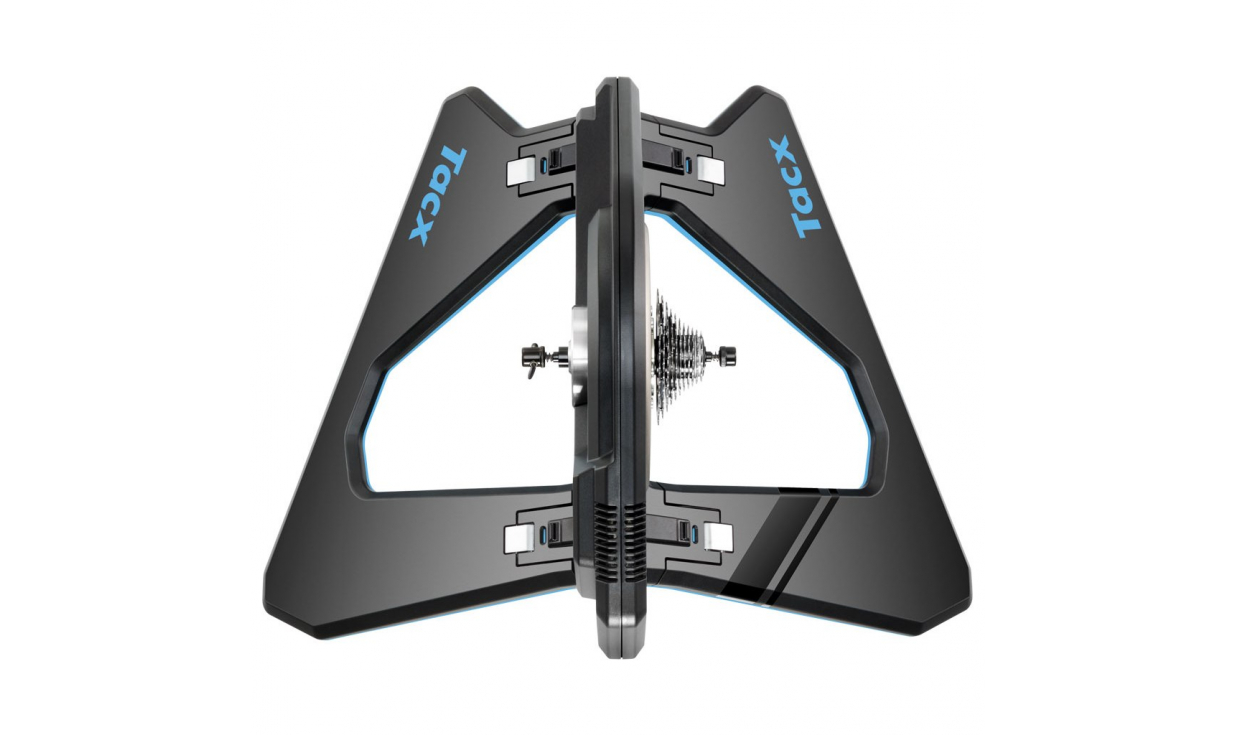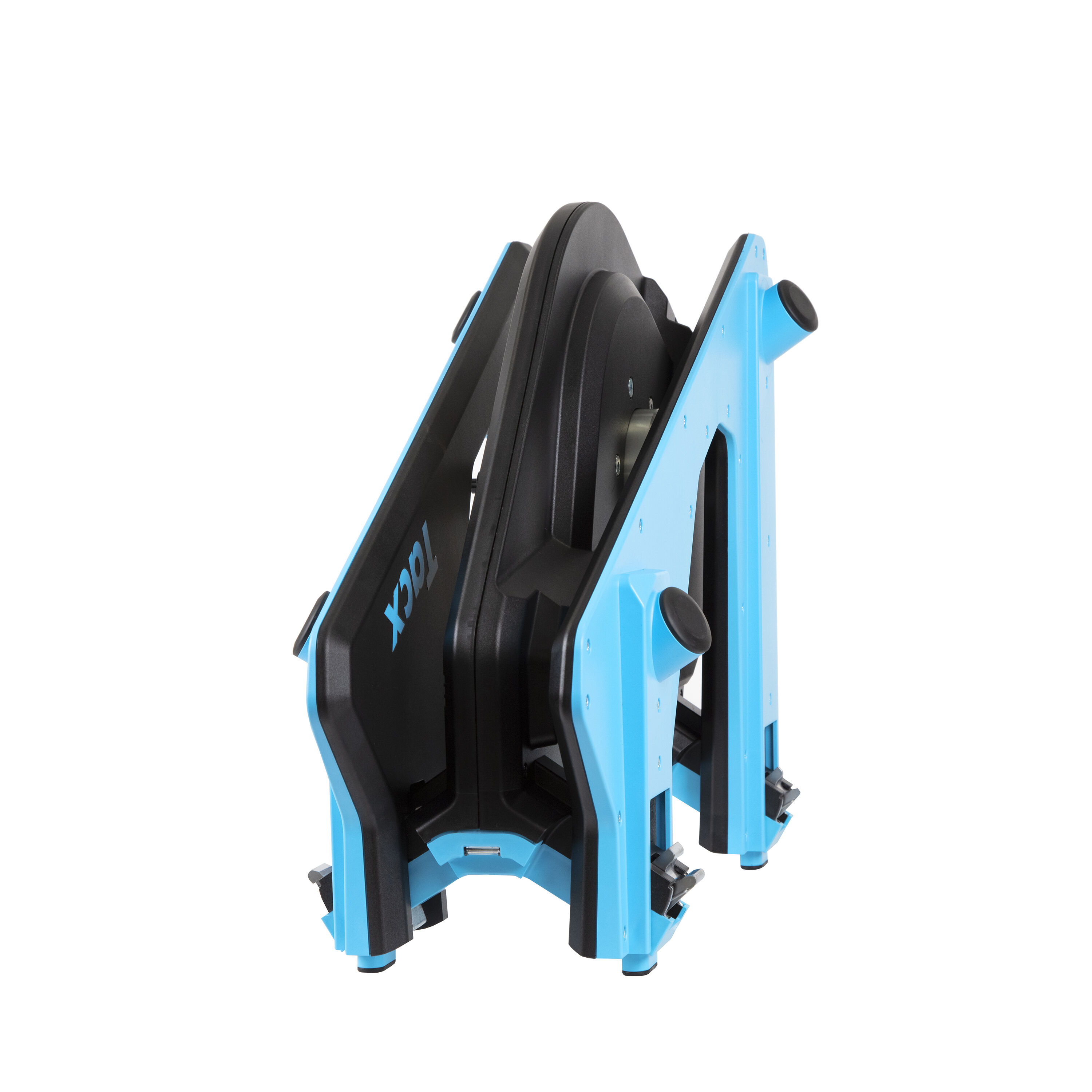 Own this trainer? Post a review!
First smart trainer from jakelski October 14, 2020 


Price is a little high otherwise no complains

Easy setup Accurate power Realistic inertiaWell-built
One of the best, but will it last a lifetime from McDry October 6, 2020 


As read on social media there are quite some issues on bearings, which seem to be not that reliable during time. Since oktober 2020 garmin offers a replacement set on that, so it's covered, but should not be needed on a 1400 euro trainer!
also heating seems to throw issues; the cooling of the trainer, not the artist. Maybe only on the upper level usage.
As i'm not that highclass artist with 7 hours trainingtime/week and in the 200~350 W range the trainer does not throw issues, but not shure whether I stay out if them.
Overall I'm happy with it.

Easy setup Accurate power Realistic inertia Portable/storable Quiet
The Rolls Royce of Smart Trainers! from Robin.Craigen September 30, 2020 


For the serious Zwifter, direct drive is the only way to go! The Tacx Neo 2T is quiet, accurate, solidly built and super easy to use. It's not cheap, but you are getting what you are paying for.

Easy setup Accurate power Realistic inertiaWell-built Portable/storable Quiet
TACX NEO 2T from castellari.franco September 30, 2020 


TACX NEO 2T Top of the range of the Tacx line. The trainer is very stable and allows many degrees of oscillation. It is already assembled, just open and lock the legs, mount the pinions and it is ready for use. It does not require calibration. Very fast connection with PC or Android using Ant + and FE-C or bluetooth connections. The trainer is certified by Zwift with which it works correctly. The pedaling is extremely smooth both sitting and standing. The simulation of the road is like a video game but the simulation of the descent is very valid. The trainer powers itself but for the simulation of the descent it is necessary to connect it to the mains. Updates are managed by a special app, the premium version is paid.
Pros:
• Stable
• Power measurement accuracy ± 1%
• Great connection
• Already assembled
• Simulates climbs up to 25% incline
• Does not require calibration
• Simulation of descent
Cons:
• Minimal instructions
• High cost of the premium version of the app.

Easy setup Accurate power Realistic inertiaWell-built Portable/storable Quiet
Solid, reliable and built to last from ryathlete September 29, 2020 


I can't fault this trainer whatsoever. After only ever previously owning a 'dumb' trainer that I used fewer than 5 times due to boredom factor, and having dabbled with the thought of buying power meter pedals for my outdoor road bike but not fully justifying the cost, I combined the two and invested in the Tacx NEO 2T. Is it cheap, no, but it is worth it - hell yes!

From opening the box it's obvious the NEO 2T is a serious bit of kit.

Setup was very straightforward (recommend buying a new chain and cassette if yours are well used), and firmware easily updatable with the app via bluetooth.

Within the hour I was up and riding using the free Tacx Premium software trial, but was only a few days until I forayed into the world of Zwift, and haven't yet looked back.

Performance wise, the Neo 2T is superb, have used on both ANT+ and Bluetooth and never suffered a dropout.

My favourite feature? Without a doubt it's the inbuilt road feel that takes it to another level and sets it above the competition. There are 8 (I think) types of road surface the trainer can simulate, including ice, gravel, cobbles, wooden planks, and more. The roads in Zwift simulate a good propotion of these, and you can use the Tacx firmware app to test out all the modes.

The NEO 2T generates its own power, so it doesn't have to be plugged in to use it (great if you're on the move. However I always use mine plugged into the mains for the free wheel effect (another unique feature to the Neo 2T) which simulates the freewheeling noise when going down gradients without pedalling, rather than everything suddenly going silent.

If you're still in doubt, don't me. I'd whole heartedly recommend the NEO 2T.

I spend far more time on this trainer (permanently paired with a now retired Cannondale CAAD 8) than I do riding outside. I've made improvements I'd never have made with a dumb trainer, and a personal goal to achieve 4W/Kg average by the end of the year.

Easy setup Accurate power Realistic inertiaWell-built Helpful support Portable/storable Quiet
Silent and Glowing from Simon September 29, 2020 


The TacxNEO 2T trainer is a fantastic trainer at a premium cost.
Generic support for thru axle road bikes supplied, however does not get supplied with a cassette which for the price would be a nice inclusion.
Exceptionally quiet which was the primary aim in my case and the glowing lights are a bonus, especially in a dim room.
Road feel is a nice novelty, however find I do not use it.

Easy setup Accurate power Realistic inertia Helpful support Portable/storable Quiet
Excellent trainer with unique features but it developed creak noise that needs to be resolve from RB September 28, 2020 


The following features made me choose this excellent trainer:

1. No need for calibration
2. Can work w/o electricity
3. Easily folded
4. Emulate road feeling and add fun to the pain
5. Enable some tilt for better cycling feeling
6. Can simulate more than 15% (much more but that was my request)
7. Silent

Now today it's closest rival the Kickr closed some of the gaps mainly the no need for calibration and tilt but still missing some that are important to me. Neo 2T is excellent trainer and the above features make it very easy to use and lots of fun.

My main complaint is that it developed creak noise like this - https://tacxfaqx.com/knowledge-base/neo-2-leg-hinge-creak/ . That's why I gave it 4 out of 5 stars.

Now I need to take it to service and it will take about a week to fix 🙁 . Very hard after I got addicted to it...

Easy setup Accurate power Realistic inertia Portable/storable Quiet
Best trainer from DennyDrcz September 25, 2020 
Easy setup Accurate power Realistic inertiaWell-built Helpful support Portable/storable Quiet
Great Trainer from Colin September 24, 2020 


It does what I expect it to. I appreciate the small amount of rocking motion that it permits. Road feel is a neat gimmick, but I got tired of it and turned it off. I really like not having to calibrate.

Easy setup Accurate power Realistic inertiaWell-built Portable/storable Quiet
Awesome with issues from Butmonkey September 24, 2020 


This smart trainer has all the bells and whistles and the price tag to boot. Works great with Zwift, very realistic feel to all road surfaces. My only gripe is the connectivity. We use a laptop to run Zwift, which then has a HDMI lead to the TV. We first connected the 2T via Bluetooth to the laptop but this suffered from dropouts where speed and power would reduce to zero. I then bought a cheap ant+ antenna for the laptop but we also suffered dropouts, I then splurged on the tacx antenna for the laptop and still suffered dropouts. I am not 100% sure that the trainer is to blame but it does reduce my affection for it

Easy setup Accurate power Realistic inertiaWell-built
My new trainer from Andrew September 23, 2020 


Fantastic

Easy setup Accurate power Realistic inertiaWell-built
Quiet and accurate! from solsen300 September 23, 2020 


Upgraded from the H1 and it has been a good experience so far. The real life you feel you get from gravel or bridges can be shut off if you're not in to that sort of thing and it fold up nicely to transport. It's also very quiet and can be used without power if you wanna take it with you to warm up for an outdoor race.

Easy setup Accurate power Well-built Portable/storable Quiet
Great trainer but expensive from dogfish September 22, 2020 


The TacxNEO 2T trainer is a great trainer but at a high cost with an additional cost for cassette. The no calibration is great especially compared to my previous wheel-on trainer that required constant calibrations for accurate readings. It is one of the few wheel-on trainers that supports 135mmx12 thru axle road bikes with a special skewer adapter. Very quiet and the glowing lights as you pedal are visually cool.

Accurate power Realistic inertia Quiet
Works perfectly from bl September 21, 2020 


I wasn't sure about what trainer to buy, in the end I was sure I will ride very often and wanted to buy something good. The choice in the end was the Tacx Neo 2T. I haven't tried anything else before and after, but I have no problems at all with that trainer (about 8000km). You don't have to calibrate the trainer, it connects very fast with Bluetooth and a Windows Notebook and works very well. The road feel function is nice in the beginning but I don't use it as it is louder than without. The only thing which is not perfect is that it is difficult to carry (and of course heavy), so maybe an interesting fact if you want to move it often.

Easy setup Accurate power Realistic inertiaWell-built Quiet
It's Like Riding Outside!! from Greg September 18, 2020 


Have been using a Kickr Snap for three years without any major problems. Unfortunately, it required a spin down before every ride to get accurate speed and power results. That spin down didn't happen very often. Enter the Tacx Neo 2T! No spin down required, no tire to air up, no tire slipping and no cleaning up tire debris. The Neo 2T ride is smooth and feels like you are outside and virtually no maintenance. Using the Neo 2T it on Zwift is a major upgrade in that you can "feel" the road and power is accurate and now my speed has improved noticeably. With the Bike Tire Direct discounted price the Neo 2T was only a little more than the Kickr. If you can afford this trainer, buy it! No regrets here!!

Easy setup Accurate power Realistic inertiaWell-built Quiet
Neo 2T is kinda "budget" version of Tacx Neo Bike from Mike N. September 18, 2020 


OK, it's not much budget friendly, but considering the capabilities and parameters of NEO 2T, for half of a price of Neo Bike you get equal trainer at home ... except you have to attach your bike.
In my previous review for Neo Bike I liked the comfort of USB charger and build-in fans. That's biggest thing I was missing here - the comfort of having all at once. But that's it. In return for less comfort you get ... wow! incredibly foldable and almost-no-space eating pro-trainer with incredibly high accuracy and low noise. You can ride it next to kids watching fairytales in the TV.
Since I fell into Zwift racing on Neo Bike, I was slightly afraid of "coming down from Neo Bike" ... but the experience is just incredibly similar to Neo Bike. OK, less comfort, but if you cannot afford having trainer whole year taking space in your flat and still you want to retain the pro-training routines at home, I'd recommend Neo 2T.

The parameters are allowing you to do even virtual everesting, which I did (yes, hamster is a sucker compared to that experience:), but no complains from neighbors about vibrations, no noise, nothing. Just you riding at any effort and perfect accuracy. That's what I'd need from a trainer and some more stuff, that Neo 2T completely meets.

On top, recently Garmin watches/computers got FE-C capability and you can simulate on the Neo Bike literally ANY course that you have saved in the computer (watch) via GPX. Or even one of yours previous rides.

Easy setup Accurate power Realistic inertiaWell-built Portable/storable Quiet
Wheel off – so much better! from jschultzdanmark September 16, 2020 
Easy setup Accurate power Well-built Portable/storable Quiet
Love my Tacx Neo 2T from Spandog September 16, 2020 


Very realistic ride. Love the real life feel and sound over cobbles and boardwalks. Also like the slight rocking action that mimics actual feel of riding on the road.

Easy setup Accurate power Realistic inertiaWell-built Helpful support Portable/storable Quiet
a five-star trainer from Jack63 September 14, 2020 


does not require calibration, it does not need power supply except for the simulation of the descent. The simulation of the terrain does not add realism to the pedaling but this is my opinion. The slight possibility of oscillation allows a greater realism I would accentuate this feature

Easy setup Accurate power Realistic inertiaWell-built Quiet
Great but doesn't fit all frames from jk September 13, 2020 
Easy setup Accurate power Realistic inertiaWell-built Quiet
Tacx NEO 2T from Le Domestique September 13, 2020 


Expensive but absolutely great. Powerful, stable an quiet. Powerreadings are the same as my Stages powermeter and when you use the Tacx- of Bkool-app gradient feels real. Only Zwift will let you go uphill rather easy (I can conquer 16% with 21x36 which IRL I can only dream of). But that's Zwift and has nothing to do with the trainer.

Easy setup Accurate power Realistic inertiaWell-built Helpful support Portable/storable Quiet
Smart training 4.0 from M.J. September 12, 2020 


Unbelievable performance. Road feeling pur. Easy to connect and use.

Easy setup Accurate power Realistic inertiaWell-built Helpful support Portable/storable Quiet Budget-friendly
Expensive, but top of class from AlanD September 10, 2020 


I started out with a Tacx Smart for just £200 the year before, but soon outgrew it for big climbs and sprinting. Also tiresome (mind the pun!) using a training tyre. The 2T is a different level - incredible incline reproduction and more than enough power to stop your legs dead in the wrong gear!

Terrain rumble seems a bit of a gimmick, but after a while, is just another welcome feature to bring a little interesting realism to a ride and Zwift implement it reasonably well.

No problems in a year of ownership and always pairs faultlessly.

Realistic inertiaWell-built Portable/storable Quiet
New 2T from derrickwpalmer September 9, 2020 


I had been thinking of investing in a smart trainer for a while to get an extra bike in each week. The pandemic made the choice for me! I was evaluating the Wahoo Kicker and the Neo 2T. It was a tough choice. In the end there were a couple of items that swung my decision. First, I'm am deeply immersed in the Garmin universe for better or worse. Having a trainer integrated into that network seemed like it might eventually open up new features. Second, i liked the ability of the trainer to flex. I'm not a light person, having some flex again seemed valuable. Third, road feel is cool. Fourth, full support for cycling dynamics also seemed valuable. And the ability to "coast" was also a feature I liked.

I've had the trainer setup since March 2020 in my home office And so far it has worked great. The ride feel is really realistic. It is very quiet. Setup and connection to Zwift, Tacx app and other training platforms was really easy. I've put about 1000 miles on it so far with no issues at all.

Easy setup Accurate power Realistic inertiaWell-built Quiet
The best of the best… from Osquar September 9, 2020 


The only thing I miss from a competitor is a handle... when you want to move it... Otherwise the best there is...

Easy setup Accurate power Realistic inertiaWell-built Quiet
Pedal to the metal with the Tacx NEO 2T smart trainer review from Venerea September 9, 2020 


Let's start this review at the very beginning, with the most asked question within the indoor trainer market: "Which one is better, the Tacx Neo or the Wahoo Kickr?"

That is one question that I can not answer.

What made me choose for the Tacx Neo 2T instead of the Wahoo Kickr ... that is that with the Tacx Neo 2T you can see your left-right power balance. I always wanted to know the difference, and now I now.
When pedaling at 200w, it is about 45-55%. Personally I find this a big difference. But when I am pushing harder, from about 250w, the difference gets smaller right up to 49-51 or even 50-50.

That split power was the main goal for me to choose for the Tacx Neo 2T. Other persuading features are:
- you can cycle without a power cord
- nice LED light that changes from blue, purple into red, depending how much efforts you are doing.
- downhill feature in Zwift

Stepping up from a Tacx Flux I can feel some positive difference in:
- trainer accuracy
- more realistic ride feeling
- it is unbelievable quiet
- better transition between gradient

The built quality of the product absolute world class.
After unboxing (premium feeling), the setup was super easy. You have to put on a cassette yourself, but this is straight forward and quickly done.

What I do not use is the road feeling of the Tacx Neo 2T. I do not like cobblestones 🙂

Easy setup Accurate power Realistic inertiaWell-built Portable/storable Quiet
Not bad from Stefan777 September 9, 2020 


This trainer won't let you down.
I had an issue with the first trainer I got from Tacx and they sorted it out really quick.

I appreciate after service more than the product because I generally take good care of my products but love when after service guides me to the next best solution. And that what Tacx does !

If you have the desire for real life road feels and a reliable trainer then get the Tacx Neo 2T

Easy setup Accurate power Realistic inertia Helpful support Quiet
Fantastic trainer with road realism from Rich September 9, 2020 


moving from a dumb trainer to this is like night and day in zwift! love the road feel and the downhill simulation and I've found it very responsive. the only issue I've had is with ANT+ drop outs but these have been mitigated with an extended USB cable.

Easy setup Accurate power Realistic inertiaWell-built Quiet
Solid and reliable from Clayton September 9, 2020 


I went from an old magnetic trainer to this and what a difference. It is sturdy, easy to set up and has a cool light underneath.
It is heavy, but that adds to the solid feel when you are riding and I am lucky not to have to move it that often. In a year of using it 3-4 times a week, I have only had to wipe it clean it and grease the sprocket once.
It is quiet to use, the chain on my front ring is noisier than the Tacx Neo 2T.
If you want a quality trainer, this is a good bet.

Easy setup Accurate power Realistic inertiaWell-built Quiet
The Best Direct drive Trainer – full stop! from kissakiwi September 9, 2020 


I, like many Zwifters was using a wheel-on Smart Trainer (Tacx Smart) for past 2 years and finally took the plunge to upgrade to the NEO 2T as had a special discount code which reduced cost to same as latest Wahoo KICKR. I did consider the KICKR but decided that I probably would not use the Wahoo CLIMB and liked the idea of the 'road feel' as well as natural hill descent features the NEO gives.
First impressions (only used couple times) - Wow - it's near silent. I can only hear my drive train and the fan I have now is the the loudest thing in room by far.
As to the feel, it's really great - much more natural movement when ridding the bike (swinging slightly left and right just as you would on the road) However what I have found is i think my FTP determined 2 weeks ago on the 'wheel-on' trainer is higher than the NEO! 2 weeks ago FTP was 261. I tried riding a workout on NEO which involved 4 x 5min 250w the 5 min 230w and my legs were really feeling that 250w. Not sure if just fatigue in legs from Century ride couple days ago or the NEO is much better at determining accurate power, so I will wait couple days and do another FTP Test.
Will update my review then, but absolutely no regrets so far!

Easy setup Accurate power Realistic inertiaWell-built Quiet
Tacx NEO 2T: value for money from Renze September 9, 2020 


The Tacx NEO 2T is not the cheapest trainer, but certainly a good investment if you want to be able to continue training if riding outside is not possible, without making any concessions. Except for the fresh air, the feeling on the Tacx NEO 2T resembles the experience outside. The Tacx NEO 2T works perfectly with ZWIFT, also on the steep climbs. Another advantage of this trainer, compared to previous trainers I had, is that this one is really quiet, which makes riding later at night also possible without waking up or disturbing my family. So, if you can afford it, I would strongly recommend the Tacx NEO 2T.

Easy setup Accurate power Realistic inertiaWell-built Helpful support Portable/storable Quiet
My Tacx Neo 2T Is A Great Trainer from toddbike September 8, 2020 


I have owned a Tacx Neo 2T since November of 2019. It has performed flawlessly. The trainer has just the right amount of side to side flex, there is no wheel slippage and the road feel is pretty neat. I find the accuracy to be in line with my other power meters. I would surely buy it again.

Accurate power Realistic inertiaWell-built Quiet
Tacx Neo 2T from RayGir September 8, 2020 


Pros: Very Silent, resistance change smoothly, love the road feel (which can be annoying at time but still love it), connect rapidly to apple tv 4k, can be used without powersupply (as long as you cotinue to pedal), i love the small rocking effect in the trainer that let the bike move (more natural feeling when pedalling and particularly when standing up), very solid with the big and wide legs
Cons : Changing light based on power is "stupid" (range for each color is too wide so i am always pedalling in "purple" unless i am standing up, or pedalling very softly for warming up and cooling down) (Color Seems to be based on range of power Output instead of power zone of the user for example), no handle So harder to carry around if you store it each time

Easy setup Accurate power Realistic inertiaWell-built Helpful support Quiet
Tacx Neo 2T from JB September 8, 2020 


I purchased a Tacx Neo 2T in March when Stay from home started and have been regularly using with Zwift since. I have had no issues with it. It connects easily to Zwift on my AppleTV and I now have my whole family Zwifting. It's been a great source of Exertainment and I've ridden more miles this year than I ever had. The simulated road feel while a novelty is fun as it makes pavement changes more interesting and will be a nice add-on for the single track trails. I like that no calibration is needed and I can just get on and ride.

Easy setup Accurate power Realistic inertiaWell-built Quiet
Great Trainer from busse September 8, 2020 


I have done about 10 rides so far on the Neo 2T and it is great. Quiet and accurate.

Easy setup Accurate power Realistic inertiaWell-built Quiet
Tacx Neo2 from pewi September 8, 2020 


I'm satisfied with my Tacx neo2.
So far 3800 km, without any problems. Touch wood!

Easy setup Accurate power Realistic inertiaWell-built Quiet
Amazing Trainer from shaggyisdubom September 8, 2020 


I ride on my trainer 2-5 days a week depending on the time of year and if I am training for an event. I switched from a wheel on trainer to this and it revolutionized zwift for me. It has never had any issues and because it is so easy to setup and use I actually use it more often. Before with a wheel on trainer and being a fairly powerful rider I would constantly get wheel slippage or sometimes even max out the wattage. Not with the tacx neo 2t I cannot even come close to maxing this thing out and it feels just like the road especially with road feel enabled which can scare you the first time but now I have grown to appreciate it during those long cold winter months and I want a taste of the road. Cannot recommend enough.

Easy setup Accurate power Realistic inertiaWell-built Helpful support Portable/storable Quiet
Only once from TriPi September 8, 2020 


Only rode this trainer once on a zwift / Tacx event. It rode smoother and a lot quieter then my Tacx bushido Smart. If the wattage was right then my bushido is to pessimistic. Road feel in zwift was a nice gimmic. Having a little left to right tolerance nice for longer rides. Would be a nice upgrade if I had the money.

Realistic inertiaWell-built Quiet
Reverse Hockey Stick from Rocko September 8, 2020 


I went for the 2T when it was just released. It is pricey, but from what I read about the issues with other trainers (slipping), I thought I'd go top-shelf this time, also to make my Zwift experience as real as possible. You can read about the unit in other tech reviews (I recommend DC Rainmaker), my practical experience was this: Setup was easy, but I never got my ANT+ Sensors working reliably. Also, the support for the NEO2T in Zwift for the road feel wasn't there, which was quite a disappointment. Then, Tacx was starting to push updates for the device and the quality was, well, varying. Finally, by searching through forums, I found there was a mechanical issue with the first units, so I had to send it back to my retailer, but received a replacement unit beforehand. From then on, it was smooth sailing, the unit is working flawlessly, also Zwift supports it now very well. The noise is low, but I live in a house so it's not so relevant for us. It is foldable, but also quite heavy so if you want to stow it away, don't skip arm day and bend your knees when lifting 🙂

Easy setup Accurate power Realistic inertiaWell-built Quiet
The Greatest from trikitty September 8, 2020 


Setting it up involves a similar skill set as one needs to change out a cassette. This is the set up for folks who do not need to move the bike / trainer frequently (if you frequently need to put your bike / trainer away I would opt for a wheel on style and not a direct drive). Once set up, swapping between bikes for folks who are sharing the trainer with another cyclist who has the same gearing, is actually EASIER than setting up a wheel on trainer. This was perhaps the biggest surprise for me. This sucker is also QUIET....the only noise is whatever noise your bike makes. Also, this thing is smooth. Looks slick and is incredibly accurate. I LOVE it. Fiance can be sleeping in the next room and my rides won't disturb him unless I forget to turn off road feel and hit some cobbles LOL.

Accurate power Realistic inertiaWell-built Quiet
Tacx Neo 2T feels like riding outside from VeganL4R4 September 8, 2020 
Easy setup Realistic inertiaWell-built Quiet
Neo 2T from robbin.geuens September 8, 2020 
Easy setup Accurate power Realistic inertiaWell-built Quiet
Great accuracy and no calibration! from barkingmad September 8, 2020 


The Tacx Neo 2T is my second (well technically my third smart trainer) and having just passed 40,000km on Zwift they have had a lot of use. First was a Wahoo Kickr Snap - good (wheel on) trainer with 'ok' accuracy but needed frequent recalibration. Second was a Wahoo Kickr (direct drive) - chosen mainly as I already has a Wahoo - but due to an issue (not resolved) with early shipments of that particular model it was returned and refunded. Decided on the Tacx Neo 2T - yes it's expensive - but it's quiet, very accurate / responsive and does not require recalibration - all important in a smart trainer. It also has pedal analysis (with a compatible head unit) and 'ride feel' to simulate different terrain etc. (some people love this - personally I can take it or leave it). It's well built and folds up for easier transport / storage. Definitely recommended.

Easy setup Accurate power Realistic inertiaWell-built Portable/storable Quiet
Great Trainer from palermotony September 8, 2020 
Easy setup Accurate power Realistic inertiaWell-built Helpful support Portable/storable Quiet
Tacx NEO 2T from Rich September 8, 2020 


I started using my Tacx NEO 2T in fall 2019 and after a few thousand kilometres , it is still running as smooth as the first day. So much so, I set my wife up on her own NEO 2T at the beginning of quarantine. The trainer is super responsive to Zwift and other training programs & the auto-calibration feature ensures accurate power reporting with each and every ride. Although the road feel feature is certainly not essential, it is a novel feature to break up the monotony of the longer rides that are 3+ hours. What is essential during those long rides is the "swaying" feature that allows a bit of side-to-side movement. This slight movement prevent saddle soreness from building up as quickly than a purely static trainer. The 25% incline capacity allows me to experience every incline as if it was real life, and although I will never come close to 2200W capacity it is nice to know I won't "outsprint" the trainer. All of the above, plus the super quiet ride, justify the hefty price tag because I don't foresee the need for a new trainer anytime in the future.

Easy setup Accurate power Realistic inertiaWell-built Portable/storable Quiet
Tacx Neo 2 from Bruce September 8, 2020 


You have to buy and install a cassette. No calibration needed. Very quiet.

Accurate power Quiet
Seems to be good from Debra September 8, 2020 


I have been using the Tacx Neo2T it seems to be working fine; but it took a couple of exchanges to get on that was working properly.

Easy setup Accurate power Realistic inertiaWell-built Helpful support Portable/storable Quiet
Feature rich trainer… from Rosco P. Coltrane September 8, 2020 


Premium trainer with a number of features, such as simulated road feel, under trainer effort lighting and no need to calibrate. The amount of plastic though can lead to creaks and squeek's unless on a solid foundation. If you are on thick carpet, may want to use thick plywood on a trainer mat as a base.

Easy setup Accurate power Realistic inertia Quiet
Neo 2T Review from Joakim Lisson September 8, 2020 


The virtual flywheel give a almost pefect replication of riding outdoors, and have had no problems in the 2 months i have had mine.

Accurate power Realistic inertiaWell-built Quiet
NEO 2T from rwenger September 8, 2020 


Fantastic trainer. I don't use the road feel though. I love no calibration and knowing I have accurate power.

Easy setup Accurate power Realistic inertiaWell-built Quiet
Reliable trainer from Vasu sharma September 4, 2020 


Great trainer

Easy setup Accurate power Well-built Portable/storable
Easy, so easy to use. from laurawho7 September 4, 2020 


I wanted a trainer that wouldn't require calibration and would work, just work. I have the Apple TV so I needed something that would use 1 BT and leaving 1 BT for my HRM. This works. The only complaint is that it is stiff. I built a rocker plate and it's so much better now. I love how easy it is to use and set up.

Easy setup Accurate power Realistic inertiaWell-built Helpful support Portable/storable Quiet
Absolutely Amazing from DEADPOOL September 3, 2020 


This product can handle big watts from a big rider! Love the road feel to bring the virtual world to life! Easy set up and super user friendly! Super quiet! Can run with plugged in or without power

Easy setup Accurate power Realistic inertiaWell-built Quiet