For many of us, the passion for cycling pervades every thought and influences almost every decision, causing the sport we love to become a metaphor for life and the way we live it.  As Larry Parker describes it, "Life is like a grand tour, with wins and losses, pain and pleasure, joy and sadness, love and hate, with stage after stage forcing us to keep pushing the pedals one meter at a time."  
With routes through sunflower-lined roads and scenic mountain passes replaced by intimidating institutional hallways and hospital rooms, the decisive selections of Larry's life have been made with a positive perspective which covered the attacks threatening all that was important to him. 
Prologue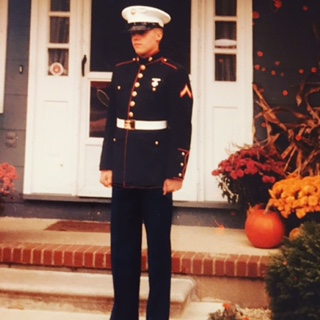 Larry grew up in a New Jersey shore community and recalls "from the time I was old enough to walk I knew I wanted to be a cop like my Father."  Just prior to his 18th birthday, Larry enlisted in the United States Marine Corps and served four years as a tactical operator.  Following discharge, Larry embarked upon a 23-year career in the Stafford Township Police Department and ascended to Commander of the Patrol Division. 
"Learning is lifelong and if I wanted to be the best at my career I knew education was integral to my success," explains Larry who received a PhD by taking night and summer classes while working rotating shifts leaving "very little opportunity for sleep or personal time."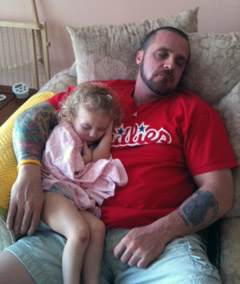 Stage One: Larry's Diagnosis
With only his dissertation left to complete, Larry became severely ill and was diagnosed with Congestive Heart Failure with complications causing kidney failure and traumatic brain injury, requiring implantation of a defibrillator to assist heart function and prevent fatal arrhythmias. 
"Due to the diagnosis of renal failure I was unable to be placed on the heart transplant list and was sent home after months in the Cardiac ICU with an oxygen machine and a prognosis of 5 years to live." 
Stage Two: The Diagnosis of Larry's Daughters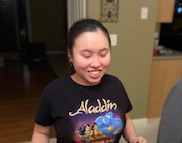 Forced to retire from the police department and "in the fight of my life," Larry laments, "my 4-year-old daughter Lola was fighting for hers."  Lola contracted brainstem encephalitis and following multiple prolonged PICU admissions, countless diagnostic tests, and specialty hospital consults, she was diagnosed with a rare immune deficiency.  
Unable to protect herself from infection, Lola has spent the last 8 years in quarantine without any personal social interaction.
Larry's oldest daughter, Kianna, was home as well with special needs stemming from severe non-verbal autism. Larry also has an older son named Tyler.
Stage Three: The Diagnosis of Larry's Wife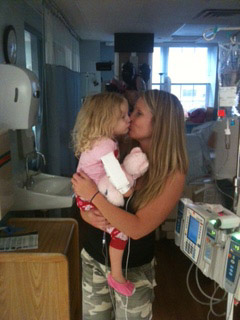 While dealing with the medical issues affecting her family, Larry's wife Cheryl was diagnosed with a 10mm tumor on her breast and underwent mastectomy following the PICU discharge of Lola.
Despite extensive treatment and numerous reconstructive surgeries, a second mass was discovered a year later requiring another mastectomy.
"The news hit us like a ton of bricks," explains Larry, "and me with CHF, a 7-year-old daughter with a fatal immune disorder, and a 13-year-old daughter with non-verbal autism, it caused us to feel overwhelmed mentally and physically."  Cheryl retired with 10 years on the police force and is now 2 years cancer-free.
The Queen Stage: Larry's Worst Experience
Swinging a sledgehammer to install a drainage pipe in the backyard of his home on a hot summer day, Larry describes hearing a loud beeping sound emanating from the defibrillator implanted in his chest, and before he could make it to safety "the defibrillator fired and knocked me off (my) feet." By the time medics had stabilized him for helicopter transport he had received 12 shocks and was only moments away from "dying alone in the backyard."
When asked to describe the memory of his worst experience, Larry states, "I can't accurately describe the mental stress of knowing I was in fatal arrhythmia and preparing to die alone.  But nothing can compare to being told that your child is dying due to a rare fatal disease, your wife has breast cancer again, and your other daughter will never speak a word to you.  I would endure the physical pain of being shocked every day so as not to hear those words." 
The Zwift Stage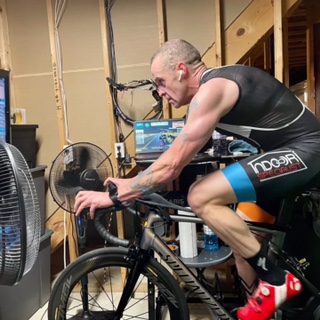 Larry began cycling when he "had the brilliant idea of attaching a baby buggy filled with books to a mountain bike and pulling it up the hills by (my) house" as a way to strengthen his heart.  Larry capped his comeback from near death with a victory earlier this year as a member of the Saris-The Pro's Closet team, just one of the 46 wins which have propelled him to 2nd in the 50+age group and 22nd overall in A.
See Larry's ZwiftPower profile > 
In addition to crediting his incredible fitness to Zwift, Larry is thankful for the opportunity to accomplish his dream of competing on an elite team against the greatest racers in the world, while avoiding the risk of being shocked while on the road and always being available for his family.  "Zwift plays a huge part in the health and happiness of my family," Larry says. He admits he could not contemplate a life without it.
The Post-Race Communiqué
"My life is what I make it," Larry answers when asked how he maintains perspective, "and what is important is not the event but how I respond to it." Profound words from this humble and unassuming hero who has overcome incredible challenges with dignity.
And what a journey he's had, with the help of Zwift and its community support! He went from being unable to climb a flight of stairs to elite status, all the while prioritizing the lives of his wife and children over his own.
Thank you for your service Mr. Larry Parker. Ride ON!
What About You?
How do you maintain a positive outlook when the going gets tough? Comment below with your strategies for coping in the face of adversity during this uncertain time, and give thanks to Larry for his service while you are at it!