On July 6, 2023, the US Patent and Trademark Office published two patent applications from Zwift:
The two patent applications are closely related. Not only were they published on the same date, but the technology they describe is meant to work together as one "system", as described in the patent filings themselves.
This isn't the first time we've heard of this system, either. It was first leaked by Zwift in December 2021, when the company said, "Z Cog: Zwift Wheel is built around a single cog design with virtual shifting, unlocking compatibility with all bikes from the box."
What is this "Z Cog", and why does virtual shifting matter? Let's dig into what Zwift is developing.
One Sprocket to Rule Them All
The "Z Cog" is a single sprocket that replaces the rear cassette on a trainer, effectively creating a single-speed setup (physically, at least). See the Z Cog in Figures 2 and 3 below: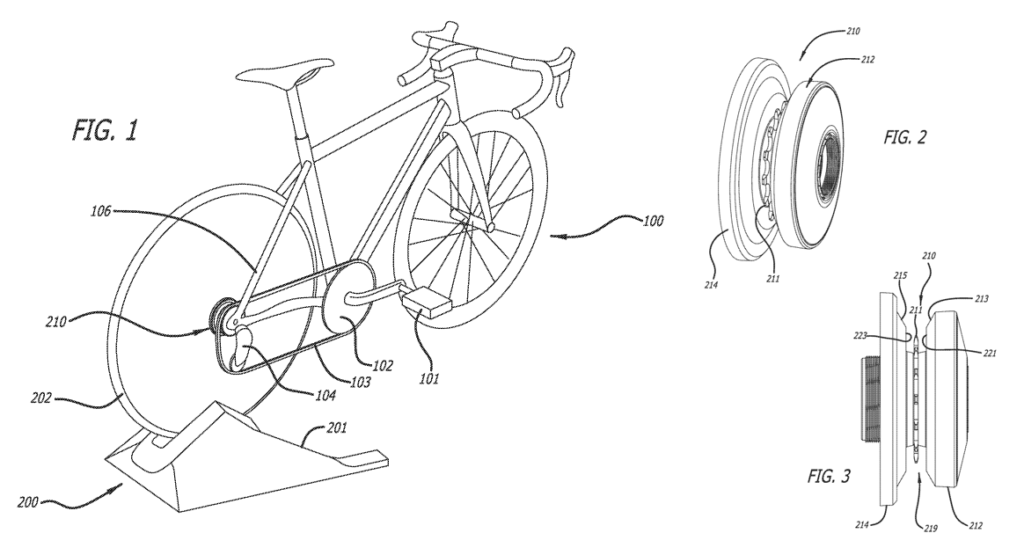 The Z Cog has angled sides to direct the chain onto the single sprocket even if it isn't aligned perfectly. (A misaligned chain would probably be a bit noisy with this setup, but it would still function.)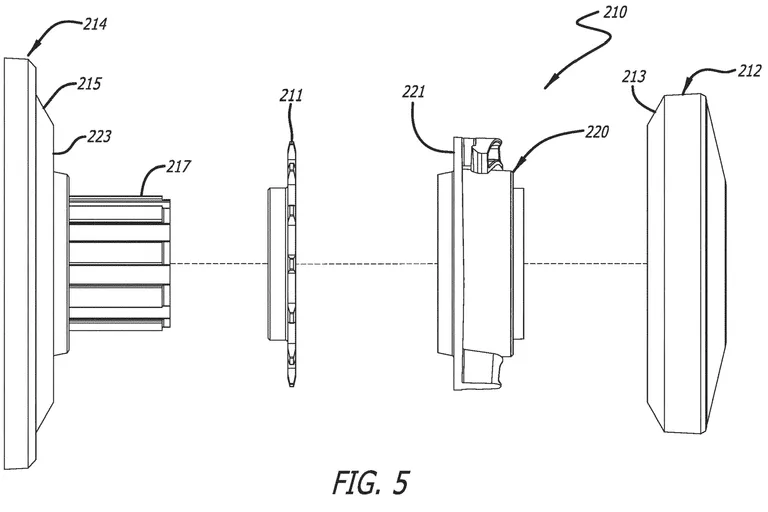 To really understand how the Z Cog works, though, we have to understand its sister technology: virtual shifting.
Let's Get Virtual (Shifting)
"Virtual shifting" may seem like a strange concept to cyclists who have only used "physical" shifting. If you've ever ridden a smart bike like the Wahoo KICKR Bike or Tacx NEO Bike, though, you've used virtual shifting whether you realized it or not.
Virtual shifting uses some a shifter/controller/button to control the resistance unit on the smart bike. Shift to a harder gear and resistance increases, giving you the same feeling as shifting to a physically smaller cog on a rear cassette. Shift to an easier gear and resistance eases up, like shifting to a larger cog on your cassette. As Zwift's patent application says, "In such a system, the sensation of shifting gears is provided entirely through an electronic adjustment in the resistance of the flywheel."
One nice thing about virtual shifting is it allows you to customize your gearing, as clearly seen in this in-game shot uncovered a few months back and discussed in our Zwift Leaks post in May 2023: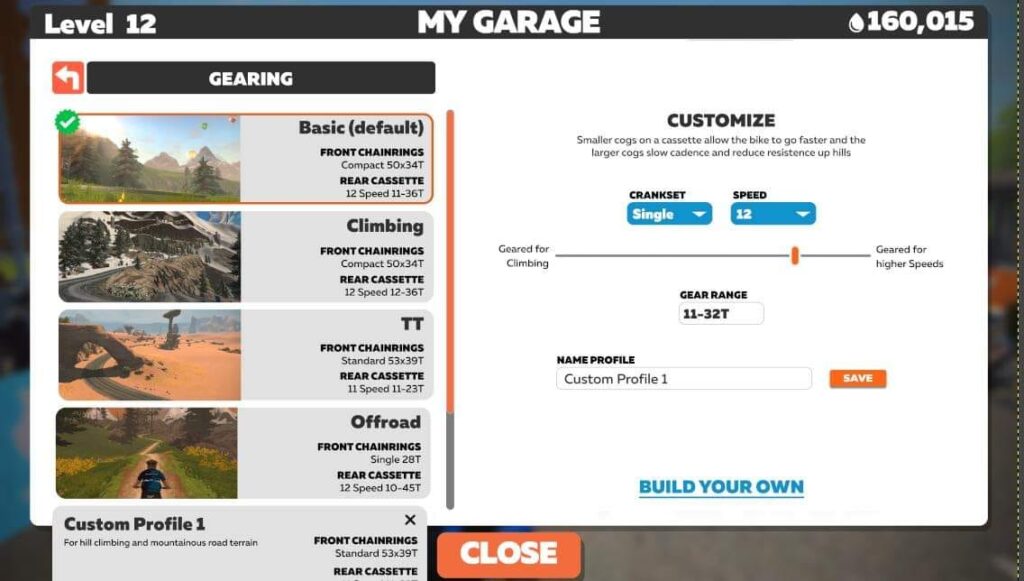 Most smart bikes today offer custom gearing configurations. Run a triple chainring in front, or a double, or a single, with whatever tooth count you desire! How many cogs would you like on your rear cassette, and how big would you like them? It's all virtual, so the possibilities are nearly limitless.
Zwift's patent application isn't talking about smart bikes, though. It refers to a virtual shifting system that consists of a shifting controller interacting with a smart trainer, saying: "The control device and the associated trainer acting together may enable virtual shifting…"
The patent application even delves into the "feel" of virtual shifting.
That shifting may simulate the "Feel" of shifting as discussed more fully below. In particular, that simulation may be both for (1) the different levels of resistance associated with higher or lower gears on a bicycle in different situations and (2) the quick loss of power and resumption of power at a different rate, often with some clicks and snaps in between, while shifting gears.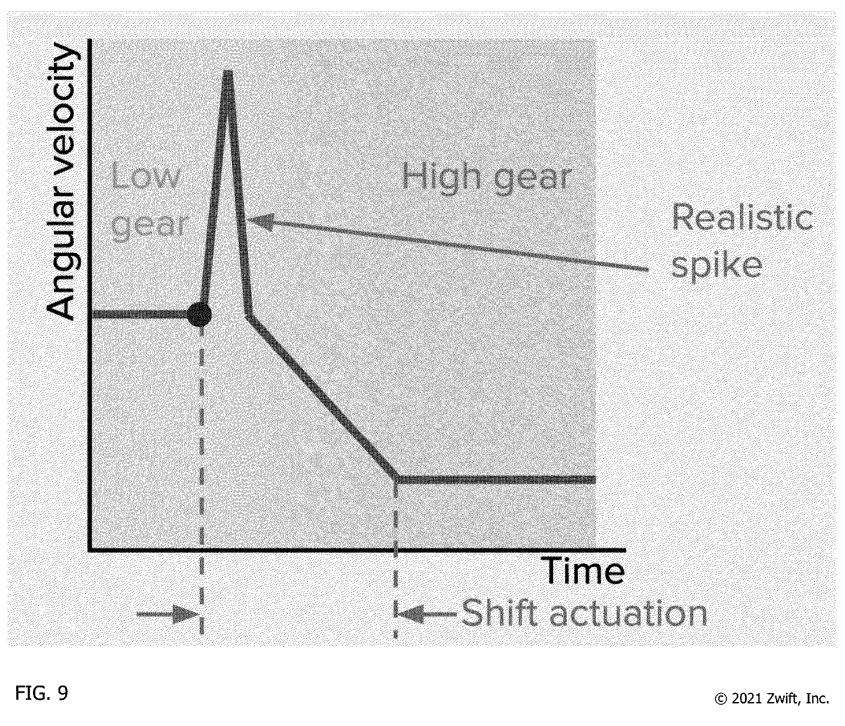 Zwift also discusses auto-shifting in its virtual shifting patent application, which is a novel concept in the virtual cycling realm but quite common in auto racing games. Zwift says auto-shifting may be particularly necessary if a rider doesn't have shifters, but it may also make sense for riders who simply don't want to mess around with shifting. Zwift says it could also be used to help riders maintain a target metric like power, heart rate, or cadence.
(Auto-shifting to maintain a particular power output sounds a lot like ERG mode, although in this case riders would still feel the change in resistance on inclines and declines.)
Z Cog + Virtual Shifting Benefits
What are the benefits of Zwift's proposed single cog + virtual shifting system, compared to a standard cassette with physical shifting?
Multi-bike compatibility: you could place various bikes onto the same trainer without needing to change the cassette (perhaps a road bike with an 11-speed cassette, or a MTB with a 12-speed, or an older 8-speed commuter bike). Great for multi-Zwifter families or riders who want to train on different physical bikes.
Simple setup: newer riders may be baffled trying to configure a smart trainer that works with their bike. A Z Cog in place of a standard cassette simplifies things.
Customized gearing: as mentioned above, with virtual gearing riders could configure their chainrings and cassettes to be anything they'd like. This will prove especially helpful for riders on mountain bikes who would otherwise spin out when sprinting on their physical gears. It would also greatly expand capabilities (and improve the experience) for riders using simple single-speed bike setups.
Less wear and tear: if you don't need to physically shift or use a rear cassette, those components will last longer.
Compatibility
Zwift's Z Cog patent application states that the design is "compatible with most direct drive trainers". Their virtual shifting application seems to indicate that the virtual shifting would be done by the game software itself, meaning that both the smart trainer and shifting controller would be paired to the game software, and all virtual shifting signals would run through the game software.
This means that, in theory, Zwift's virtual shifting system could be made to work with any smart trainer. It could be generically set up to simply add/remove trainer resistance with each virtual shift, or perhaps a more trainer-specific implementation could be put into place by each trainer manufacturer, utilizing a Zwift API and the manufacturer's knowledge of their own product's abilities.
Our guess is virtual shifting will roll out on the Zwift Hub trainer first, but Zwift will share the virtual shifting API so other brands can implement it if desired.
Timeline
When will we see it? That's the question everyone asks whenever we see leaks from Zwift.
The truth is, we don't know. Zwift's official statement doesn't clarify timelines:
Zwift remains at the forefront of innovating the indoor space. We are continually developing new products and features designed to benefit the indoor cyclist. We will only comment on new innovations when we are ready and therefore will not be commenting further on these patent filings.
With Zwift's Play controllers now released, we wouldn't be surprised if virtual shifting was added to their capabilities before the year is out.
Questions or Comments?
Share below!