In the past month we've seen an unprecedented number of unreleased Zwift features leaked in various Facebook groups, YouTube videos, and Reddit posts. Some of these leaks are clearly purposeful teasers on Zwift's part, while some were found by curious Zwifters/hackers who know how to dig deep.
Today I'll try to summarize these leaks in a single post. But I must preface this with two disclaimers:
Just because a feature was found by a Zwifter/hacker (Zwacker?) doesn't mean its launch is imminent. We've documented various Zwacker finds over the years that never made it into the live game.
The features, visuals, etc uncovered by Zwackers should be considered "under construction" at this time. Some of them, such as the Climb Portals, are clearly unfinished.
With that said, let's dig into six different things Zwifters have uncovered in recent Zwift updates!
Climb Portals
Zwift has already announced their upcoming "Climb Portal" feature, set to arrive sometime this summer (read more here) in Watopia and France. We've now seen two video leaks of this feature.
First, Dave Higgins over at ZPCMR Facebook Group shared this video of a rider on "Hollywood Climb", an 8.67km ascent.
Then YouTuber thePainCave posted this video of the France alternative, which is labeled "Cote de Pike" in game. Cote de Pike is a 1.4-mile climb featured in the 2023 Tour de France:
It's worth mentioning that the sort of "unskinned" environment shown in these Climb Portal leaks is not what we'll see in the final product. Sources within Zwift tell us these leaks show GPS-accurate gradients, but not the proper visuals – not surprising given the hacky nature of accessing the Climb Portal!
Z Cog
The eagle-eyed James Eastwood spotted this photo in the game files of version 1.39: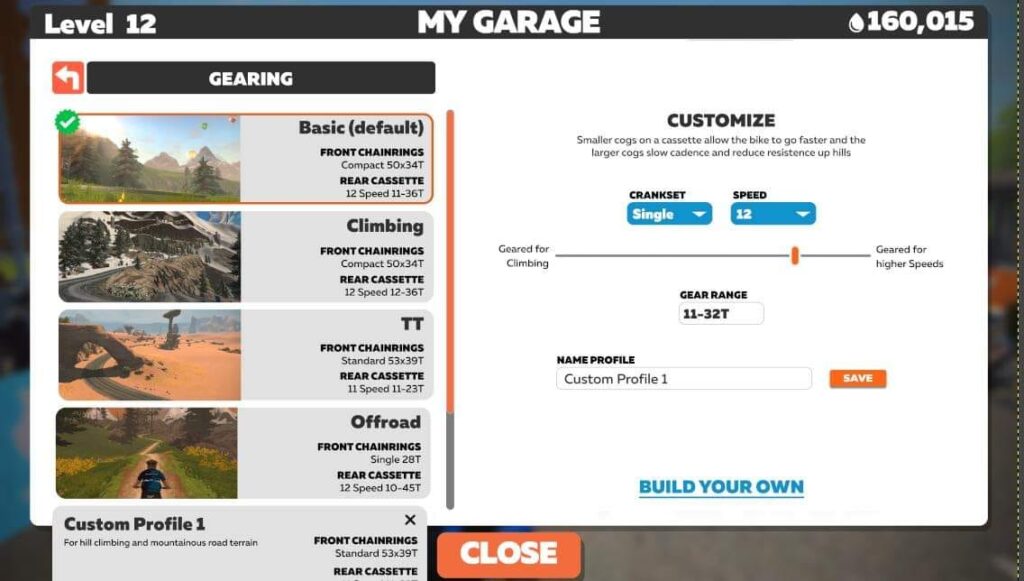 What is it? It's a screenshot of a UI we've never seen, where Zwifters can save different bike profiles based on the front chainrings and rear cassette setup. (Hopefully that bike profile includes a frame and wheels!)
What are we looking at here? We think it's a config screen for Z Cog, a piece of hardware first leaked by Zwift in December 2021, when they leaked the Zwift Wheel trainer concept. Back then, Zwift said "Z Cog: Zwift Wheel is built around a single cog design with virtual shifting, unlocking compatibility with all bikes from the box."
Very interesting. Z Cog seems to be hardware you install on your smart trainer in place of a normal cassette, then use some sort of shifting interface to virtually shift using your trainer's resistance. Your physical chain would no longer shift between different cogs on your cassette – rather, your trainer's resistance would change to emulate moving between cogs.
This would open up a whole world of virtual gearing options – and let low-geared riders on mountain or gravel bikes avoid spinning out in sprints.
A source at Zwift told me this image caught them by surprise as well, since it was linked to the "paused" smart trainer plans from December 2021… so it's possible Z Cog isn't even an active project at this time. But if it is active, there are big Z Cog questions left unanswered at this point. Would this only work with the Zwift Hub trainer? And how do you control the virtual shifting? Speaking of controllers…
Controllers?
James Eastwood also found this image in the 1.39 game files and shared it with the ZPCMR group: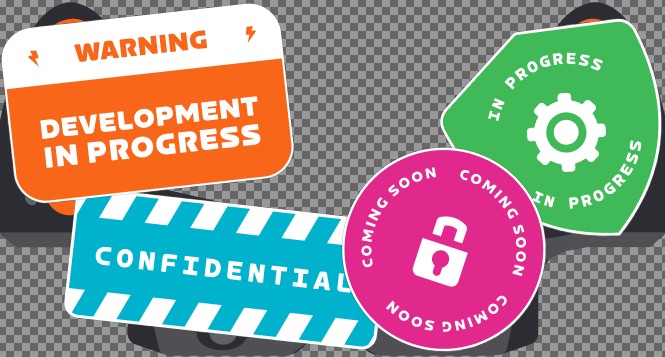 Clearly this is Zwift purposely teasing some sort of hardware. What are they teasing exactly?
On the Facebook thread, Zwifter Jack Lee pointed out that Zwift recently filed for FCC ID approval for a product named "Play Controller" (see the filing here). Digging into that filing you can see there are left and right controllers, they are battery-powered, and Bluetooth-enabled.
Braking
We've assumed that Zwift is working on braking ever since they added the pens to the top of Alpe du Zwift and Ventoux.
James Eastwood posted a video of an Alpe du Zwift descent where the rider is braking into the corner. You can see a slight red path ahead of the rider as they brake, and it turns green when the rider is at the proper speed: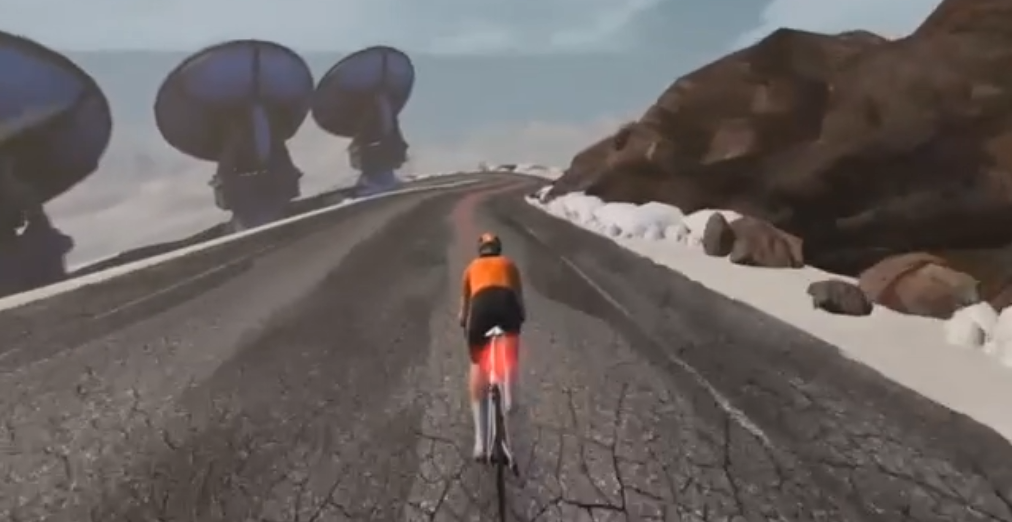 While auto-braking can easily be done by the game (it already exists on London's Classique hairpin), it would make sense for Zwift's new "Play" controller to include braking capabilities. Much like steering (where Zwift auto-steers for riders without steering hardware while allowing those with hardware to manually steer), it would make sense for Zwift to allow for manual braking, while auto-braking anyone who enters a turn too quickly.
Repack Ridge (Rush)
When Zwift released version 1.39 on May 3, they included this note: "Repack Ridge is temporarily closed while we work on exciting improvements."
Riders can visit the entrance to Repack Ridge and see a new paved section, new start pens, and more. This paved road rambles near Repack Ridge's dirt singletrack, but extends longer and eventually meets up with the road descending from Saddle Springs, just before crossing the bridge to Ocean Boulevard. Based on the leaderboard title seen in Dave Higgins' Climb Portal link (approve), this new road appears to be named "Repack Rush".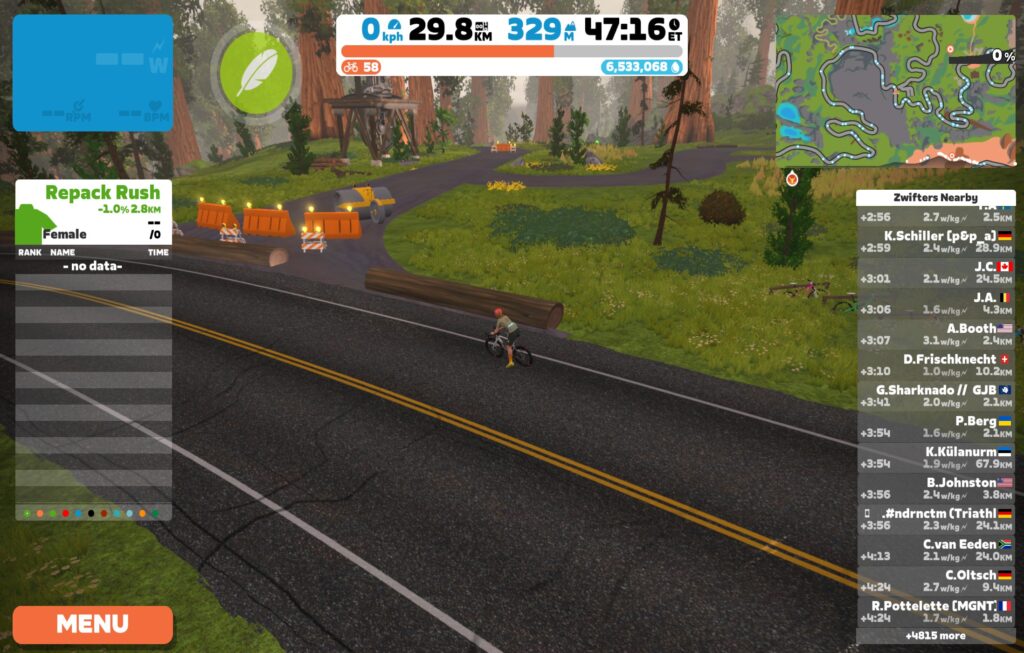 What does Zwift have going on here? On Zwifter appears to have hacked in and posted a video on YouTube showing the new Repack roads, and they've got some very interesting features.
The new Repack appears to be a new steering game with time bonuses and sections to ride over (or avoid) which either boost or reduce your speed.
All of this is reminiscent of "game" discovered by Zwift Hype years go which lived inside one of the temples in Watopia's Mayan Jungle. That game never went public, but this new Repack road seems to be much more intentional, and we think it will go live soon.
Teleporting
Zwift co-founder and co-CEO Eric Min is famous for leaking upcoming features in his Strava activities. Last week, he posted this Zwift ride which clearly shows him bouncing around various Watopia roads:

Is this what Zwift's upcoming teleporting feature will look like on Strava? It seems likely.
Questions or Comments?
What do you think of these unreleased features? Are any particularly exciting or surprising to you? I think braking could really change the feel of races, especially on courses like Crit City.
Share your thoughts below!