Yesterday Zwift sent a survey to a select group of users, asking them to select which trainer they would likely purchase from a fictional store. Here's that store's homepage: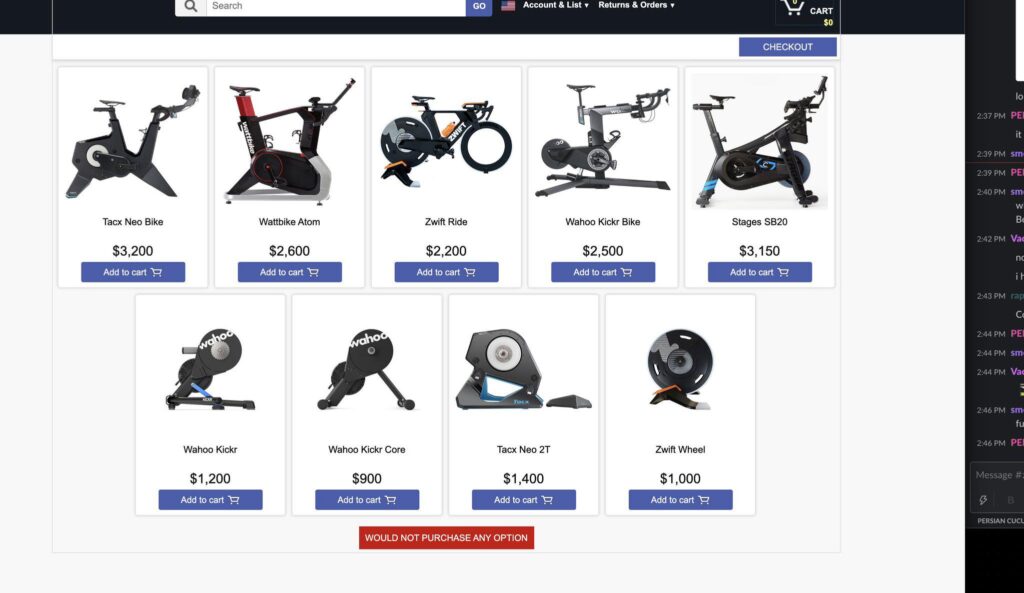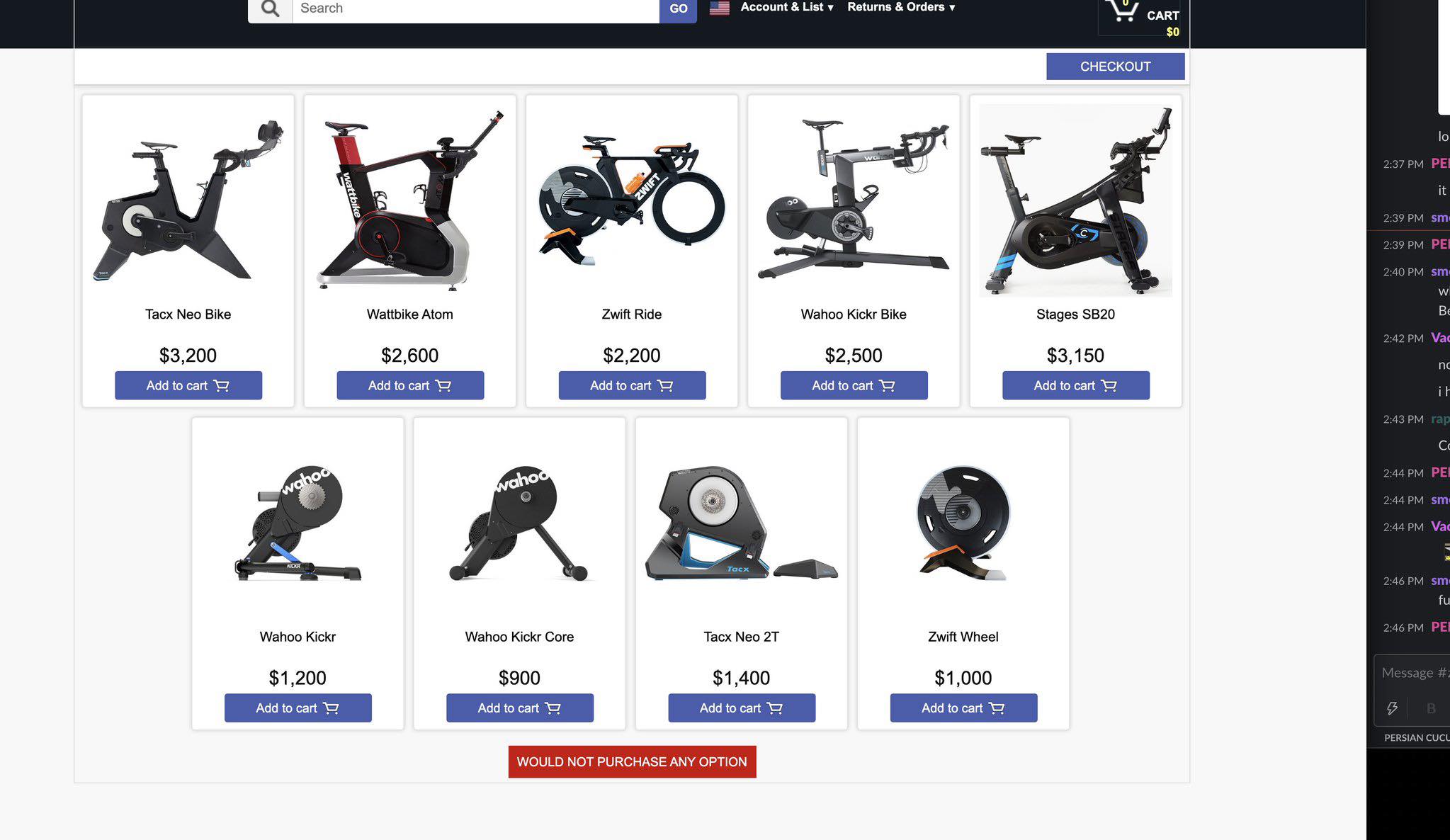 Notice anything especially interesting? We sure did!
The store includes two trainers not yet available on the open market: the "Zwift Ride" and "Zwift Wheel":
The Wheel is a direct-drive trainer, with a metal flywheel similar to the Tacx Neo. These shots show it without a cassette. The Ride (and this is important to understand) is simply the Wheel with a smartbike frame and front wheel added. So the Wheel can actually be upgraded to a full Ride setup!
We chatted a bit with Zwift CEO Eric Min about the survey and what he's excited about for the Wheel and Ride. This really is big news in the world of Zwift, because they have "tipped their hand" in a big way. Until now, it's been well-known that Zwift is working to develop its own hardware. But no images or specs had been released.
Eric told us, "We decided it was worth the risk of leaking the details of our hardware in exchange for the learnings we'll get from the surveys."
Core Specs
The key specs and features of the Wheel/Ride shown in the fictional store are as follows (with notes in italics from us):
Power Accuracy: +/-1%: this matches the Tacx NEO and Wahoo KICKR
Peak Power: 2200W: again, matching the NEO and KICKR
Max Simulated Incline of 25%: this can be measured in a variety of ways (no industry standard), but is in the same ballpark as the NEO and KICKR
Downhill Simulation: aka "downhill drive", where a motor drives the flywheel on descents so you can coast and get the feel of descending. This feature only available on the NEO currently.
Road surface simulation: another NEO-only feature, this mimicks the feel of cobbles, wooden slats, dirt, etc by sending vibrations through your chain which you feel in the pedals.
Braking, Steering, and Game Controls: this is a sort of D-pad controller which is mounted to your handlebars. More on this later…
Virtual Gear Shifting (Z Cog): a very interesting feature, which we'll discuss below.
Immersive Lighting: LED lights around the wheel(s) and in other locations presumably can be changed based on power output or other factors.
Additional specs only applicable to the Ride are:
Minimum user height of 5′ (152cm), maximum height of 6′ 4″ (193cm): note: the survey actually says 6′ 6″ in a different place
Dimensions: 5′ 5″ x 2′ 4″ (165x71cm): same width as a KICKR, narrower than a NEO
Vertically storable: very handy for long-term storage, or tight spaces
Adjustability: handlebar position, seat position, and crank length are all adjustable
Pricing
There's no way of knowing the specific pricing Zwift will use when the Ride and Wheel are released, because this survey showed different prices to different survey participants. That's what makes these surveys so powerful – they are sent to thousands of users, at different price points, so the responses can show how pricing impacts demand.
The first survey we saw had the Wheel priced at $1000 and the Ride at $2200. But other users reported pricing of $1200 and $2800, respectively. The lower price point would undercut everything on the market today in terms of price/features, while the higher price points would essentially match today's market pricing.
Unique Selling Points
The specs above look solid, but what makes the Zwift Wheel/Ride truly special? There's a lot to talk about here, so let's dig in.
Z Cog (Virtual Gear Shifting)
The Zwift Wheel description includes this: "Z Cog: Zwift Wheel is built around a single cog design with virtual shifting, unlocking compatibility with all bikes from the box."
We sure would like more detail about how this will work. But we think what Zwift is developing is virtual shifting, where you don't need a front or rear derailleur. Instead, when you shift, the trainer simply changes resistance accordingly to mimic the feel of moving up or down a cog.
This is what most smart bikes do, and the beauty of it is you can set up your virtual groupset to be anything you'd like. Want it to mimic your outdoor road bike? Done. Want to go with a 1×12 to match a MTB or gravel bike, or just so you never have to shift your front chainring? All doable.
But Zwift is taking virtual shifting to a new level (we think), because it's being controlled by the integrated controller.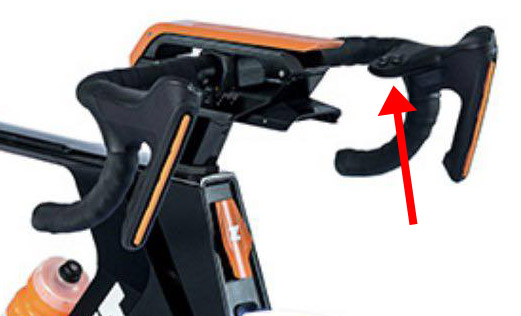 Using an add-on controller lets Zwift bring virtual shifting to users who buy just the Wheel and bring their own frame (and groupset) to the game. This will be especially helpful for MTB and gravel riders who find they run out of real gears on Zwift, where road gearing is really the ideal setup.
But it would also be handy for users of bikes that are older or poorly constructed. These users often struggle to get their bike to work with a "normal" cassette on a direct-drive trainer, but Z Cog would eliminate that hassle, as well as the hassles of adjusting your shifting so it's consistent and smooth.
Upgradeability
Many Zwifters get into the game at a lower price point because they're not convinced it's worth a big up-front investment. Then down the road, once they're hooked, they spring for the upgrades: a direct-drive trainer. A big screen. You know how it goes…
Zwift has ingeniously built an upgrade path into their two pieces of hardware, allowing Zwifters to begin with just the Wheel, then add the Ride's frame and front wheel to the mix later. Smart.
Immersive Lighting
The survey says the Wheel/Ride's lights "bring the Zwift world into your home". Images show the lights in an orange color, but surely Zwift plans for the lights to change based on one or more parameters.
For starters, the lights could certainly change based on your wattage, like the Tacx NEO. That's basic stuff.
But let's take it further.
Imagine if the lights changed to mimic the Zwift environment? We know this is very doable, based on Jon Mayfield's weekend lighting project almost four years ago. All it takes is Zwift sending some extra data to the Wheel/Ride, and that code is probably already sitting in game.
Portability/Storability
The Wheel may seem unnecessarily large, but have you ever tried moving a Tacx NEO? "Ungainly" is a generous description.
The wheel includes handholds, while the full bike frame can be rotated vertically for storage. Both of these features could make the Wheel/Ride more easily moveable and storable than some top trainers (and all current smartbikes).
Add-Ons
This is speculation, but based on what we've heard from Zwift in terms of current hardware "pain points", we assume their hardware will be built with an eye toward allowing add-on accessories.
For example, an integrated screen option (with the hardware to run Zwift) would be welcome by many. And if there's enough market demand, why not remove that front wheel and add a gradient simulator like the Wahoo CLIMB or Elite RIZER?
That Tron Look
The Ride is far and away the most "bike-like" of smartbikes in terms of its design. Some may not like the Tron look, but you have to admit it's genius on Zwift's part. If you're looking for a smartbike setup that looks unique and futuristic, while still looking like a real bike… the Ride is it.
Conclusions
If Zwift is able to bring the Wheel/Ride to market within the next year, at a price point in the neighborhood of what this survey used, they're going to give the Zwift community something to cheer about (and the competition something to worry about).
There's a big caveat worth mentioning: based on the surveys we saw, the Wheel/Ride offer specs matching or exceeding today's best trainers, with added features and adaptability today's trainers can't match.
But Chris Snook, Zwift's PR Director, told us, "the survey is designed to help us better understand the hardware product features Zwifters value most by showing a mix of real and hypothetical products/product features. These are shown at various hypothetical prices." So while the specs look good, the final product may be very different.
We'll just have to wait and see.
Your Thoughts
Share below!