First announced back in 2018, the Neo Bike took a long time to roll out. But once it did, reviews have been good! It seems Tacx did good work with the Neo Bike, creating a solid unit with road feel and accuracy matching their revered Neo smart trainers.
Key Specs
MSRP: $3199.99 USD
Accuracy: +-1%
Flywheel: Virtual
Max Wattage: 2200 W
Max Incline: 25%
More Details
Brand:

Tacx

Year Released: 2019 (In Production)
Does not require calibration
Weight: 50kg
Cadence: Built in
Communication: ANT+ and Bluetooth
Overall Rating

4.5 stars
based on 11 reviews
Easy setup
82%
Accurate power
82%
Realistic inertia
91%
Well-built
82%
Helpful support
45%
Portable/storable
18%
Quiet
82%
Budget-friendly
0%
Love this Bike from Zig October 3, 2020 


Have had it for ten moths . Works great . Love the smooth shifting of the gears. Dig the fans off the front of the bike . Had a problem at first with it ,Garmin support was great got the problem solved very quickly . Have rode it for over 2,000 miles so far, has been wonderful. I like it so much , it makes me want to ride .

Accurate power Realistic inertiaWell-built Helpful support Quiet
Amazing machine for the serious zwifter from Eazy September 27, 2020 


Upgrading to this from a smart then dumb to smart has really shown me what you get for your money.
The feel and easy set up is exactly what I needed. Now my bike is free from turbo trainer abuse and I have a machine that is always ready to go.
Pedal away and reach for the KOM.

Only down side is the cans are a bit flimsy and need more ooomph

Easy setup Accurate power Realistic inertiaWell-built Quiet
Best trainer for home training. But requires larger apartment 🙂 from Mike N. September 18, 2020 


I've riden quite a few trainers. The ones, that sounds like falling elevator in the building, while you're training and the top ones from TACX product line. Neo Bike is best (obviously) and comfortable. It's stable, easy to adjust for multiple riders, it has build in phone/tablet holder, 2 USB charging ports (I miss them from first moment I switched back to Neo 2T) and more importantly - two small-ish fans that look like laptop USB fans. However, once you ride, they do pretty good job and no additional fan is required. They can be set to consistent speed or they change speed with the speed/effort you ride.
Best thing is - the Neo Bike is QUIET. I could train in my flat even at night or early morning at high effort without my neighbor's complains.
On top, recently Garmin watches/computers got FE-C capability and you can simulate on the Neo Bike literally ANY course that you have saved in the computer (watch) via GPX. Or even one of yours previous rides.
It has disadvantages as well - 1) price ... obviously 2) not that compact (though it's smaller than bike on regular trainer) but when it comes to "hiding it in the apartment, you can't - spacious apartment or house, or garage is more than recommended. 3) it's ... accurate. Yes, disadvantage for "winners" ... the trainer is very accurate and riders on a less accurate trainers can outride you easily. Of course, it's sarcasm. But true as well. Neo Bike is very accurate and really good for pro and serious trainings. With Neo Bike only I got fully caught by Zwift racing because it's darn fun! On previous trainers I didn't enjoy the racing that much, but this is ... WOW! you can fully unleash your legs and let them run. Your family is next to you watching evening movies without much disturbance except of your mourning about the 15% incline.

Accurate power Realistic inertiaWell-built Quiet
TACX NEO BIKE 4,000MI + REVIEW from Reagan September 9, 2020 


Easy to adjust, comfortable, belt broke around 3,000mi

Easy setup Realistic inertia Helpful support Quiet
My Tacx Neo from jonathanrthfc September 9, 2020 


has been with me for a while now, easy setup and very reliable, checked against my power pedals and was also very accurate

Easy setup Accurate power Realistic inertiaWell-built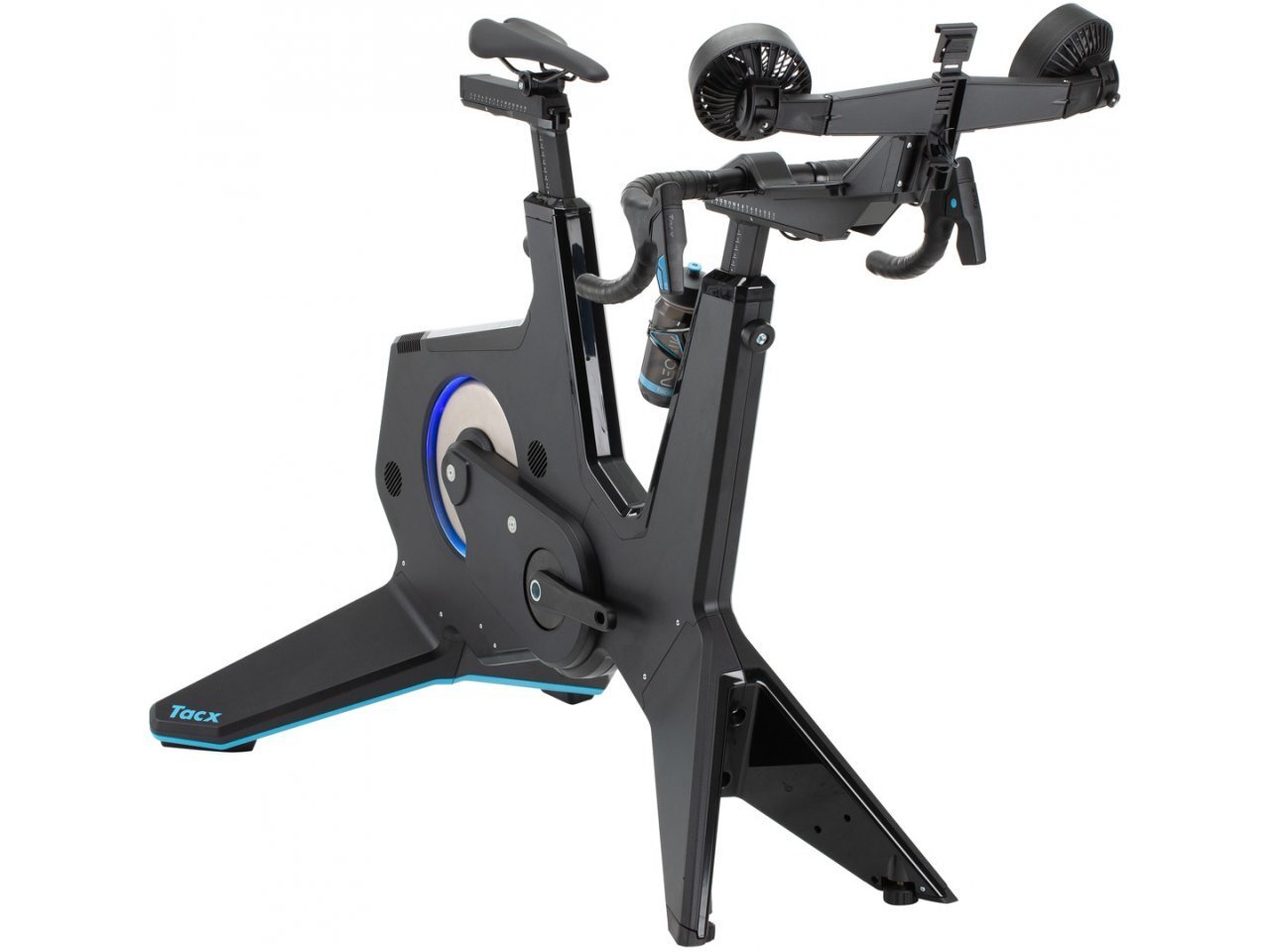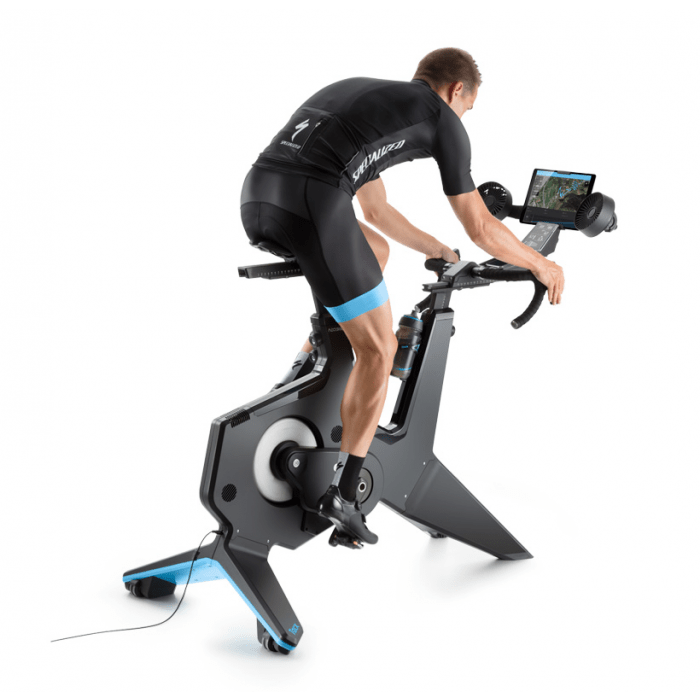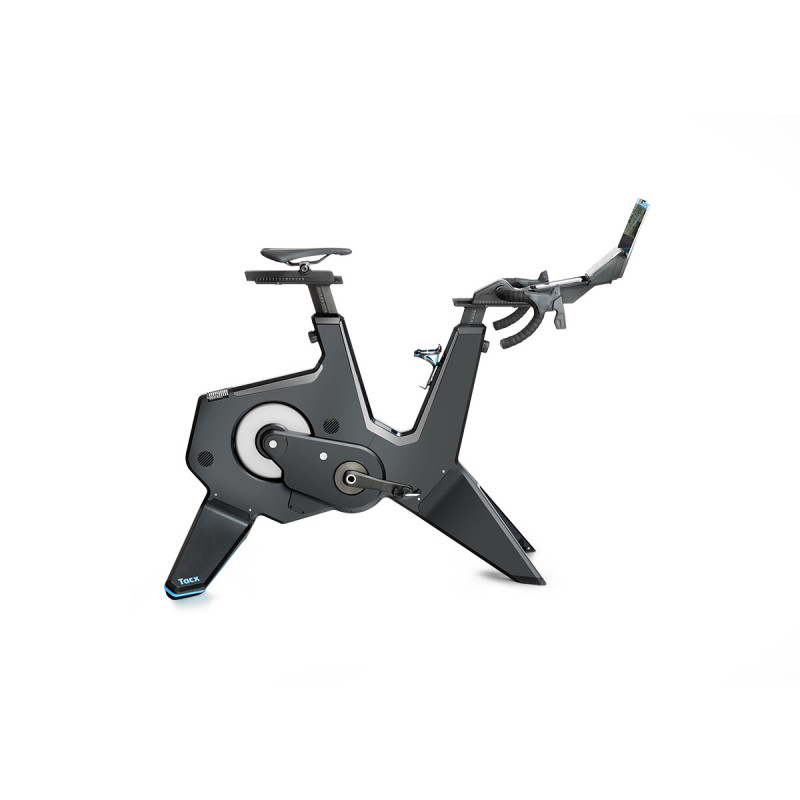 More Tacx NEO Bike Reviews
Own this trainer? Post a review!
Love this Bike from Zig October 3, 2020 


Have had it for ten moths . Works great . Love the smooth shifting of the gears. Dig the fans off the front of the bike . Had a problem at first with it ,Garmin support was great got the problem solved very quickly . Have rode it for over 2,000 miles so far, has been wonderful. I like it so much , it makes me want to ride .

Accurate power Realistic inertiaWell-built Helpful support Quiet
Amazing machine for the serious zwifter from Eazy September 27, 2020 


Upgrading to this from a smart then dumb to smart has really shown me what you get for your money.
The feel and easy set up is exactly what I needed. Now my bike is free from turbo trainer abuse and I have a machine that is always ready to go.
Pedal away and reach for the KOM.

Only down side is the cans are a bit flimsy and need more ooomph

Easy setup Accurate power Realistic inertiaWell-built Quiet
Best trainer for home training. But requires larger apartment 🙂 from Mike N. September 18, 2020 


I've riden quite a few trainers. The ones, that sounds like falling elevator in the building, while you're training and the top ones from TACX product line. Neo Bike is best (obviously) and comfortable. It's stable, easy to adjust for multiple riders, it has build in phone/tablet holder, 2 USB charging ports (I miss them from first moment I switched back to Neo 2T) and more importantly - two small-ish fans that look like laptop USB fans. However, once you ride, they do pretty good job and no additional fan is required. They can be set to consistent speed or they change speed with the speed/effort you ride.
Best thing is - the Neo Bike is QUIET. I could train in my flat even at night or early morning at high effort without my neighbor's complains.
On top, recently Garmin watches/computers got FE-C capability and you can simulate on the Neo Bike literally ANY course that you have saved in the computer (watch) via GPX. Or even one of yours previous rides.
It has disadvantages as well - 1) price ... obviously 2) not that compact (though it's smaller than bike on regular trainer) but when it comes to "hiding it in the apartment, you can't - spacious apartment or house, or garage is more than recommended. 3) it's ... accurate. Yes, disadvantage for "winners" ... the trainer is very accurate and riders on a less accurate trainers can outride you easily. Of course, it's sarcasm. But true as well. Neo Bike is very accurate and really good for pro and serious trainings. With Neo Bike only I got fully caught by Zwift racing because it's darn fun! On previous trainers I didn't enjoy the racing that much, but this is ... WOW! you can fully unleash your legs and let them run. Your family is next to you watching evening movies without much disturbance except of your mourning about the 15% incline.

Accurate power Realistic inertiaWell-built Quiet
TACX NEO BIKE 4,000MI + REVIEW from Reagan September 9, 2020 


Easy to adjust, comfortable, belt broke around 3,000mi

Easy setup Realistic inertia Helpful support Quiet
My Tacx Neo from jonathanrthfc September 9, 2020 


has been with me for a while now, easy setup and very reliable, checked against my power pedals and was also very accurate

Easy setup Accurate power Realistic inertiaWell-built
Tacx Neo Smart Trainer Review from Rob September 8, 2020 


Easy to setup with my computer and TV screen in the garage. Worked first time and no setup issues since. No calibration required of the smart trainer. Once a year maintenance of the smart trainer is simple and easy. I have owned this since 2017 and have had no issues. Works perfectly with Zwift, the cycling platform I prefer.

Easy setup Accurate power Realistic inertiaWell-built Helpful support Portable/storable Quiet
Tacx Neo Sets the Standard from tasmobile September 8, 2020 


The Tacx Neo smart trainer enhances the indoor riding experience from enjoyment to ecstasy. The build quality is rock solid, The flywheel is smooth and provides a realistic road feel with accurate transitions between inclines and declines on Zwift, the trainer is quiet, and the prices, well, is worth it. I have ridden thousands and thousands of miles on my Neo and it still purrs like the day I first started using it four years ago.

Easy setup Accurate power Realistic inertiaWell-built Helpful support Quiet
Neo 2T is the best! from Uncle Norman September 8, 2020 


Got rid of the 2016 Wahoo Kickr and replaced it with the Neo 2T. Look no further. This is the absolute Gold Standard. Shop no more.

I don't work for any bike related business but I do ride a ton on my trainer. I Will give this Full Marks and it's as near perfect as possible. However, not especially budget friendly.

Easy setup Accurate power Realistic inertiaWell-built Helpful support Portable/storable Quiet
Love the honesty from carladchandler September 4, 2020 
Easy setup

1 year in, still some major issues from jeastwood September 3, 2020 


The Tacx Neo Bike Smart is was the first of the smart bikes, and that means it has been around for a year. There have been numerous issues with the bike which is typical of a first gen product, but in that year Tacx (and now Garmin) have not done a great deal to improve the situation. Maybe because demand still outstrips supply (Sep 2020).

The bad:

The belt design is terrible - it frays, it's noisy, and it can break in two when sprinting from cold. Tacx have now improved it apparently, but time will tell if the problems are still seen. When the belt breaks, more often than not Garmin will ask you to send the whole unit back. That's 40kg of shipping. They can provide a tool to allow you to change the belt yourself, but that is an extortionate £80.

The support is a mess. Despite many users having the same issues, they all get different responses. Some users are charged for return shipping, some are charged for tools to fix issues. If you have any problems, ensure Garmin pay to have them resolved.

In the year that the Neo Bike has existed, there has been one firmware update which improved ERG mode performance. Configurable gears, e.g. SRAM style, which were promised before launch, have not arrived. ERG mode still leaves you about 5 watts short of any target. Despite being able to have a 12 speed gear config, it is not possible to have a virtual cog with 10 teeth (as per any 12 speed system).

Some users report thigh rubbing. I have not experienced this myself.

The gear buttons are not that intuitive to use, although you do get used to them. A shifter set up like the wahoo bike would be preferable.

It is quite cumbersome to change the geometry for a second rider. A good dose of grease helps.

The good:

The NeoBike is still a good chunk cheaper than the other Smart Bike options.

The included towel and bottle are a nice touch.

If the belt is not creating noise, the unit is very quiet and smooth.

RoadFeel is excellent.

The small display is superb - especially for showing current gear selection. It would be good if this was configurable, for example to show average power.

It is very sturdy will last a long time (belt aside).

The handlebars are a standard size so can be swapped, it is also easy to add tri-bars.

Easy setup Accurate power Realistic inertiaWell-built Quiet
Solid, quiet, accurate – awesome from Richie Sheerin September 3, 2020 


The neo bike is the ultimate setup, may not be in everyone's budget but due to health reasons my cycling is now all indoors so an investment in this hardware was granted and also sold my good bike to help fund.

Set up is super easy, the ride feel is 2nd to none. I went for Tacx of Wahoo based on I'll never be a climber and wanted something that looked super sturdy to put out power in sprints etc. Easily the best piece of kit out there on the market.

Easy setup Accurate power Realistic inertiaWell-built Quiet