The first race of Zwift Racing League Round 2 happened this week in London. Having literally written the ZI race guide for this course, I knew exactly what was in store: we were racing two laps of London Loop Reverse, and all that mattered was Fox Hill.
I didn't think I'd survive in the front pack up two reps of Fox Hill, but I hoped to finish somewhere near the front of mid-pack. Little did I know, the fates were conspiring against me even before I kitted up for the big race…
The Warmup
The race began at 9:30am, so I ate a carby breakfast early (Malto-O-Meal!), chewed some caffeine gum (300mg of go-go juice), and applied PR lotion to my legs before kitting up and getting on the bike around 9am.
I had seen a Mediacom Cable van drive by around 8:30, slowing in front of my house. I figured it was a service tech out to boost the power to my Internet line, which had just been repaired the week before. (The line had been fully replaced, and the previous tech had said it still was showing low power, so he'd have another guy come out and boost it.) Me, Mr. Optimistic, thought, "Great, I'll have an even better Internet connection for the race!" Little did I know…
I swapped to my favorite virtual all-arounder rig, the Scott Addict RC with ENVE 7.8 wheels, in hopes that it might help me ascend just a bit faster. Then I warmed up for ~20 minutes, putting in a few digs to get my heart rate up while I signed onto Discord and chatted with teammates.
(We had two regular Kraken riders who couldn't make it this week, so DIRT teammates Peter Horning and Chris Nicholson stepped in. I hadn't raced with Peter or Chris, but I certainly admire their willingness to hop in and lend a hand to help us get a few more points.)
Soon enough, it was time to join the London pens (again, because I had already saved my spot).
Lap One
The B peloton jumped out of the pens when the clock hit zero, but there was a palpable lack of urgency in the pack. Everyone knew Fox Hill was where things were going to explode.
I sat in, easily holding a spot a few bike lengths from the front. We rode down into the Underground and exited into the sunlight.
Then disaster struck.
All the other riders disappeared from my screen. "Connect Disconnected" appeared along the top. My Internet connection wasn't working!
I didn't even say anything on Discord, because I didn't want to distract or discourage my teammates. There was nothing they could do to help me anyway. Instead, I bumped my power up, hoping my Internet would come back online quickly and I'd still be with the front pack.
You may not know this, but when your Internet connection drops during a Zwift race, your race isn't necessarily over. If it comes back soon enough, you may still have a chance! All that's happened is you've lost the draft from other riders, and you can't see where they are on screen. Keep pedaling, and once your Internet connection is restored, you may find yourself off the back, right in the pack, or off the front, depending on how hard you pushed while riding solo and how hard the pack was pushing.
My connection came back 2 minutes later, and the pack reappeared 8 seconds up the road. I was in 64th place out of 67, but the peloton seemed so close! I upped my watts and tried to chase on, but the pack wasn't exactly out for a Sunday ride.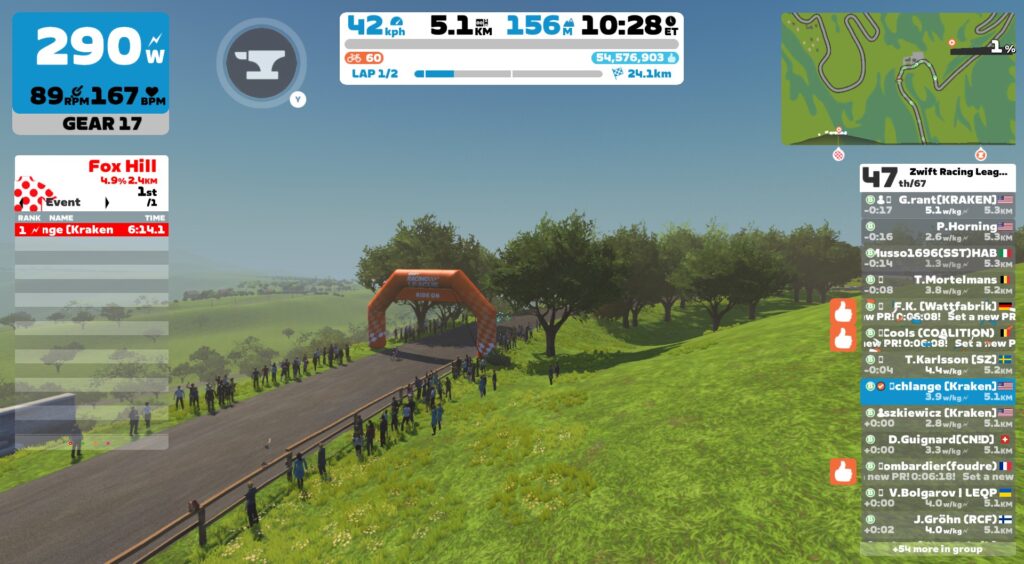 By the time we reached the KOM banner I was in a small group comprising 47-51st place, with the front pack 18s ahead. I messaged my group to try to take pulls with the supertuck + anvil, but my message never showed up on screen. The larger/stronger groups up the road were pulling away.
"Don't have any of us in the front group," one teammate said on Discord. Crap. This was going to be ugly.
The rest of the lap was fairly uneventful for me. My pack grew to eleven riders, and I was happy to hear on Discord that the chasing group had caught the front, meaning we had three Krakens in the front pack, myself and Wojtek in the chase group a minute behind, and Chris behind us. Perhaps we could salvage a decent result after all.
Lap 2
We all knew what would happen the second time up Fox Hill: all hell would break loose. The first time up was just a primer. The second time, the W/kg beasts would be out for blood.
While our front three were being dropped from the fast-climbing front of the race, I was just doing my best to hang with my pack of eleven. I figured we might catch a few riders from the front, but overall it didn't make sense to turn myself out beating my group over the top only to lose their draft and get reeled by them again on the flats.
I saved my feather for the final push up Fox Hill, got in the wheels of my group, then began the Box Hill descent. Wojtek, racing his second ZRL race of the day, had dropped from my group up Fox Hill. But we had caught teammate Peter Horning, so overall it was a solid DIRT trade!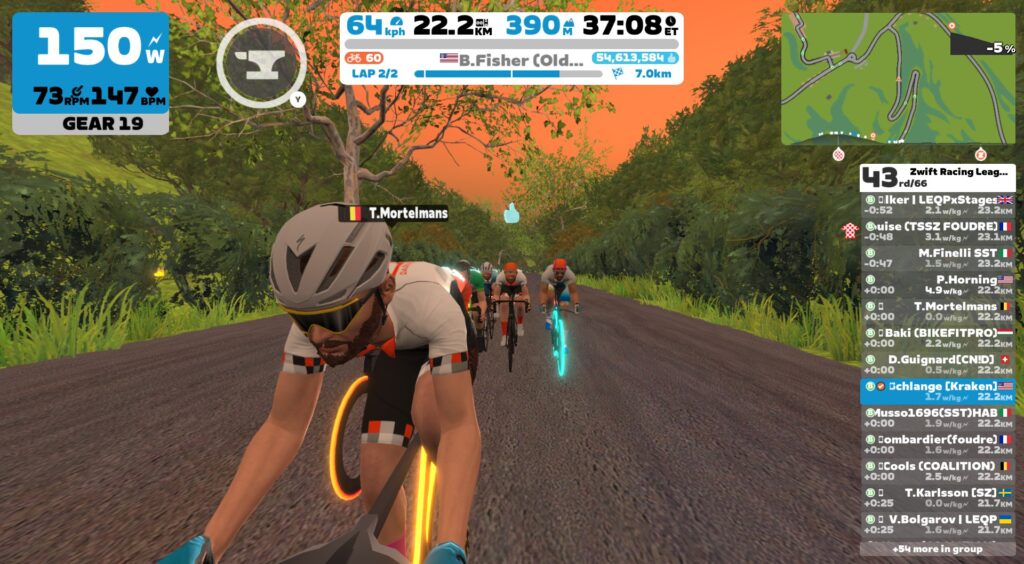 Up the road the race was shattered into small groups, but the closest rider was still 57 seconds ahead. I saw no reason to chase, so I just sat in the wheels. Our group now comprised places 40-47.
With less than 1km to go, the fun began. One rider attacked, then another. I tried to be patient, holding onto my anvil for the final downsloping 300m. We hit that section, I activated the anvil, and went all in with whatever measly watts my knackered legs could muster.
42nd place. Ouch.
See results on ZwiftPower >
See activity on Strava >
Watch Race Video
Team Result
With our best-placed rider (Daz) only placing 25th, we knew it was going to be ugly. But we didn't expect it to be quite this bad: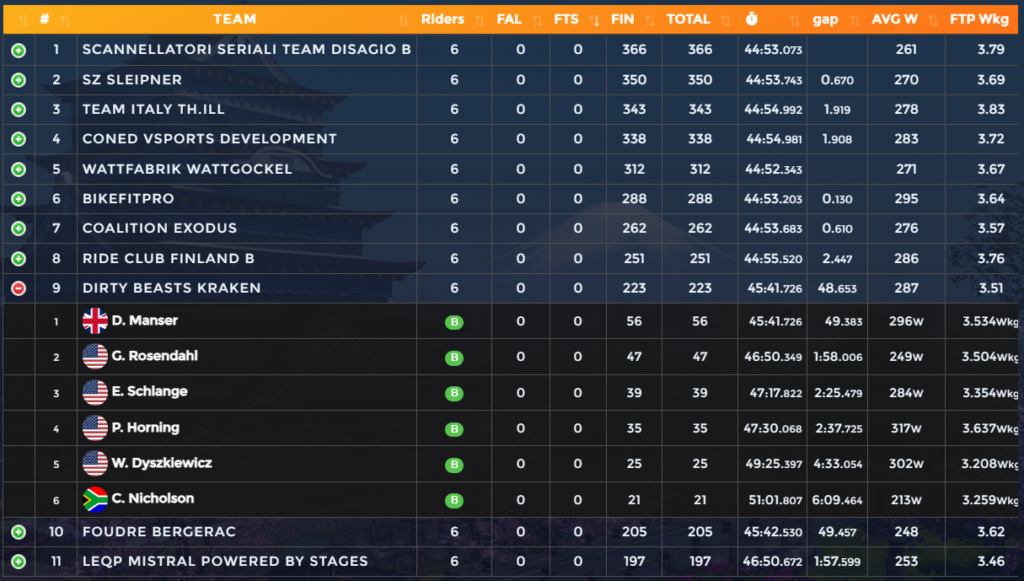 Yikes. Chances are, this result takes us out of the running for the season. Not that it will stop us from trying, of course. On the plus side… we can only improve from here!
Takeaways
I'm not sure I've ever had an Internet dropout cost me a race… typically my Internet is very stable. Apart from that mishap, could I have ridden the race better?
I don't think so. I set a new 10-minute power PR in the first 10 minutes of the race, thanks to my effort chasing back on. Set a new Fox Hill PR, too! Even if I'd known the Internet connection would return after two minutes, I'm not sure I could have pushed harder while alone.
That said, I'll admit it's really tough to turn yourself inside out with nobody else on screen and no idea if anyone will ever show up. So I there's still that nagging question in my mind, wondering if I could have stayed in touch with the front on that first climb.
But even then, would it have made a difference overall? Probably not. We needed another 29 points to move up just into 8th place, and I highly doubt I would have finished 29 spots higher even if I came over the top of the first Fox Hill in touch with the front group.
As much as I'd like to blame the Internet drop, the truth is this was just not my ideal course, and we're facing some stiff competition in our division. But that's ZRL life.
Your Thoughts
How did Fox Hill treat your team? Did you save your anvil for the finish? Share below!