Zwift added the Cannondale SuperSix EVO bike frame to the Drop Shop this week, and Cannondale fans have been justifiably pestering us with messages ever since. "It's the only bike in Zwift with 4 stars for weight and 3 for aero! It must be fast… how does it perform?"
We've been hard at work putting test data together. It hasn't been easy, because much of past test data was invalidated when Zwift modified the rolling resistance of various surfaces, making it so we can't compare new test runs to old. But we still made it happen… for science!
Fast On the Flats, Faster Up the Climbs
The SuperSix EVO is billed as an "aero climbing bike"–that is, Cannondale is trying to find the holy grail of cycling–a stiff, fast aero bike that is also featherlight so it climbs well. Some say they've achieved that with the newest SuperSix EVO, rolled out in the summer of 2019.
Kudos to Zwift, who have set the bike up in-game to perform the way Cannondale intended–it's fast on the flats, and faster up the climbs.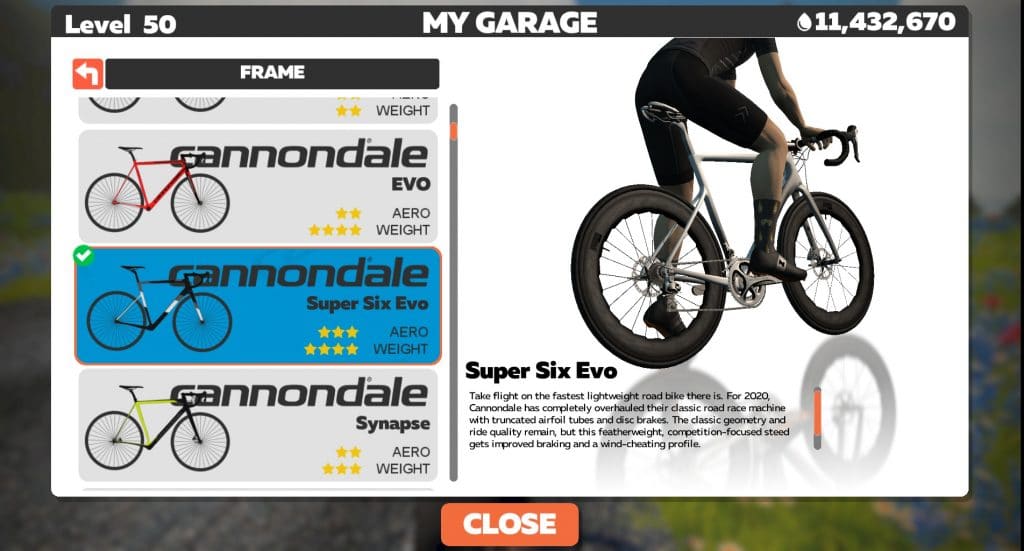 Seeing Stars
And it is the only frame in the Drop Shop combining a 4-star weight rating (the best possible) with a 3-star aero rating. You may think this would make the SuperSix EVO the fastest climbing frame, since the other top climbers are rated 4 stars for weight and only 2 for aero.
But you'd be wrong.
Test Results
While the SuperSix EVO slots in at #6 on the list of best climbing frames, it is still 8 seconds behind the King of the Alpe, the Specialized Tarmac Pro, on a ~50-minute climbing effort. So it's a strong climber, but not the strongest.
And while it's pretty fast on flat roads, it is still ~8 seconds behind the four fastest frames over a ~1-hour effort. (Those four fast frames are the Tron, Felt AR, Cervelo S5, and Specialized Venge S-Works.)

This is a perfect illustration of how Zwift's 4-star grading scale, while simple, falls short in certain instances.
For example, the Cannondale EVO frame is rated 4-stars for weight and 2 for aero, so you would think it would be slower up the Alpe than the new SuperSix EVO. But no! If we were able to look at the precise numbers Zwift has used for these frames' weight and CdA, we would see that the SuperSix EVO is slightly heavier than the standard EVO, even though both are rated at 4 stars.
Chameleon Paint Scheme
You can unlock the EF Education First Pro Cycling Team paint scheme if you finish the Giro de Rigo. But what about the default paint on this frame? To be honest, we're still trying to figure out how it works, because it's unlike any other colorway on Zwift! We can't figure out if it's a wacky bug, or a crazy sort of reflective paint. Check out these in-game shots, where the frame is clearly "mimicking" its surroundings:
The Verdict
If you don't want to mess around with a "climbing rig" and an "aero rig," you could do worse than having the Cannondale SuperSix EVO as your only frame.
Keep in mind you'll need to be at level 36+ and have at least 816,500 Drops available to make the purchase.
The SuperSix EVO won't beat the "specialized" rigs on their own turf, but it's pretty darn close. If you're looking for an all-around frame with a bent towards climbing, this is a smart choice.
Your Thoughts
Have you picked up the SuperSix EVO yet? What other frames would you like to see in game?