Zwifters love a good eFondo, and this Sunday (November 3rd) is the first of the 2019-2020 winter season.
Dubbed the "Giro de Rigo", this is Zwift's version of the ride hosted annually by Rigoberto Uran, one of Colombia's top pro cyclists. Happening outside on the same day as Zwift's events, the Giro de Rigo gives South American cyclists an opportunity to ride with some of the biggest stars of the sport.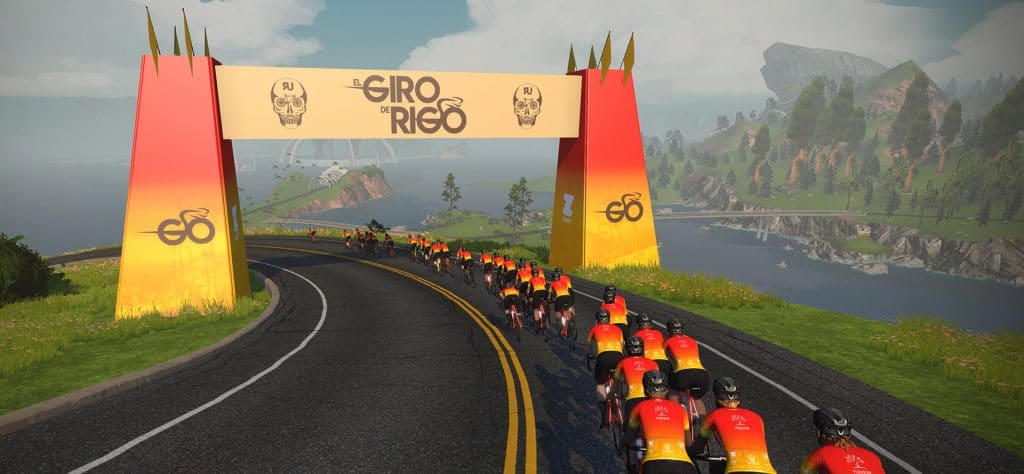 Route Details
All events will be held on the Dust in the Wind route which covers Titans Grove twice, as well as Fuego Flats, part of Ocean Boulevard, and the Mayan Jungle.
Riders who complete the full 131km ride will cover 2.5 laps of the route, climbing 1,465m (4,806′) total.
Choosing Your Category
Riders can choose from short-distance or long-distance events. Riders who enter the long-distance event have access to 3 more prizes/unlocks than the short-distance, so choose your category wisely!
A: 40km (25 miles) long
B: 40km (25 miles) long, women only
C: 131km (81 miles) long
D: 131km (81 miles) long, women only
Prizes and Unlocks
The further you go, the more prize entries and unlocks you earn:
Ride 40km (25 miles): Unlock the in-game El Giro de Rigo jersey
Ride 80km (50 miles): Entered to win a year-long Zwift subscription. (10 available)
Ride 110km (68 miles): Unlock the new Cannondale SuperSix EVO EF Education First Pro Cycling Team paint scheme. (Zwift's notes say you must first purchase the all-new Cannondale SuperSix EVO from the Zwift Drop Shop, available after Nov 3. New bike day? Always good news!)
Ride 130km (80 miles) (entire distance): Entered to win a once-in-a-lifetime trip to Colombia to ride in the 2020 El Giro de Rigo alongside Rigoberto Uran.
Important notes:
There will not be a notification in-game when you have reached the distance milestones in the long-distance event. Just ride as far as you want, then end and save your ride. Zwift will let you know what you have unlocked via email, as the game will have recorded your ride.
Unlocks will be applied by Nov 5 for those who do not complete the full distance but are eligible for the distance-based unlock.
Event Schedule
Zwifters have 5 different event times to choose from:
Saturday @ 11:05PM PDT
Sunday @ 12:05AM PDT
Sunday @ 4:05AM PDT
Sunday @ 7:05AM PDT
Sunday @ 9:05AM PDT
More Info
Learn more at Zwift.com/events >