Zwift's recent update included a new TT frame – an updated Canyon Speedmax model which performs better than the "Canyon Speedmax" TT frame that has been in-game for years. Here's how Zwift describes the frame in game:
The Speedmax CF SLX Disc held the title King of Kona for five straight years and the bike has only gotten better. The new frame sets the standard in adjustability, integration, aerodynamics and handling so you can smash your personal bests. The Speedmax cockpit delivers the perfect symbiosis of performance and comfort. The monospacer system is aerodynamically optimized. The Speedmax fork features a special surface that shadows the brake caliper, improving aerodynamics and reducing turbulence that can be caused by the caliper.
Of course, experienced Zwifters know that real-world performance doesn't necessarily translate to Zwift performance. That was particularly true with this new Speedmax frame, as there was a bug in its settings when introduced, causing it to be quite slow!
But that was all fixed with the update (v65416) released March 23rd. So we ran the updated frame through our standard tests to learn just how well it performs in Zwift's virtual world. And we've got to say… we were quite impressed!
Here's everything you need to know about the Canyon Speedmax CF SLX Disc Zwift…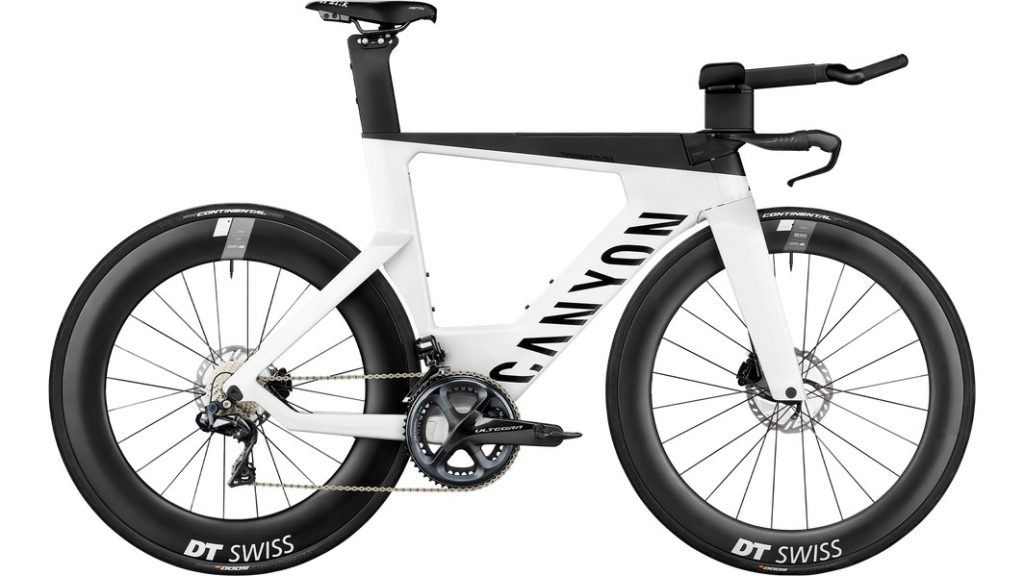 Frame Basics
The Speedmax CF SLX Disc is available at level 26+, for a cost of 891,000 Drops. It is rated 4 stars for aero, 1 stars for weight.
The frame only comes in one colorway.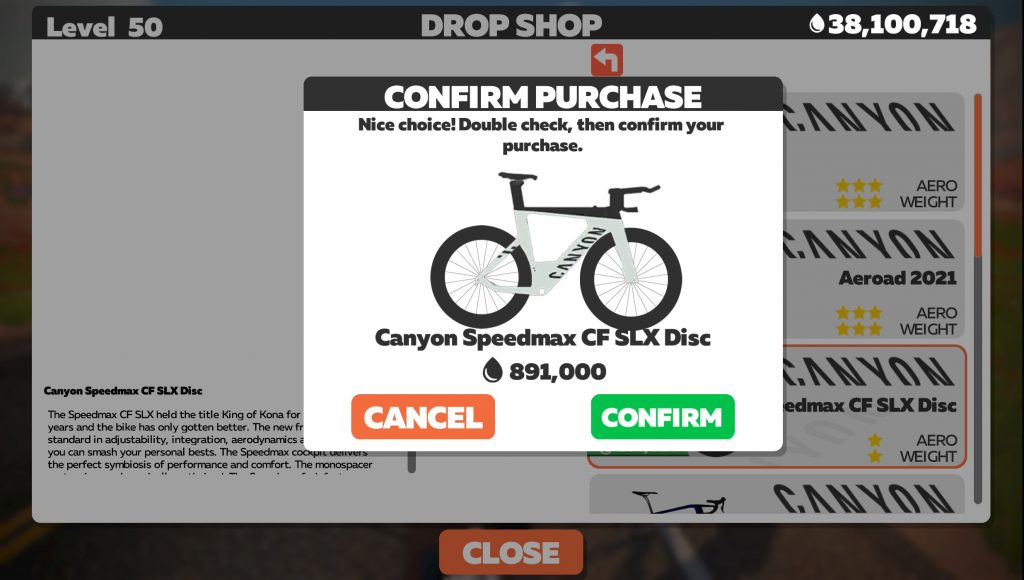 Aero Performance

Aero performance is where the Speedmax CF SLX Disc really shines. And when we say "really", we mean really. It's the most aero TT bike in game!
The Speedmax CF SLX Disc turned in a time of 49:41 on our test course (two laps of Tempus Fugit). The next-fastest TT frames (Cervelo P5x and Felt IA) turned in a time of 49:44. That's a significant difference, especially in a TT!
The old Canyon Speedmax is much slower by comparison, turning in a time of 49:59, which puts it in the "slow bunch" of TT frames.
Climb Performance

The Speedmax CF SLX Disc isn't the best TT climber, but it's no slouch, either. It ranked as the 4th fastest climber in our Alpe test. Not bad for the most aero bike in game!
The Speedmax CF SLX Disc turned in an Alpe du Zwift time of 50:08. The fastest TT climber (Specialized Shiv S-Works) climbed the Alpe in 50:03.
If you're wondering: the new Speedmax beats the old Speedmax on the climbs, too. The old frame is 5s slower up the Alpe.
Final Comments
The big news here is that the new Speedmax is the fastest TT bike in game (on flats and descents), and a strong climber as well. It's the best all-arounder – sort of the TT version of the Canyon Aeroad 2021, at least in terms of Zwift performance. Check out our combined flat+climbing percentile ranking chart:
You can also see it stands out in our scatter plot of TT frames:
Thanks to this frame's impressive performance, we've updated several pages to include the Speedmax CF SLX:
Questions or Comments?
Share below!
Important note: this post contains speed test results for Zwift frames or wheels. These results may change over time, and a bike's performance relative to others may also change. We don't always revise posts when performance rankings change, but we do keep current, master versions of our speed test results which are always available. See the TT frame charts, wheel charts, and Tron vs Top TT Performers for current time trial-related performance data.