Zwift's August update includes the first two wheelsets in-game from CADEX, a brand that may be unfamiliar to some cyclists even though it began in the 1980's.
CADEX began in 1987 as a sub-brand of Giant group, with the goal of building a super lightweight, fully carbon-framed bike. This is commonplace nowadays, but back then, this was a moonshot project. And they did it!
The CADEX brand went dormant once that project wrapped up, but Giant brought it back in 2019 to develop more super-light pinnacle products including handlebars, tubeless tires, saddles, and of course wheels.
Zwifters now have access to the CADEX 42 and CADEX 65 wheelsets. Here's how they're described in the Drop Shop:
"The CADEX 42 is the choice on a day that could end in a sprint. Maximum versatility meets lightweight aero performance, featuring 42mm deep hookless rim design to maximize aerodynamics, weight, and durability, as well as low-friction hubs to maintain maximum power efficiency."
"The CADEX 65 offers ultralight aero speed while remaining confident and stable under all conditions. With a 22.4mm rim width and hookless rim design, allowing a smaller lighter tire to create a more aerodynamically efficient tire shape and a larger contact patch for more control."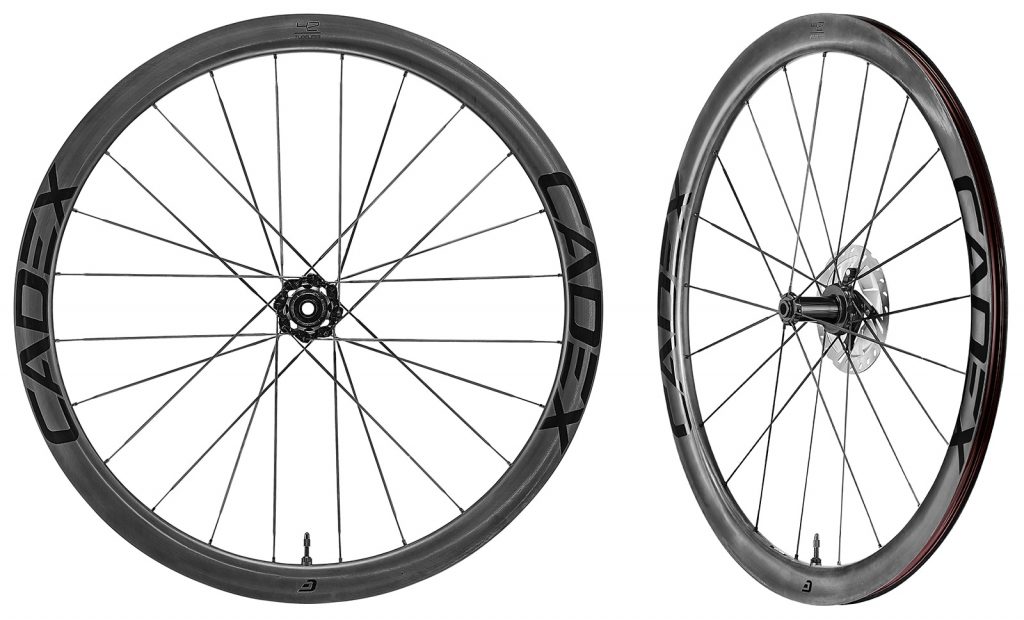 The CADEX 42 is rated 3 stars for aero and 3 for weight, priced at 227,200 Drops and available at level 8+. The CADEX 65 is rated 4 stars for aero and 3 for weight, priced at 241,400 Drops and available at level 21+. In real life the 42 is a super-light climbing wheelset, while the 65 is slightly heavier (+200 grams or so) and of course more aero.
Will the wheels perform on Zwift like they perform outdoors? There's only one way to find out! So we fired up our testing rigs and ran both virtual wheelsets through their paces. Here's what we learned…
Aero Performance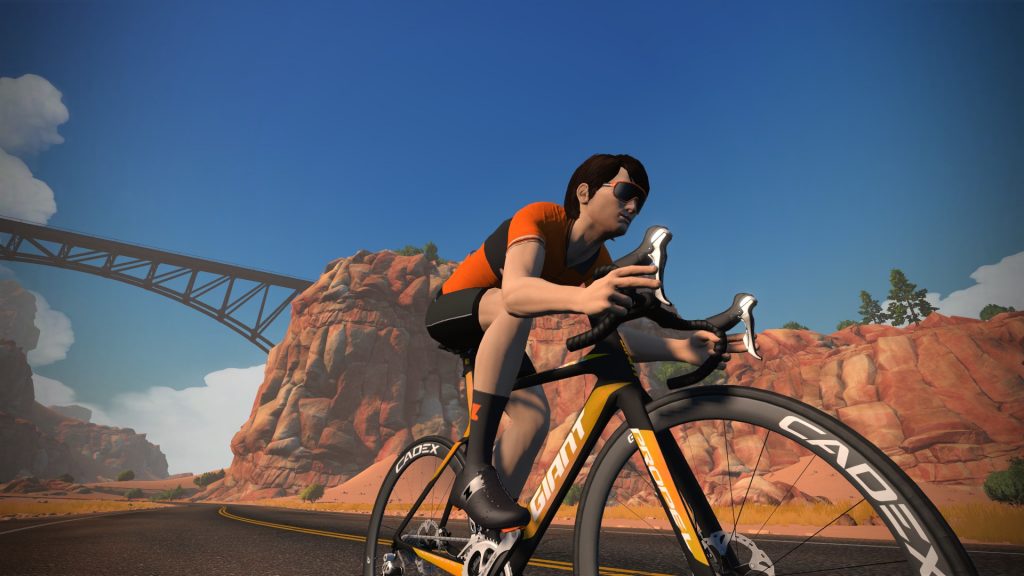 Not surprisingly, the CADEX 65 turns in a strong performance in our flat test, ranking in the 74th percentile in the universe of Zwift wheels. (The CADEX 42 ranks at 34%.)
The CADEX 65 wheels turn a time of 50:50.5 in our test, while the CADEX 42 wheels turn in a time of 51:09. By comparison, the fastest non-disc wheels (Zipp 858) clock in at 50:39 over our flat 34.6km test route (Tempus Fugit).
Climb Performance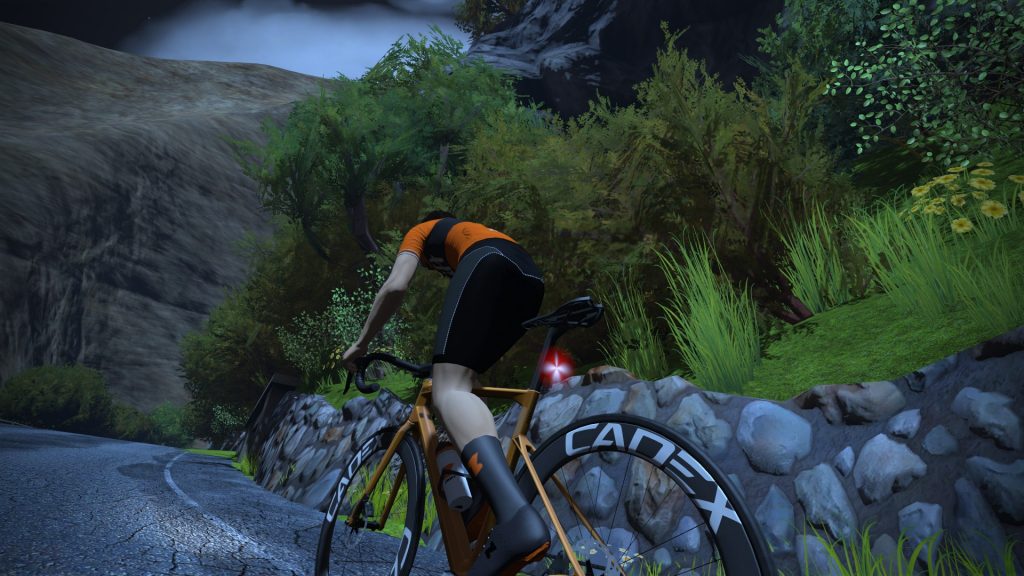 This is where things get surprising.
Given the IRL CADEX wheels' weight differential, one would expect the lighter 42 to climb faster than the 65. And yet, in multiple tests up Alpe du Zwift, the CADEX 65 comes in 1 second ahead of the CADEX 42!
The CADEX 65 wheels turn a time of 49:21 in our climbing test, while the CADEX 42 wheels turn in a time of 49:22. By comparison, the best climbing wheels (Lightweight Meilensteins or Roval Alpinist CLX) reach the top in 49:12.
Note: all test results above are from a 75kg, 183cm rider holding 300W steady using Zwift's stock 32mm carbon wheelset.
Down the Rabbit Hole
We would expect the lighter 42 wheels to outclimb the 65, but that's not what we're seeing. Our hunch is that the climbing performance of these wheels is more of a Zwift equipment spec issue than a reflection of the wheels' IRL performance. (Which is a shame, because the CADEX wheels have received some really solid reviews, like this one on the 42 from Bicycling and a glowing writeup on the 65 from CyclingWeekly.)
To make things even weirder, the older (and heavier) Giant SLR 0 wheelset on Zwift outclimbs the CADEX 65 (by just half a second), which also doesn't make sense, given that the offering from CADEX is a much more premium wheel. The CADEX 65 is much more aero than the SLR 0, so there's really no competition between two on Zwift. But it still seems as though the SLR 0 with its deep-dish rims is too light in Zwift.
Conclusions
With all that said: the new CADEX 65 wheelset is a really strong all-arounder. It ranks #3 in our combined percentile rankings chart, just behind the Zipp 454 and DT Swiss ARC 62 wheels. The DT Swiss wheels will probably remain popular, though, since they're available at a very low level (6) for a cheap price (184,600 Drops). Zwift definitely threw a bone to new Zwifters when they released those DT Swiss hoops!
The CADEX 42 are solid climbers given their low level lock. But other climbing wheelsets are available in this range offering slightly better performance, including the ENVE 3.4 and DT Swiss ARC 62.
Given the standout performance of the CADEX 65 wheels on Zwift, we'll be updating the following post soon:
Additionally, any time a new wheelset is released we add it to our Master List of Zwift Wheelsets and update the following:
Questions or Comments?
Share below!
Important note: this post contains speed test results for Zwift frames or wheels. These results may change over time, and a bike's performance relative to others may also change. We don't always revise posts when performance rankings change, but we do keep current, master versions of our speed test results which are always available. See the frame charts, wheel charts, and Tron vs Top Performers for current performance data.