Zwift's March update included the fourth frame in game from Switzerland's BMC. Named the "Teammachine", this frame is the updated version of the in-game frame named the "SLR01", which is really just an older Teammachine. (A bit confusing, but so are BMC's bike names, so this is par for the course.)
Here's how the BMC Teammachine is described in the Zwift Drop Shop:
"10 years ago, BMC launched a bike that kickstarted a revolution in the design and construction of the performance road bike. The Teammachine has won every major title that a bike can win including Monuments, World Championships, Olympic Games, and the Tour de France. Using the combined knowledge from the past decade, BMC have changed the game again to deliver an all-new, class-leading frameset ready to lead for another 10 years."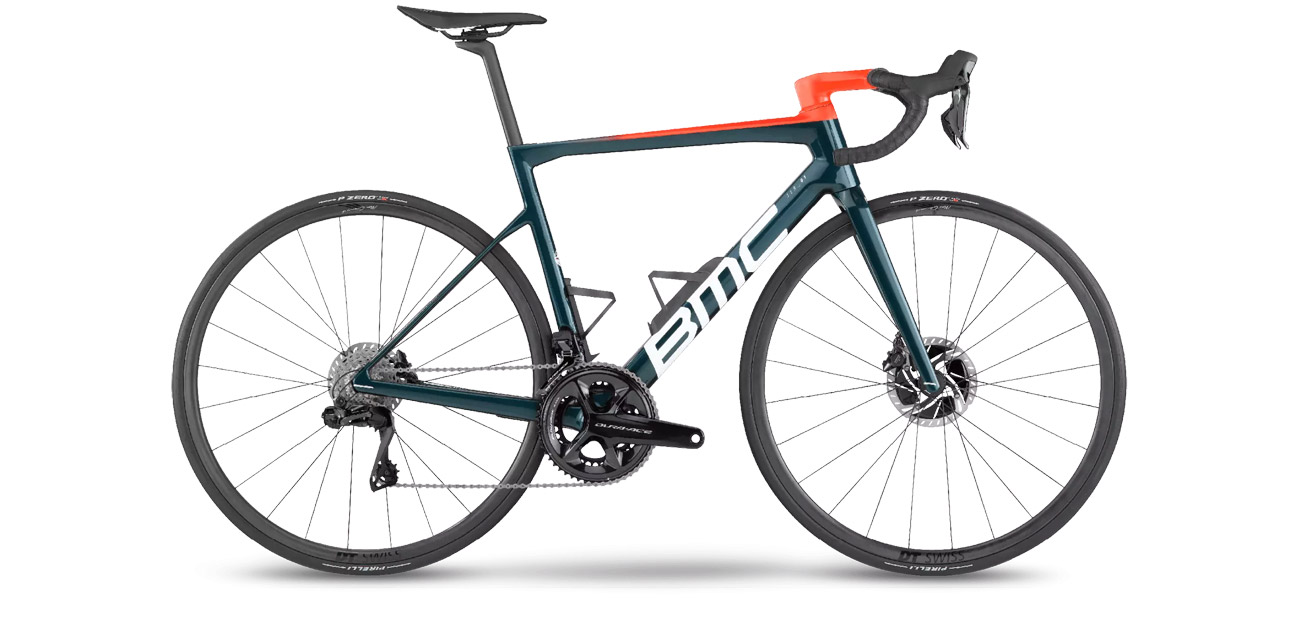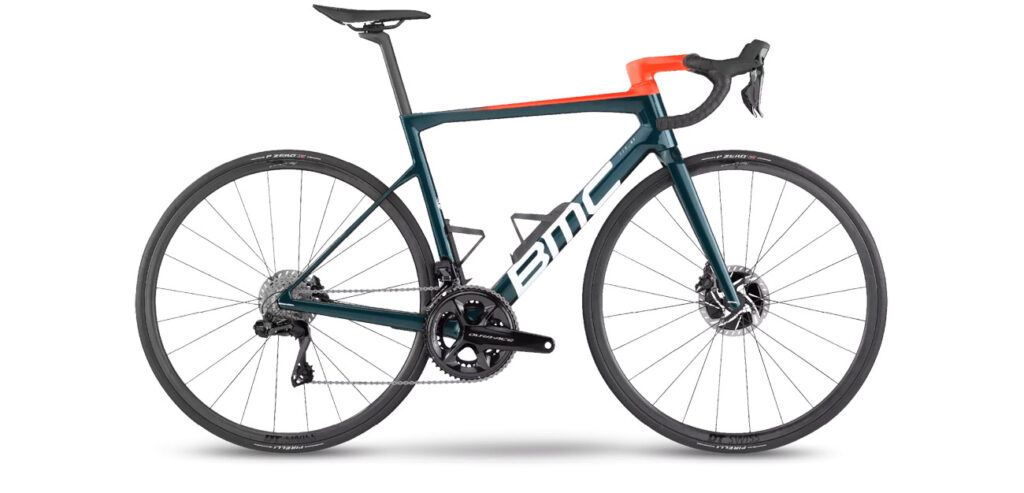 This frame is priced at 832,900 Drops and level-locked at 26. It is rated 3 stars for aero and 3 for weight, which means it's at least somewhat aero and lightweight. But Zwift's star ratings aren't precise enough to communicate actual performance in game in a useful way, so we ran the new Teammachine through our standard battery of tests.
Here's everything you need to know about the performance of the new BMC Teammachine frame in Zwift.
Aero (Flat/Rolling) Performance


The Teammachine turns in a mid-pack aero performance, matching the Liv Langma Disc at the 60th percentile.
Its test time of 51:29.5 is 6.5 seconds faster than the default Zwift Carbon frame given to all Zwifters. By comparison, the current fastest frame in Zwift (Specialized Venge S-Works) turns in a time of 51:17 on our test course, which is two laps of Tempus Fugit, totaling 34.6km.
Climb Performance


The frame's climbing performance puts it in between the Cube Litening and Trek Emonda SL, which is to say its climbing performance is decent, but not great. The Teammachine ranks right around the 71st percentile compared to all the frames currently in game.
The BMC Teammachine turns in an Alpe climb time of 49:02.5. By comparison, the fastest climber in game (Specialized Aethos) completes the test is 48:50.
Note: all test results above are from a 75kg, 183cm rider holding 300W steady using Zwift's stock 32mm carbon wheelset.
Broken Color Slider
One odd bug with the Teammachine that we haven't seen before with other frames is the broken color slider. No matter where you put the slider, nothing on the frame appears to change. Something for Zwift to fix in the next update.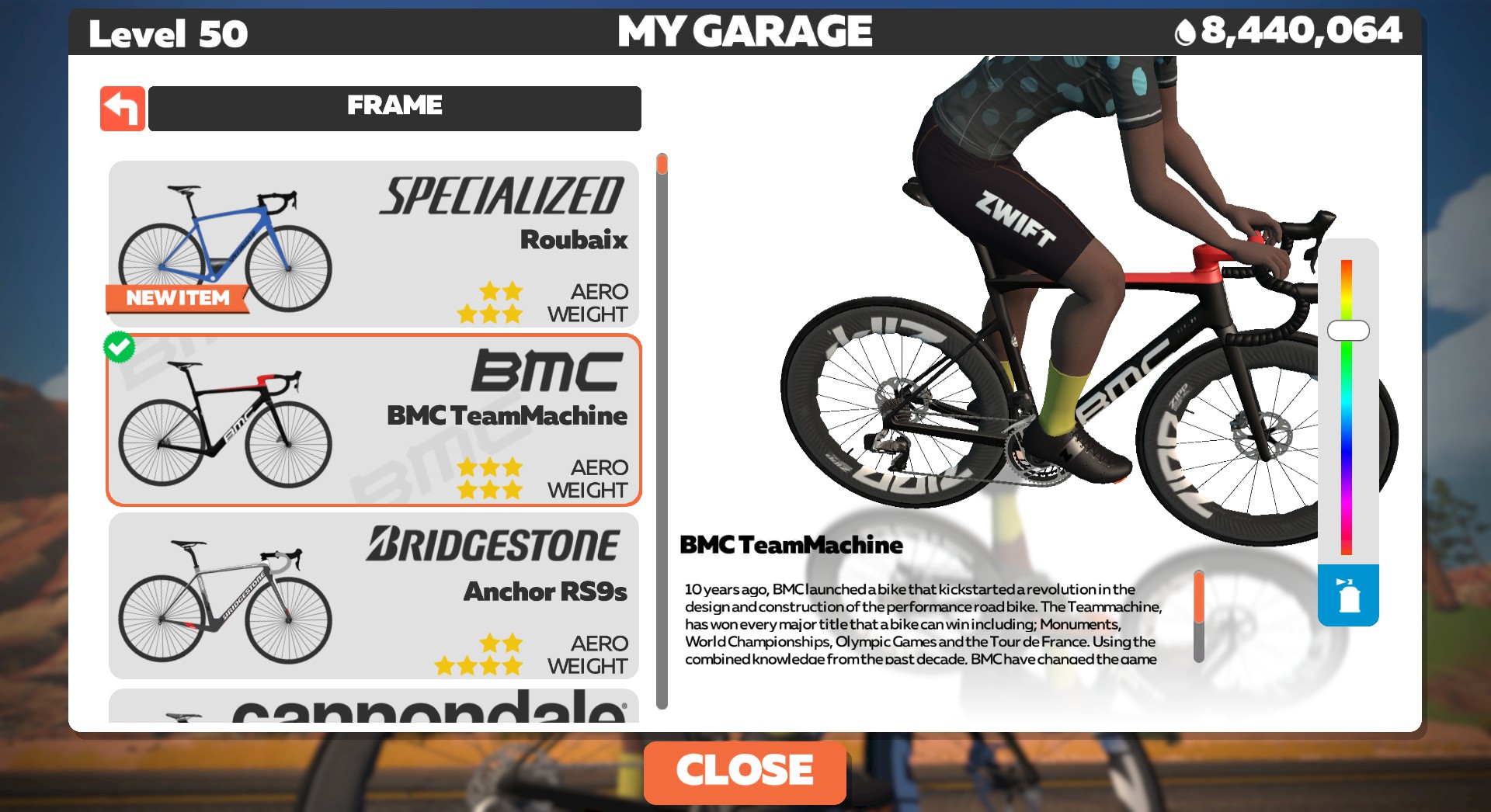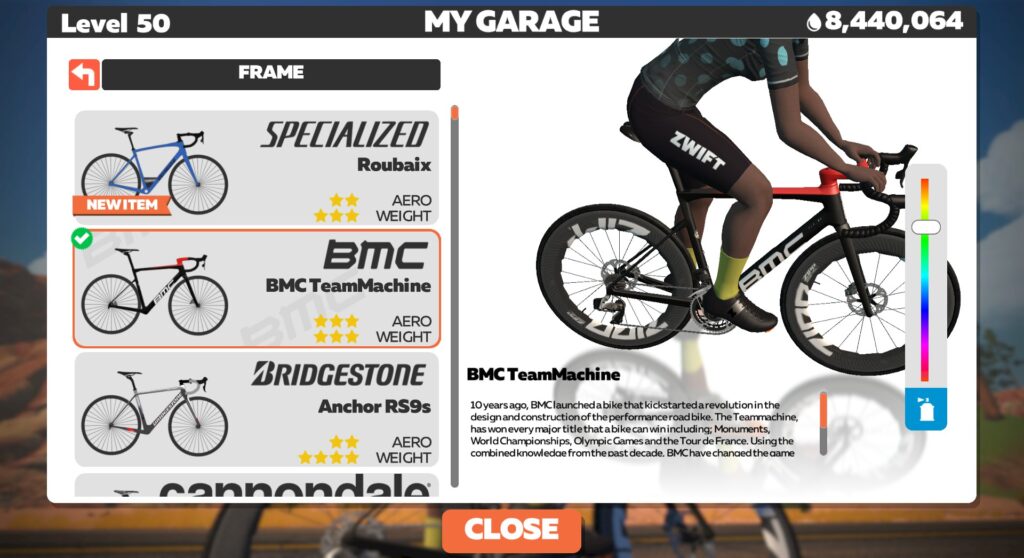 Conclusions
The new Teammachine is an upgrade from the older "SLR01", trimming 4.5 seconds off its climb time and 4 seconds off its flat time. So that's a nice, sensible improvement if you're a BMC fan.
But the frame's overall performance doesn't make it stand out from the crowd in any way. So we don't think you'll be seeing the Teammachine on Zwift's roads in any significant numbers. It will be used in game mostly by sponsored riders and IRL BMC owners.
The BMC Teammachine's numbers will be added to the following posts, and it can also be found on our Master Zwift Frames List:
Questions or Comments?
Share below!
Important note: this post contains speed test results for Zwift frames or wheels. These results may change over time, and a bike's performance relative to others may also change. We don't always revise posts when performance rankings change, but we do keep current, master versions of our speed test results which are always available. See the frame charts, wheel charts, and Tron vs Top Performers for current performance data.