In mid-April Zwift announced a pile of new features coming to the platform. I've covered almost every one in detail, but today I'm wrapping up this series of posts by digging into the new Action Bar Zwift is planning to roll out.
While Zwift isn't telling us everything about the new Action Bar, they're telling us enough to give us a good idea of what will be changing. Here are the details…
Action Bar Intro

Zwift's Action Bar has been a useful part of the in-game interface for years. It's hidden when not in use, but you can make it pop up in a variety of ways:
Hit the up arrow on your keyboard
Click on the lower-middle part of the screen with your mouse
Tap on the lower-middle part of your screen if you have a touchscreen device
Swipe up on your AppleTV remote
The action bar is also available in the Companion app, but oddly enough it's not the same action bar as you see in game. It contains some different buttons than the in-game bar, and the buttons are in a different order.
About the New Action Bar
The new Action Bar will be reachable in the same way as before, but its layout and available functions will change substantially. Zwift will be introducing new Action Bar buttons, re-ordering these buttons, and (for the first time ever) placing submenus under some of the main buttons.
Main buttons and their submenus will include:
Actions: give a Ride On*, change the camera angle, or make a u-turn
Emotes: Ride On, elbow flick, toast, and wave
Rider teleport: choose a rider or RoboPacer (read more)
Zwifters will also be able to access Coffee Stop from the Action Bar and perform existing Action Bar functions like changing the camera angle, turning on HUDless mode, and recording a video snippet.
*In their press release about this feature Zwift includes "give a Ride On*" in the Actions menu, but also includes the "Ride On" emote. We're hoping this means Zwift is adding a new shortcut to easily return a Ride On.
Here's a sample of the new action bar, taken from Zwift's publicity images for the new Rider Teleport feature: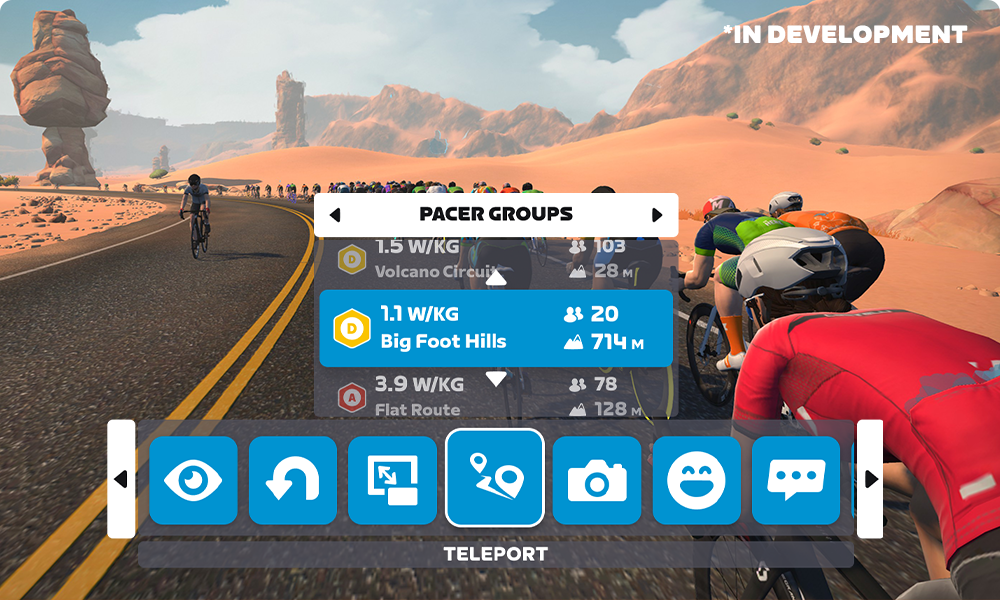 Release Date
Zwift is saying the updated action bar is coming "this summer". Our guess is you'll see it released in May or June, with additional refinements/modifications following.
Questions or Comments?
Post below!