Riding with friends is one of the best things about Zwift, and an upcoming feature Zwift announced this week aims to make it even easier. "Rider Teleport" lets you magically join friends or RoboPacer groups who are riding in the same world as you, whenever and as often as you'd like.
How does it work exactly? I'm glad you asked…
How Rider Teleport Works
Rider Teleport lets you instantly move within your current world to join a friend or particular RoboPacer.
To teleport, bring up the action bar and navigate to the new teleport icon. You can choose between a list of online friends or Pacer Groups. Select a friend or RoboPacer and the game will relocate you to their side. Easy!
(Don't worry – the game will confirm your teleport command so you aren't surprised by a sudden change of locale.)
Your current activity will continue when teleporting – you could teleport multiple times in a session and it will all be recorded as one activity.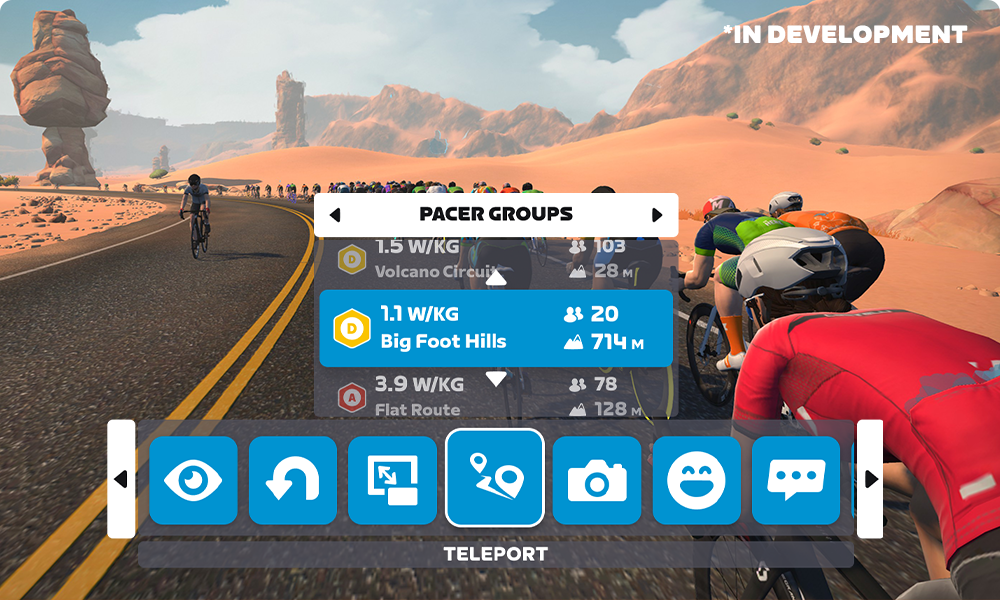 Rider Teleport Rules
Zwifters don't get distance credit or XP for the distance covered while teleporting.
Zwifters will get credit for any routes or segments completed during their ride, as long as they don't Teleport in or out during that route or segment.
Zwifters cannot Teleport into or out of events.
You can only Teleport to Zwifters you follow who also follow you back.
Use Cases
How will riders use Rider Teleport? I'm sure we'll see lots of creativity from the community. Here are six ideas:
RoboPacer Intervals: replace a structured workout by bouncing between RoboPacers holding particular w/kg. (I, for example, could bounce between Jaques and Constance for an Over-Under workout.)
RoboPacer Ladder Challenge: start with an easy RoboPacer, then move to the next hardest after 5 minutes. Keep going until you can't keep up! (Stronger riders may need to increase the interval length to 10 minutes or more.)
Visiting Friends: it's an easy day. Make some social calls! Go down your list of joinable friends and pop into each of their rides to say hello and wish them well.
Easy Rejoin: ever joined a friend or RoboPacer only to realize you are on the wrong bike, or need to fill your water bottles or grab a towel? Coffee Stop may help, or you could simply stop riding, do what you need to do, then use Teleport to re-join the friend or Pacer Group you were in.
Post-Race Cooldown: racing in Watopia or Makuri Islands? Once your race ends, you don't need to end your activity and start a new one to cooldown. Just pick a RoboPacer group and teleport in to spin out your legs and cool down.
Endless Everesting: turn any climb into endless elevation by parking a friend at the bottom so you can Teleport down to them once you reach the top. (Note: I don't see anything in the official vEveresting rules prohibiting this, but it could lead to faster vEveresting times, so we may see those rules get updated.)
The Activity Map (and Strava) Question
After finishing the ride, your avatar's movement during a Teleport will appear as a straight line on your post-activity map. Zwift has customized their maps (in Companion and on the web) so the line is more obviously a teleportation, but what about Strava?
My sources in Zwift say that, while they've talked to Strava about implementing some updates to make teleportations a bit clearer, they don't anticipate Strava rolling out changes in time to support this update. So Zwift is moving ahead anyway.
Sounds like a smart move to me. Teleportation travel shouldn't count toward your Strava activity distance anyway, so it's really just a visual improvement we'd like to see.
Availability
Zwift says Rider Teleport is coming "this summer." I bet it will launch between June and August 2023.
Questions or Comments?
How would you use Rider Teleport today? Got questions about this feature? Share it all below!