Zwift co-CEO Eric Min has been teasing Strava followers for months with short recordings of his Zwift rides, and yesterday Zwift finally took their new "Video Screenshots" feature live. While it's only available on certain Apple devices at this time, Zwift says all devices will be supported "shortly".
Here's a quick sample recorded on my iPhone:
Supported Devices
This feature is only available for iOS (iPhone and iPad) and Mac users at this time.
Zwift says "This feature is available today on iOS and MacOS devices, followed shortly by TVOS, Android, and other devices."
How It Works
Recording
Recording a "video screenshot" is easy – just bring up the action bar (by tapping on the screen in iOS, or clicking the screen or hitting your up arrow on Mac) and tap the filmstrip icon: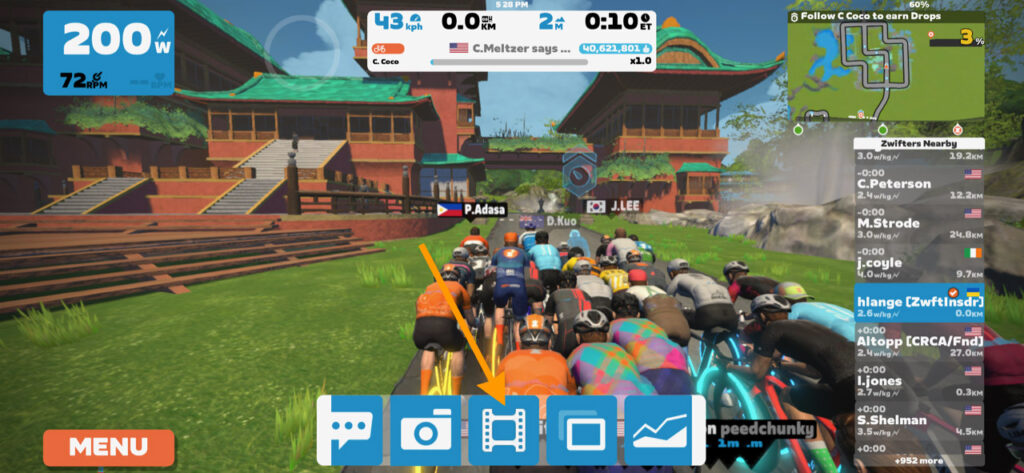 Coming soon, you'll also be able to tap the same icon in your Companion app.
Tapping this icon saves the last 15 seconds of gameplay onto your device. So this isn't a "start recording/stop recording" sort of feature, but rather a simple one-click tool that saves your most recent 15 seconds.
Handily, Zwift's existing "notable moments" feature which takes snapshots of activity highlights will also record video clips of those highlights, which include:
Manually recording will often not be necessary, though, since most of your highlights will be automatically recorded as Video Screenshots thanks to Zwift's notable moments feature. Automatically recorded highlights include:
Taking a segment jersey
Setting a new PR
Finishing a challenge or mission
Gaining a level
Unlocking an achievement
Finishing an event
Completing a workout or training plan
Completing a new route
This means most of the highlights you'd want to record should be automatically saved to a video clip.
Saving to Strava
When saving your activity, video clips are indicated by a filmstrip overlay:
If you've got your Strava account connected to your Zwift account, you can select 1 video to upload to Strava, and up to 5 photos, when you save your activity.
All video snippets are saved on your Zwift device, where (just like photos) and you can upload them to social media sites, or do anything else you'd like (including deleting the files).
Turning it Off
Want to disable the recording of video screenshots entirely? It's easy to do, from your main settings menu: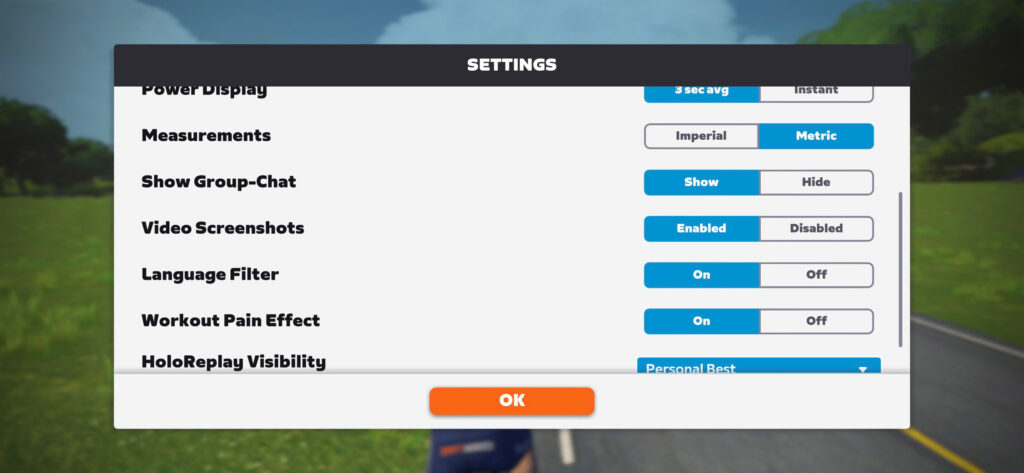 A First for Strava
Zwift's press release notes that "Zwift is the first Strava partner to take advantage of the video API since Strava launched video functionality for its community of over 100 million athletes globally in June of 2022."
Questions or Comments?
Post below!