First: apologies for the clickbait. There is no 4th Zwift challenge. Not yet, anyway.
But we're hoping that discussing its conspicuous absence may encourage Zwift to create one.
So let's talk a bit about how the Challenges work, then offer a few ideas.
About Zwift Challenges
Zwift has had the same three Challenges since early days, accessible through the in-game main menu (click a Challenge for more details):
How Long to Complete Them All?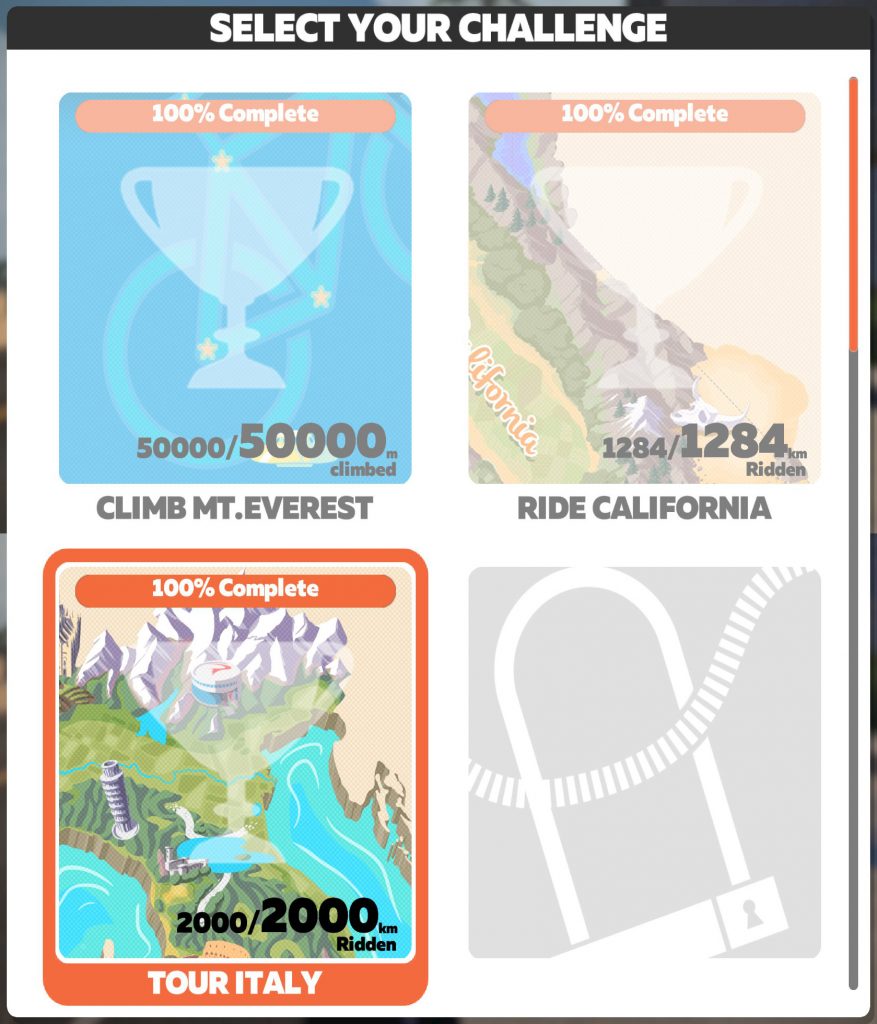 If you rode 100 miles (160km) per week, you'd finish Ride California in 8 weeks, and Tour Italy in 12.5 weeks.
The toughest Challenge by far is Climb Mt. Everest, since it includes the hidden Tron challenge. This one takes a while! If you climbed 300 meters (984′) per day for 167 days you'd complete the challenge.
Using the above plan riders could complete all three challenges in under 45 weeks of daily riding. Experienced riders may do it in half the time or less, and newer cyclists may take twice as long.
Zwifters Love Carrots
Here's the thing: Zwifters love carrots. No, not the orange vegetable (although, being healthy eaters, we like those too…right?) No, we're talking about goals. Targets. Rewards. Challenges. It's why Route Achievement Badges were an immediate hit upon release. And it's why Zwifters have been asking for a new Challenge for years!
A quick search of Zwift's Feature Requests forum brings up at least 7 requests for more Challenges. (UPDATE: after the post was published, Zwift forum moderators consolidated all of the requests into one single request.)
Unlock the 4th Challenge: Place Your Votes!
Zwift wants to keep their customers happy, so if a new Challenge would be interesting to you, I'd recommend upvoting this feature request.
If enough buzz is generated, it will get Zwift's attention. As of today, ZwiftHQ has yet to comment on the feature request. But if they see enough interest from Zwifters, I bet they'd spin up a new Challenge quickly.
Why Don't We Have a 4th Challenge?
Zwifters have been asking for a 4th Challenge for years. So why do we still only have three?
The answer is unclear. After speaking with several top ZwiftHQ staffers on this very topic, it seems as if the noise of everything else Zwift is working on has drowned out this simple request.
And that's why we're posting this article – to bring attention to an easy win for Zwift. It would grab the attention of a huge number of Zwifters, increasing rider engagement. And shouldn't take long to implement on the dev/art side.
Ideas for New Challenges
Just in case Zwift is looking for ideas for new Challenges, here are a few from myself and the community:
LEJOG: heck, the animation artwork has already been done, and this is a popular IRL challenge for UK-based cyclists. With none of the current Challenges being UK-based, and Zwift having a huge UK userbase, this seems like a good option.
LeTour: ride the distance of the first Tour de France (2,428 km/1,509 miles) and unlock an old-school steel single speed La Française with toe clips–the bike Maurice Garin used to win the first TdF. You could do challenges for the Vuelta and Giro as well, but Zwift's close ties to the TdF make this a clear choice.
RAAM: complete the Race Across America distance (approximately 3,000 miles). Unlock a touring bike complete with panniers.
Mariana Trench: descend 10,984 meters (36,037 ft). Which means you'll have to climb first!
The Full Kiwi: ride the length of New Zealand – 1,600km (1,000 miles)
Iceland Loop: 1,332km (828 miles)
Route 66 (America): 3,940km (2,448 miles)
Trans-Siberian Highway: 11,000km (6,800 miles)
Road Trip Down Under: across Australia – 14,500km (9,000 miles)
Great Wall of China: 21,196km (13,171 miles)
Pan-American Highway: 30,000km (18,641 miles)
Around the Moon: 10,921km (6,786 miles)
Around the World: 40,000km (24,855 miles)
It's worth noting Zwift could create more than just a fourth challenge. Why not create several?
I'd love to have so many challenges that there's always something I'm working on, even if it'll take me a year or more! And while I'd love to unlock some special kit or bike upon completion, I don't mind if they're "boring" distance-based Challenges with no reward except a few XP and an atta boy popup. A simple carrot is better than no carrot at all!
Your Thoughts
Do you want a 4th Challenge? Got an idea for one that's better than we've listed above? Share below.
(But more importantly, share them on the Zwift Forum topics linked above!)