Based on the response to yesterday's post about my Zwift Academy (ZA) Baseline Ride experience, lots of Zwifters are asking similar questions about how these rides work.
So here's a list of Baseline Ride frequently asked questions, with (hopefully) helpful answers.
What is the purpose of Zwift Academy Baseline Rides?
These events were created to measure how you perform within the three different energy systems:
Sprint (tested over a short segment)
Anaerobic (tested over a medium-length segment)
Aerobic (tested over a longer segment)
By the end of Zwift Academy, you'll have completed a Finish Line ride as well. You should then be able to determine what type of cyclist you are based on what energy system you excel in.
How do the rides work?
The rides function like any other Zwift group ride – everyone starts from the pens, then rides the prescribed route at their own pace. The category you select at signup determines which of two routes you ride. Each route has three target segments which you want to hit at maximum effort in order to measure how you perform in the three energy systems.
There are three things that set Baseline (and Finish Line) rides apart from a typical group ride:
Drafting is turned off. This is done so your segment timings aren't affected by drafting other riders.
The entire goal of the ride is to hit the three segments at maximum effort. In between those segments you should be riding at a very easy pace and recovering, so you're as fresh as possible for the next segment.
Your three segment times are saved and viewable in the Companion app to track progress.
What routes do the Baseline Rides use?
If you choose the Advanced Baseline Ride (category A for men, B for women) you will ride Watopia's new Climber's Gambit route.
If you choose the Standard Baseline Ride (category C for men, D for women) you will ride Watopia's new Legends and Lava route.
Should I sign up for the Advanced ride, or the Standard one?
The big difference between the two is the length of the segment used for the final aerobic effort. The Advanced Ride climbs the Epic KOM Reverse, while the Standard Ride climbs the Volcano KOM.
Most riders will finish the Volcano KOM in 8-14 minutes. The Epic KOM takes approximately three times longer to complete.
If you are a pro contract contender, you are required to complete the Advanced Baseline Ride. Additionally, if you are a very experienced/fit rider, the Advanced ride may provide a better test of aerobic endurance than the shorter Standard ride.
Just remember: whatever option you choose for the Baseline Ride, will need to be chosen again for the Finish Line Ride so you can track your progress!
I want to sign up for a Baseline Ride but it says my category is X w/kg, and that's too high for me. Should I still sign up?
Zwift's ZA web portal has a bug which is showing w/kg ranges for each of the categories for Baseline Rides. Ignore those. Baseline Rides have no target w/kg. Just choose your category based on the criteria above (Advanced or Standard) and ride at your pace.

Where do the timed segments start/end?
Experienced Zwifters may know the maps well enough to know where the segments begin. But what about the rest of us?
If you are riding the Advanced Baseline ride, you will arrive at the segments at this point during the ride (click segment name for Strava segment details):
If you are riding the Standard Baseline ride, you will arrive at the segments at this point during the ride (click segment name for Strava segment details):
How do I know where a segment starts or ends?
Along with noting the starting distances above, it's also helpful to recognize the visual indicators used to show that a segment is beginning.
Here's what segment start and finish lines look like:
Does the ride end at an arch? How do I know when I'm done?
The ride will continue just a bit after the finish arch of the final segment. Just spin those pedals and catch your breath – you'll see the finish line soon enough! It looks like this: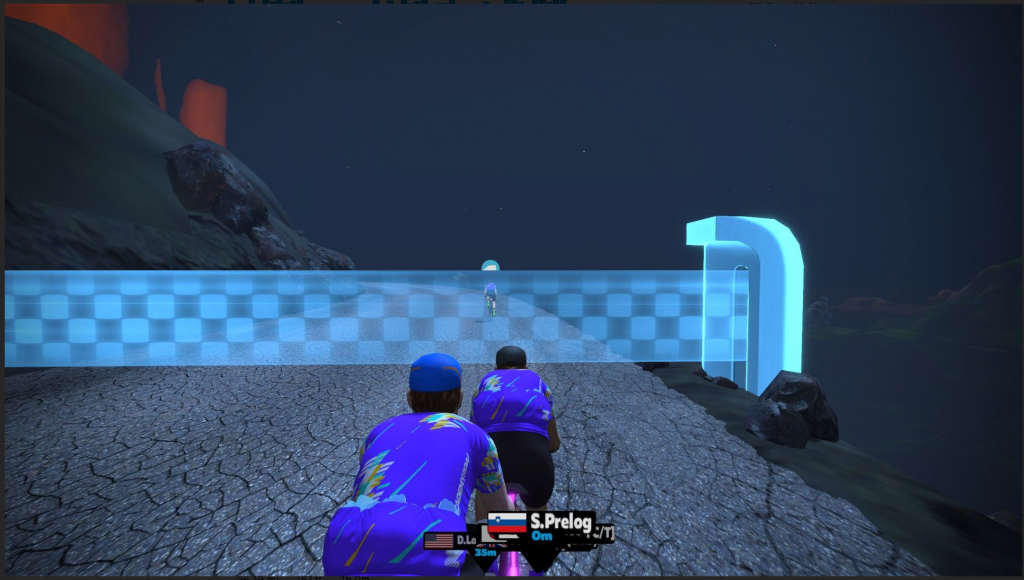 Which bike should I use? Is there an assigned bike?
There is no assigned bike or wheels for these events. Since you want to be able to compare your segment times between your Baseline Ride (at the start of ZA) and Finish Line Ride (at the end of ZA), you should simply plan to use the same bike frame and wheelset for both events.
Doing this means your times won't be impacted by the virtual equipment you use, since different wheelsets and frames can be more or less aero and weigh more or less than others.
How can I tell what my strengths or weaknesses are based on my Baseline Ride results?
Strengths and weaknesses (we like to call them "opportunities for improvement") cannot be determined by Baseline Rides alone. Zwift will be sharing a blog post, probably near the end of ZA, which will go into greater detail about what to do next based on your Baseline + Finish Line results.
If you can't wait until then, or just love digging into your data, there are third-party apps available to give you more insight into your performance numbers and even rank you against others. The Breakaway app we recently reviewed just received a Zwift integration update and gives you fancy charts ranking you based on power numbers. ZwiftPower also profiles your power to help you understand your strengths and weaknesses.
Is this a race?
No. The entire goal is to put in your best effort over the three segments. Recover at whatever pace you'd like in between those segments, so you can put everything you've got into the timed sections.
Is Late Join turned on?
No. Most group rides on Zwift have Late Join enabled so you can join the group up to 30 minutes late. But if you did that on a Baseline Ride, you may join the group after they've already completed a segment or two! So you have to show up on time to make it work.
Should I do the Baseline Ride in ERG mode?
No. These aren't workouts – they're free rides.
I can do better. Can I do my Baseline Ride over again?
Absolutely! Just sign up for another one and give it a go! They're scheduled through September 27.
Is drafting turned on for Baseline Rides?
No. Drafting is turned off so you have consistent environmental factors for both the Baseline and Finish Line rides in order to get more accurate results.
Do I need to stay with the group? What if I get dropped?
There's no need at all to stay with the group. In fact, with drafting turned off, saying bunched up is next to impossible! Just ride at your pace.
Where can I see the results of my Baseline Ride?
In the Zwift Companion app (available for iOS or Android). Just click the Zwift Academy Road section near the center of the home screen:
Does the Baseline Ride function as an FTP test, or do I need to do one of those first?
The Baseline Rides does not function as an FTP test. If you've never done an FTP test, we recommend doing one so your FTP is accurately set before you jump into a ZA Workout, since the power levels of the workouts are based on your FTP.
The quickest/easiest way to do an FTP test is to take a ramp test.
How does the Baseline Ride impact the rest of my ZA Workouts?
Short answer: it doesn't. The goal of Baseline Rides is to gauge your current fitness level at the start of ZA so you have a comparison point for your Finish Line ride at the end of ZA.
Watch me complete a Baseline Ride
Curious what the actual ride experience is like? Here's a full video of me completing the Standard Baseline Ride:
Still got questions?
Feel free to share them below. We highly recommend checking out the very thorough ZA Road FAQ forum post from Zwift, since it appears to address nearly all questions related to ZA Road 2021.