Note: this is the follow-up post to an earlier article explaining how Zwift Racing League Segment Points (FAL and FTS) work. If you haven't read that post yet and don't understand FAL and FTS, be sure to check it out first.
Once we understand how FAL and FTS are calculated, we want to look at how to maximize those points in our races. Let's go!
Segment Strategies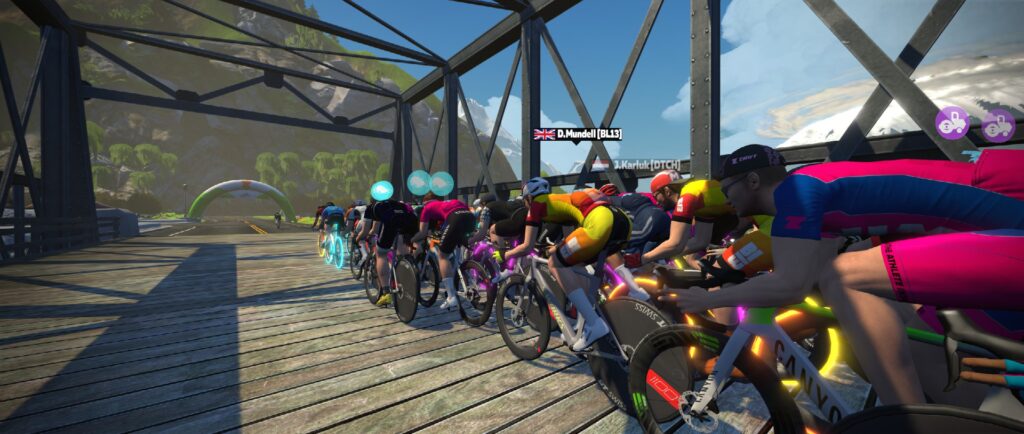 Targeting FTS Attempts
In a multi-lap race, it's important to realize that the top FTS times are typically set the first one or two times through a particular segment. Why? Because the pack is largest and freshest at that point. So if you're targeting FTS, you'll want to put in your best FTS efforts early.
An interesting twist is a course like this week's Glasgow Crit Circuit, where riders will hit the Champion's Sprint hard right out of the gate, but without any powerups. They will have powerups on the next attempt, though, which means we'll probably see most of the FTS times set on the second attempt.
Positioning for FTS Attempts
If you're trying to set a top 10 FTS time on a segment, it's usually best not to start at the front of the group. (This is especially true on longer segments.) Instead, start toward the back of the group, then move through the group during the segment so you finish at the front. This ensures that you're setting a faster segment time than all the riders you passed while staying in the draft for maximum efficiency for all or most of your segment attempt.
This "sag then sprint" strategy is seen most often on KOM segments, but it also works on sprints.
Timing Sprint FTS Attempts
The biggest mistake riders make when chasing FTS on short sprints is powering up too late. For the fastest possible segment time you'll need to hit the sprint start line at or near top speed, then carry that speed through to the finish. If you wait until the line to up your power, you won't earn a top-10 time.
This is where course knowledge is crucial because you'll often need to pick up your power before you can even see the start line. Do a recce ride if needed!
Targeting FAL Attempts
FAL points are earned on every segment attempt, and as the race goes on, riders will get more fatigued, the front pack will shrink, and speeds will often drop. Because of this, it may be easier for a cagey rider to grab FAL points later in the race.
Positioning for FAL Attempts
All that matters with FAL is the order in which you cross the segment's finish line. So when it comes to positioning yourself in the pack, you need to figure out which location gives you the best chance of finishing near the front.
Generally this means starting the segment in the front 1/3 of the pack – or perhaps even further forward. This is true for KOM and sprint segments.
On sprints in particular, you want to utilize the draft of other riders early in the segment, while not being so far behind the front riders that you can't overtake them to grab top 10 FAL points.
Team Raids
ZRL is a team-based event, of course, so anything you can do as a whole team makes it 10x more awesome. One particularly fun strategy is a team points raid: targeting a particular segment as a team.
My DIRT Roosters did this on Makuri Islands' Rooftop KOM. We knew we were going to attack near the end to try and grab FAL points, so we all sagged at the start to give ourselves a good chance of FTS points as well. Watch our attack:
The attack splintered the group to pieces. We had a few riders mixed in with us at the front, but the Roosters came across the line in places 1, 2, 3, 5, 6, and 8 (41 FAL points) while also grabbing FTS places 1, 3, 4, 5, 6, and 7 (52 points). A massive haul!
Team raids work well on KOM segments that suit your team, where drafting is still a major factor. The Rooftop KOM is a perfect example of such a segment, but other shallow KOMs would also qualify. Discord comms are a must for coordinating the precise attack point.
PowerUp Pointers


Obviously, powerups can help you earn segment points. Many smart riders wait to go all-in for segment points until they have a powerup to boost their effort. A few quick tips:
Aero Boost (helmet): this is a sprint FAL-grabber's dream powerup, but it also works great for sprint FTS. Timing is tricky since it only lasts 15 seconds.
Draft Boost (van): now 40 seconds long, this is a splendid powerup for those sprint FTS attempts where you start near the back of the pack and sprint through to the front, as it will boost the draft you're receiving all along the way!
Lightweight (feather): best for climb (KOM) segments, but the feather also helps a bit on sprints. Now 30 seconds long, the feather is a big help on short climbs like The Clyde Kicker.
Breakaway Burrito: useful if you're going for FAL on a sprint segment and don't want others sitting on your wheel. Extra credit: use it when drafting behind a teammate to keep chasers away from both of you!
Cloaking (ghost): useful in the last 15 seconds when you're going for FAL on a segment and don't want others to know.
Related: Your Guide to PowerUps in Zwift >
Training
Let's be real: the tips above can help you polish your efforts, but it's going to be your fitness on the day that largely determines your results.
Fitness and training are a big topic, and this isn't a training-focused post. But if you find yourself struggling to grab segment points in ZRL, you may consider jumping into some focused training to boost your strengths and shore up your weaknesses.
Your Thoughts
Got any other tips? Questions? Share below!