The second race of Zwift Racing League 2022/23 Round 1 happens Tuesday, September 20th. We're back in New York City on a rolling course we've raced before, but this time around it's a bit shorter (3 laps instead of 4).
Let's dig into the race, including tips for bike choice, powerups, strategy, and crucial segments.
Looking at the Route: Park Perimeter Loop
NYC's Park Perimeter Loop covers the outer portion of the ground-level tarmac which is a GPS-accurate re-creation of Central Park's real roads. The loop itself is 9.8km (6.1 miles) long, with 126m (413′) of elevation per lap.
All categories will be racing 3 laps for a total distance of 29.4km with 378m of climbing.
While it doesn't contain any long climbs, this course is never flat. You will need to pay attention constantly to make sure you're maintaining an ideal pack position, as power levels and pack speeds will fluctuate with the ever-changing gradient.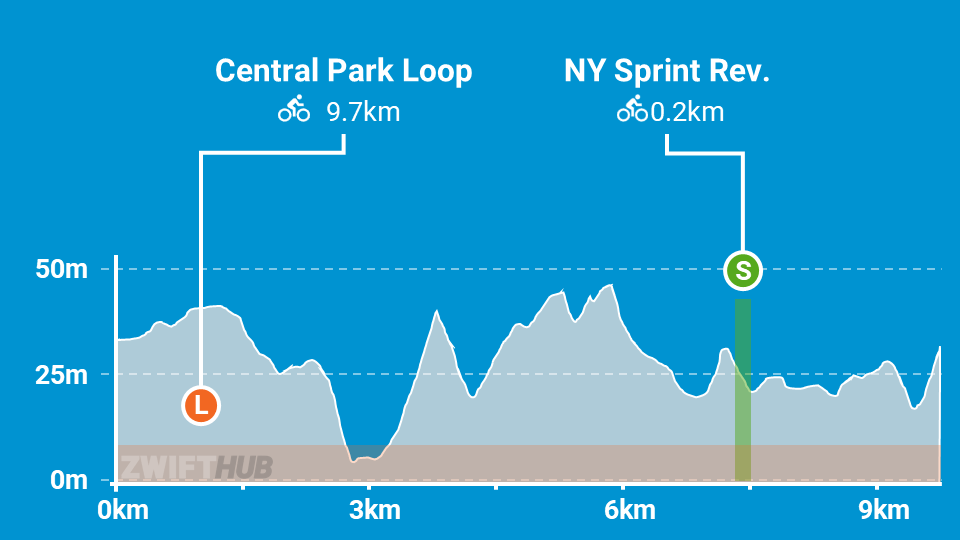 Rather than taking you through a turn-by-turn, let's just discuss the four key sections of the course:
First, the Harlem Hill climb. This is the toughest climb on the loop, ~700m long at 5%. This is where the first selection will happen, on lap 1. Maintain pack position for the slack first portion, but as the road turns left at the intersection it pitches up steep (9-10%). This is where you really need to put out the watts to hang with the front!
Be sure to kick a bit over the top to get back up to speed and onto a friendly wheel, as the pack will be stretching and gaps will open up as riders gain speed down the descent that follows.
Second, the climb which follows. After the short descent from the Harlem Hill climb, you've got a longer, less steep climb (1.1km at 2.2%) where stronger riders may push to keep the pack stretched and create gaps as riders are struggling after the Harlem Hill effort. We've called it the "Harlem Chaser" in the image below.
Make it over the top in touch with the front pack and you can enjoy a nice descent to the sprint section.
Third, the sprint, which is one of the most technical in Zwift. Before the sprint start line you've got a short kicker climb, and if you don't go hard on that kicker, you won't hit maximum speed heading into the sprint. The sprint segment itself is short (some riders will do it under 8 seconds), but plan on 10-15 seconds of effort leading into the sprint if you want to perform well. A feather powerup on the kicker will help you keep your speed up.
Fourth, the finish line kicker. The loop ends with a short, steep climb to the lap/finish line. Carry speed into this section on the less steep lead-in, but save some watts per kilo for that final 10-15 seconds. A feather powerup is a big help here as well.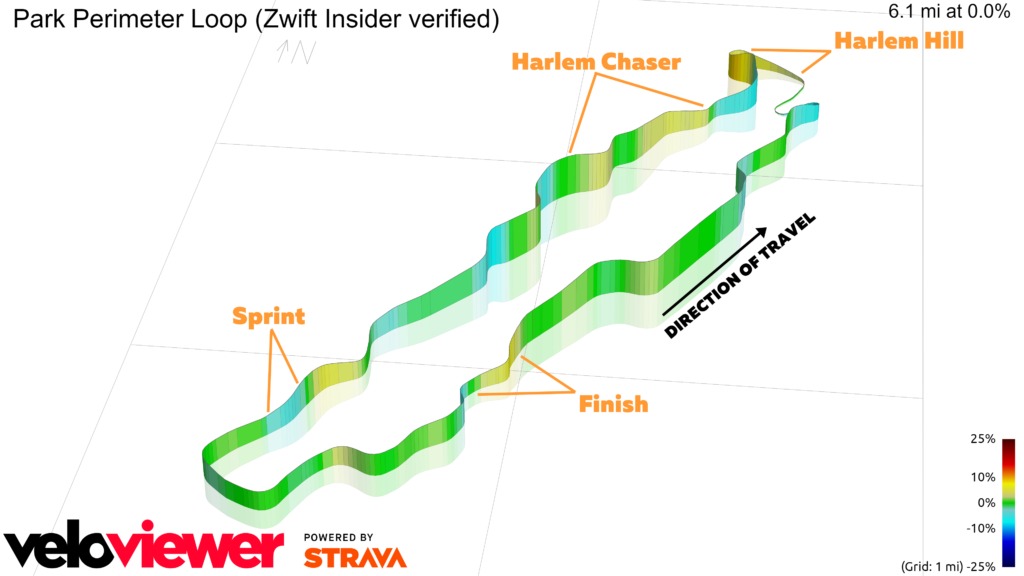 Read more about the Park Perimeter Loop route >
PowerUp Notes
Riders will be awarded a powerup at each arch (Sprint Arch and Lap/Finish Arch), which means we'll each receive five powerups in this race.
Every rider will receive one of these powerups: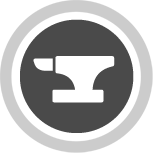 Anvil (40%): makes you 50kg heavier for 30 seconds, so you can descend faster.
Use this on downhills. Pair it with a supertuck to go extra fast with zero effort!

Cloaking (ghost) (20%): makes you invisible to other riders for 10 seconds. Disabled within 200m of the finish line.
Use when you want to get away from one or more riders. Deploy then hammer, in hopes that you will create enough of a gap that your opponents can't grab your wheel.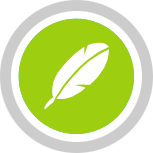 Feather (40%): reduces your weight by 10% for 15 seconds.
Best used on climbs, when weight matters the most.
Bike Frame + Wheel Choice
Bike Frame + Wheel Choice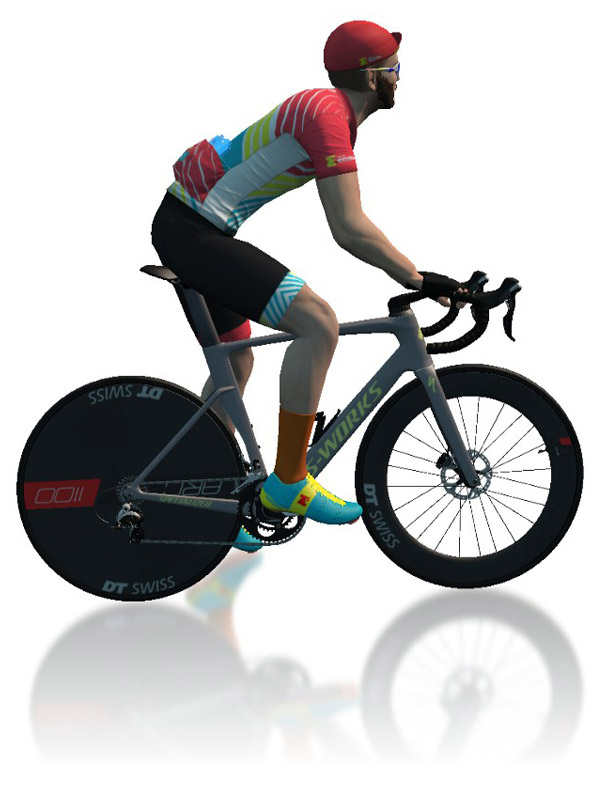 Aero trumps lightweight in Central Park, because while the loop is lumpy, none of the climbs are long or steep enough for a lighter rig to make a measurable difference. Go with the Tron bike if you're concerned about staying in touch on the climbs, but choose the disc wheel setup if you want to be just a bit faster on your sprints.
Read Fastest Bikes + Wheels at each Zwift Level to learn the fastest setup available to you.
More Route Recons
Many events are now being planned each weekend on the upcoming ZRL route. If you're not familiar with this course, jump into an event and do some recon! Here's a list of upcoming Park Perimeter Loop events.
Looking for a video recon, with lovely British commentary to boot? Check out Si's recon below:
Si Bradeley
Oli Chi
Strategic Options
Points Distribution, Park Perimeter Loop
This chart shows the maximum points a team of 6 could earn in this race, broken down by point types.
What strategies will riders employ in race 2? Here's what we predict:
Save It For the Sprint: ZRL racers are learning that competition is tight in their divisions, making it hard to split up the pack on flat and rolling routes. Why burn matches attacking on short climbs if it's not going to drop or hurt anyone sufficiently? Most riders will do the minimum work required to stay in the front pack.
All In On Harlem Hill: if you aren't a sprinter, but have strong 1-3 minute power, the best place to animate the race would be an attack on Harlem Hill followed by sustained pressure on the climb which follows. Non-sprinter teams would be wise to use this approach as a group in order to "thin the herd". Solo non-sprinters might consider attacking here so their teammates can sit in while the rest of the group works hard to pull back the attack.
Ghost FAL: the invisibility powerup will prove useful to some riders attempting to grab FAL points through the sprint. Watch for disappearing sprinters as you crest the kicker before the sprint!
Push Through the Final Sprint: with the last sprint ending just 2.4km from the finish, a small group of brave team riders who don't fancy a pack finish might just counterattack after the sprint and attempt a breakaway to the finish line. (The short rise 1.2km from the line could help this effort, or serve as another potential jump point.)
Feather Finish: the feather powerup is useful in the uphill finish, and many riders will hold onto their feathers, waiting to activate until the final <200 meters.
Your Thoughts
Any insights or further thoughts on this race? Share below!