The second TTT of Zwift Racing League 2021/22 Season 3 happens Tuesday, May 3, and it's much more technical than our first TTT. Teams who do best here will pace the climbs well so they stay together to ride flat-out fast on the rest of the course.
Let's dig into the race, including recommendations for bike choice, TTT tips, and crucial segments!
Looking at the Route: Watopia's Figure 8
Watopia's Figure 8 route is 29.8km long, with 234 of elevation gain per lap. All categories will be riding the TTT over one lap of the course.
We raced a TTT on the Figure 8 Reverse route back in October 2021, but the standard Figure 8 route has never been used for a ZRL TTT. It is, however, a popular racecourse for Zwifters, so most will know it very well.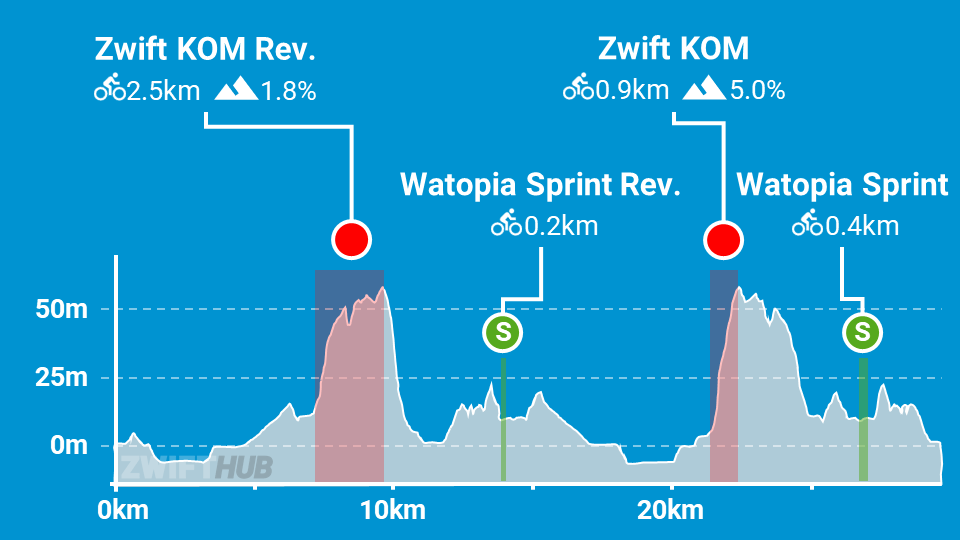 Rather than take you through a turn-by-turn, let's just talk about the tricky bits from a TTT perspective.
First, the Reverse Hilly KOM (Strava segment). The first climb on the route begins 7km in, and it's 2.5km long, averaging 1.8%. The first bit is the steepest and trickiest. After that it's a draftable drag of a climb where you can actually take turns pulling as if you're on flat ground. It's vital that your team paces this early climb properly so you can keep all six riders in order to maintain maximum speed in the miles ahead.
Next, the Hilly KOM Forward (Strava segment). 900 meters long and averaging 5.5%, this little guy is a punch in the gut when you're 21.4 kilometers into a TTT. You can afford to lose a rider here if you must, but with 8.4km of tarmac still to cover, keeping all 6 is ideal.
Lastly, all the little ramps. The Hilly KOMs are the only significant climbs on this route, but there are plenty of slight climbs/efforts which can catch you out if you aren't paying attention. Watch for the ramps into and out of the ocean, dirt sections, The Esses, and the snaking ramp up from the Marina. These can all draw your speed down or cause riders to drift off the back if you aren't riding with your eyes wide open.
Read more about the Figure 8 route >
PowerUp? We don't need no stinking powerups!
WTRL updated the race schedule this week to show "none" for powerups for this event. And that's probably a good thing since powerups have been dodgy this season, with some riders getting +10XP instead of a useful powerup in some events.
Apparently it's a Zwift bug that is affecting other events as well. WTRL has wisely opted to turn off powerups entirely in order to level the playing field.
Bike Frame + Wheel Choice


Bike choice is simple this week: go with your most aero setup. With no climbs long or steep enough for a lightweight bike to give you a significant time advantage, aero wins the day in terms of overall TTT times.
Check out our guide to find the fastest frame and wheels available to you. (Hint: if you don't have a disc wheelset and fast frame, the Tron bike is your most aero bike).
More Route Recon
Many events are now being planned each weekend on the upcoming ZRL route. If you're not familiar with this course, jump into one of these events and do some recon! Here's a list of upcoming Figure 8 events.
Looking for a video recon, with lovely British commentary to boot? Here are our two favorite recon videos this week:
Sherpa Dave
Si Bradeley
TTTTips
Team Time Trialing on Zwift is a challenging mixture of physical strength, proper pacing, and Zwift minutiae like picking a fast bike and understanding drafting.
This week's course will give valuable seconds to teams who are able to stay together on the climbs so they can pain train their way through the downhills and flats.
Your goal in this week's TTT is to get four riders across the line in the shortest time possible. That means every team's pace plan will be different, based on the abilities of each rider. We highly recommend having an experienced DS on Discord directing your team, especially if your team contains some inexperienced TTT riders.
If you really want to go down the TTT rabbit hole, check out Paul Fitzpatrick's zwift-ds.com site and particularly the Excel Power Planner sheet.
Your Thoughts
Any insights or further thoughts on this race? Share below!
About This Series
The Giant Tips ZRL series is sponsored by Giant Bicycles and delivers helpful tips for upcoming Zwift Racing League stages so you can unleash your full potential.
Giant is the world's leading brand of high-quality bicycles and cycling gear. Part of the Giant Group founded in 1972, the brand combines craftsmanship, technology, and innovative design to help all riders unleash their full potential. Learn more at giant-bicycles.com, or visit one of their 12,000+ retail stores around the world.