The third points race of Zwift Racing League 2021/22 Season 1 happens Tuesday, October 19th (Monday the 18th for Premier Division racers). This week has something everyone – sprints, short climbs, and one of the longest climbs of the season.
The race takes place on France's Casse-Pattes route, which has never been raced before in ZRL. On top of that there are four timed intermediate sections (two sprints and two KOMs), certain intermediates not awarding standard segment points, and A/B racers racing longer than C/D racers. It's a lot to wrap your head around – but we're here to help!
Let's dig into the course, including tips for bike choice, strategic options, and details about those confusing intermediate points competitions.
Looking at the Route: France's Casse-Pattes
French cyclists use the term "casse-pattes" (literally "leg-breaking") to refer to particularly difficult parts of a ride, or roads that awkwardly change gradient and break a cyclist's rhythm. It's a fitting name for this route, which is quite flat and steady until the all-important Petit KOM section.
One lap of this route is 23km (14.3 miles) long, with 145m (476′) of climbing. A/B categories will race two full laps, while C/D will race around 1.5 laps, ending atop the Aqueduc KOM Reverse for a total distance of 35.7km according to WTRL.
The race begins with a short lead-in from the start pens to the Marina Sprint Reverse banner. This may be ZRL's wildest race start yet, because the first Marina Sprint is an intermediate offering first across the line (FAL) and fastest through segment (FTS) points.
So plan on the typical hard start out of the pens – with a sprint to finish it off! The sprint begins just 700 meters into the race.
Once we're through the Marina Sprint things stay fairly flat and simple until the next sprint, Pavé Sprint Reverse. When you find yourself riding through the field with sunflowers on your right, you know you're approaching the sprint. It begins as you turn right and head through the arch into town. And you can't see the start line until it's too late to start your effort, so make sure you keep an eye on your minimap so you know where you're at!
Oddly enough, for this race WTRL isn't giving points for FTS on the Pavé Sprint – only FAL. This is important to know, if you're contesting sprint points, as it may change your positioning strategy approaching and during the sprint.
The Pavé Sprint is a fairly long segment at 340m on slower-rolling cobbles. Fast sprinters will complete it in 18-22 seconds.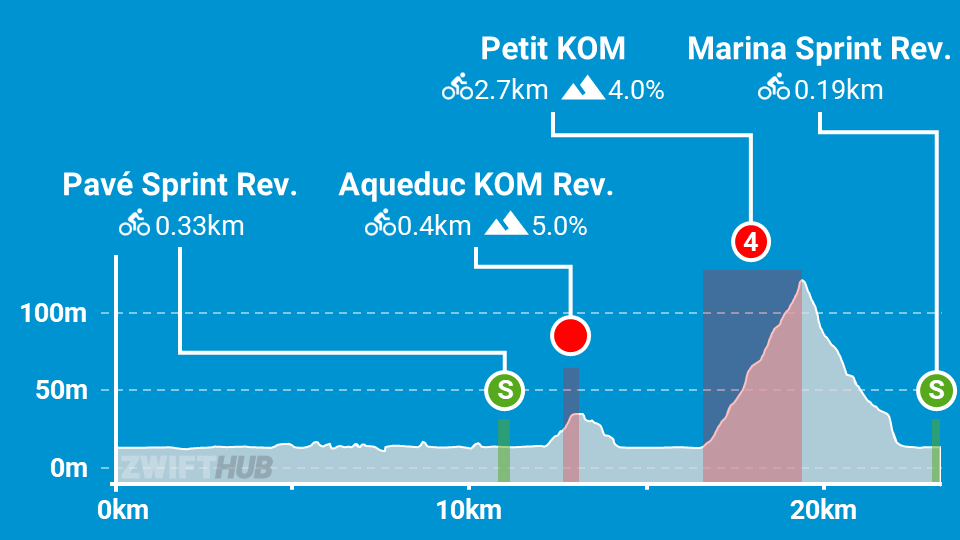 After the Pavé Sprint we have a moment to catch our breath before the road tilts upward, heading into the Aqueduc KOM Reverse. The stats on this climb are deceiving since you've got around 0.5km of snaking uphill leading into the timed segment. Efforts will lift as the road lifts, so be ready to go hard for around 1 full kilometer, with a bit of extra mustard in the final flat meters as you battle for placement over the line.
Like the Pavé Sprint, there are no FTS points given for the Aqueduc KOM – only FAL matters. (We checked with WTRL and confirmed that this includes the second lap for C/D riders, where the Aqueduc KOM banner is the finish line but also awards FAL points!)
Then it's a short, winding descent to flat ground and a bit of recovery before the big climb of the day. If you were poorly positioned on the Aqueduc KOM you may spend extra effort chasing wheels here, so try to come over the top well-placed. There will certainly be a selection on this short climb, and you don't want to be relegated to the chase group!
The Petit KOM is next, and don't let the name fool you. This draggy climb is going to force the biggest splits of the race. It's a challenging climb at 4% for 2.7km. Some sections are flatter (2-3%), especially at the start of the climb before the zigzags. These areas offer more advantage to those who are drafting. Other sections are steeper (6-7%) and pure w/kg will be crucial.
Once over the Petit KOM it's a long descent to the start pens and a flat lead-in to more intermediate points on the Marina Sprint Reverse. This is the last Marina Sprint that will give FAL intermediate points, as A/B will end at the Marina Sprint banner next lap (WTRL says FTS will still be active for the finish, but not FAL), and C/D's race ends before they reach the Marina Sprint again.
Wash, rinse, repeat on the second lap – unless you're a C or D racer! Your race ends between the end of the Pavé Sprint and the start of the Aqueduc KOM (Zwift clearly placed this finish line in the wrong place.)
*Note for C/D racers: Zwift has manually set the finish line at the Aqueduc banner. But historically, they haven't always done a good job of placing these virtual finish lines in exactly the right place. Look for the blue finish line on your minimap and screen, and don't stop until you pass it. It's quite possible that it may be located 50-100m past the Aqueduc KOM banner!
Read more about the Casse-Pattes route >
PowerUp Notes
Riders will be awarded powerups through each segment banner, meaning we'll get 4 powerup chances per lap for a total of 8 powerups for A/B and 6 for C/D. Three powerups will be randomly given out at each banner: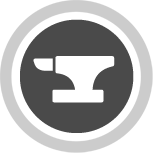 Anvil: makes you heavier for 30 seconds, so you can descend faster.
Use this on downhills. Pair it with a supertuck to go extra fast with zero effort! Really only useful here on the descent from the Petit KOM, although you could use it descending from the Aqueduc KOM as well.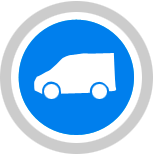 Draft Boost (van): increases the draft effect you are experiencing by 50% for 30 seconds. Use at higher speeds (flats and descents) when you are already drafting off another rider (since this powerup only helps when you are drafting.) Very handy to increase recovery on the flats, or boost your sprint speed when chasing FTS points through a sprinting pack.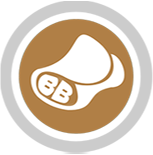 Burrito: turns off draft effect for riders within a 2.5m radius for 10 seconds.
Use when attacking off the front so opponents have to work harder to follow you, or use it in the group to make everyone work harder for a bit.
We saw on Surrey Hills in a previous ZRL season that the anvil powerup actually boosts speeds quite a bit on descents – use it to bridge up to other riders after the Petit KOM, or even to launch a long attack at the end of your A/B race.
Tip: Trashing Powerups
This week, perhaps more than any other in ZRL, riders may want to just trash a powerup so they can get a new one at the next banner without actually activating the powerup they're holding.
For example: if I get an anvil powerup at the first banner (Marina Sprint), you can bet I'll be wanting to get rid of it before the Pavé Sprint banner, so I can get a better powerup. But I don't want to activate my anvil and make myself heavier while we're racing on flat ground!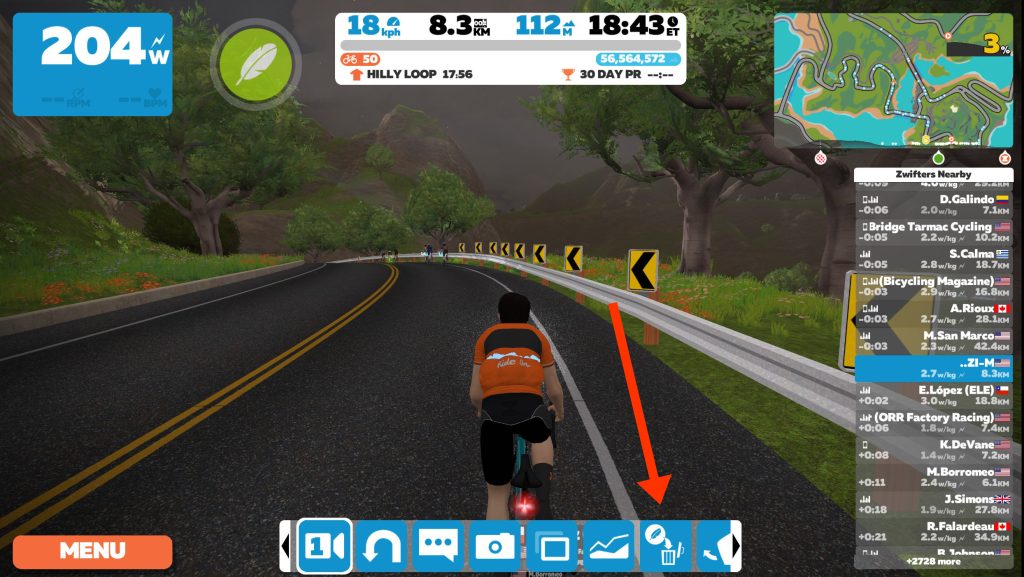 Zwift anticipated this situation, and built a simple way to trash your powerups. Just click/tap at the bottom center of your screen, or use the Companion app. Both have a button showing your powerup going into a trashcan. Tapping that button will immediately delete your powerup. Done!
Here's a quick video showing how it works:
Bike Frame + Wheel Choice
Choosing the right frame for this route is a tricky proposition, since the fastest aero setup is going to cost you around 2 seconds on the crucial Petit KOM climb. So where do you want your advantage? Strong climbers may opt for a more aero setup, saving themselves watts on the flats and descents.
But if you anticipate struggling on the climbs, we recommend going with a more balanced all-arounder like one of these setups:
Tron bike (of course)
Scott Addict RC or Specialized Venge S-Works frame + ENVE 7.8 or DT Swiss ARC 62 wheels
If you're strong on the flats and want to go extreme to help you on the climbs, look at the Specialized Aethos frame paired with the ENVE 7.8 or DT Swiss ARC 62 wheels… or even the Lightweight Meilensteins.
See Tron vs Top Performers for a helpful chart of how different popular setups perform >
More Route Recon
Several rides are planned on Casse-Pattes leading into the big race. If you're not familiar with this course, consider jumping into another event to do some recon! Here's a complete list of upcoming Casse-Pattes events.
Zwift's vibrant race community continues to up its game when it comes to course knowledge and recon videos. Here are our two favorite recon videos this week:
Sherpa Dave
Si Bradeley
Strategic Options
This week's race has the longest climb we've seen this season, and in fact it's the biggest climb we'll see until the final race on Makuri Islands' Countryside Tour. Here are a few predictions of strategies we'll see deployed:
FTS the First Time Through: plan on all the FTS points being scored on the first trips through the Marina Sprint and up the Petit KOM. Why? Because legs will be freshest and packs will be largest. If you're going after FTS, do it on lap one.
EDIT: WTRL has told us that FTS will be active on the last time through the Marina Sprint, for the finish. It's possible that some top 10 times will be set in these final meters, give how many points it would be worth to finish high and grab FTS!
Force an Early Selection: teams of pure wattage bazookas who don't fancy their chances of hanging with the front up the Petit KOM might try to push very hard for the first few minutes of the race, grabbing intermediate points at the Marina Sprint and forcing a selection by breaking away from the front of the pack. If they can drop the stronger climbers it'll be worth it for sure. But heck, even if they don't drop the climbers… it might still be worth it! Plan on a hectic start.
C/D Finish – Go Early, or Go Late: the C/D finish on the Aqueduc KOM will be interesting because of how it lays out and because it carries extra FAL points. Strong climbers will want to attack early on the uphill to gap sprinters so they can stay away to the finish. Sprinters will want to wait to attack until the flat finish. Who will win the battle?
A/B Finish – Go Long, Uphill: strong climbers will push extra hard on the second Petit KOM in order to drop sprinters before the final run-in.
A/B Finish – Go Long, Downhill: heavier riders, anyone with anvil powerups, and riders who don't fancy their chances in a pack sprint will try to go long on the final descent so they can solo to victory. It's 4km from atop the Petit KOM to the finish line. Can you hold it?
Watch the Premier Division Race
Zwift's top racers will take on 2 laps of Casse-Pattes on Monday at 11am PST.
Your Thoughts
Any insights or further thoughts on Week 4's big race? Share below!