If you like to ride and run, our friends at WTRL have just the competition for you! Season 5 of the four-week Zwift Duathlon League bike-and-run race series is about to start. Registration is now open, and the season begins on June 8, 2022.
How the Races Work
The concept is simple: Zwifters will ride as far as they can in 35 minutes, then run as far as they can in 15 minutes, with a 10-minute transition from cycling to running.
The bike races are mass-start, with no drafting, so you will need to select your best Time Trial bike and be prepared to go full gas! (See below for help choosing your fastest TT setup.)
A transition time of 10 minutes allows you to change your shoes and power up the treadmill.
The run event is simple: just run as far as you can in 15 minutes.
In total your race lasts 60 minutes. A perfect 1-hour brick workout!

Individual, Age Group, and Club Competitions
There's something for everyone with ZDL's multi-league approach. Get a team of at least four athletes together and you can compete in the Club League. Or if you're competing solo, there are separate individual and age group competitions.
Learn all about the "Clubs" concept on the Season 3 Rules & FAQ page >
How Scoring Works
A simple scoring system will determine your league position:
For every complete 100 meters cycled you will earn 1 point.
For every 20 meters that you run, you will earn 1 point.
Scores are then added together to form a league table by age group.
Schedule and Routes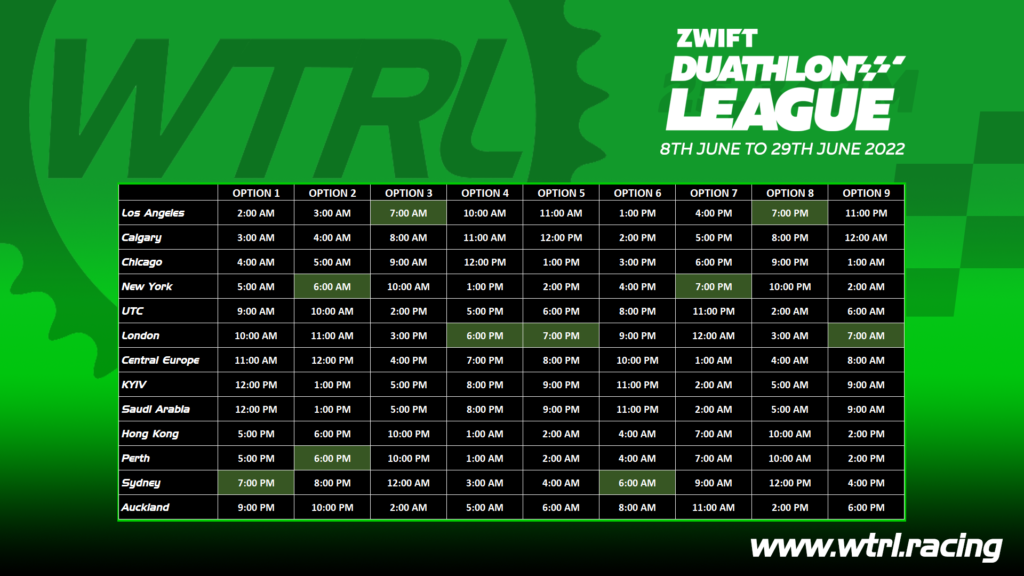 Registration
You must create an account with WTRL in order to register for the series. Event details (private signup links) will be furnished via email.
Picking a TT Rig
The cycling routes for this series are flat enough that an aero TT rig is really what you're looking for. That said, the new Felt IA 2.0 and Scott Plasma RC frames are your best option for any routes that include hills (races 2 and 4). And race 1 may be a place for a bike swap, if you're strong enough to reach the Temple KOM within 35 minutes.
Here are some helpful links:
More Info
For more details including rules, routes, Visit WTRL's Zwift Duathlon League page for more info on this series.