Since last March I have become obsessed with the weekly Team Time Trial… so I asked Eric if i could share my obsession with you all, in weekly doses.
Each week I will give you a profile of the upcoming route, guidance on bike choice, and some target times if you want to aim for the Premiere League (top-10 in each coffee class get to be in a special race televised on YouTube).
If you can't ride (or even if you can ride, but want more action) don't forget to tune in to the live TV show on Zwift Community Live's YouTube Channel at 6:15 (UK time). I am working through the glitches on my nascent livestreaming attempt so if you want to watch my TTT you can do that on YouTube here.
Astoria Line 8 recap
This course has been run three times before; last time September (I missed this one), before that was April (#53, my second TTT), and the first time i found was August 2019.
Across the board the top teams in each category are getting faster… is this tactics, is this fitness… I don't know. There is certainly a strong debate in Facebookworld around the tactics used by the faster teams. While I am not qualified to get into all that – I do know that the small team at WTRL are hamstrung by Zwift live data crumbling. Anyone who wants to help improve the overall competitiveness and fairness of the TTT should pop over to the Zwift Forum and add a comment of support.
| | | | | | |
| --- | --- | --- | --- | --- | --- |
| | #53 | #74 | Prediction | PL-time | How did I do? |
| Vienna | 53:50 | 55:14 | 53:45 | 51:27 | Simply awful |
| Doppio | 45:52 | 48:24 | 45:30 | 45:22 | 15th |
| Espresso | 47:06 | 47:15 | 46:30 | 45:57 | 20th |
| Frappe | 48:32 | 48:30 | 48:00 | 47:47 | 16th |
| Latte | 52:57 | 52:38 | 52:00 | 51:11 | 16th |
| Mocha | 1:01:55 | 1:00:06 | 59:00 | 59:21 | 9th |
Wow that was awful! This past week I managed Uber Pretzel in 4:50 – significantly faster than my goal, and won a 30km race in C-Cat twice over Fox Hill. But today I died after one lap. Not one of those "need to take a few seconds then limp home" deaths, but a "complete failure and inability to pedal" ignominious demise. Ah well… I will let the ever amazing bard Trigg explain it all…
We waited nervously, listening for signs of Big Ben, who'd been on the tracks homeward from Newcastle since 2pm, it would be tight. Suddenly we saw smoke in the distance and then the chuffing sounds of our Titan as he pulled into the station. Just in time! The sweaty scene was set. All 8 players were off. The pre-race briefing was clear, riders should perish on the road to glory if necessary. Sentimentality is for football players (soccer to our American brethren).
This was a course for puncheurs and we had Smokin' Ben laying us out on the canvas from the bell. Shifty laid to rest last week's ghost, but not for long… like many a new player before him, he was poleaxed by one of the early surges. We pressed on behind Ben, with Andy giving strong support throughout. Over the first lap we passed two teams and a host of stragglers. Suddenly Sherpa was hit by an avalanche of lactic, and tumbled from his saddle just as we passed a third team. We pressed on, occasionally pointing out the gaps, answered immediately by an easing of the tectonic forces threatening to tear us apart. Sue the stayer; slayer of B-cat men was never in trouble. Simon fought cleverly to stay in the group of 5 which finished with Ben and Andy in the vanguard. Another great evening with the R&K ladies and gents.
I live to fight again next week, avoiding demotion but not avoiding shame. By next Thursday I will have worked out the kinks in my livestream too (5 frames per minute is more of a slide show than a video, but it looks sorted now). We will lose Ben next week as he moves onward and upward in the R&K ranks, but glory-be, we get Gaby back after a couple of weeks. Now Shifty knows what he has in store. I expect great things, as does WTRL as we have suddenly and accidentally become a Frappe team!
I promised you some stories from around the TTT world… and here is what Bianca Fernandez-Clark had to say about her ride with Giant Camden Mad Jalapenos this week
No, we weren't that fast… but my report is loosely based on the 20 mins I managed to stay with the super strong ladies in Mad Jalapenos, and the rest of what I could hear on Discord.
Before we delve into that, it's worth mentioning that the UK has a "roadmap" to end the lockdown (by roadmap I mean, nothing is really happening for ages yet but we aren't nothing if not hopeful) and the first one who's decided it's time to be out there is the Sun – so, with the rarity that it is sunshine in the UK, riders have had the audacity of going outdoors, making us believe they're on Zwift with zwiftirl.com and making us team managers scramble last minute mergers and screw up team tags (sorry WTRL!) to accommodate for the deficit. All will be normal soon, can't trust it to be good weather for long in this country.
Back to the race – in the pen early seeing if my ghosting issues (KICKR bike related) were solved, yes they were! Unfortunately, the legs remained invisible to push up those little nasty climbs! I did a Luciano and declared today to be the International Day of Numbers Not Making Sense. Not helped by our team being joined by a lone rider who not only did not know it was a TTT event, she was determined with passion to ride with us, which disrupted the line and caught a few of us on the wrong side of the gaps.
NOTHING in the scale of the universe is larger than a 2 second gap in New York. So I had to let the team go as we had already hemorrhaged many precious minutes trying to get rid of S.S., our uncooperative impromptu team member.
The ladies kept hammering it down though and in between turns all I could hear was a lot of gasping from all of them so a massive effort and finishing in a solid sub 60 mins – sneaking in to the PL for next week! Well done team!
Thursday 24th September – Watopia Figure 8
Back to Watopia next week for a single lap of Watopia Figure 8. This is the first time the TTT has been run on this course as far as I can tell, which is surprising because it's a great route.
Both ways through the Hilly KOM, both ways through the Esses and twice under the Sea gives the route plenty of technical hills but also enough flat to get the team settled. At a touch under 30km this will be a 40-50 minute effort for most teams.
Starting in the downtown pier, you head down Ocean Boulevard and under the sea for a nice flat warmup covering the first 3.25 km. From there head up out of the tunnel, past the fishing village and take the gentle snaking climb up the hill. At the junction (6km) veer right and head up the Hill KOM reverse. Down the other side, through the start/finish gate and up to the Esses before heading back down the other side and through the sprint (reverse). You are now 14km in to the ride… almost halfway.
Up through the Italian Villas to the top of the little hill snake back down the other side through the Fishing Village and back into the tunnels. When you head back towards downtown, swing left to the Hilly KOM forward. Crest the KOM and the hard stuff is over… you are now 25km done.
From here it's down the reverse Hilly, through the Italian Village and back to the Sprint – forward this time. Through the Esses and down the hill through the start/finish gate.
Usually at this point I'd show the cool Veloviewer 3d route map… but because this route heads forward and backward on the same roads that didn't look good – so here is the map-view of the same thing.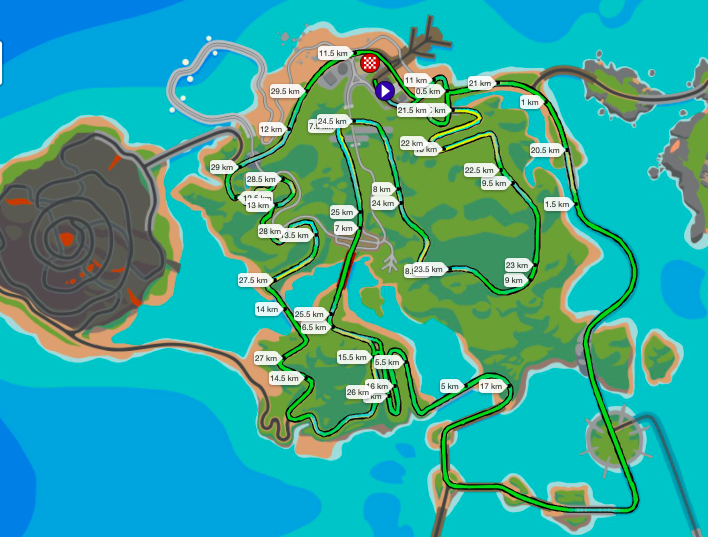 What to ride?
This is another course with enough rolling hills that the Tron pips the Venge/Super9 combo. So if you have Tron available to you, use it this week. If you don't have Tron here are the recommendations for different levels.
Level 5 Specialized SL7 with ENVE 3.4 (just like last week I favor the ENVEs over the Rovals – but its pretty close)
Level 13 Canyon Aeroad 2021 with ZIPP 808s
Level 33 S-Works Venge with ENVE SES 8.9
Level 40 S-Works Venge with Zipp 858
Level 45 get those 858/Super 9 wheels and pair them with the S-Works Venge
If at any point in this journey you get the Tron… pick that for this course.
As always, the Zwift Insider reports on frames and wheels are superlative so if you want to find the perfect bike and wheel combo for you, check them out.
Every week i give the same message about the Tron… which can be summarized as "get it". Last week I told you about Team Giant Camden's upcoming series of group rides. Team Giant Camden is putting on a series of 4 (to start with) Tron Hunter events – the first is March 7th and they will be weekly from there. The routes are hand-picked to have enough ascent to be useful, but not to be just another grind. London Surrey Hills on March 7th, New York Rising Empires on the 14th, Ven-Top on the 21st, and finishing with Royal Pump Room 8 in Yorkshire.
We still don't have links to the events yet but as soon as I do I will post them in the recce. Team Giant Camden are well known for being a friendly lot and while they are based out of a bike shop in London, they have 200+ racers from all over the world with a very strong female contingent. The Tron Hunter rides are open to all… see you there!
Route recon
If you haven't raced the Figure 8 in a while get out there and while you are there think about the TTT dynamic – especially the impact of the Esses which will stretch the team and the KOM itself which might break the weaker team members.
There are a few rides to choose from this week – check out the event listing on zwifthacks.com. That said, if you want to create your own meetup or just ride this route, it is really easy!
Hop on to Zwift, select Figure 8 in Watopia.
Create a Meetup and invite the team… or just a few friends
What to look out for on the ride
The ride starts with a nice flat intro. Use those first kilometers to get sorted before heading out of the tunnels.
Fishing Village to the top of the reverse KOM
Once you come out of the tunnels the ride starts to get a little technical. First the gravel section and false flat snaking up the hill, then the Reverse Hilly KOM.
By the numbers the reverse KOM barely exists – it's 1.8% for 2.5km. False-flat, right? Well, the truth is we have four ramps separated by easier segments and even some downhill, rendering those numbers meaningless. Why is this a problem for the TTT team? In a large group race you have a big group to hide in, and as the groups split up you still have plenty of protection. In a TTT you have only (up to) to 8-team members to hold together – when the hill bites each team member will be impacted differently.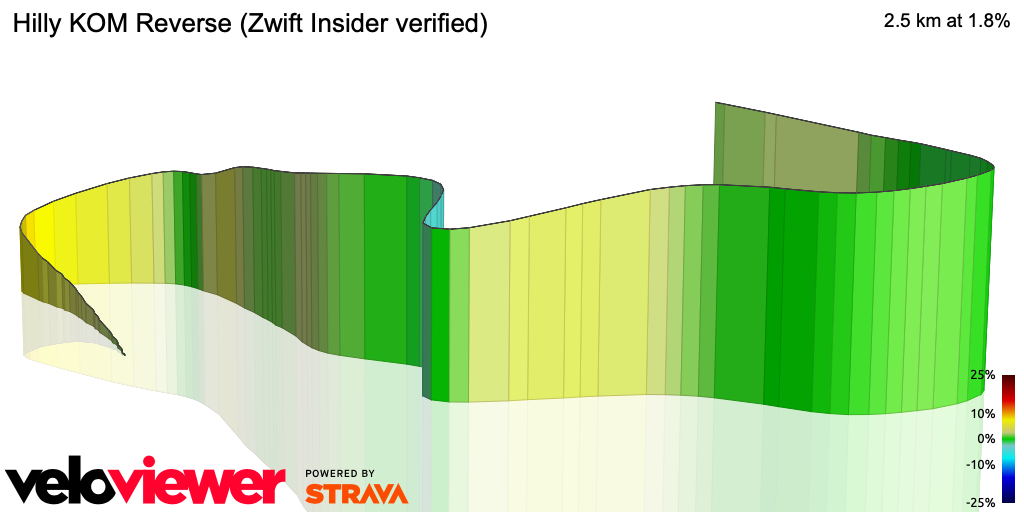 What to look out for here?
Stronger members leaving the team behind. This is not a time for a solo break.
Weaker team members being left behind. Particularly on the first ramp – at over 10% someone will crack if you go at race-pace.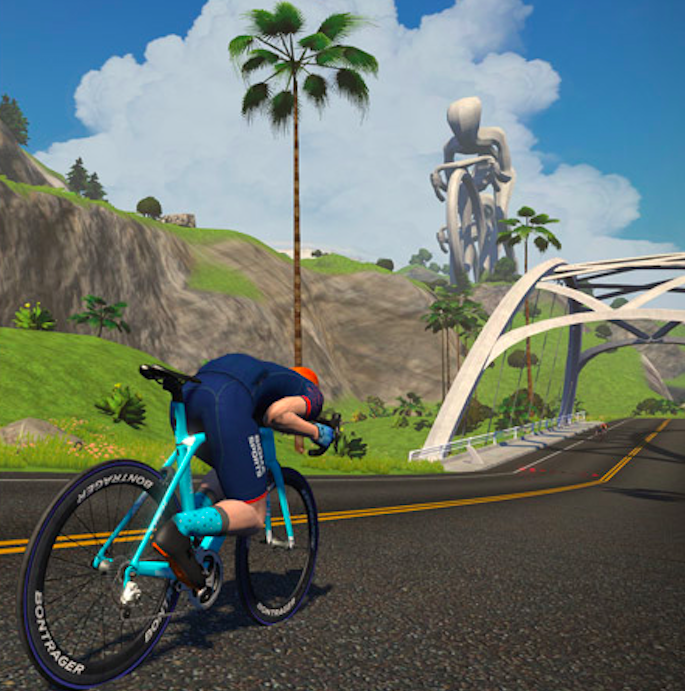 If you come over the top together you're in luck – gather momentum on the descent and there is even an opportunity to supertuck for a few seconds – just look out for the flatter section around the bend where your supertuck might break. Stay together here and power through the start/finish gate.
Through the Esses
From the start/finish gate we run up the hill and through the Esses. Work hard here to stay together – don't let the undulating Esses throw off your group work. Keep momentum, and use the Esses to build momentum.

From the end of the bridge (where the sprint finishes), up through the Italian Villas is a pretty steady rise. Then it is a steady decline into the Fishing Village and through the tunnels. A good time to regroup and take stock. Nothing exciting to see in this middle section.
Hilly KOM Forward
You will climb the Hilly KOM with tired legs. There isn't a lot I can give you for advice here – gather your wits, gird your loins, and grit your teeth! Get your four best riders up and over together because you're almost home. Just under a kilometer in length, the climb comes in four distinct parts – how much you feel the distinction will depend on how tired you are.
The first 400m is steep, averaging 7% but up to 10%
It flattens for 50m as you round the bend then
Tightens back up to 6% again for 300m then
Eases to 2-3% for the remainder of the climb
Talk about how you will handle this among the team – but make sure you keep your finish-team together.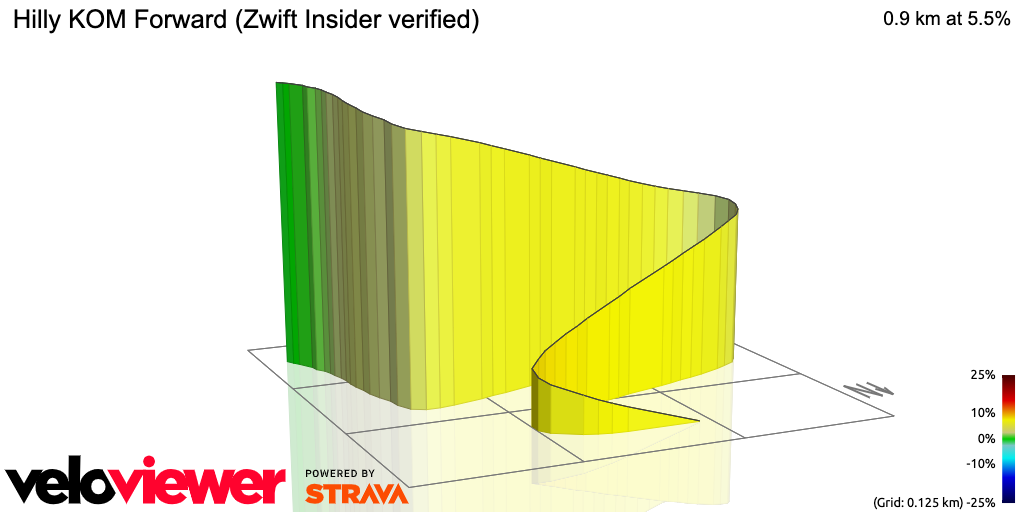 The rest is easy enough – down to the Italian Villas, through the Esses, and down the hill, finishing on a downhill.
Wrap up
I am amazed this is the first TTT on the Figure 8 course – it looks perfect. Enough with the rolling hills of the past few weeks – this is a nice balance of the two KOMs and enough flat to get the speeds up!