Since March I have become obsessed with the weekly WTRL Team Time Trial… so i asked Eric if i could share my obsession with you all, in weekly doses.
Each week on a Friday I will give you a profile of the upcoming route, guidance on bike choice and some target times if you want to aim for the Premiere League (top-10 in each coffee class get to be in a special race televised on YouTube).
By now you will all have seen the announcement around the Zwift Racing League with ZwiftHQ, ZwiftLive, ZCL, and WTRL joining forces to create an ongoing race league. I'm learning about this in real-time just as you all are – stay tuned for this developing story… as of right now I believe the TTT will not be integrated into the new league races and the whole thing will be live in a few weeks. In fact, the invitational league qualifier events are already going. For the TTT – the plan is still to have a caffeine-fuelled Doppio class filled with A+ riders and to create a league structure within Vienna… watch this space for more details there. If all this is news to you, start here, with Eric's summary.
Astoria Line 8 Recap
A few of you overachievers caught me out last week… I published my first analysis in the middle of the day with an intent to update on-the-fly as the rest of the races completed. Here are the results after all races (although the results are still provisional at time of writing):
| | | | | |
| --- | --- | --- | --- | --- |
| Class | PL Time (#53) | PL Time (5/9) | My prediction | |
| Vienna | 53:50 | 55:14 | 53:45 | 8th place |
| Espresso | 45:43 | 46:33 | 45:40 | 6th place |
| Frappe | 48:43 | 48:34 | 48:30 | 10th place |
| Latte | 52:57 | 52:38 | 52:55 | 16th place |
| Mocha | 1:01:55 | 1:00:6 | 1:01:30 | 18th place |
Three of my virtual teams would have gotten into next week's PL – but you guys in Latte and Mocha were much faster than I anticipated – well done there! I will definitely have to factor your increasing performance into my Hilly Route Reverse predictions.
Thursday 24th September – Watopia Hilly Route Reverse
If you can't ride, or even if you can ride, but want more action, don't forget to tune into the live TV show on Zwift Community Live's YouTube Channel at 6:15 (UK time).
Back to Watopia next week for three laps of Hilly Route Reverse. This is one of my favorite routes for the TTT (or any race for that matter), and I'm not the only one – it's figured pretty heavily on the schedule for pro and community races alike. This year, in fact, The Big One – the Virtual Tour de France, started out with a few laps of this exact route.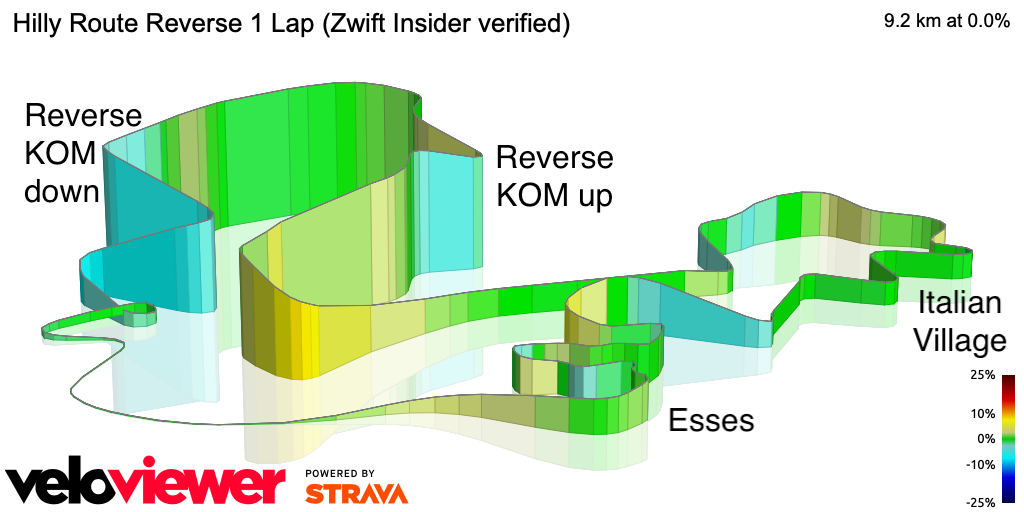 Three laps at 9.2km each along with a short lead-in gives a total distance of 27.7km. There is basically no flat here – it's all rollers and lumps and one decent climb. This is one of the routes where the team at Zwift HQ wrote a Race Recon. Here's the summary;
"Watopia Hilly Reverse is an interesting race course for several reasons. It has a bit of everything, but not a lot of flat roads. It's draftable enough to keep a big group together since there are no really big climbs, but because it's constantly up and down, there's always the risk of the group splitting up."
The course naturally has four sections:
Rolling through the Start through the Esses
Up through the Italian Village
Hilly KOM Reverse Up
Hilly KOM reverse down
What to Ride?
The "what to ride" section is getting boring – but it's not my fault. This is another course with enough rolling hills that the Tron pips the Venge/Super9 combo. So if you have Tron available to you, use it this week. If you don't have Tron here are the recommendations for different levels.
Like last week, teams with newer Zwifters have got a great frame in the form of the Specialized Tarmac Pro SL7, which can be paired with the ENVE 3.4s or Rovals for decent performance.
Here are some choices for you at different levels – but to reiterate – none of these combinations beat the Tron around the Hilly Reverse route:
Level 5 Specialized SL7 with ENVE 3.4 (just like last week I favor the ENVEs over the Rovals – but it's pretty close)
Level 13 Keep the SL7, upgrade the wheels for ZIPP 808s
Level 33 S-Works Venge with ENVE SES8.9
Level 40 S-Works Venge with Zipp 858
Level 45 get those 858/Super 9 wheels and pair them with the S-Works Venge
As always, the Zwift Insider reports on frames and wheels are superlative so if you want to find the perfect bike and wheel combo for you, check them out. Two weeks in a row now the Tron has been the best bike choice money cannot buy. I cannot stress highly enough that if you are racing on a rolling course you need to have (or be working on having) the Tron.
Route Recon
If you haven't raced Hilly Reverse in a while get out there and while you are there think about the TTT dynamic – especially the impact of the Esses which will stretch the team and the KOM itself which might break the weaker team members.
Surprisingly, there aren't any decent rides on this course currently scheduled. Check out the event listing on zwifthacks.com. That means you are going to have to hop on yourself. A few options:
Hop on to Zwift, select Hilly Route in Watopia… then once you start riding do U-turn.
Create a meet-up and invite the team… or just a few friends
Whether you can get out there or not, I highly recommend you read the official Race Recon for Watopia Hilly Reverse. It's geared at a race not a TTT, but provides some great insight.
You can also check out the recording of the Virtual Tour de France stage on YouTube to see what the pro teams did.
Start through the Esses

Up through the Italian Village
From the end of the bridge (where the sprint finishes), up through the Italian Village is a pretty steady rise. A good time to regroup and take stock. Nothing exciting to see here…
Reverse Hilly KOM Up
By the numbers, this hill barely exists. It's 1.8% for 2.5km… a false-flat, right? Well, the truth is we have four ramps separated by easier segments and even some downhill. Why is this a problem? In a large group race you have a big group to hide in, and as the groups split up you still have plenty of protection. In a TTT you have only have (up to) to 8 team members to hold together, and when the hill bites each team member will be impacted differently.
What to look out for here?
Stronger members leaving the team behind. This is not a time for a solo break.
Weaker team members being left behind. Particularly on the first ramp – at over 10% someone will crack if you go at race pace.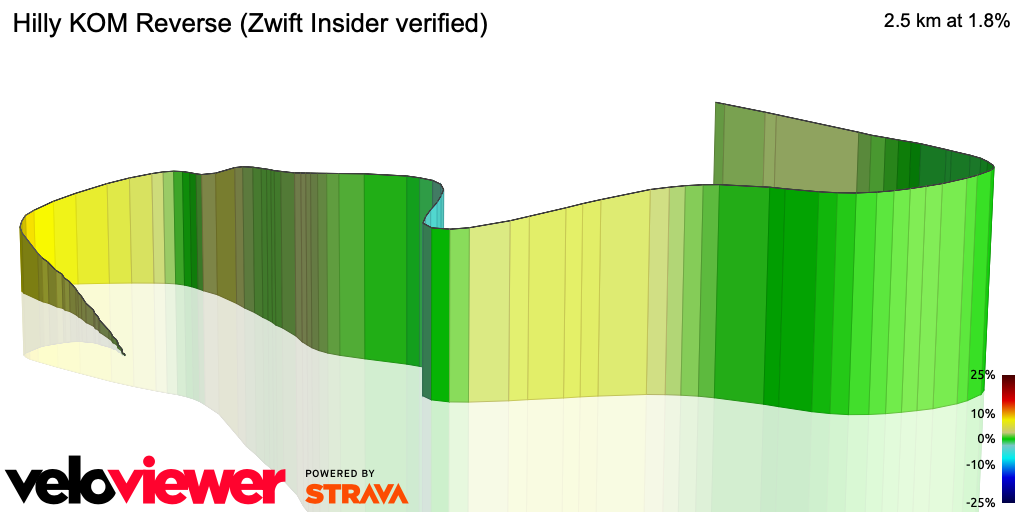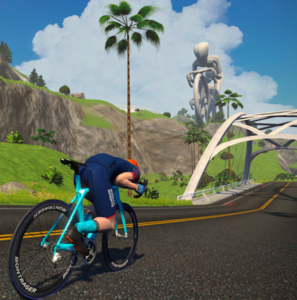 Hilly KOM down
If you come over the top together you're in luck – gather momentum on the descent and there is even an opportunity to supertuck – just look out for the flatter section around the bend where your supertuck might break. Stay together here and power through the start/finish gate.
Target times
Hilly Route Reverse has only appeared in the TTT twice before. The last time was June 11th (#60), then back in 5th December 2019 (#34) was the first:
| | | |
| --- | --- | --- |
| | #34 (4 laps) | #60 |
| Vienna | 1:04:18 (4 teams) | 42:15 |
| Espresso | 52:19 (6 teams) | 36:18 |
| Frappe | 54:25 | 39:05 |
| Latte | 1:00:51 | 42:26 |
| Mocha | 1:16 (10 teams) | 50:38 |
Last week I kept my assumption that speeds would be down a little from the spring/early summer. I think competition is heating up again and you will be giving the TTT 110%!
There are the usual three splits – this time at 6, 14 and 22km.
Split 1 (6km) – First time up the Hilly KOM Reverse – just past the first ramp
Split 2 (14km) – The bridge before the Hilly KOM Reverse
Split 3 (22km) – Third time through the Italian Village
| | | | | |
| --- | --- | --- | --- | --- |
| Class | Split 1 (6km) | Split 2 (14km) | Split 3 (22km) | Finish |
| Vienna | 9:40 | 21:15 | 33:30 | 42:00 |
| Espresso | 8:15 | 18:15 | 28:45 | 36:10 |
| Frappe | 8:50 | 19:30 | 30:50 | 39:00 |
| Latte | 9:40 | 21:10 | 33:30 | 42:15 |
| Mocha | 11:43 | 25:19 | 40:00 | 50:30 |
My best time around here was the last TTT racing with CICC "Giro". We came in mid-pack Latte – but it was a blinder of a ride as there were only four of us. Here's a link to the Strava record for anyone interested.
| | | | | |
| --- | --- | --- | --- | --- |
| June TTT | 10:19 | 22:40 | 36:10 | 46:29 |
Wrap up
This is one of my favorite courses for a race – individual or TTT. I love the mix between rolling terrain and the brutal kick-up of the KOM. It's a shorter TTT but has plenty of opportunity for thrills and spills as you hold the team together.