About this Series
Since March I have become obsessed with the weekly Team Time Trial… so I asked Eric if i could share my obsession with you all, in weekly doses.
Each week on a Friday I will give you a profile of the upcoming route, guidance on bike choice and some target times if you want to aim for the Premiere League (top-10 in each coffee class get to be in a special race televised on YouTube).
We are still anticipating the upcoming changes to the WTRL league system. Details are thin on the ground… but I'm expecting an announcement this week! We know there will be a new caffeine-fueled Doppio class filled with A+ riders, and a league system within Vienna but that's all I have for now! If something comes up after I post this, I'll add a breaking news section!
If you can't ride, or even if you can ride, but want more action! Don't forget to tune in to the live TV show on Zwift Community Live's YouTube Channel at 6:15 (UK time).
UCI Harrogate Recap
Before heading to the Big Apple let's take a look at how well you did in Yorkshire (#73). What you see below is the finish time for the 11th team over the line – when this course was last run, this week's PL qualification time, and my prediction for PL from last week's recce. The last column shows what position "my team" would have attained this week.
| | | | | |
| --- | --- | --- | --- | --- |
| Class | PL Time (#58) | PL Time | My prediction | |
| Vienna | 46:15 | 45:02 | 46:20 | 14th place |
| Espresso | 38:07 | 38:33 | 38:15 | 9th place |
| Frappe | 40:47 | 41:04 | 41:00 | 10th place |
| Latte | 45:19 | 45:00 | 45:25 | 14th place |
| Mocha | 54:50 | 53:58 | 55:00 | 17th place |
All I have to say is what happened to Vienna, Latte and Mocha – you guys knocked it out of the park… your categories significantly faster than in #58. Espresso, and Frappe came in exactly where predicted, slightly slower than #58.
Thursday 17th September – Astoria Line 8
Across the Atlantic this week, to New York's Central Park. Astoria Line 8 is named for New York's first subway line – but unlike London, we keep it above ground throughout. The route is an accurate replica of the surface roads in the Park – when the New York world was released Dave Chauner, racer from the 60's said "Rode the new Central Park course this morning. It's been a long time but I recognized every meter of the circuit".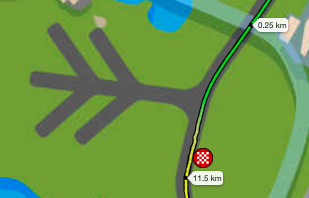 Three laps at 11.58km (7.2 miles) each with no lead-in gives a total distance of 34.75 km. There are no significant hills but this course is LUMPY – there is no significant flat on the course at all, but equally there are no mountains to climb. Elevation per lap is 141m (460' in old money).
The layout of Astoria Line has confused me for ages – I ended up watching a 'cast of the last TTT (thank you Team DIRT) to try and work it out. The pens are slightly the "wrong" side of the start/finish banner so technically (I think) what you have is a lead-in of 11.58km on a lap that's also 11.58km. I'm going to try and ride this again and pay attention to where the pen is vs the start/finish.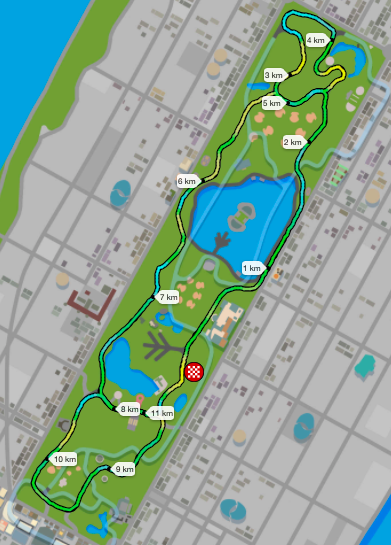 The course itself is best described as a figure-8 if the 8 had an extra loop.
A 2.25 km clockwise loop at the top of the park, straight down the west side of the park to (almost) 8km, then a 3km clockwise loop at the southern end before getting back to the start/finish banner at 11.5km. You can see the start/finish banner by the pens on the map. Of course, with Zwift you don't have to worry about directions – just pedal and go!
What to ride?
First off, an apology… last week's recommendation included buying the S-Works Venge at Level 32… but that was a mistake because it's not available until level 33! I know a few of you eagerly rushed to the Drop Shop only to be disappointed!
Just like last week, this is not a flat route, but there are no mountains – it's best described as lumpy. One of the few similarities between Harrogate and New York. I am going to stick with my recommendations from last week – if you have Tron use that. If you are level 45 and want to show off you can run the S-Works Venge with 858/Super-9 wheels but it won't give a time advantage.
Like last week, teams with newer Zwifters have got a great frame in the form of the Specialized Tarmac Pro SL7, which can be paired with the ENVE 3.4s or Rovals for decent performance.
Here are some choices for you at different levels – but to reiterate – none of these combinations beat the Tron around Astoria Line 8.
Level 5 Specialized SL7 with ENVE 3.4 (last week's pick, the Rovals don't climb well which is why I went with the ENVEs)
Level 13 Keep the SL7, upgrade the wheels for ZIPP 808s
Level 33 S-Works Venge with ENVE SES8.9
Level 40 S-Works Venge with Zipp 858
Level 45 get those 858/Super 9 wheels and pair them with the S-Works Venge
As always, the Zwift Insider reports on frames and wheels are superlative so if you want to find the perfect bike and wheel combo for you, check them out.
Route recon
In my experience this is a hard route to break down and analyze. I find New York's ground-level landmarks hard to differentiate between and I never seem to know where I am on the course.
Prepare for an hour-long effort (45 minutes if you are a top-flight Espresso team, 1:15 if you are at the back of the Group D pack). I strongly recommend doing a few laps of Astoria Line 8 before the TTT. If you can, find a race or two to see how it feels at your threshold. If you can't get on any other arranged ride, just do a group ride. Gold star if your team does its own TTT practice ride this week!
Check out the event listing on zwifthacks.com and find a ride or two. This weekend has some nice group rides and races for a practice.
What to look out for on the ride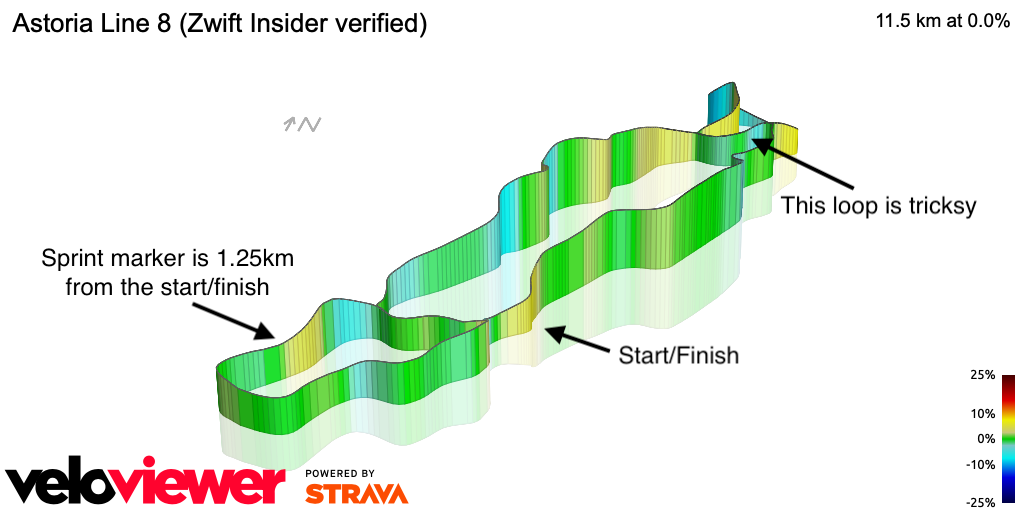 This is a technical ride. Like Harrogate last week, winning this week is all about knowing your team's strengths and weaknesses under pressure. There are a couple of places where teammates might crack: the loop at the north of the park, and the bump right after the sprint are particular hotspots. ,
West side
Out of the gate here you hit a gentle rise and fall leading into the North Loop. This is the most straightforward part of the whole ride. A perfect time to get into your stride… or on subsequent laps to regroup.
North loop
The north loop is a rollercoaster – On the segment picture below, you enter at the top (where the green turns to blue), take the right turn and straight up the hill – North Woods Climb East which is 400m at 5%, down the hill (get your heart rate down) then up East Drive Climb which is a curvy 420m at 5% again, bu has a tight 8% section in the middle.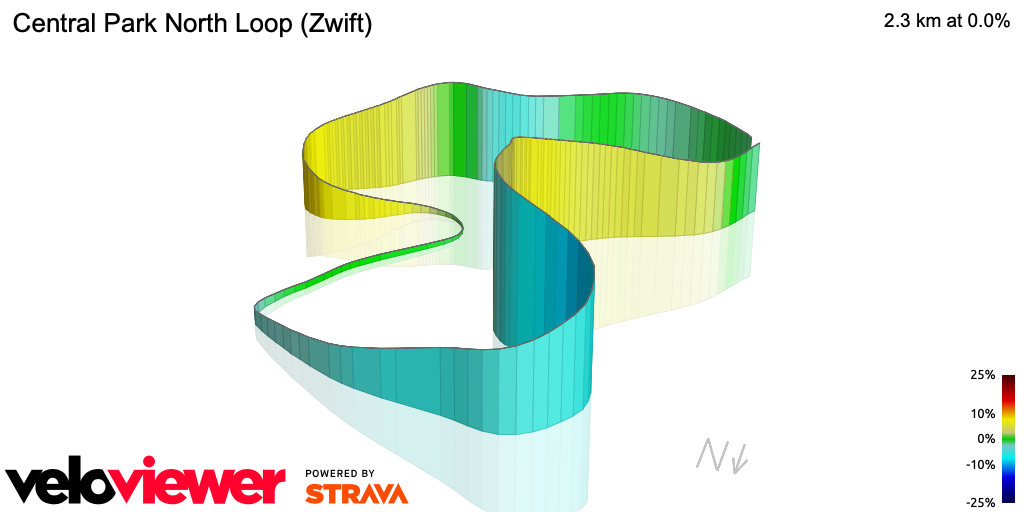 East side
The east side straight is dominated by a triple bump hill. This isn't steep by any stretch of the imagination – 400, 350 and 300m each at 2.5% – but it is a leg-sapping section, particularly as it comes right after East Drive Climb. After that though, you head downwards for 700m to the relative calm of the South Loop.
South loop
The south loop is fairly straightforward – a lumpy 3km around. Two areas of note – the sprint, which you can use as a distance marker (it's 1.25km to the start/finish) and the climb right after the sprint banner (300m at 4%).
The finish
That last climb isn't rough – but I can tell you from personal experience that on the last lap, 300m at 4% is a killer. On the last TTT I got dropped here – but at least I did a decent turn on the front before pulling the parachute.
The route has an uphill finish – 300m at 3%. Save some adrenaline for that on the last loop around!
Target times
I'm mighty proud of my predictions for last week – if you hit my times you would have been in the middle of the Premiere League in every category. But… what I want to do for you is get closer to the maximum time for each Coffee Class that will still get you into the Premiere. Let's see how close I can get this week.
This course has been run twice before; last time was April (#53, my second TTT), before that was August last year (#44).
| | | |
| --- | --- | --- |
| | #20 | #53 |
| Vienna | No teams | 53:50 |
| Espresso | 48:56 | 45:43 |
| Frappe | 53:55 | 48:32 |
| Latte | 59:20 | 52:57 |
| Mocha | 1:09:31 (team 6 of 7) | 1:01:55 |
Last week I assumed the times would be a little slower than at Peak Zwift in the spring. I am going to continue that this week.
There are few obvious landmarks to use as you sail through the splits, so I'm just going to use the distance markers and you can work out where they are yourself this week!
Split 1 – 8km
Split 2 – 18km
Split 3 – 28km
| | | | | |
| --- | --- | --- | --- | --- |
| Class | Split 1 (8km) | Split 2 (18km) | Split 3 (28km) | Finish |
| Vienna | 12:45 | 28:15 | 44:00 | 53:45 |
| Espresso | 10:20 | 23:45 | 36:50 | 45:40 |
| Frappe | 11:00 | 25:40 | 39:10 | 48:30 |
| Latte | 12:00 | 28:00 | 43:00 | 52:55 |
| Mocha | 14:30 | 32:50 | 50:30 | 1:01:30 |
My best time around here?
| | | | | |
| --- | --- | --- | --- | --- |
| April TTT | 13:10 | 30:07 | 46:38 | 58:30 |
Wrap up
My closing words last week were that the Harrogate course was one to perfect team communications. If you practiced that in Yorkshire, you will reap the benefits here. The northern/eastern side (the first half of the ride) is pretty technical and I personally find it hard to know where we are at any given moment.
Once you hit the north loop it's up, up, up in a sequence of bumps, but the second half opens up a little and is easier on the brain so the team can regroup. Like last week, this isn't so much about equipment, it's about situational awareness and team management. This is a great course for a Team Time Trial that I hate with a passion!