Zwift just updated our web-based dashboards to display key power metrics used in race Category Enforcement. It also shows Peak Power numbers for a range of time windows between 5 seconds and 30 minutes.
See Your Numbers
Just sign into my.zwift.com to access your fitness numbers. On mobile devices you'll need to tap the "Profile" link at the top of the page (then scroll down), while on full-sized screens you can simply scroll you'll see your numbers down and to the right. Here's mine: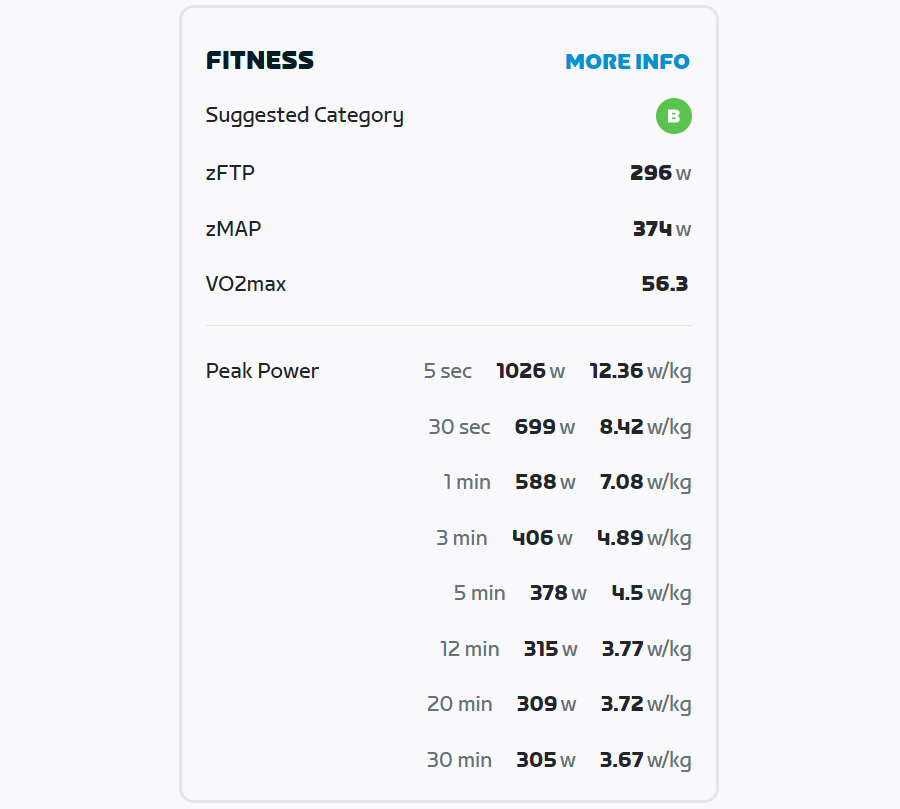 More Info: zFTP, zMAP, VO2max, and Peak Power
What exactly are these key fitness metrics Zwift is displaying? First, it's important to understand that these numbers are based on the last 60 days of Zwift ride data.
Clicking "More Info" shows additional details:
zFTP: Estimate of your current Functional Threshold Power (FTP), the power you can sustain for a long period of time, i.e. > 40 min.
zMAP: Estimate of your Maximal Aerobic Power, i.e the power at which you achieve peak oxygen consumption in a short duration effort 4-6 min.
V02max: Estimate of your maximal oxygen uptake relative to your current weight expressed in ml/kg/min. (Assumes a fixed cycling efficiency)
Additionally, clicking "More Info" will show the date/time when you set each of your "Peak Power" numbers.
Category Enforcement Thresholds
According to this FAQ page, the current thresholds for category enforcement are:
| Open Races | zMAP value and Watts | zFTP and Watts |
| --- | --- | --- |
| Category A | ≥5.4W/kg | ≥4.2W/kg and ≥250W |
| Category B | ≥4.2W/kg | ≥3.36W/kg and ≥200W |
| Category C | ≥3.3W/kg | ≥2.625W/kg and ≥150W |
| Category D | <3.3W/kg | <2.625W/kg or <150W |
| Category E | N/A | N/A |
| Women Only Races | zMAP value | zFTP |
| --- | --- | --- |
| Category A | ≥5W/kg | ≥3.88W/kg |
| Category B | ≥4.2W/kg | ≥3.36W/kg |
| Category C | ≥3.5W/kg | ≥2.625W/kg |
| Category D | <3.5W/kg | <2.625W/kg |
| Category E | N/A | N/A |
If you match your zFTP, zMAP, and VO2max values up with the thresholds in the tables above, you should be able to see why Zwift has slotted you into the "Suggested Category" shown.
Why It Matters
This update brings much-needed visibility to the numbers driving Zwift's category enforcement system. The first category enforcement races happened in February 2022, but racers have never actually seen the fitness metrics Zwift used to enforce categories, until today.
With category enforcement used in approximately half of all Zwift races today, giving riders more information about why they're placed where they're placed is a smart move.
But My Numbers Are Wrong!
I'm already seeing feedback from Zwifters saying things like:
My FTP is higher than the zFTP value shown
My Garmin doesn't agree with the VO2max value shown
Here's what you need to know: these numbers are based on your last 60 days of Zwift power data. The zFTP value is calculated on Zwift's end using a formula they've kept under wraps, although we know for sure it's not the simple "95% of your best 20-minute effort" formula that the game uses to auto-detect your FTP.
The VO2max number, similarly, is computed by Zwift using an algorithm that certainly differs from Garmin's.
As always, the system is only as good as the data feed into it. In order for Zwift's fitness numbers to best match your actual fitness, you need to be feeding some all-out efforts into the system. Clicking the "More Info" link on your fitness profile shows this: "*For accurate metrics estimation you need to have done maximal efforts of at least 12 minutes in duration."
Questions or Comments?
Post below!