Since March I have become obsessed with the weekly Team Time Trial… so i asked Eric if i could share my obsession with you all, in weekly doses.
Each week on a Friday I will give you a profile of the upcoming route, guidance on bike choice and some target times if you want to aim for the Premiere League (top-10 in each coffee class get to be in a special race televised on YouTube).
There's some big changes coming for the TTT – a new Doppio class filled with A+ riders, and a league system within each Coffee Class. No new news on that yet – but if something comes up after I post this, I'll add a breaking news section!
If you can't ride, or even if you can ride, but want more action! Don't forget to tune in to the live TV show on Zwift Community Live's YouTube Channel at 6:15 (UK time). Even the Tour riders will kick back in their hotels in Châtel-Guyon and watch… probably.
Greatest London Flat recap
I didn't get to race today – September is a rest month for me on coach's orders – but I'm still paying attention. Sagan says "A hundred riders start the race, there will be a hundred stories told at the end." I'd love to hear how your team story, and your individual story in the comments below.
Let's take a look at how well you did… or since it's my article – how well I did at predicting what was needed to get to Premiere League (PL)! What you see below is the finish time for the 11th team over the line on June 4th (when this course was last run), this week's PL time, and my prediction for PL. The last column shows what position "my team" would have attained this week.
| | | | | |
| --- | --- | --- | --- | --- |
| Class | PL Time (June) | PL Time | My prediction | |
| Vienna | 45:26 | 45:32 | 45:10 | 9th place |
| Espresso | 39:46 | 40.22 | 39:40 | 5th place |
| Frappe | 42:20 | 42:21 | 42:10 | 8th place |
| Latte | 45:27 | 45:39 | 45:05 | 6th place |
| Mocha | 51:41 | 52:03 | 51:41 | 10th place |
Thursday 10th September – UCI Yorkshire
This week we head north from London to Yorkshire – and do a couple of laps of the 2019 UCI circuit. It's a lumpy one! None of the hills are awful, but there are long drags up. I believe this is one of Zwift's most beautiful worlds, but you won't have much time to watch the scenery float past – you'll be suffering.
No lead in to speak of from the pens, straight into the laps after 100 yards. Each lap is 13km with 240m of climbing – and you do two of them. There are no mountains here but plenty of ascending to sap the legs. Two great pages to check out – Simon Schofield, who comes from Harrogate write a nice race recon. And of course, the Zwift Insider route page has the usual great information and links.
What to ride?
This is not a flat route, and it's not a mountain – it's best described as lumpy. My feeling was the up and down nature of this course favors the Tron over S-Works Venge (with 858/Super 9) but what do the numbers say?
Eric and I had a debate on the bike to use, which he settled in his usual way – by doing the science. He ran a set of tests for a common set of wheel/frame combinations to see where the edge is.
The answer is – Tron and Venge (with 858/Super9) perform identically – our rider got around a lap in exactly 22:38 with each bike. Of course, your performance is what matters, so unless you can output a consistent 4 w/kg your time may vary!
But I have brilliant news for teams with lower level riders – the pairing of Specialized Tarmac Pro with ENVE 3.4 got around with only a 14 second deficit – and that pairing is available at level 5.
Here are some choices for you at different levels.
Level 5: Specialized SL7 with ENVE 3.4 (last week's pick, the Rovals don't climb well which is why i went with the ENVEs)
Level 13: Keep the SL7, upgrade the wheels for ZIPP 808s
Level 32: S-Works Venge with ENVE SES 8.9
Level 40: S-Works Venge with Zipp 858
Level 45: get those 858/Super 9 wheels and pair them with the S-Works Venge
But… I can't let you go without another push for Tron – and this is for Simon Schofield as much as anyone since he famously still doesn't have one. On a course like this, Tron matches the best bike you can buy at any level. As always, the Zwift Insider reports on frames and wheels are superlative so if you want to find the perfect bike and wheel combo for you, check them out.
Route Recon
This is a two-lap race with nowhere to hide. If you haven't ridden this course in anger before, I would highly recommend getting out there. Best case scenario you create a meetup, get the gang together, and do a proper dry run… but if your team is like my team, that's pretty hard to accomplish. If you are going out solo you can always create your own meetup… you have to invite someone for it to work so when I did my recce over the weekend I just invited the first person on my friends list.
Next best thing? Check out the event listing on zwifthacks.com and find a ride or two.
I struggled to find good recce rides last week but this week there are some perfect ones. Here's my pick of the rides:
For the Europeans and those in the antipodes, 3R have a great 2-lap race mirroring the TTT on Saturday – find it here. Then a little later in the day British Triathlon have a group ride which will work for the Americans also.
On Monday, the fine folks at DBR have a 2-lap race early evening UK time, lunchtime for the Americans.
On Wednesday USA Cycling (based right here in Boulder where I live) have four individual TT events – 2 mixed and 2 for the ladies. Don't go out hard on these the day before the TTT!
What to look out for on the ride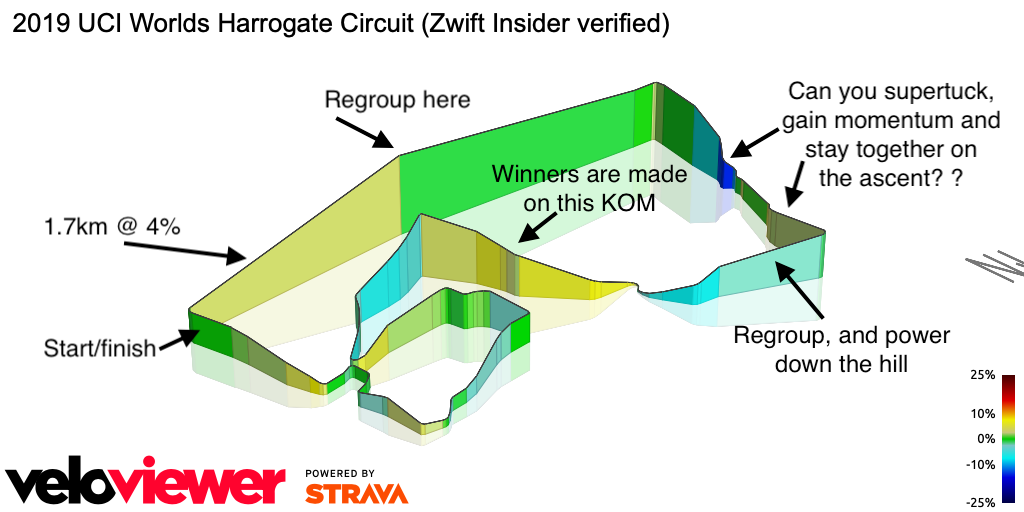 This is a technical ride – it's all up hills and down dales. Winning this week is all about knowing your team (particularly where the weaker team members will crack) and the headstrong will ride too hard. Both of those things will cause splits.
The start. There's no time to catch your thoughts here… 100 meters out of the pen you are at the start/finish – and into the first hill – Otley Road.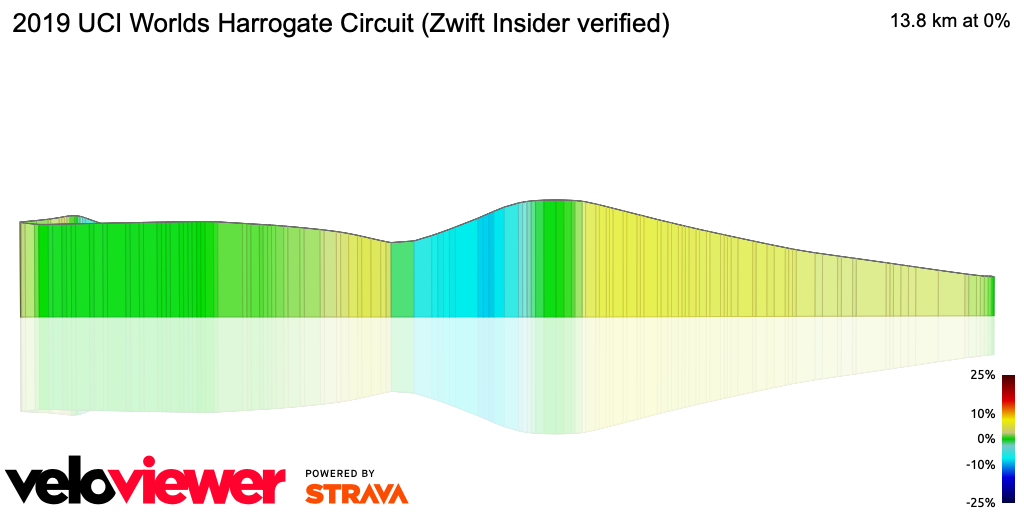 Ninety degree right turn and at a 1.7km straight shot up Otley Road at a pleasant 3.5-4%. It's a straight road with consistent rise, so take the first few meters to collect yourselves and get in formation. The descent is short and sharp, followed by another incline (see the profile picture). None of this is too bad – keep in formation and have fun.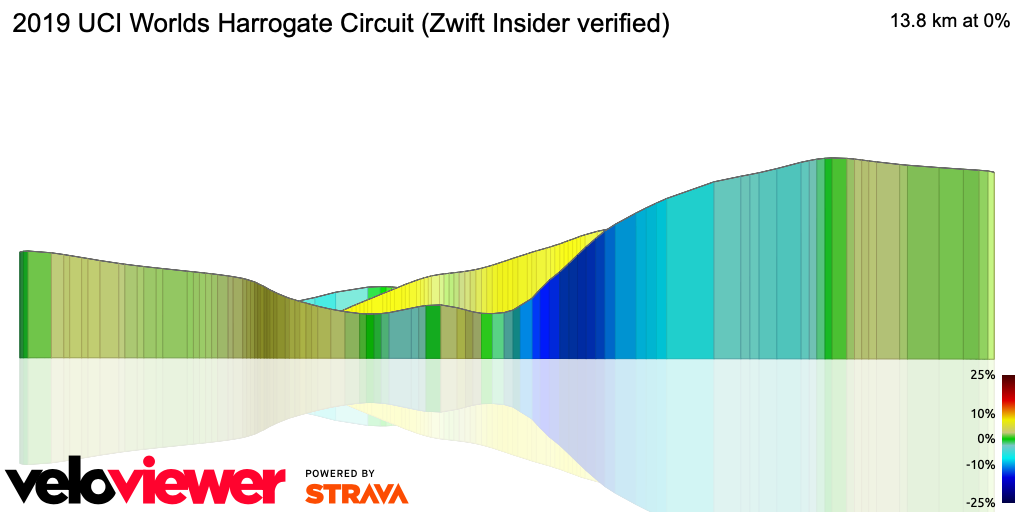 Shortly after the hard right turn comes Pot Bank – the descent first, then the rise back up. This down is fast and twisty, peaking at 16%, so watch out for lighter team members getting left behind. Back up the other side of Pot Bank averages 4% but it's split into two parts – a sharp rise, which eases. Staying together over this section is critical.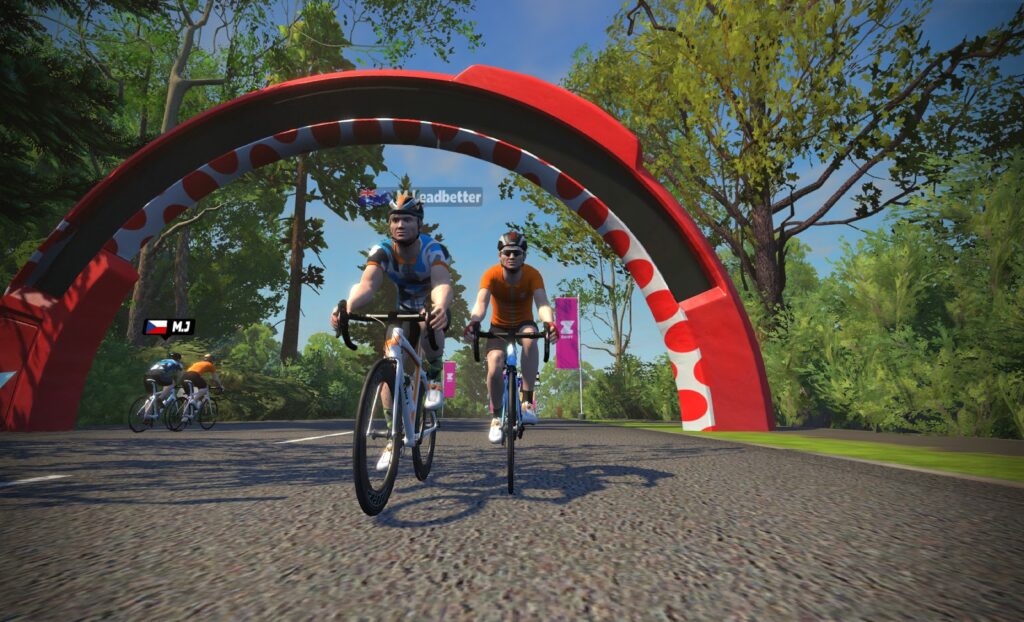 At 7.5km (and around 21km) you will hit the KOM. It's not a monster – 1.2km at 5.5% – but it drags on for far longer than it has any right to!
After that the ride just gets a bit messy but there's nothing to worry about. The last 500 meters is a 2% climb up to the start/finish gate – just plow on through and do it all again.
One note on the finish… even though the second time is identical to the first time, that 500 meters at 2% will be hard. This is a time to know who's got the legs for the sprint, and who to jettison! It takes a whole team to race, but only four to win!
Target times
I'm mighty proud of my predictions for last week – if you hit my times you would have been in the middle of the Premiere League in every category. But… what I want to do for you is get closer to the maximum time for each Coffee Class that will still get you into the Premiere. Let's see how close I can get this week.
This course has been run three times before; last time was May (#58), before that was February (#44) and before that in September (#24). Data as far back as last September is a little patchy, so i don't have it in my table.
| | | |
| --- | --- | --- |
| | #44 | #58 |
| Vienna | 53:05 (team 6 of 6) | 46:15 |
| Espresso | 44:42 (team 9 of 9) | 38:07 |
| Frappe | 43:15 | 40:47 |
| Latte | 47:46 | 45:19 |
| Mocha | 58:01 (team 7 of 7) | 54:50 |
Last week i assumed the trends we had seen through the spring and summer would continue – with added competition driving down race times… but what we actually saw in London was the race times go up a little. Makes sense really, its the end of summer in Europe and more of you are out in the real world (like Zwift but with weather) which reduces competition. Within a few weeks you will all return from holidays, and autumn will be on us, which means more teams, and more competition. But for Harrogate, I think we will see times a few seconds higher than in May.
There are few obvious landmarks to use as you sail through the splits, hence my terrible descriptions – but they are at 6, 12 and 18km.
Split 1 – 6km – Halfway up Pot Bank
Split 2 – 12km – Heading into town… can't be specific!
Split 3 – 18km – Just before the bend to Pot Bank descent
| | | | | |
| --- | --- | --- | --- | --- |
| Class | Split 1 (6km) | Split 2 (12km) | Split 3 (18km) | FInish |
| Vienna | 10:30 | 20:35 | 31:10 | 46:20 |
| Espresso | 8:15 | 16:30 | 25:00 | 38:15 |
| Frappe | 9:00 | 17:25 | 27:10 | 41:00 |
| Latte | 9:30 | 19:35 | 29:40 | 45:25 |
| Mocha | 12:10 | 23:40 | 36:20 | 55:00 |
My best time around here?
| | | | | |
| --- | --- | --- | --- | --- |
| June TTT | 10:17 | 20:32 | 31:41 | 48:27 |
Wrap up
This is a technical ride – there is nowhere on the route where you can stop paying attention or hide. Bike selection won't make the difference here – but team communication will. When i did this ride last time I was with a crew I didn't really know… i certainly knew their strengths and weaknesses afterwards – and they knew mine! This is a great course that puts the Team in Team Time Trial!
Questions or Comments?
Share below!