Last weekend our popular Saturday Tiny Races were replaced by back-to-back-to-back races replicating what the pros will experience for the UCI eSports Worlds events. And we're doing it once more this weekend!
Sign up at zwift.com/events/tag/worldsexperience
Schedule Changes
Last weekend's races didn't have any major issues, but there are two time-related adjustments we're making this weekend:
Most of the races will be an hour earlier than last week, matching up with our typical Tiny Race time. This should give more folks access to try out the races.
Race 3 now begins 5 minutes later, to give D riders more time to finish race 2. (Last weekend some D riders weren't able to finish race 2 in time, and thus missed race 3.)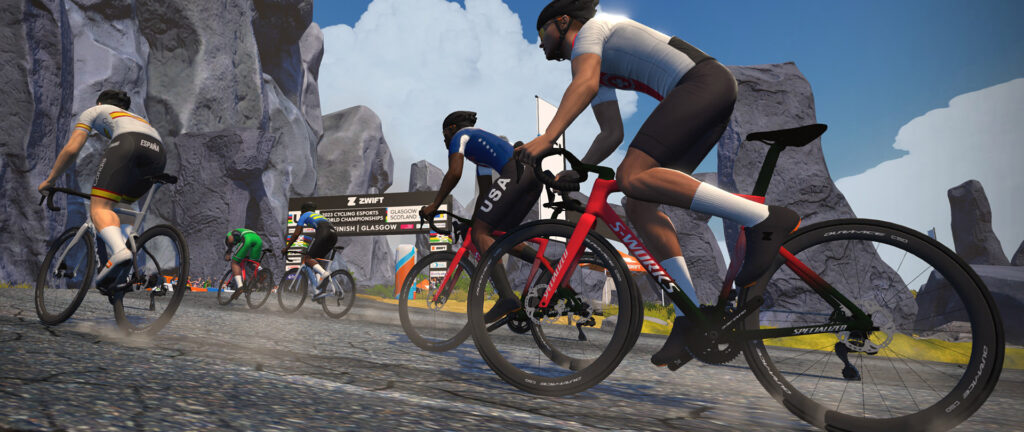 Race Results
We won't list the full results of all 6 zones here, but we'll mention that it was fun to see many of the UCI Worlds starters racing these events for practice! In fact, 4 of the 6 men's A winners are Worlds starters. On the women's side, all the A winners were also Worlds starters.
List of 1st place finishers who are also racing worlds this Saturday:
Men
Brian Duffy Jr (USA)
Ben Ruthe (New Zealand)
Rinus Verhelle (Belgium)
Jason Osborne (Germany) – 2020 Esports Worlds champ!
Women
Mary Wilkinson (Great Britain)
Kristen Kulchinsky (USA)
Anne Nevin (Norway)
Imogen Cotter (Ireland)
Bronwyn MacGregor (New Zealand)
Looking for the full results of last weekend's races? See them on ZwiftPower:
Race Details
Worlds Experience Races are being delivered in sets of three, and the idea is that you should race all three events in sequence, much like our Tiny Races. This will take about 75 minutes to complete.
Each race uses the same single powerup type that Worlds racers will receive.
Race 1, "The Punch", is a single lap of Rolling Highlands (14.1km long, 106m elevation). Riders will receive one burrito powerup at the Breakaway Brae banner.
30 minutes later Race 2, "The Climb", begins: a single lap of City and the Sgurr (8.6km long, 166m elevation). This twisty, climby route will take you up to the Sgurr summit a total of three times, and two of those climbs will be on the gravel side. Riders will receive one anvil powerup early in the ride at Central Station. Use it wisely!
Lastly, Race 3, "The Podium" begins 30 minutes after Race 2. This race will be over 4 laps of Glasgow Crit Circuit (each lap is 3km long, 33m elevation). Racers will receive a burrito powerup at the Champions Sprint banner each lap, which means everyone will get 4 burritos.
At the end of the race set you will have completed three races on three separate Scotland routes, much like the world's top eracers on February 18.
Ready to sign up? Visit zwift.com/events/tag/worldsexperience

Weekend Timeslots
We've tweaked the times just a bit this weekend, moving everything back 1 hour except for the races that happen around the time the UCI Esports Worlds events will take place.
Saturday times:
9am UTC (4am ET)
3pm UTC (10am ET/7am PT)
10pm UTC (5pm ET/2pm PT/Monday 9am AEDT)
Sunday times:
9am UTC (4am ET)
3pm UTC (10am ET/7am PT)
9pm UTC (4pm ET/1pm PT/Monday 8am AEDT)
Ready to sign up? Visit zwift.com/events/tag/worldsexperience
Final Results on ZwiftPower
The final winners for each time slot's set of three races will be determined by points. You earn points based on your finishing position in each of the three races, then the rider with the most points wins. Points structure can be found on the ZwiftPower results pages below:

Rules
We're using the same rules as Tiny Races. Category Enforcement will determine each racer's minimum category.
No skipping then returning. If you skip race 1 or 2, but finish a later race, your later result(s) will be annulled.
You must have an active ZwiftPower account
Heart rate monitors are required for podium positions
Smart trainer or power meter must be paired as your power source in order to join the races.
Questions or Comments?
Post below!