Wahoo announced two new indoor trainers today: a lower-priced smart bike named KICKR BIKE SHIFT (read our review) and a smart trainer with fore/aft movement named KICKR MOVE.
We've had both items in the Zwift Insider Pain Lab for a few weeks, running them through their paces. And today we share our experience with each, along with key specs and other details!
Let's talk about the KICKR MOVE. (Apologies: we're not yelling. Wahoo just likes to capitalize its product names.)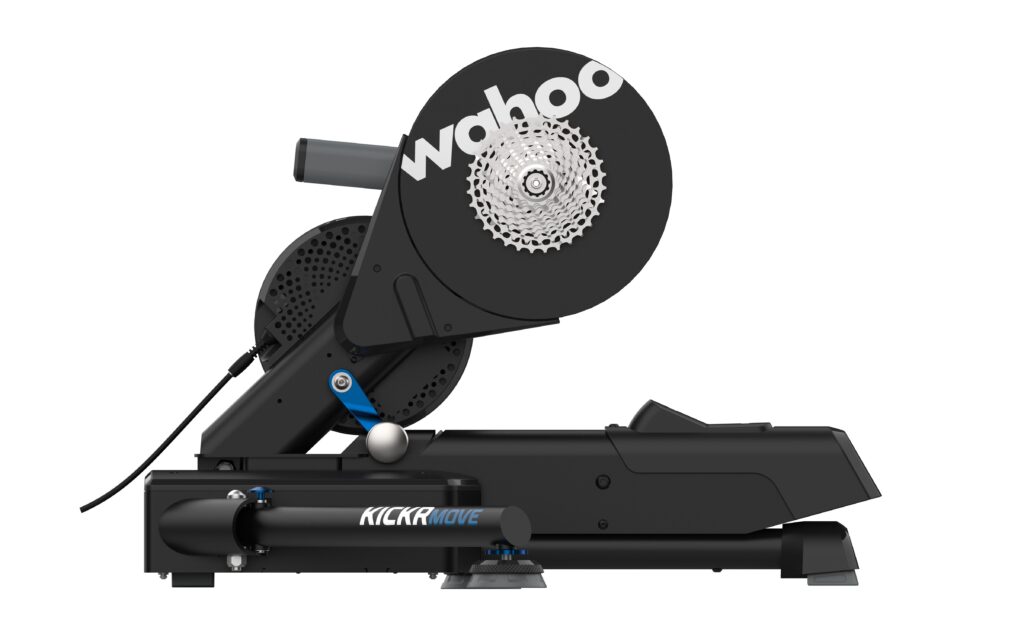 Features and Specs
The MOVE is priced $300 above Wahoo's flagship KICKR. So how does it compare?
Simple: the MOVE is essentially identical to the newest KICKR, except it allows the bike to move on all 4 axes. Hence the name. You can see the movement nicely in Wahoo's promo video:
We'll talk more about this movement below, but the MOVE allows for extensive fore/aft movement and a small amount of side-to-side movement. The mechanism which allows this movement means the MOVE is a bit wider, and nearly 20lb/9kg heavier, than the standard KICKR.
Listed specs/features include:
| | |
| --- | --- |
| | KICKR MOVE |
| MSRP | US $1,599 / Europe €1,599 / UK £1399 |
| Max Power | 2200W |
| Accuracy | +/-1% |
| Calibration | Automatic |
| Brake/Drive Type | Electromagnetic |
| Max Gradient | 20% |
| Weight | 64lb/29kg |
| CLIMB Compatible | With base adapter |
| ANT+ and Bluetooth Connectivity | ✅ |
| Multiperipheral Bluetooth | Up to 3 connections |
| Direct Connect | ✅ |
| WiFi Connectivity | ✅ |
| ERG Easy Ramp | ✅ |
| Odometer | ✅ |
| Race Mode | ✅ |
Unboxing/Setup
Unboxing, assembly, and setup were simple enough – at this point we've unpacked and set up so many smart bikes and trainers that a quick glance at the instruction manual is all that's needed!
Unboxing and Assembly
For those less experienced, Wahoo has introduced a new unboxing experience with the KICKR MOVE and SHIFT bike (it will soon be rolled out across their indoor training range). This was actually quite helpful with the KICKR MOVE, as the box design made it much easier to get the trainer out of the packaging compared to past KICKRs (and we've unpacked a lot of KICKRs!)
This is an especially welcome change with the MOVE, since it is a heavy trainer! We weighed it at 66.3 lbs (30kg), compared to the standard KICKR at 47.7 lbs (21.6kg).
Wahoo's new packaging is also more sustainable with a 90% reduction in non-recyclable foam, and a QR code takes riders to a quick and easy digital guide, delivered through videos.
WiFi Connect + Firmware Updates
After plugging in the MOVE, we connected to it via the Wahoo app to check for firmware updates (there weren't any). We then connected it to our WiFi, allowing us to connect easily and reliably to the smart trainer on Zwift.
(The MOVE, of course, supports ANT and Bluetooth connectivity as well as Wahoo's Direct Connect dongle. And while all of these methods work just fine, we've loved the ease and reliability of connecting via WiFi. It's become our standard way of riding with Wahoo trainers.)
Bike Setup
Setting up the MOVE at our Zwift station, we noticed two things:
It's significantly wider than the standard KICKR, due to the central fore/aft mechanism adding 4.5″/11cm to the overall width
You have to allow extra space for the 8″/20cm of fore/aft movement
Our bike slipped right onto the quick release and matched up perfectly with the pre-installed 11-speed cassette. We needed to adjust the height of the MOVE's feet so our bike was straight up and down, allowing us to rock a bit to each side. (If your bike is leaning to one side you'll only be able to rock one way, which feels quite awkward.) With setup done, it was time to ride!
Ride Experience
Fore/Aft Movement
The MOVE's big selling point is allowing your bike to move beneath you. As someone who has tested numerous rocker plates, rocking trainers, and other movement-enabling devices, I'm more qualified than most to offer an educated opinion on this topic. In fact, I've used a rocker plate of some type for the vast majority of my ~8 years of Zwifting!
The MOVE allows for approximately 8″ of fore/aft movement. How does this compare to other products on the market? For reference, the Saris MP1 allows 9.5″, while the Velocity rocker plates allow around 6.5″.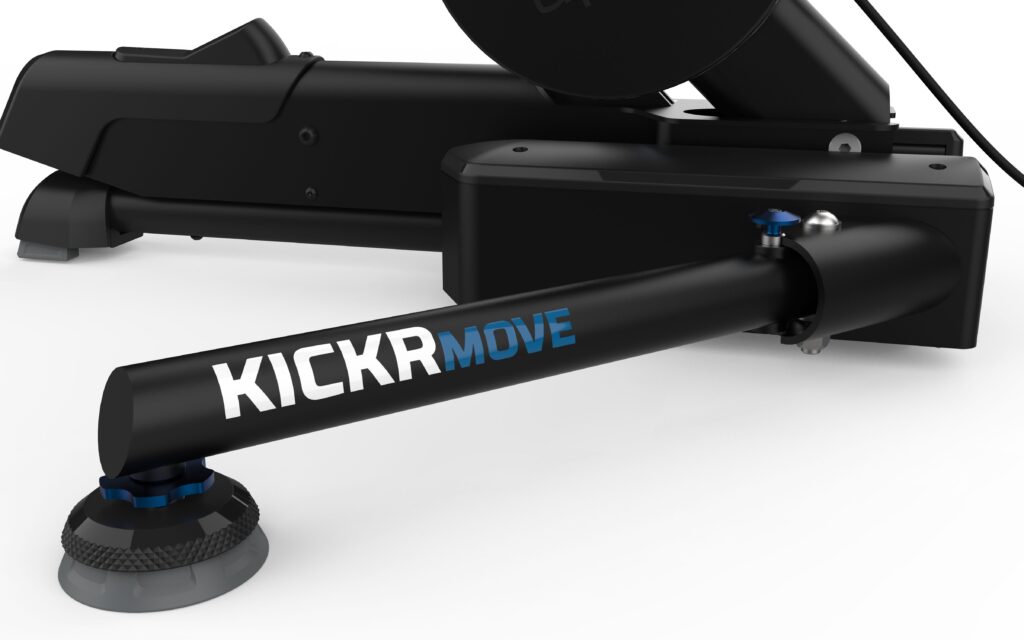 The MOVE's fore/aft movement follows a shallow arc, similar to the Saris MP1. This means you're automatically centered in the trough of the arc, but can move forward (perhaps when getting out of the saddle) or backward (when sitting down) in the arc quite easily and naturally.
There's a bit of noise as you move fore and aft, but it's fairly quiet – quieter than the Velocity rocker, but louder than the perfectly-silent E-FLEX from InsideRide.
Don't want any fore/aft movement? There's a large "switch" which can be engaged to lock it out. This is especially handy when relocating the MOVE to another room in the house.
We found the MOVE's fore/aft movement quite natural, and never felt we hit the "end" of the arc despite throwing the bike around a fair amount. It's a pleasing motion that reduces friction on your sit bones, increases realism, and reduces strain on your bike frame.
(Important note: the MOVE won't feel great with a standard CLIMB device on your front forks, but today Wahoo also released a base adapter (below) that enables the CLIMB to "rock" in a way that moves your front forks along the same arc as the trainer moves your rear triangle. The price is $49.99/€49.99/£44.99. We don't have the adapter yet, so we can't comment on the ride experience yet.)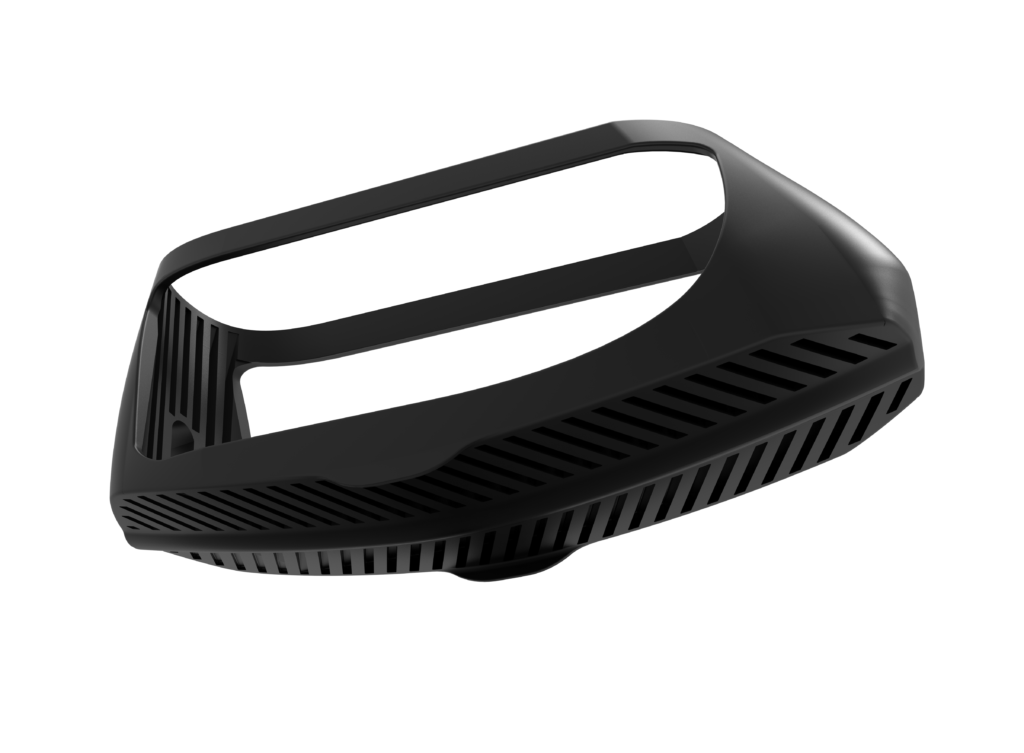 Side-To-Side Movement
Wahoo claims four-axis movement for the MOVE, but let's be clear: the MOVE doesn't rock left to right as far as a typical rocker plate.
Velocity says their plate allows for 15 degrees of left-right movement, while KOM Cycling allows for 13 degrees and SBR ROCKR Pro allows for 18 degrees. The KICKR MOVE? By our calculations, it's around 2 degrees. More movement than the semi-flexible Tacx NEO, but much less than a typical rocker plate.
Most of that movement comes from a slight rock in the new central fore/aft mechanism, while a bit comes from the spongy feet at the end of each KICKR leg.
So the MOVE brings more side-to-side action into the KICKR world, but it's far from the range of motion like you experience outdoors and, indeed, on many rocker plates. That said, the added movement absolutely increases comfort during Zwift sessions. Don't expect a natural side-to-side rocking with out-of-the-saddle riding, but expect increased comfort as the bike rocks below you while seated.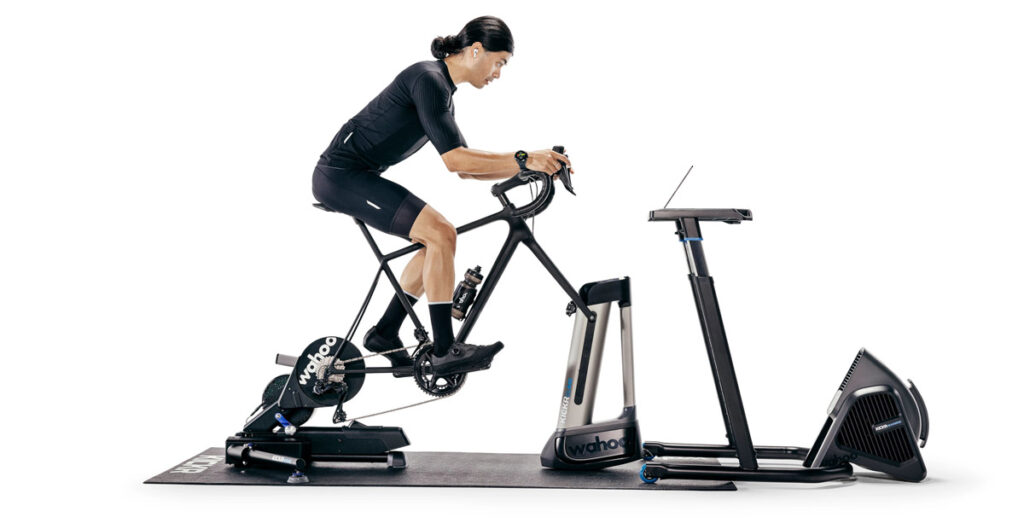 Power Accuracy
Having completed several workouts, rides, and races with power dual recorded from the MOVE and our Favero Assioma pedals, we can say the MOVE is accurate and within spec.
Things got off to a messy start, though. When our demo MOVE arrived, it was clearly over-reading by 15-20W. We let the trainer auto-calibrate, but that didn't fix things, so eventually we performed a factory spindown and viola!, the MOVE's power lined up with our Assiomas. See the before and after videos.
We reached out to Wahoo to let them know about this issue – here's what they told us:
We've reviewed your factory calibration data and it appears some of the early pre-production units missed the factory calibration procedure which resulted in the 15-20W discrepancy that you're seeing and why the factory spindown you performed corrected the error.

We've validated that all of our mass production units have gone through the proper factory spindown procedure and won't be subject to this issue that you're seeing.

Another thing to note is that the automatic calibration algorithm would have corrected this issue over time but it would have taken quite a few sessions on the trainer.

~Wahoo Support
Once the factory spindown was done, the MOVE performed beautifully. Here's our standard smart trainer test workout (click to see the actual chart on ZwiftPower):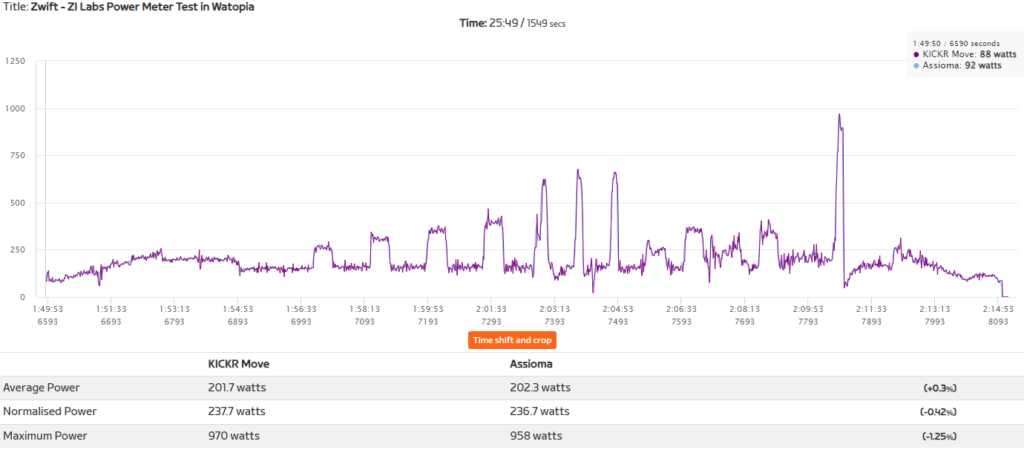 No complaints here. The MOVE performed like a champ across a range of flywheel speeds, wattages, and cadences. This didn't surprise us one bit, though, since the MOVE is built on the well-tested KICKR platform.
Inertial Feel
Every trainer uses different tricks to try and replicate the inertial "feel" of pedaling outdoors. When you're moving fast outside on flat ground, you're not pushing hard across the top or bottom of your pedal stroke – inertia carries the pedals across those sections. On steeper climbs, however, there's less of that inertia, so you have to push through more of the pedal stroke.
The "feel" of a particular trainer is rather subjective, with each trainer trying to replicate realistic inertia through some combination of physical flywheels and/or resistance changes managed by firmware.
We found the MOVE's inertial feel to be smooth and realistic, exactly like the standard KICKR.
Noise Level
The MOVE is a bit noisier than the standard KICKR, because movement along any of its axes produces noise. Fore/aft movement produces a sliding sound, while side-to-side movement produces a bit of a knock as you hit the mechanical rocking limits.
Most of those sounds get drowned out by the sound of your drivetrain, though, so we would still describe the MOVE as a very quiet trainer.
Wrapping It Up
Overall, we found Wahoo's new KICKR MOVE to be exactly that: a smart trainer built on the industry-leading KICKR platform that brings four-axis movement into the game.
The fore-aft movement is smooth and natural, while the side-to-side movement is more limited and less natural – but still better than no movement at all. Adding this movement to the long list of KICKR features makes the KICKR MOVE the most feature-rich trainer on the market today.
Is it worth the price tag? That depends on how you do the math, and how picky you are about your side-to-side movement. Adding a fore/aft rocker device to a standard KICKR will cost you an extra $600US+, so in that sense, the KICKR MOVE is a great deal as an all-in-one premium trainer solution. On the other hand, one could purchase a midrange trainer like Wahoo's KICKR Core or Zwift's Hub, add a full-motion rocker plate like the Velocity Rocker, and come out at least a few hundred bucks ahead of the MOVE, with the ability to ride more naturally out of the saddle.
We're happy to see Wahoo acknowledging through product development that bike movement affects indoor training. Proper movement adds comfort, and the more comfortable you are, the longer and harder you can ride. Perhaps Wahoo's introduction of the MOVE will even encourage some longtime "static" indoor riders to take another look at adding movement to their indoor setup.
Questions or Comments?
Share below!