Wahoo announced two new indoor trainers today: a lower-priced smart bike named KICKR BIKE SHIFT and a smart trainer with fore/aft movement named KICKR MOVE (read our review).
We've had both items in the Zwift Insider Pain Lab for a few weeks, running them through their paces. And today we share our experience with each, along with key specs and other details!
Let's talk about the KICKR BIKE SHIFT. (Apologies: we're not yelling. Wahoo just likes to capitalize its product names.)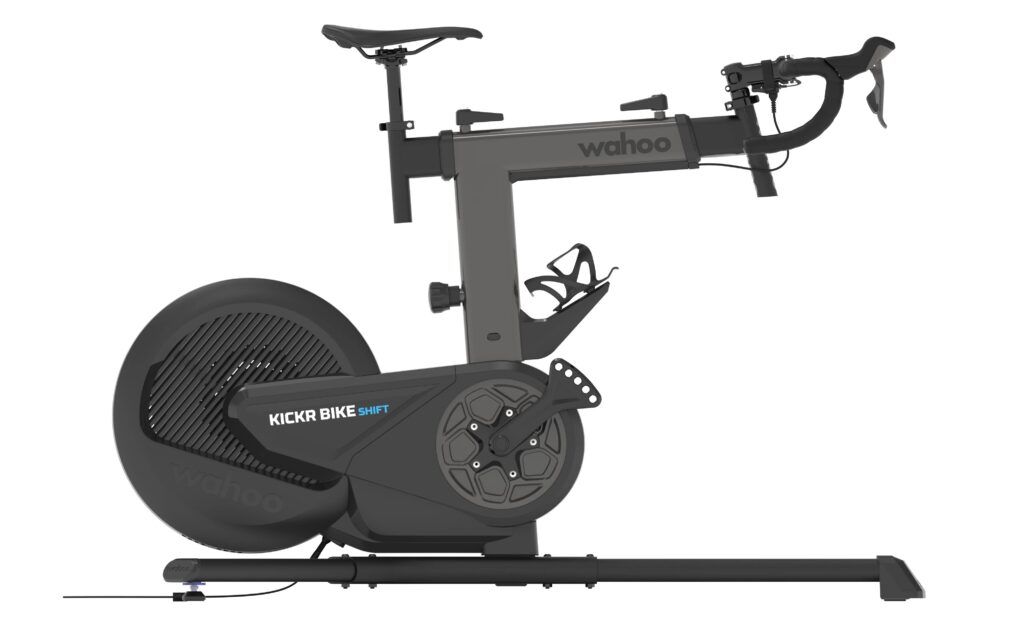 Comparing Features and Specs: KICKR BIKE SHIFT vs KICKR BIKE Gen 2
The SHIFT is priced $1,000 below the BIKE. So how does it compare?
KICKR BIKE SHIFT
KICKR BIKE Gen 2
MSRP
US $2,999
Europe €2,999
UK £2,699
US $3,999
Europe €3,999
UK £3,499
Max Power
2200W
2500W
Accuracy
+/-1%
+/-1%
Brake/Drive Type
Electromagnetic
Electromagnetic + Motor
Weight
40kg
42kg
Physical Gradient Simulation
❌
✅
Direct Connect
✅
✅
WiFi Connectivity
✅
✅
"True Fit" System
✅
✅
ERG Easy Ramp
✅
✅
Odometer
✅
✅
Customized Virtual Shifting
✅
✅
Steering (works on Zwift!)
✅
✅
Frame Material
Steel
Aluminum
Downhill Drive
❌
✅
Gear Indicator
❌
✅
Wheels for Easy Transport
❌
✅
The SHIFT clearly benefits from much of the BIKE's proven tech, sporting many of the same features. We've got a KICKR BIKE Gen 1 here in the office, so we can compare them side by side. Here's where they're the same:
Handlebars (BIKE has slightly thicker foam bar tape), shifters, and extra buttons
Saddle and seatpost
Crank arms with length options for 165, 167.5, 170, 172.5, and 175
"True Fit" system with easily adjustable top tube lengths, bar height, saddle height, frame height, and crank lengths (165, 167.5, 170, 172.5, and 175mm)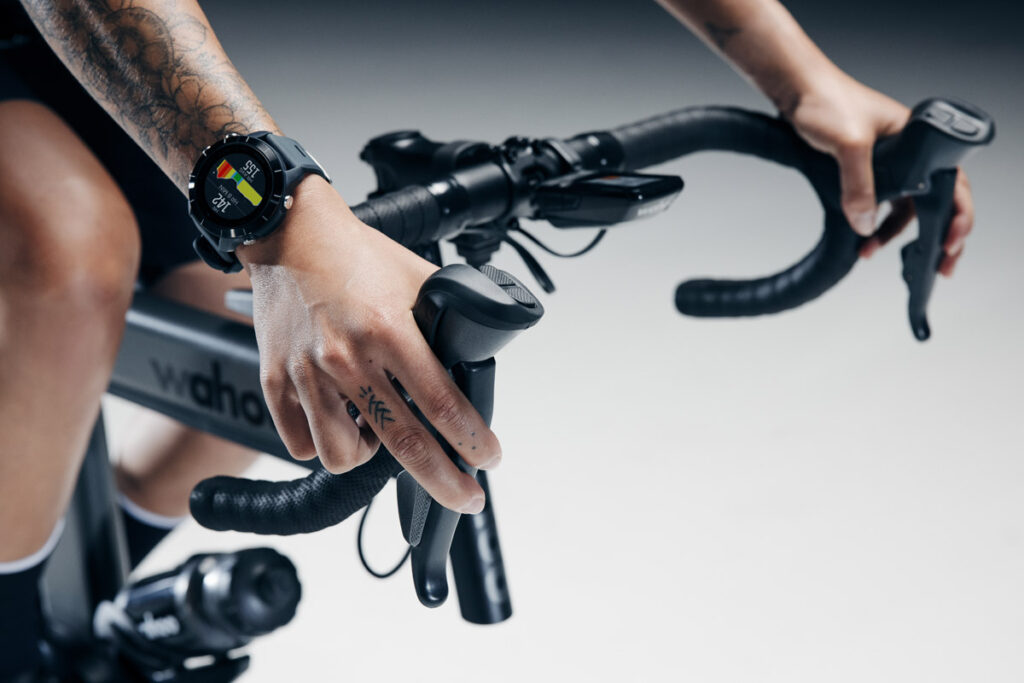 The SHIFT differs from the BIKE physically in a few obvious ways – some of which are actually improvements over the BIKE:
SHIFT has a narrower top tube due to stronger steel construction
Adjustment levers and quick releases on the SHIFT allow for increased tightness
SHIFT's flywheel is much larger (48cm diameter compared to BIKE's 31cm) and covered
BIKE has a physical "CLIMB" gradient simulator that tilts the entire frame, while the SHIFT has no such device
SHIFT's base lacks back wheels for easy one-person movement
BIKE has a small screen showing current gear, while the SHIFT has no such screen
SHIFT has a magnetic connector between frame and bars, while the BIKE has physical plugins
SHIFT's brake/flywheel is noticeably quieter than the BIKE
The BIKE uses an electromagnetic brake paired with a motor for its resistance/road feel, while the SHIFT uses only an electromagnetic brake. Don't understand the difference? The SHIFT basically works like a standard KICKR, while the BIKE includes a motor that can actually spin the flywheel, simulating downhill inertia and making it easier to start from a standstill.
Unboxing/Setup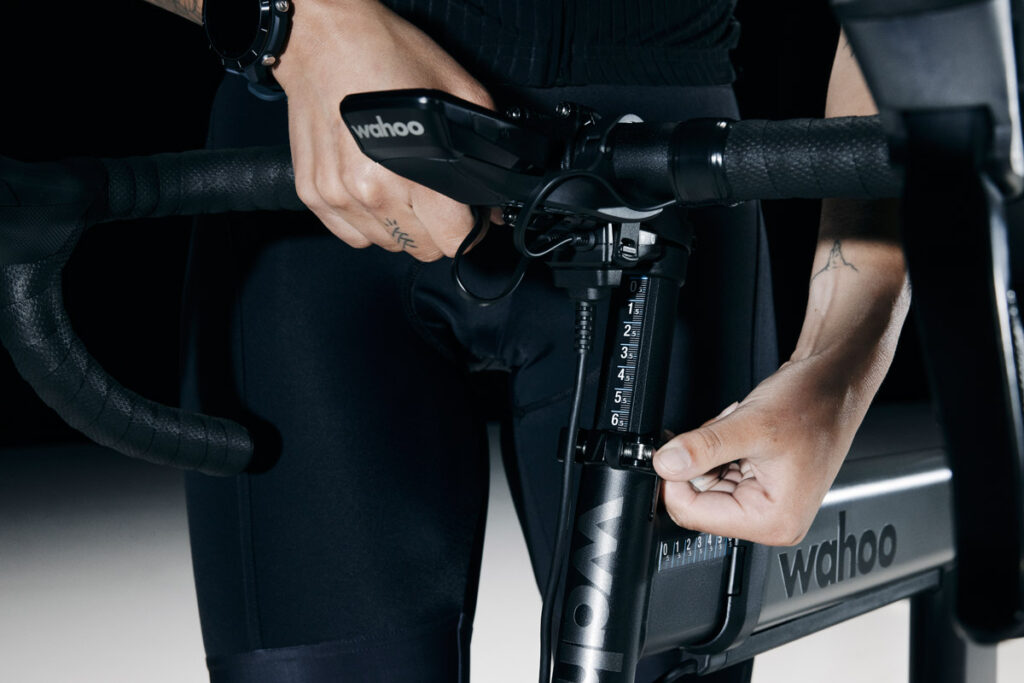 Unboxing, assembly, and setup were simple enough – at this point we've unpacked and set up so many smart bikes and trainers that a quick glance at the instruction manual is all that's needed!
Unboxing and Assembly
For those less experienced, Wahoo has introduced a new unboxing experience with the SHIFT and KICKR MOVE (it will soon be rolled out across their indoor training range).
Their new packaging is more sustainable with a 90% reduction in non-recyclable foam, and a QR code takes riders to a quick and easy digital guide, delivered through videos, including a detailed setup and fit video, to help dial in the bike's dimensions.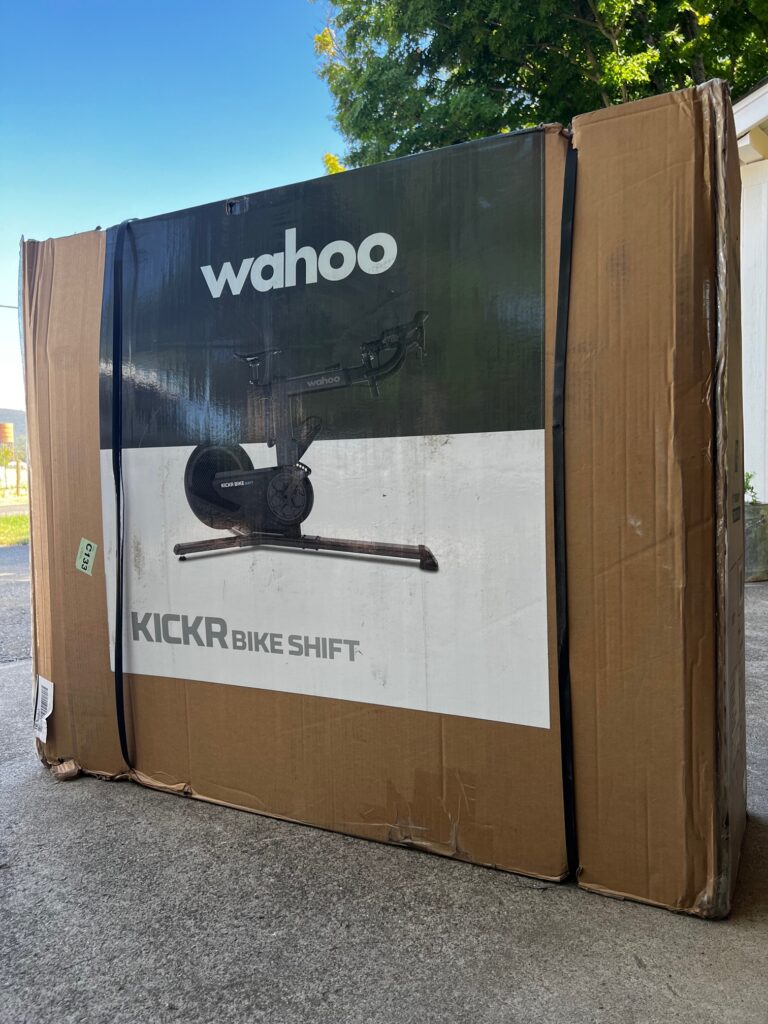 We installed the seat post, handlebars, and three leg extensions. Then it was a simple matter of hauling it upstairs, which was definitely a two-person job!
WiFi Connect + Firmware Updates
After plugging in the SHIFT, we connected to it via the Wahoo app, which prompted us to install a firmware update. We then connected it to our WiFi, allowing us to connect easily and reliably to the bike on Zwift.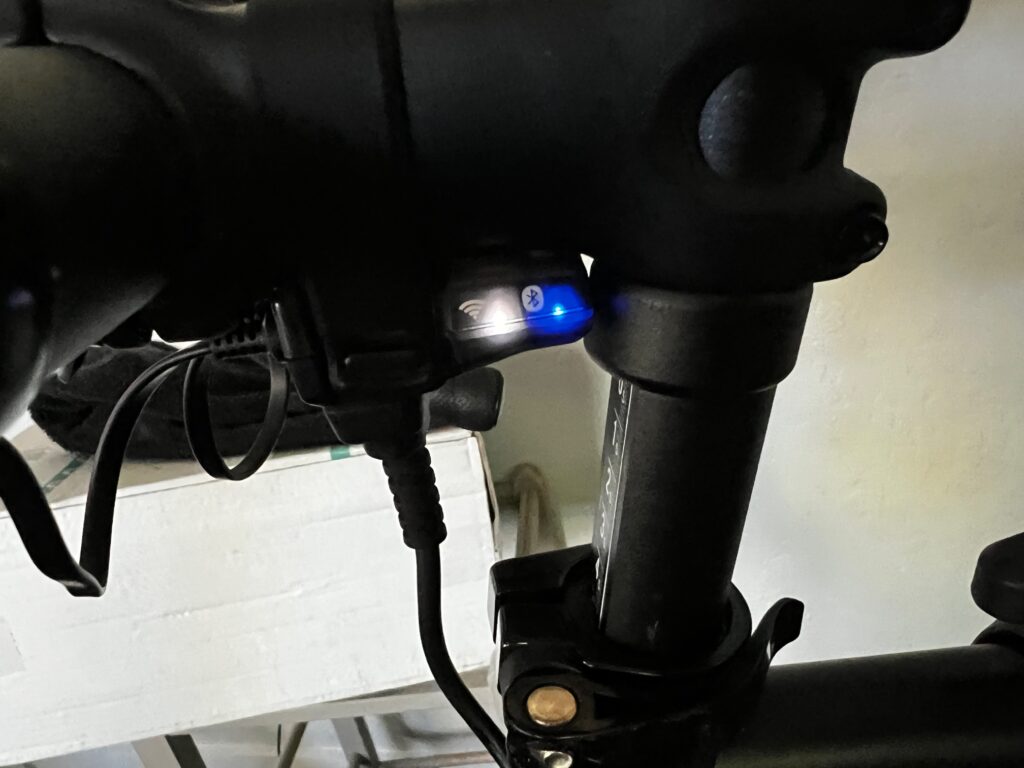 (The SHIFT, like the BIKE and latest Wahoo KICKR versions, supports ANT and Bluetooth connectivity as well as Wahoo's Direct Connect dongle. And while all of these methods work just fine, we've loved the ease and reliability of connecting via WiFi. It's become our standard way of riding with Wahoo trainers.)
Bike Fitting
We didn't use the wizard built into Wahoo's app to get the SHIFT sized correctly, but it was easy enough to take measurements and set up the bike accordingly.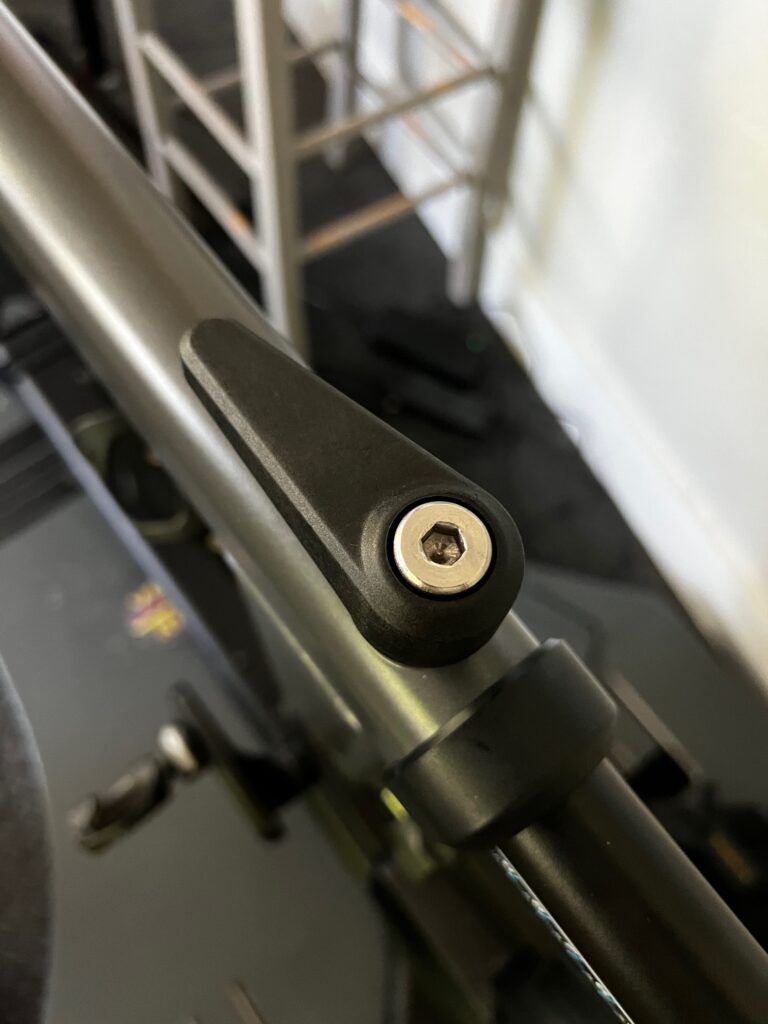 The quick releases on the BIKE have always given us problems – if we tighten them too far they break (Wahoo has shipped multiple replacements) but if we leave them loose things wobble or slide out of place! Thankfully, the SHIFT's quick-release levers include an Allen bolt on one side, so you can lock the lever and tighten it further with the included Allen key. +1 for the SHIFT!
Ride Experience
Shifting and Virtual Gears
SHIFT uses virtual shifting, like the BIKE. So when you click to shift you're not physically moving a chain from one cog to another – you're just changing the resistance of the brake to simulate a shift. The benefits of virtual shifting are three-fold:
No missed or slow shifts
Shifter components don't wear out
Customizable virtual gearing
The BIKE'S motor allows it to deliver some haptic feedback through the pedals, so when you shift you feel the "click". The SHIFT can't deliver such feedback, so the only thing you feel when shifting is the change in resistance.
This is fine, and we found SHIFT's shifting to be smooth and reliable. What got confusing, though, was the lack of display showing your current gearing. The BIKE has this display, the SHIFT does not. And Zwift doesn't show the gearing either… yet. Wahoo tells me they're working with Zwift to make this happen, so hopefully now that Zwift+Wahoo are friends we'll see this feature and more rolling out soon.
Power Accuracy
Having completed several rides and races with power dual recorded from the SHIFT and our Favero Assioma pedals, we can say the RIDE is quite accurate and within spec.
Here's our standard smart trainer test workout (click to see the actual chart on ZwiftPower):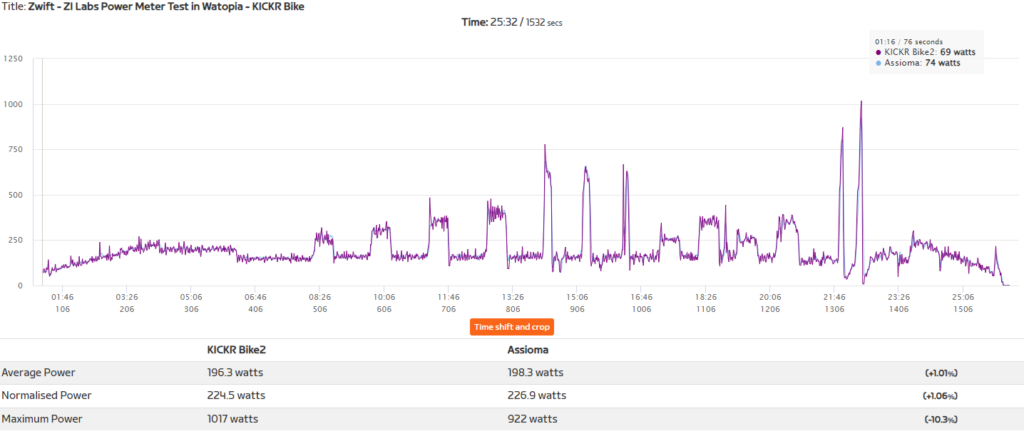 The RIDE consistently read around 1% lower than the Favero Assioma pedals. Less than ideal for racing, but well within spec. Overall, across various power levels, cadences, and virtual gears, the RIDE's accuracy stayed within its +/-1% spec, which is exactly what we would expect from Wahoo at this point in the game.
Inertial Feel
Every trainer uses different tricks to try and replicate the inertial "feel" of pedaling outdoors. When you're moving fast outside on flat ground, you're not pushing hard across the top or bottom of your pedal stroke – your inertia is carrying you across those sections. On steeper climbs, however, there's less of that inertia, so you have to push across more of the stroke.
The "feel" of a particular trainer is rather subjective, with each trainer trying to replicate realistic inertia through some combination of physical flywheels and/or resistance changes managed by firmware.
We found the RIDE's inertial feel to be smooth and fairly realistic, similar to a KICKR but somehow different.
Gradient Simulation (or Lack Thereof)
The SHIFT can't physically tilt forward and back to simulate in-game gradients like the BIKE can. Leaving out this feature certainly reduced the unit cost significantly. But how does it impact the rider experience?
For us, it's not a big miss. We found the physical tilting of the BIKE to be fun at first, but within a few weeks turned it off, preferring instead to have a consistent frame position. This preference will differ from rider to rider, of course.
Noise Level
The original KICKR Bike was fairly quiet, but had some resonance issues where it could get a bit noisy at certain RPMs. The second version of the BIKE fixed/reduced this issue, but we still found the SHIFT to be noticeably quieter than any KICKR BIKE we've ever used.
It's even quieter than a KICKR, and that's saying something! As evidence, we submit this text convo: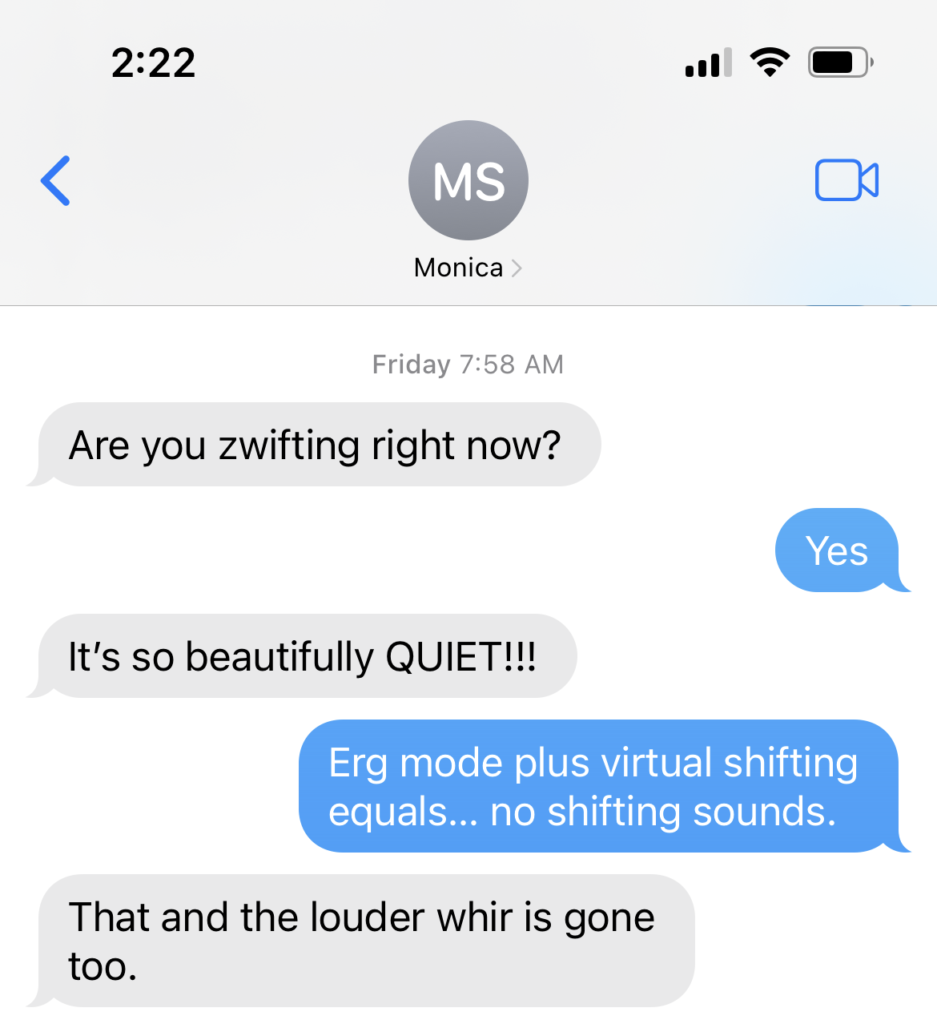 Wrapping It Up
Overall, we found Wahoo's new KICKR BIKE SHIFT to be solidly built and impressively accurate, with a strong feature set that benefits from proven technology developed over the past several years.
While the SHIFT is a bit less capable than the full-blown KICKR BIKE (notably lower max wattage, no downhill drive, and no physical climb simulation), its features and pricing match up nicely with the competition (Stages SB20, Wattbike Atom, Tacx NEO Bike) while beating them when it comes to connectivity thanks to WiFi and Direct Connect support.
Is it worth the price tag? That, fair reader, is for you to decide. Smartbike pricing hasn't dropped like smart trainers in the past year; in fact, prices have increased! Now, as ever, smartbikes are seen as a premium product that demands a premium price. That holds true for Wahoo's new KICKR BIKE SHIFT, even if it's a "budget" version of the KICKR BIKE.
Questions or Comments?
Share below!