It happened again this morning.
I was chugging along in zone 2, doing a recon of a new Rebel Route on Zwift's new southern coast. Halfway through the ride I made the turnaround in the Jungle, then decided I would try to grab a green sprint jersey on one of the four upcoming sprints. (Earlier, I narrowly missed grabbing green on the Acropolis Sprint Reverse, and I needed to prove myself.)
The leaderboard popped up well before the first of four sprints began: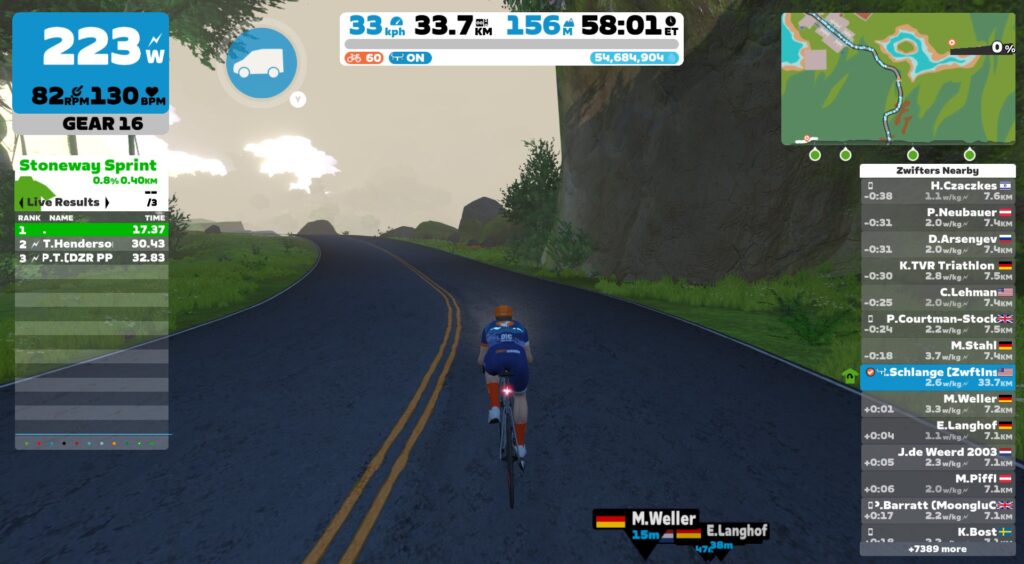 And there it was. A player with no name, running on virtual power (aka a "ZPower Ranger"), had absolutely destroyed everyone else on this sprint. There was no way I'd touch that superhuman time.
And the trend continued… "Dot" had taken the #1 slot on all four sprints, turning in times around 40% faster than the next-best rider.
So I sat up and hung in zone 2. Which, in hindsight, was probably a good thing, it being a ZRL recovery day. But it made me think: why does Zwift still allow riders without smart trainers or a power meter to top the leaderboards?
Virtual Power Basics
"Virtual Power" is Zwift's solution for riders who don't use a smart trainer or power meter. Instead, they're on "dumb" trainers – trainers that don't plug into electricity, don't change resistance on virtual hills, and don't compute power numbers. A dumb or "classic" trainer simply puts resistance on your back tire.
Read all about virtual power on Zwift >
Pair a speed sensor on your back wheel with Zwift, tell Zwift which classic trainer you're using, and Zwift will use a pre-computed "power curve" for that trainer to estimate your power in game. Wheel spinning at 30kph? You're doing 190W. Spinning at 40kph? 215W. You get the idea.
There's just one problem: if you don't have your classic trainer and back wheel set up properly, or you choose the wrong trainer on the Zwift pairing screen, your numbers can be off. Way off.
Safeguards Against Inaccurate Power
To Zwift's credit, they've built in some safeguards to detect when power readings are too high. Ride too long at too high a power level and you may receive a popup like this: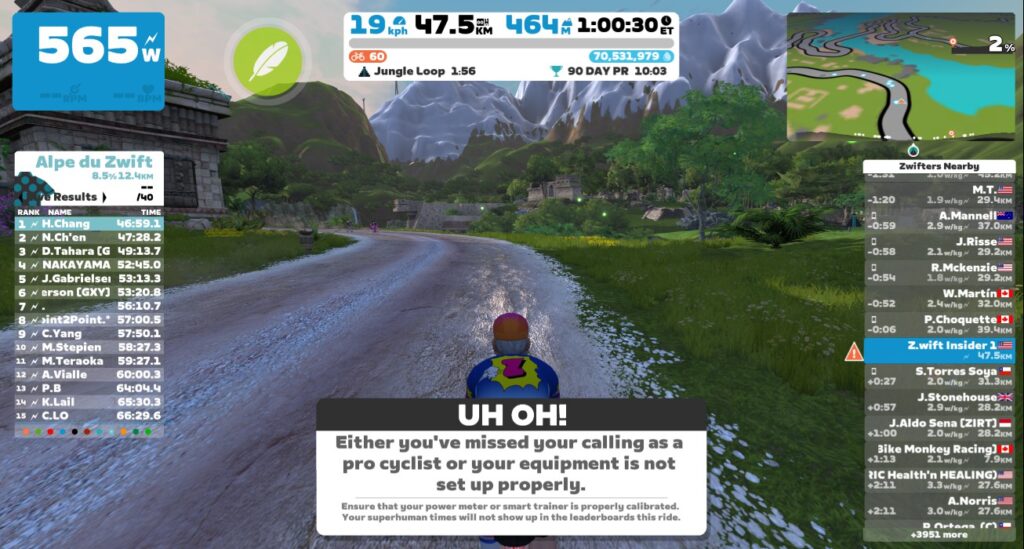 I assume Zwift has set some power curve limits that basically say "If you hold X W/kg for X minutes, you're above World Tour pro levels and need to get a warning." (The above popup occurred exactly 1 hour into a ride where my bot held 7.5 W/kg steady the entire hour.)
However it works, based on my simple test above we can conclude the system isn't perfect. Too many riders on virtual power are allowed to hold artificially high power for days, with no notice popping up.
Getting It Fixed
So how do we fix this? I have a few ideas.
First, it may make sense to adjust the virtual power limits:
Currently, if you have selected a particular classic trainer model from Zwift's list, your power is capped at 1200W. Perhaps this cap should be reduced to, say, 600 watts. (The 1200W limit made sense back in 2014 when fewer riders had smart trainers. Nowadays, if you can sprint at 1200W, you're probably an experienced rider with a smart trainer or power meter.)
If you choose an "unsupported" trainer, your power is capped at 400W. This is fine, as long as Zwift has something built in to make sure the rider isn't flying around at 400W for more than a minute or two. 400W should be the limit, not the cruising altitude.
In fact, it may make sense to adjust all the power limits. As stated above, I had my bot hold 7.5 W/kg (565W) steady to see how long it would take for Zwift to pop up a warning. Nothing popped up until the 1 hour mark! (For reference, Coggan's chart says 7.6 W/kg for 5 minutes is the top of world-class.)
Secondly, the leaderboards could be changed. Two options here:
Quick and Dirty: Simply don't include virtual power users on the leaderboards. (But Zwift is an inclusive place, so I doubt they'll agree to simply boot ZPower Rangers from the leaderboards. So my second option is…)
Playing Nice: Hide virtual power users on leaderboards for anyone on a smart trainer/power meter, while the virtual power user simply sees their name as an entry on the leaderboard, inserted into the proper place, but without a ranking number next to it. No green jerseys for virtual power users, but they can see where they rank.
Wrapping It Up
Zwift's virtual power setup made sense when the beta launched in 2014, but nine years later the indoor cycling space has evolved greatly. Smart trainers are much more affordable and available now, and I would guess that less than 5% of Zwifters are on classic trainers with a speed sensor.
My ideas above may not be the best possible solutions, but they're a good starting point for discussion. If nothing else, they show that Zwift can make a few changes that will improve the leaderboard experience for smart trainer/power meter users, without major impacts on classic trainer users.
I hope it happens!
Your Thoughts
Whether you're a smart trainer user or a virtual power holdout, I'd love to hear your thoughts on this. Share below!