One of cinema's most iconic moments comes from the film 'Forest Gump', when Tom Hanks' character Forrest Gump casually states, "Life is like a box of chocolates. You never know what you're gonna get."
That saying applies to the Zwift Companion app, as when you open it up and scroll through the day's events, there are usually a few treats on offer.
This weekend's little sweetie was the "Nations Challenge" run by WTRL. It was something quite different to the normal races offered on Zwift, so I signed up as the chance to represent my country in a sporting activity doesn't come around often for a novice like myself. Clearly many felt the same, as 523 other riders had eagerly signed up!
About the Nations Challenge
The Nation's Challenge was a country-based race where riders from the same country would race around Watopia on a custom 50km length of the Figure 8 Reverse route, decked out in their country's jersey. The route was the same course that the UCI Cycling Esports World Championship would be contested on, giving us a taste of the pro life.
The premise was that people from the same country would work together and team up and race the course with the top 10 percent and bottom 10 percent being discounted and the average time for the country calculated from the remaining 80 percent. So teamwork seemed essential if you wanted to win this challenge, as it was simply one giant country team time trial.
Carnage at the Start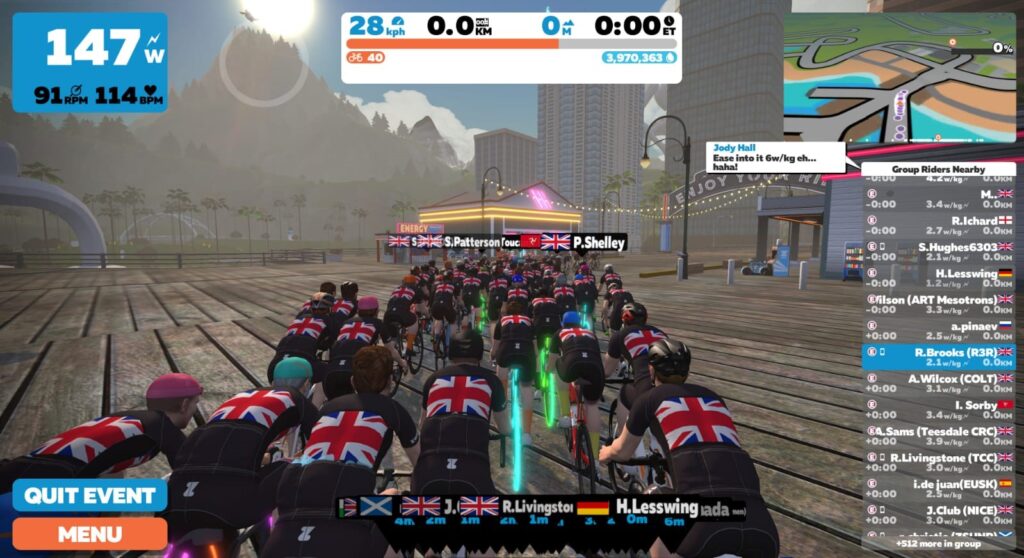 Now, those who have raced in a bunch or undertaken a well organised group ride know the power of the bunch. So, in my naivety with 524 riders, I expected our British Team to cruise around the course and quite literally win the event. As I sat spinning my legs waiting to start, the thought of riding in this "mega blob" was appealing. Unfortunately, it would quickly become apparent that not everyone was on my wavelength.
Immediately from the start it was carnage, with the usual Zwift 400-watt start we are all accustomed to. I couldn't help but feel that the 'team' concept may have been lost on a few and back down the field there was unorganised chaos as people rode at their own speed, trying to find a suitable group.
Within moments I was in 250th position, which meant that the front group had already put some distance into my group and was already up the road, long before most people had literally got off the start. The first message I saw was "We need a DS" – absolutely. We certainly did need a Director Sportif to organise this chaos!
It was at this point the value of the "Beacon" would have prevailed and an experienced Group Leader, to help guide the masses.
Teaming Up
Recognising the need to "blob up" I joined the message chatter as a few other riders realised the importance of teamwork. One rider was Russell, a classy rider from Race3r, who I had ridden with previously in a Team Time Trial, and we began organising our group, which was now in 290th position.
Russell was slightly behind in around 320th but he managed to pull his group into mine. This larger group soon found its rhythm and we began "hoovering up" smaller packs as we began making headway. The strength of the group began to prevail.
What I learned was that trying to manage a group is a challenge. The group could sustain around 3.2 watts per kilo, however when we tried to push the pace, we occasionally and unintentionally caused small splits and had to slow down, or in some cases, drop back to fill the gap. With this in mind, the first major challenge was the KOM, which Russell led the group up far better than I did. Unintentionally, I slipped into my climbing rhythm and was off up the climb without realising – that will be all those Zwift Hill Climb races I have been involved with.
Over the ensuing rollers I dropped to the back of the group to help try and pace those who were less confident on the climbs, whilst Russell kept it steady at the front.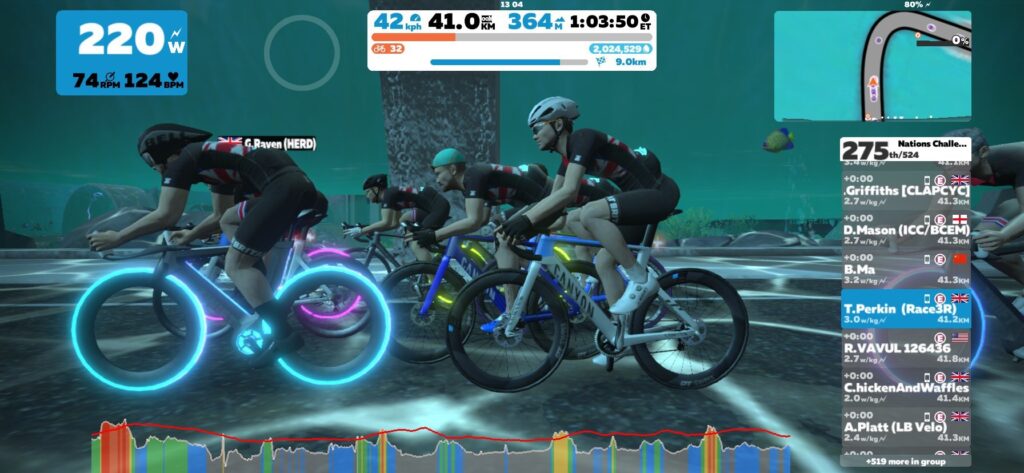 Tempo and Tactics
In between talking tactics of the group, we discussed which nation may potentially win the event overall. We concluded that having a group of 500 riders was simply too big and unmanageable and perhaps the victor may come from a nation with a smaller team. We opted for Japan. (Incidentally, for the first round of races our guess turned out to be correct, with Japan's 188 riders in first followed by Sweden in 2nd with 111 riders.)
As the race pressed on, riding 50km on the Watopia Reverse Figure 8 became confusing and I lost all sense of where I was as my focus was solely about trying to maintain the group. We were growing in size with each kilometre as our massive group was able to make significant gains on the smaller groups and individual riders on every descent.
Keeping a steady tempo, the kilometres ticked by and we led the now large group up the final KOM. I finished in 1 hour 18 minutes 36 seconds, in 248th position. 11 minutes, 40 seconds behind the leaders. I like to think that my domestique duties helped some riders finish quicker than they might have otherwise, and for me, it made a nice change to be riding cooperatively.
Preliminary Results
Team Great Britain placed 3rd overall after 1 event, with an average of 3.23 watts per kilo. This was on par with our group with an overall time of 1:17:18, 1 minute and 3 seconds behind early leaders, Japan.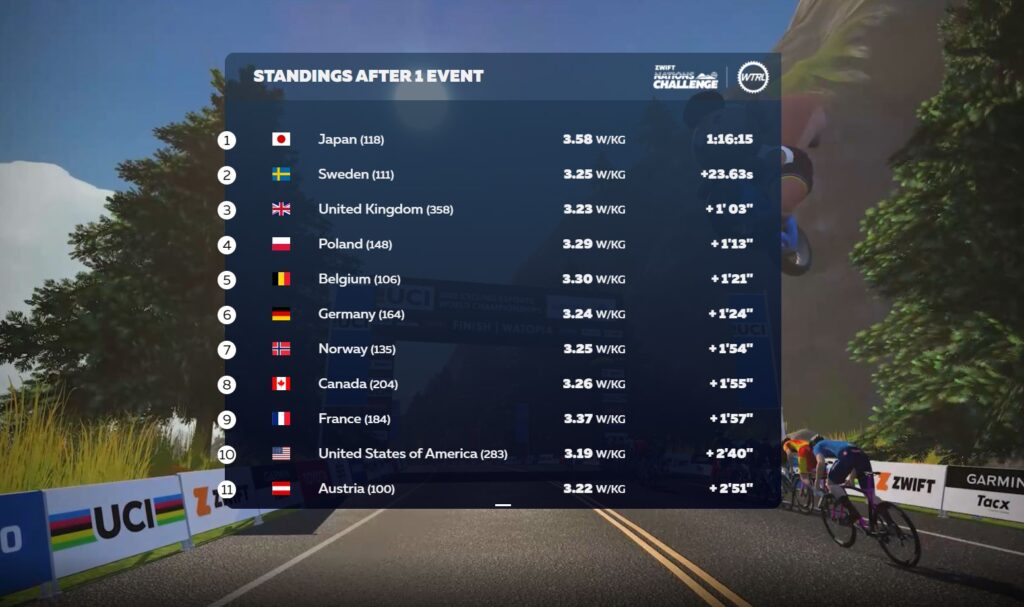 Final Results
It transpires that Team GB didn't do too well in the second race, dropping from 3rd to finish in 6th place 2 minutes and 35 seconds behind Sweden's winning time of 1:14:58. Belgium and Japan finishing second and third respectively.
See full results at wtrl.racing >
Congratulations to WRTL for another entertaining event!
Your Comments
Did you ride in this weekend's Nations Challenge? What did you think of the event? What are your thoughts on reasons why some countries did better than others? Share below!