In the build-up to December 9th's 2020 UCI Cycling Esports World Championships, Zwift + WTRL have announced the "Zwift Nations Challenge" – a country-based race unlike anything seen before! Here are the details…
The Big Idea
Zwifters race the 50km/31 miles 2020 UCI Cycling Esports World Championships course (Figure 8 Reverse) finishing at the Watopia KOM, with the aim of completing the race in the shortest time. Nations will then be ranked on an aggregate time to determine the top three nations.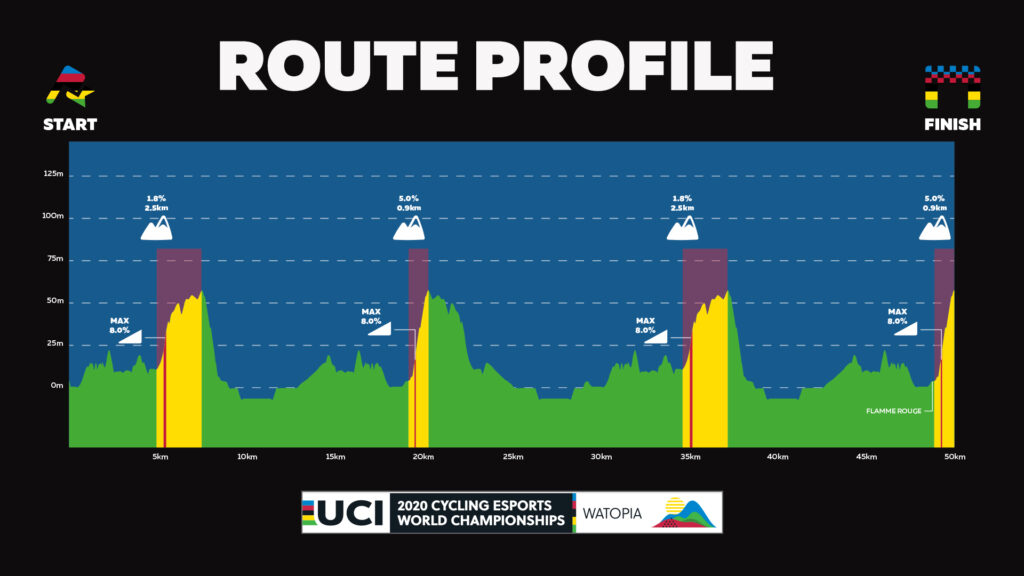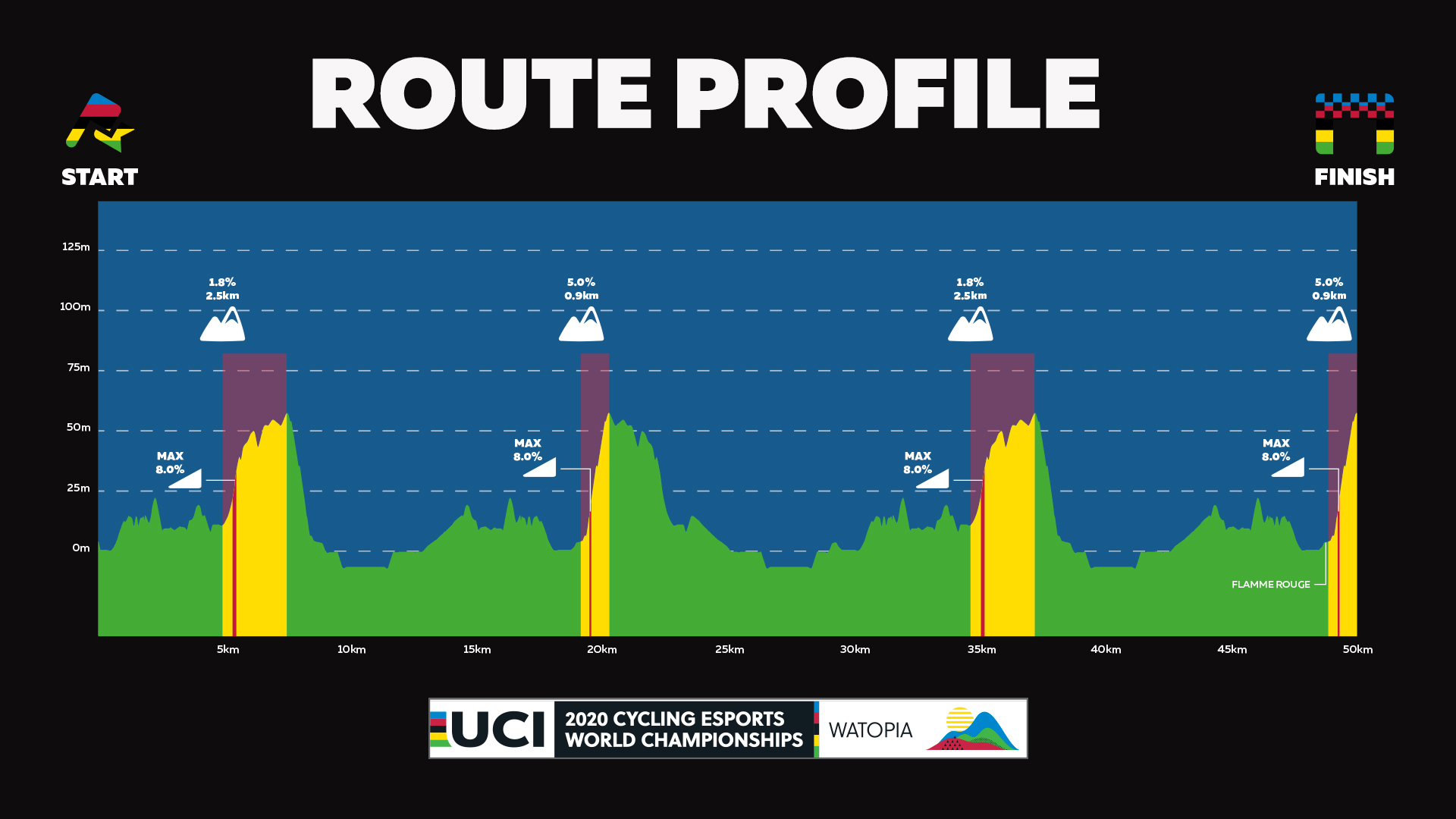 How Will It Work?
Zwift has selected the top 22 countries by Zwift subscription count (see list below). Each of these countries will have 2 events in which riders can participate. (An additional 2 events for the Rest of The World will also take place.)
For most countries, events will take place on December 5th and 6th at 11am and 6pm local time, unless of course your country spans multiple time zones. See event schedule at zwift.com/events/tag/nationschallenge
The fastest 10% and slowest 10% of times will be discounted and the average time for your country calculated. So riders should work together in their events to achieve the fastest possible times!
Results will be announced Tuesday, December 8.


Country List
The following countries will have dedicated events in this competition:
Australia
Austria
Belgium
Canada
Colombia
Denmark
France
Germany
Ireland
Italy
Japan
New Zealand
Norway
Poland
Portugal
South Africa
Spain
Sweden
Switzerland
The Netherlands
United Kingdom
United States
There will also be two events for the rest of the world, so riders who are not in one of the countries above can still participate.
Choosing Your Country
You must set your nationality in your Zwift Profile before participating in the corresponding event. Any riders racing an event not associated with their profile setting will not contribute to the results, unless it's one of the "Rest of the world" events. (Of course, your presence in the event may boost the draft effect for others – but your time will not be used in calculating the national average.)
Riders can take part in multiple events! Perhaps you are a Brit living in the USA, or a South African living in France. You can ride in two or more events – just make sure you change your profile's nationality setting before jumping into the event.
Important Rules
The following rules can be found on WTRL's Nations Challenge page:
To be included as a Country Representative in the Zwift Nations Challenge you must:

Have a fully registered ZwiftPower account (Click Here for How To)
Set your Nationality within your Zwift Profile to reflect the country you would like to represent
Enter one or both of your country's events on either the 5th or 6th December

At least 100 riders must take part per country for the time to count
The fastest 10% and slowest 10% of times will be discounted from the average time calculation
This is not a race by ability or gender. It will be a mass start and you should aim to help your fellow country men and women – the bigger the peloton the faster it moves
Riders flaunting the rules, exhibiting poor sportsmanship, or riding unrealistically will be removed from the race results and will not contribute to their country's results directly
More Info
For more information, visit WTRL's Nations Challenge page.
Questions or Comments
Share below!