The latest Zwift update is now available on all platforms: Mac, PC, Android, iOS, and AppleTV.
Not sure if your Zwift install is up-to-date? Here's how to check >
This is a smaller update than last month but it includes some welcome and much-requested changes. While it doesn't include new roads (those will come in November), it includes more new stuff than we've seen in the past several months, and that's great news.
Category Enforcement and Hardware Requirements UI
Events using category enforcement and/or hardware requirements now visibly indicate this in-game, on Zwift Companion, and on the Zwift.com website. These "rules" are indicated with a warning sign ⚠️. Here' what it looks like in the Companion app: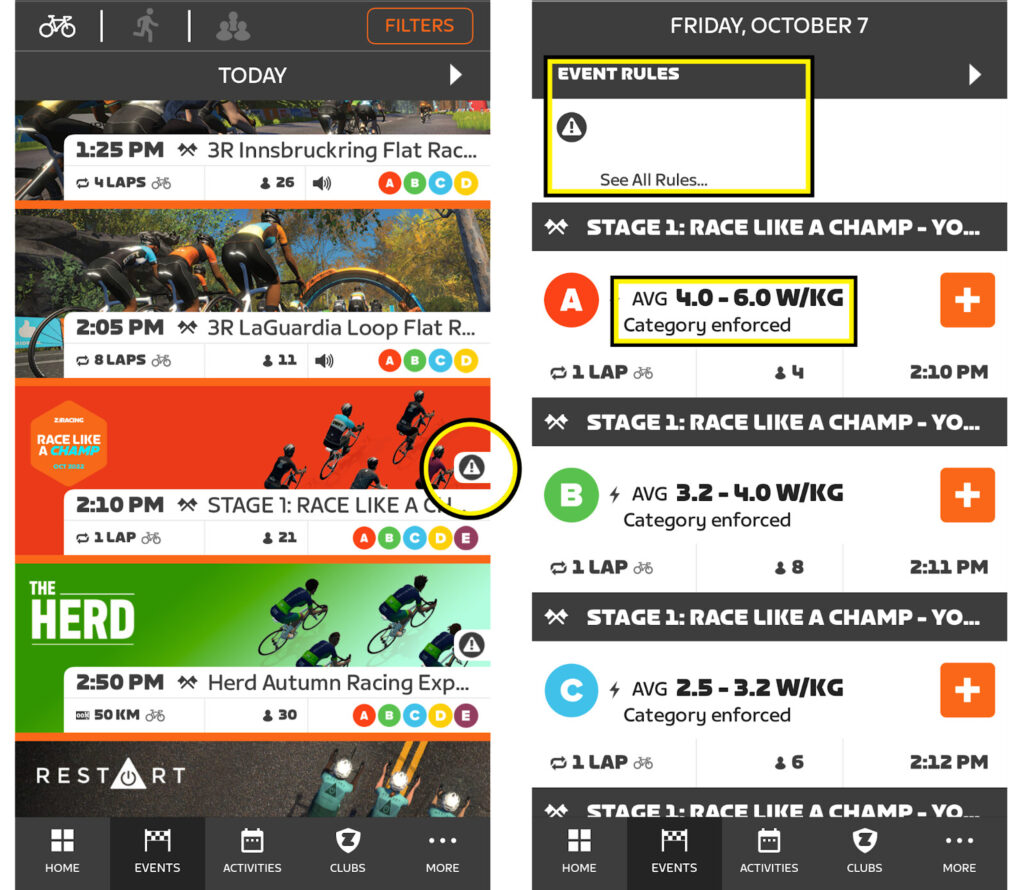 Pace Partner UI Update

Pacer Group cards on the homescreen now show average w/kg and speed values, allowing you to see the average pace the group will cruise at during the ride. This is a welcome upgrade, as the w/kg will no longer change depending on whether the group is actively ascending or descending.
Pace Partner Drops Multiplier Game Updated
The Pace Partner Drops Multiplier Game encourages riders to stick with their Pace Partner by multiplying the rate at which you accumulate Drops, as long as you stay near a Pace Partner.
In the past, the multiplier would go up to 2.5x, then revert back to 1x to start over again.
Now once you reach 2.5x, the multiplier will stay at that level as long as you stay with the Pace Partner. Time for a shopping spree!
New Innsbruck Route
New event-only route added to Innsbruck for the Continental Qualifiers for the 2023 UCI Cycling Esports World Championships. Watch for a separate post all about this route, once we've had a chance to ride it and create Strava segments for it.
Bug Fixes and Misc Improvements
Here's Zwift's list of fixes and improvements included in this update:
Improved reliability of joining a Pacer Group.
A new font family has been introduced for better functionality in-game. Areas of the game that require smaller font sizes will use a slightly different font better suited for its size.
Although we liked seeing your bunny hops and hurdles, we fixed a recent issue where small gaps in roads appeared.
Smoothed out avatar transitions between "in the drops" and "on the hoods" animations.
See notes on this update release in the Zwift forum >
Questions or Comments?
If you spotted any other changes or bugs in the update, please comment below!