The latest Zwift update is now available on PC, Mac, and Android. It will appear for iOS and AppleTV soon.
Not sure if your Zwift install is up-to-date? Here's how to check >
This update doesn't include any new roads, but it does include some welcome changes, including much more flexible training plans. Plus, two new bikes! Let's dig into the details…
New Pack Dynamics for All
Zwift has been fine-tuning some updated pack dynamics in selected events since December 2020, and this update takes those new pack dynamics live for everyone. That means free rides, workouts, events – everyone.
What does this actually mean for the in-game experience? Well, it should feel more realistic – pack shapes and your avatar's path through the pack should feel more like what you experience IRL. We tested the new pack dynamics in a group ride today, and would summarize the experience as "looking and feeling different, but we're not sure how it's different."
Here's a quick video – see what you think:
We should also experience fewer positioning-related bugs, like:
Other riders riding off the side of the road
Riders surging repeatedly to new positions on our screen
Fence-related issues where riders see messages telling them to get behind the fence, when they already are
Our sources at ZwiftHQ tell us these updated pack dynamics will help riders positions to be more consistent across everyone's screens. While riders may never be in precisely the same location on each Zwifter's screen, this update goes a long way toward improving every Zwifter's view of what's really happening.
In theory, this should improve the experience for races like TTT's, where positioning is so vital.
A note for event organizers: some have asked if there is a way to disable the new pack dynamics for their event, and the answer is no. Zwift opted to simply roll them out game-wide, to avoid the logistical nightmare of turning it on and off for select events.
Workout of the Week
In last month's update Zwift said they're working to expand and improve their workout library, and this month they delivered with a cleaned up folder structure and a new "Workout of the Week" category.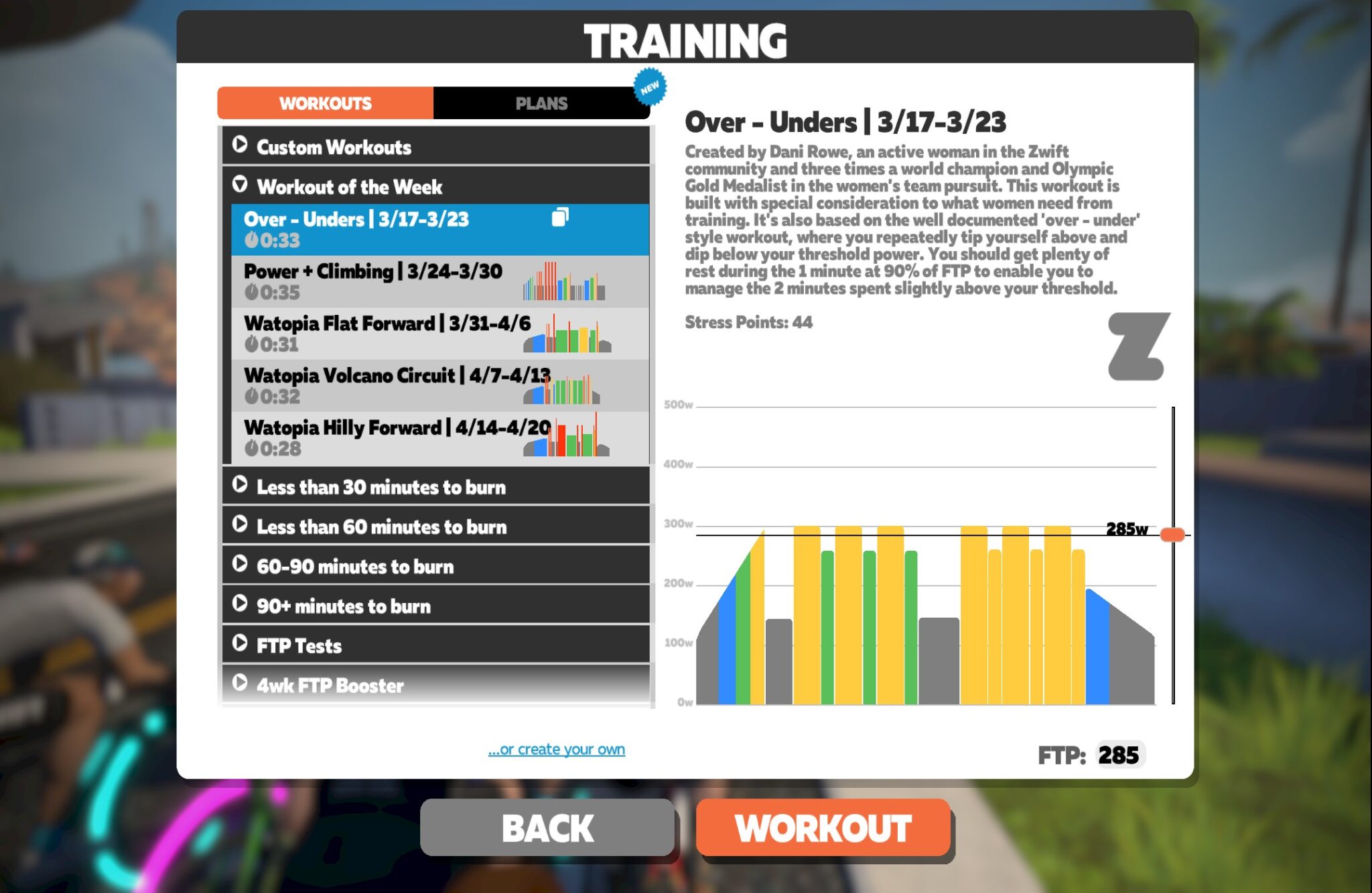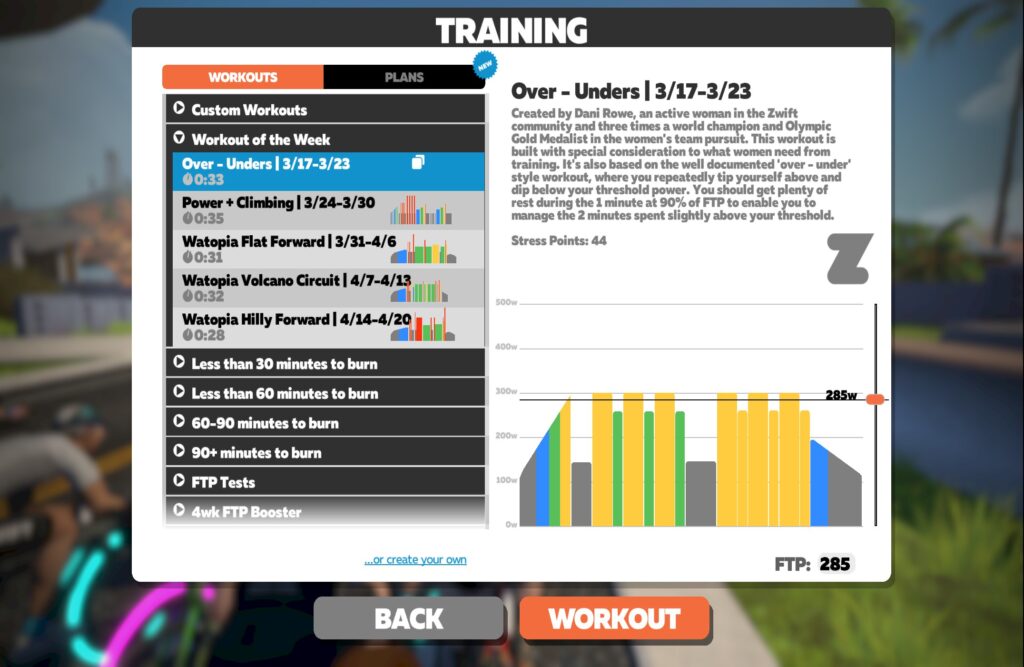 This category includes one new workout for each week of the month. Zwift's plan is to populate this folder with fresh workouts each month. Some of these may be existing workouts, but it sounds like most will be new workouts, and they'll be archived into other folders once the month is out.
More Training Plan Flexibility
Zwifters have long complained that the "flexible" Training Plans are anything but. This update includes changes that make Training Plans much more flexible in terms of scheduling.
Now, each week's list of workouts is "unlocked" starting on Monday, and available through the next Sunday. You can pick which workout you do when. The only requirement is that you wait 8 hours between workouts.
Much more flexible. Nice!
New Bike Day: Lauf and Canyon
Two new frames arrived in this update:
Canyon Speedmax CF SLX Disc TT Frame: 891,000 Drops, level 26 locked, 1 star aero, 1 star weight (that aero setting is definitely incorrect – Zwift has it on their list to fix) See performance notes
Lauf True Grit Gravel Frame: 297,500 Drops, level 11 locked, 2 stars aero, 2 stars weight See performance notes
Zwift's in-game descriptions are below:
The True Grit is a versatile gravel and endurance race horse, with nerves of carbon. Blast through gravel, sweep the singletracks, float on asphalt or open your recovery beverage of choice. At the core of True Grit is the Lauf Grit SL, with its 30mm of front suspension – the thing that changed how gravel riding is perceived, now taken to the next level.
The Speedmax CFL SLX Disc held the title King of Kona for five straight years and the bike has only gotten better. The new frame sets the standard in adjustability, integration, aerodynamics and handling so you can smash your personal bests. The Speedmax cockpit delivers the perfect symbiosis of performance and comfort. The monospacer system is aerodynamically optimized. The Speedmax fork features a special surface that shadows the brake caliper, improving aerodynamics and reducing turbulence that can be caused by the caliper.
We're speed testing both frames now, and will post separate articles with the results ASAP. But we definitely wouldn't recommend the new Canyon frame until Zwift updates it with the correct aero setting, as it's super slow right now!
UPDATE: the Canyon Speedmax CF SLX Disc was updated in Zwift's bug fix release on March 23rd. See performance notes for this frame here.
ZIPP Wheel Updates
ZIPP wheels are favorites among Zwift racers, and this update includes a facelift for almost every ZIPP wheelset in the Drop Shop. The update uses ZIPP's new logo:
The only wheelset that doesn't have a new look is the rainbow 858/Super9 – the fastest wheelset in Zwift.
Bug Fixes/Improvements
This release also includes a pile of minor fixes… here's the list from the release notes, with a few comments where appropriate:
Numerous cycling and running assets (kits, shirts, etc.) have been added or updated.
Updated the game client to include all of the country flags currently available in Zwift Companion. Additional flags will be available in the future.
Memory optimizations for both race results views and workout loading.
Fixed a bug in group workouts where riders would surge forward erratically.
Fixed a bug that would cause a user to miss their event or meetup if they signed up for the event then started their ride quickly after.
Fixed a bug where screenshots taken with the F10 key would not get uploaded to the activity feed or connected 3rd party services. This is a long-standing bug… we sure hope it's fixed for good!
Fixed a bug where running shoe color changes are not being saved when exiting the app.
Fixed a bug where the name shown in the leaderboard UI does not match the actual user who is at the top of the leaderboard for the segment being completed.
Fixed a bug that caused the Quit Meetup button to appear when it should not.
Fixed a bug where the game and Wattbike devices were not in sync when paired over Bluetooth.
Fixed a bug that caused the cadence target for a workout to appear incorrectly in Zwift Companion.
Fixed a bug that caused special characters used in chat to not appear correctly in Zwift Companion.
Fixed a bug where awarded badges were not being properly saved to the Zwifter's profile.
Fixed a bug that would cause chat from leaders and sweepers to not appear for some users. This has been a big complaint in the last month or two – I'm sure Ride Leaders are happy to see it's fixed!
We also noticed a new "Exit" button on the start/join screen.
See/discuss release notes on Zwift's forum >
If you spotted any other changes in today's update, please comment below!