We hadn't seen any changes to the meetups feature since it rolled out as part of the Zwift Companion 3.0 update back in December 2018, but yesterday an update arrived in iOS which included this note:
New Meetup feature! There is now an option available for cycling meetups that will keep everyone in the meetup together when you ride.
So we got to work testing the new "Keep Everyone Together" option. Here's how it works…
Setting Up the Meetup
Meetups can only be created via Zwift Companion. The "Keep Everyone Together" option is available under "Customize Your Meetup" on the meetup creation screen. It is turned off by default.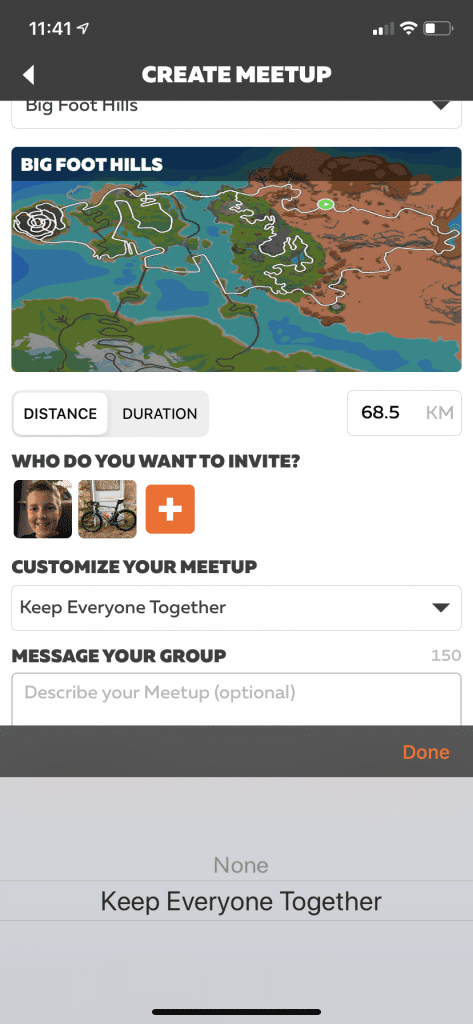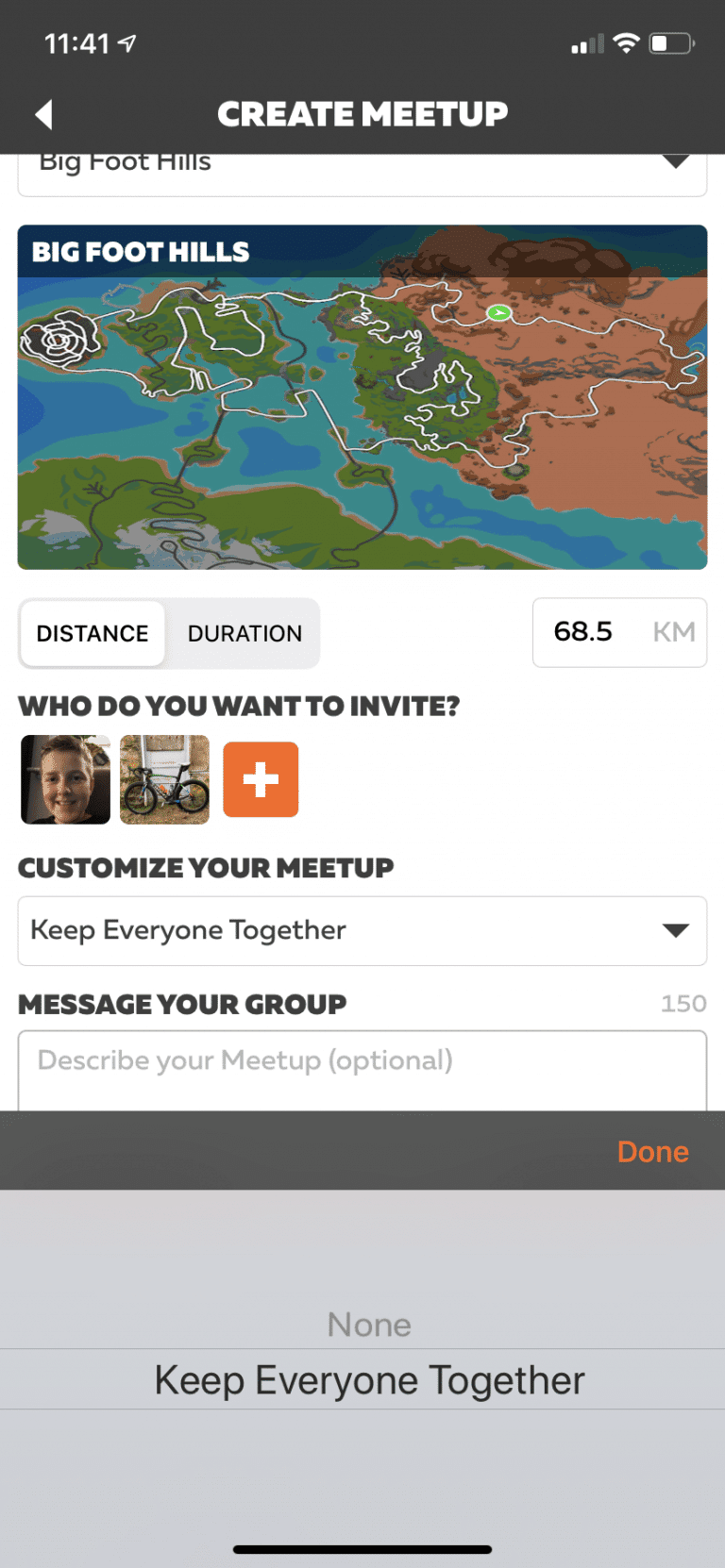 The description of the "Keep Everyone Together" feature which is added to your meetup clearly states how it works:
Everyone stays together in this virtual no-drop ride regardless of power output. You'll be able to draft and move around in the group without fear of being dropped unless you stop pedaling.
Seems clear enough. How does it work in practice?
Testing the New Feature
Our test meetup featured just two riders. We kept them on flat ground in order to answer the main question in our minds: how fast will the group travel?
This was our big question because the only other "keep everyone together" group rides are group workouts, and those groups travel unrealistically slow. We were hoping Zwift had kept speeds more realistic for the Meetup option.
When the Meetup begins, a message indicates "Grouping Enabled. You'll stick together!"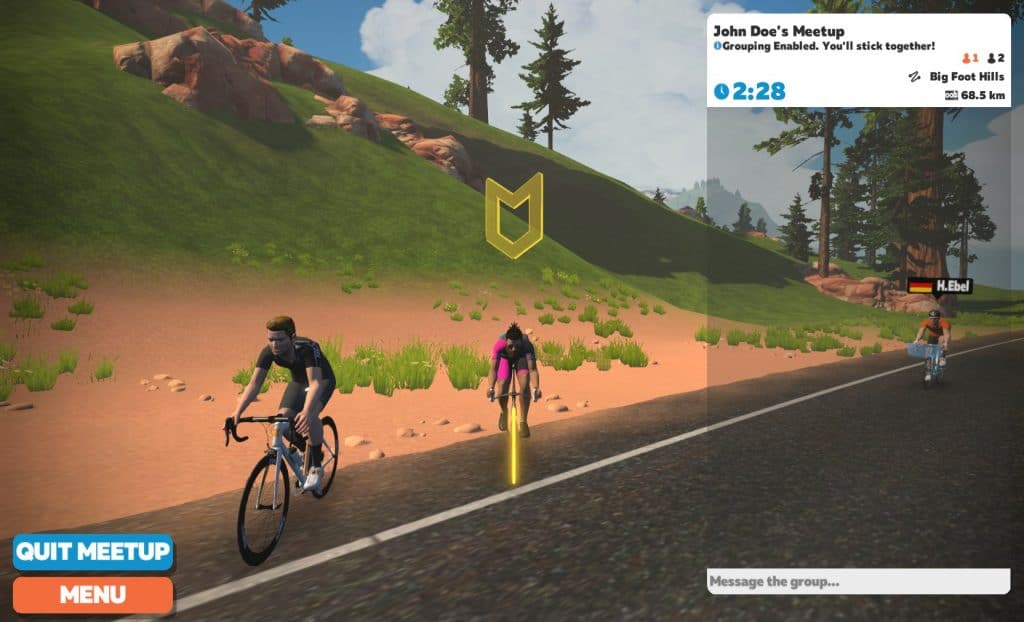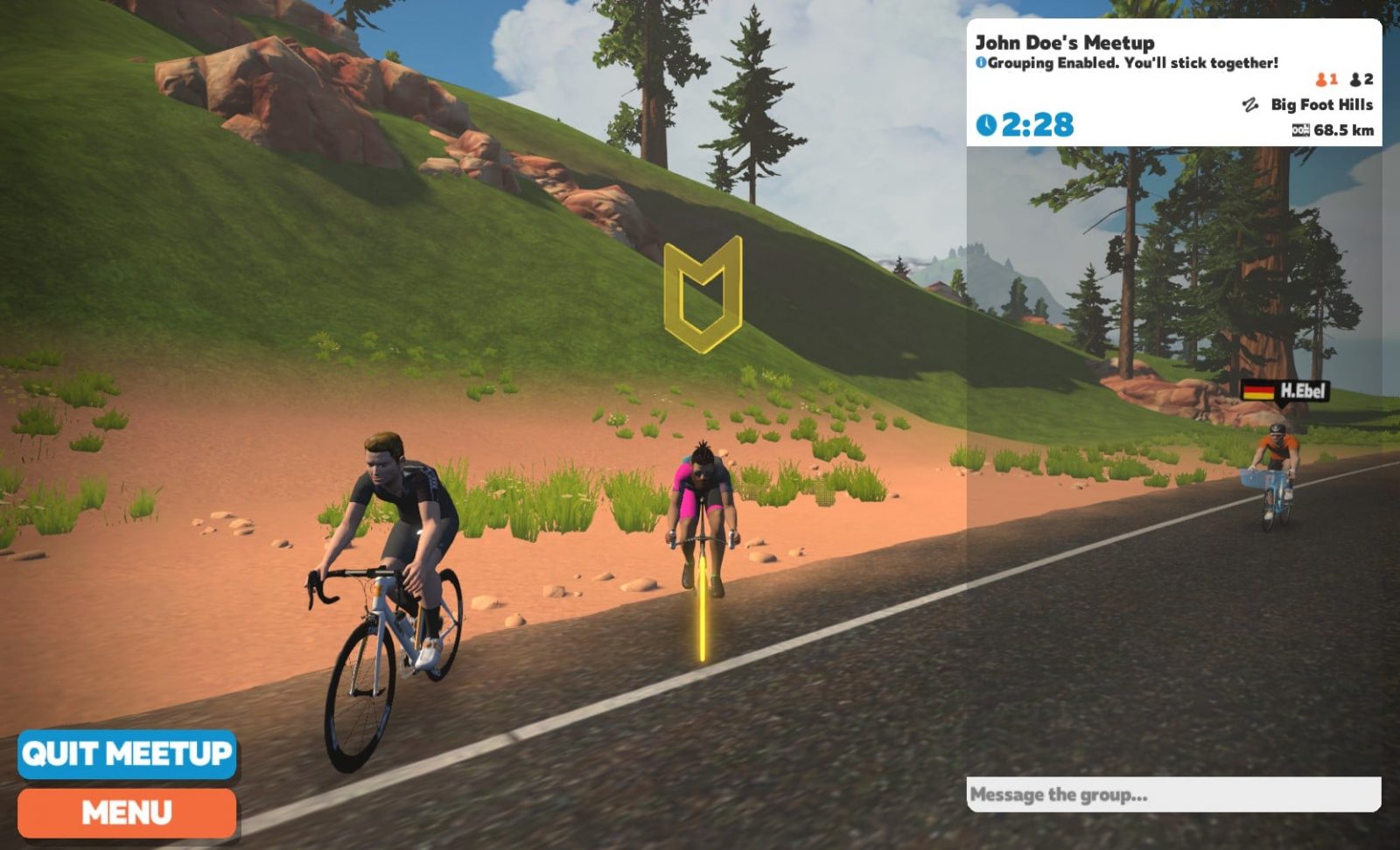 Here we have one rider at ~400 watts, and the other rider at ~200 watts. We stayed together! Never more than a 1-second gap.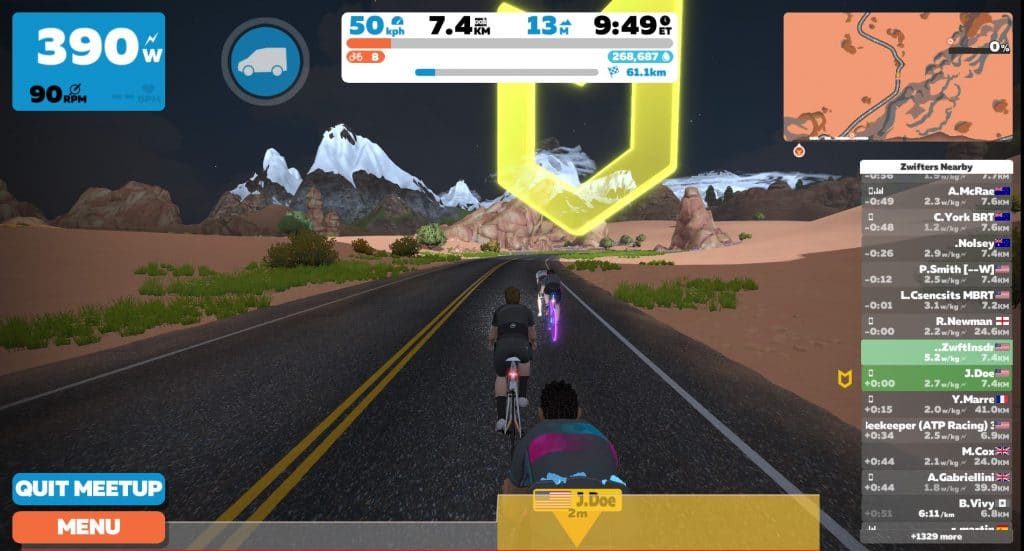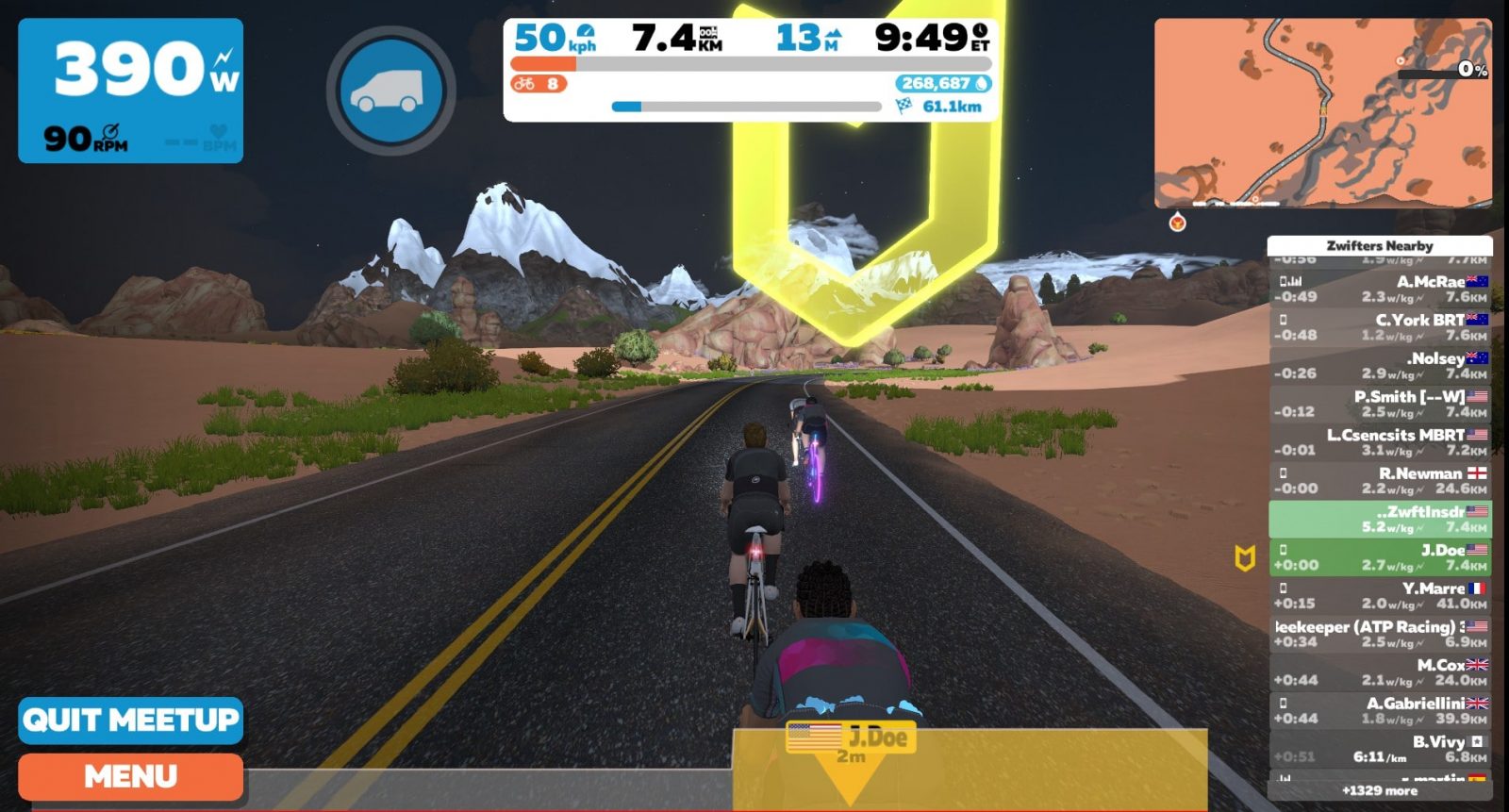 Trying to sprint and break up the group didn't work, either.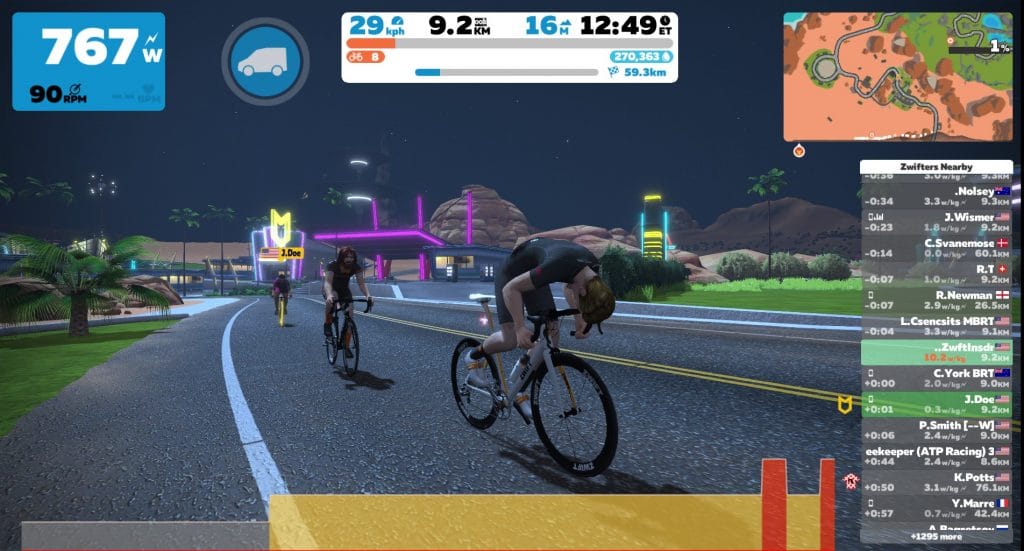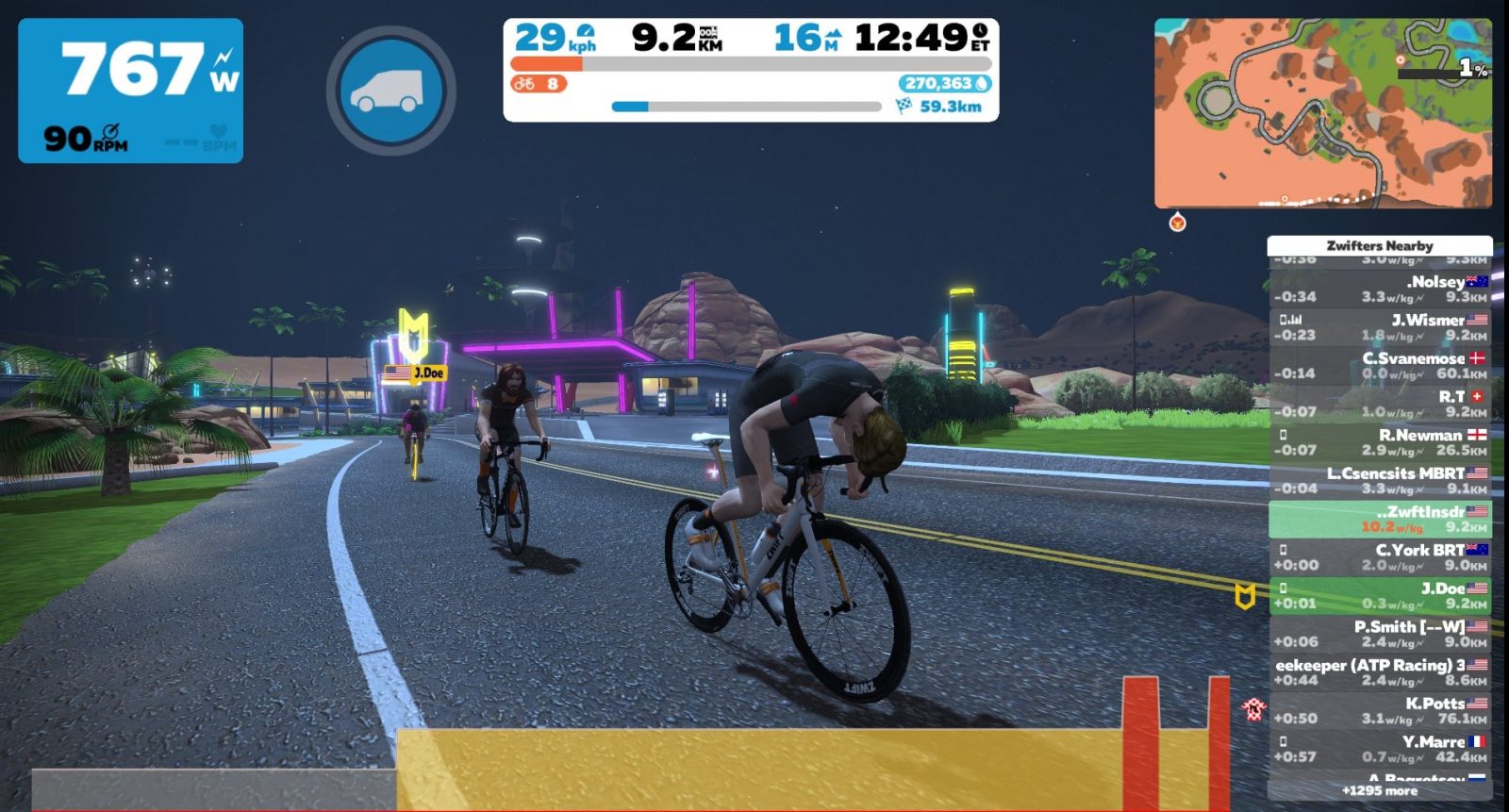 We did what we could to split up the group, but it couldn't be done. So that feature definitely works.
But what about the group speed?
Here are some of the speeds we saw with our two-rider test:
45kph when both riders held ~200 watts
55kph when both riders held ~400 watts
50kph with one rider at ~200 watts and the other at ~400 watts
30kph with one rider at ~20 watts and the other at ~400 watts
Compare these speeds to a simple test we ran outside of the meetup:
40kph when both riders held ~200 watts
47kph when both riders held ~400 watts
Interesting. So Meetup riders are actually faster with the "Keep Everyone Together" option, at least in our simple tests.
We did note one small glitch in our test Meetup: the distance meter at the top-middle kept flashing in and out. Reported to Zwift support!
Note: Zwift slowed these meetup speeds in a subsequent update, so the numbers above no longer apply.
A Useful Feature?
So the feature works, even if speeds are a bit wonky. Will zwifters use it? I think so, for those "no-drop" rides where riders of varying abilities want to ride together.
The new feature lets stronger riders push hard if they'd like, without dropping weaker riders. It's a simple, seamless way to make this happen, and a perfect example of how indoor riding can actually improve upon the outdoor experience. We've all been on the group ride where a very weak or strong rider keeps messing up the group mojo–but this feature negates that!
And it works without slowing the group speed to a crawl, which can be a real annoyance to stronger riders in a group.
What's Next?
What other improvements are coming to meetups? We know Team/Club functionality is coming soon to Zwift, and perhaps that will include some of the features we'd like to see in Meetups. But still, we've got a list of Meetup Features we'd would love to see, including:
Hiding all non-meetup riders (makes it much easier to track participants in impromptu races or group rides)
Race leaderboards
Invite more than just those who follow you
Group workout capabilities
Choose any Zwift route on any course, not just Watopia + the scheduled guest course
Allow late join
Audio chat
Your Thoughts
Is this a useful feature for you? What additional Meetup features would you like to see?