Zwift just shared "This Season On Zwift" – a roadmap of upcoming features releasing before the year ends. One item on the list that grabbed my attention shared planned Climb Portal changes… and some Portal usage stats.
Let's dig into what's coming this fall to the Climb Portal!
Climb Portal Stats
Zwift opened the Climb Portal in July, and since then one in five Zwifters have tackled at least one of the Portal's gamified versions of real-world climbs. 88% of Zwifters who started a climb made it to the summit, and that's no small thing considering the list of available climbs includes challenging summits like Col du Tourmalet (17.2km, 1213m) and Col d'Aspin (13.5km, 807m).
Scaling Your Difficulty
Starting this fall, Zwifters will be able to scale the difficulty of the Portal climbs they're tackling. When entering the Climb Portal, Zwifters will be offered the choice to tackle a realistic replica of the climb, as they do today, or scale the climb to 75% or 50% of the original's elevation.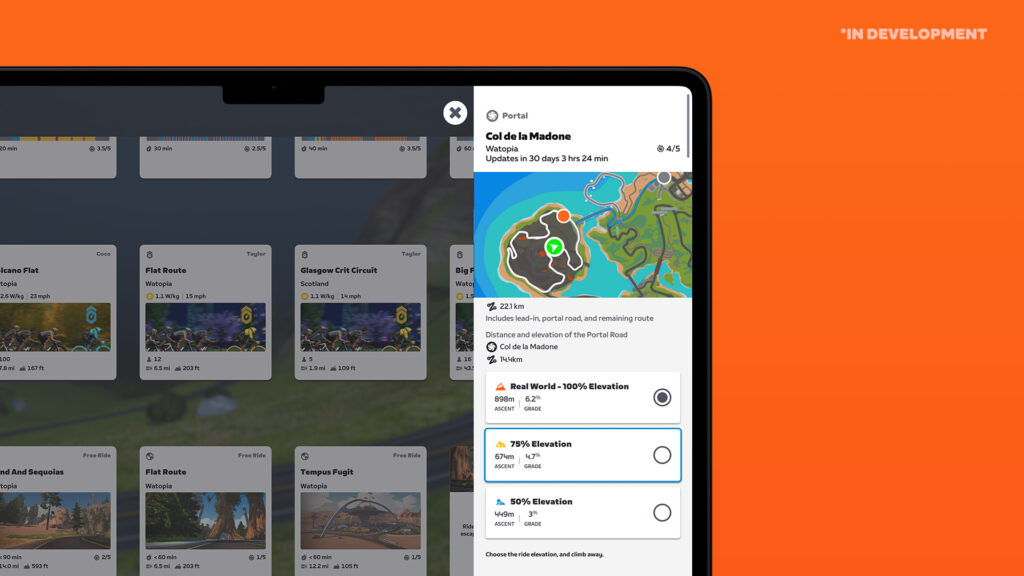 This scaling is different from Zwift's "Trainer Difficulty" setting, which changes how much resistance your trainer delivers while still requiring you to do the same amount of work to complete the climb. With Climb Portal scaling you're actually changing the pitches of in-game roads, meaning you'll complete the climb much faster at 50% than at 100%.
Here's a visual example using real elevation data from Col du Platzerwasel: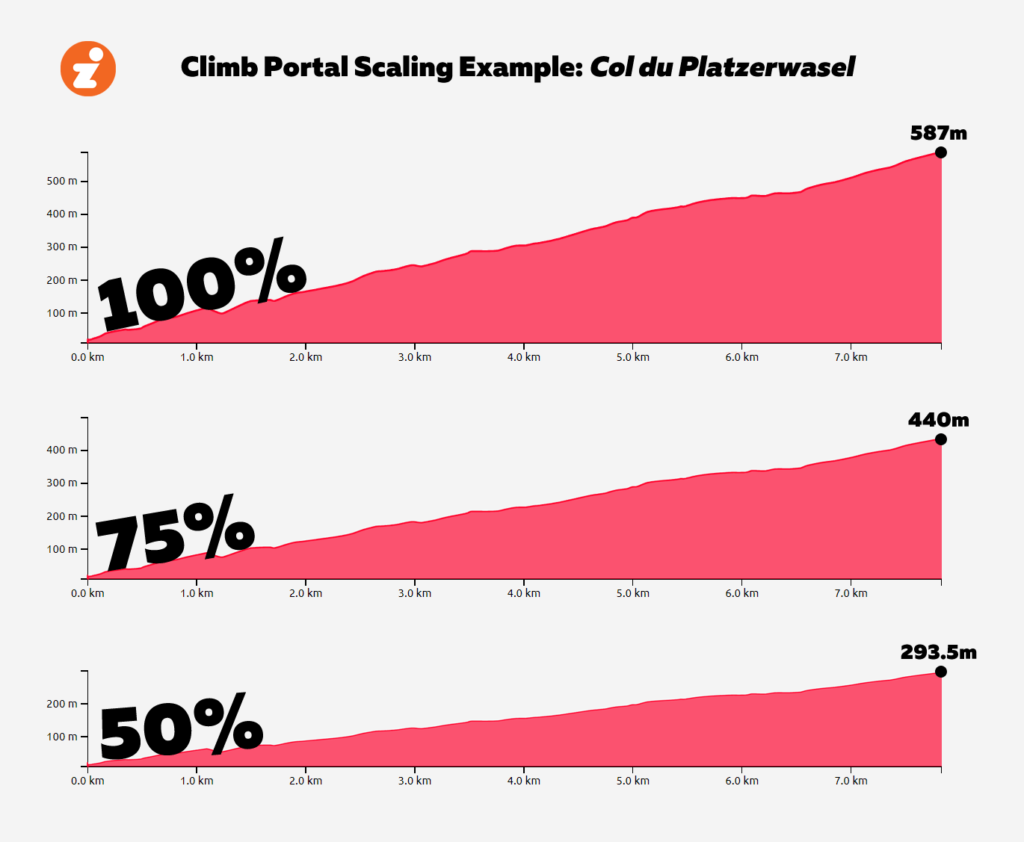 The beauty of climb scaling is it gives riders more flexibility. Want to tackle a climb you haven't ridden yet, but don't have the time or fitness to complete it at 100%? Scale it down and Ride On!
So Many Questions
The Portal scaling idea is an interesting one for sure, but it raises some questions:
How will this work on Strava? Currently, Strava would see everyone as having finished the same segment, whether they rode it at 100%, 75%, or 50%. Everyone would be on the same leaderboard, and even your own multiple efforts wouldn't be separated in an obvious way.
Zwift tells me they're working with Strava to separate the leaderboards, but given my past interactions with Strava I'm not bullish that will be done. Zwift may need to implement a different solution, like "rotating" the 75% and 50% versions of the climbs so their segments are seen separately from the others. Here's an ugly illustration of what that might look like:

Who will you see on the climbs? Zwift has preserved the social feel of the app in the Portal by having all riders visible on the climb, whether they entered from the France of Watopia portal. It's like magic!
Zwift tells me you'll still see all riders on the climb, whether they're riding a scaled-down version or not. An indicator on screen will show which version each rider is on.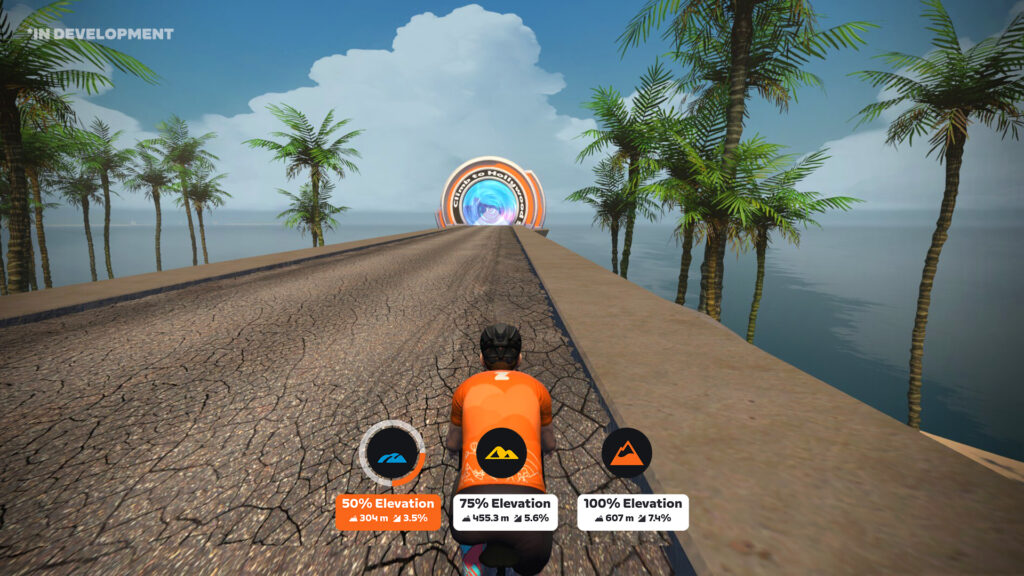 What about the in-game leaderboards? Will they only show riders who have completed the 100% version? Or just the version you're on? The latter would seem to make the most sense.
Can you still unlock the Portal badges on scaled-down climbs? Zwift added achievement badges for completing 1, 10, and 25 Portal climbs. Will you be able to earn those badges when climbing scaled-down versions? I bet the answer is "yes," but we'll have to wait and see.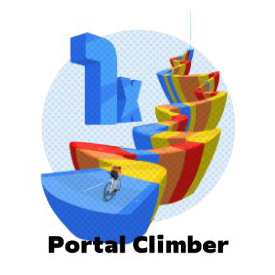 Portal Schedule Changes
After a brief launch period where we could choose to ride any of the initial 8 Portal climbs, Zwift locked the climbs into a schedule where only one climb is available on any given day, and each climb is featured for approximately 1-2 weeks (see Climb Portal schedule).
This was done largely to ensure each climb has enough riders to keep it feeling "social." But many Zwifters have asked for access to more climbs! It's hard to blame them. It's frustrating knowing Zwift has a pile of epic climbs in the library, but you're only allowed to ride one.
Zwift says starting October 2 there will now be two climbs live at the same time. Digging a bit deeper, they tell me there will be a "climb of the month" available via both France and Watopia with some sort of leaderboard where Zwifters can compete for the fastest time. The second climb will rotate on a much shorter schedule, and only be available via Watopia's Climb Portal.
Climb Portal scheduling is far from written in stone, of course. This is just the next iteration, but I'm sure Zwift will continue to listen for feedback and tweak things as time passes.
Digging Deeper – Climb of the Month
The "climb of the month" concept is a fun one with real potential to motivate more people to do more climbing, more often.
A quality leaderboard setup will be important. The climb of the month leaderboards should be available outside of the game (in Companion and/or on the web) and will have to include lots of filtering options (climb scale factor, gender, age, date range, hide virtual power users, etc).
I'll never top the leaderboard on a big climb, but if I could see how I stack up against other dudes in their mid-40s who are using actual smart trainers, I would do that… and maybe do it more than once if I was feeling extra competitive!
When Can We Ride It?
Zwift says the schedule changes will begin October 2. As for the scaling changes, Zwift has only promised "this fall."
Share Your Thoughts
What do you think of Zwift's plans to scale the Portal climbs? How about their schedule changes? Share your thoughts below!