Last week's Tiny Races on the new Urukazi map were a lot of (Type II) fun, so we're returning to Urukazi for another go. One of this week's routes is a repeat from last week (because it was such a crazy finish!), while the other three are fresh Tiny Races. With many riders unfamiliar with Urukazi rides, those who do a bit of recon may be rewarded!
Here's my video from last week. Although my results were decidedly unremarkable, if you missed racing last weekend you may want to check out race 2 on Mech Isle Loop, where the gravel bikes (and strong roadies) created a big split that stayed away to the finish. And check out the finish of race 3 on Island Outskirts, which was crazy thanks to a descent and lots of anvils!
Last Week's Results
Overall Winners
A: Maciek M (ZTPL.CC eRT)
B: Joachim Kjældgaard (EDDK)
C: Paul Smith (ART)
D: Jonathan Rigby
A: Simon R (Skylab)
B: Magnus Wiklund (eSRT)
C: Daniel Lundberg (eSRT)
D: Jon Sparkes (EVO)
A: Kevin Bouchard-Hall (Velocio)
B: Scott Mossop (eSRT)
C: BroFessor (SISU)
D: Jonathan Chambers (SMCC)
Women's Winners
A: none
B: Sandrine Etienne (FFZ)
C: Christa Thoma (AVC)
D: Lesley Unwin (Rave)
A: Laurence Mottas
B: Anja Buckley (KC)
C: Gabriela Fajardo (GXY)
D: Emily Brown (BMTR)
A: none
B: none
C: Sonia Foote (ATP Racing)
D: Alex Dutchie Klever (QB)
This Week's Routes: More Urukazi!
Like last week, all four races this Saturday will be held on Urukazi routes. We're repeating one of last week's routes, but the other three are fresh routes we haven't featured before! Here are finish line shots for your reference: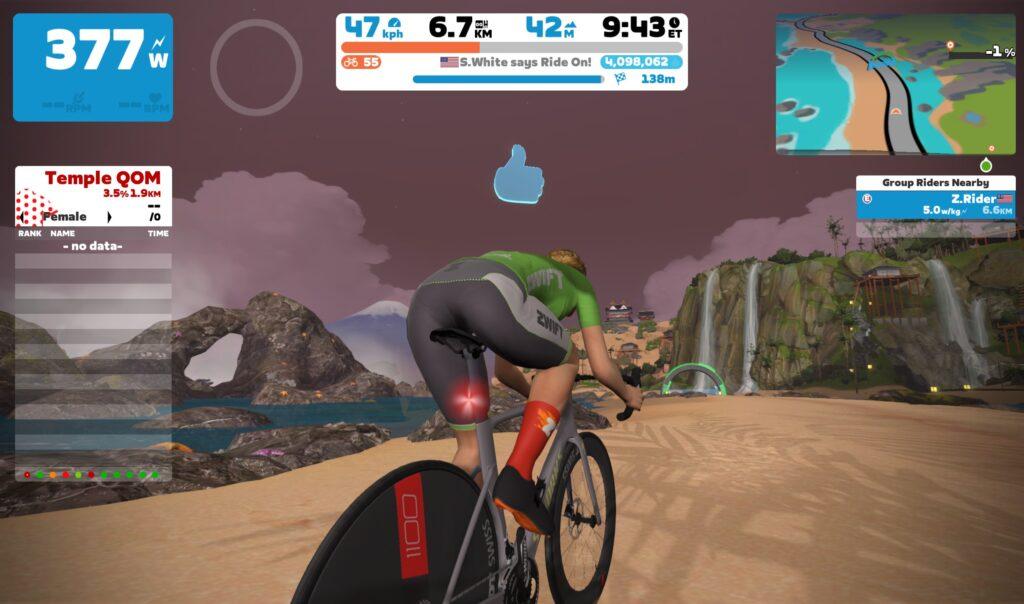 Sign up at zwift.com/events/tag/tinyraces
ZwiftPower Results
Zwift displays preliminary race results in game when you cross the line, but points are computed after all four races are finished, with final results on ZwiftPower. (We have to do some data processing on our side to compute results, so if your rankings don't show up right away, be patient.)
Riders will earn points based on finish position in each of the 4 Tiny Races. The category winner of each week's series is the rider with the most points across their timezone's 4 races. Here are the links for each timezone's results on ZwiftPower:
Rules
Tiny Race rules are simple. Four races, four rules:
You must have a ZwiftPower account, because final results are processed by ZwiftPower (learn how to sign up)
No skipping then returning. These races are meant to be raced as a set of 4. If you need to leave early, that's fine… but once you miss a race in your hour's set of 4, don't come back and race another or you'll be disqualified from that race since you rested while others were racing! (Example: racing only races 1 and 2 is fine. Racing 1, 2, and 4 is not.)
Heart rate monitors are required for podium finishers
ZPower/Virtual power is not allowed. Smart trainer/smart bike or power meter required.
Join a Chat & Chill Cooldown
Immediately following each hour's racing, we've scheduled 30-minute "Chat & Chill" events where riders from all categories can spin out their legs together and have some fun chatting about how it all went down. Find them at zwift.com/events/tag/tinyraces.
Questions or Comments
Post below!