This week's Tiny Races are planned for the new Urukazi map on Zwift's Makuri Islands world. It's going to get a little wild as we race unfamiliar roads. Those who do a bit of recon may be rewarded!
But let's look at last Saturday's results first…
Last Week's Results
Overall Winners
A: Joakim Lisson (POAuto)
B: John BOLES (WMZ)
C: Gary Cordery (COALITION)
D: Rune Thyboe
A: B B (iSetta)
B: sven svensson (Team 30k)
C: Michael Forsman (V)
D: Mauri Larikka
A: Patrik Stepanek (DIRT)
B: Alex Side (Restart)
C: Steve Schilling (CRYO-GEN)
D: Paul W Denison (HERD)
Women's Winners
A: Åsa Fast-Berglund (SZ)
B: Anna Svärdström (SZ)
C: Nana Thanapat (WPJR)
D: Y W
A: Alice Lethbridge (S4W)
B: Jenny Ek (CRYO-GEN)
C: Ramona Simona Moldovan
D: Dani Khoo
A: Mairen Lawson (Twenty24)
B: Kirsty Sheehan (MDSCoach)
C: Jess Ruthe
D: Jadene White
This Week's Routes: Introducing Urukazi!
All four races this Saturday will be held on new routes in Zwift's new Urukazi map! Here are shots of some of the finish lines, so you know what to expect: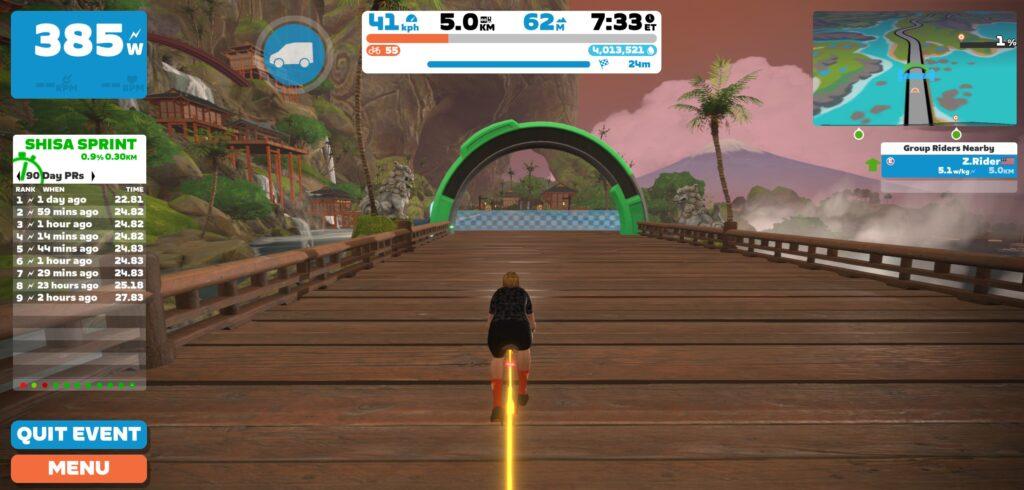 Sign up at zwift.com/events/tag/tinyraces
ZwiftPower Results
Zwift displays preliminary race results in game when you cross the line, but points are computed after all four races are finished, with final results on ZwiftPower. (We have to do some data processing on our side to compute results, so if your rankings don't show up right away, just be patient.)
Riders will earn points based on finish position in each of the 4 Tiny Races. The category winner of each week's series is the rider with the most points across their timezone's 4 races. Here are the links for each timezone's results on ZwiftPower:
Rules
Tiny Race rules are simple. Four races, four rules:
You must have a ZwiftPower account, because final results are processed by ZwiftPower (learn how to sign up)
No skipping then returning. These races are meant to be raced as a set of 4. If you need to leave early, that's fine… but once you miss a race in your hour's set of 4, don't come back and race another or you'll be disqualified from that race since you rested while others were racing! (Example: racing only races 1 and 2 is fine. Racing 1, 2, and 4 is not.)
Heart rate monitors are required for podium finishers
ZPower/Virtual power is not allowed. Smart trainer/smart bike or power meter required.
Join a Chat & Chill Cooldown
Immediately following each hour's racing, we've scheduled 30-minute "Chat & Chill" events where riders from all categories can spin out their legs together and have some fun chatting about how it all went down. Find them at zwift.com/events/tag/tinyraces.
Questions or Comments
Post below!