People have tried back-to-back racing series on Zwift before. Aussie Crit Crushers was one fun example, running two crit-style races back to back with a loose points competition across the series. Eric was not to be outdone, though, scheduling four races within an hour. Despite having to choose between a midnight or 6am race slot (an easy choice for this night owl), I wasn't going to miss it.
Training, Performance & Recovery
It was a quality training session that hit just about everything you need to be a good Zwift racer – fast starts, energy conservation wherever possible, repeated efforts (especially important for Zwift Racing League and similar events with intermediate sprints and KOMs), good powerup use, bunch positioning, and of course a strong finishing kick. The ability to stack a series of high-ranking races for those looking to sharpen up their ZwiftPower ranking was an added bonus, and with the event attracting some quality fields it proved lucrative (4 of my 5 'scoring' races towards my ranking now come from this series, despite one of them being a 14th-placed finish!)
I learnt a few things about myself, too, in pushing as hard as these events demanded. After doing my first recovery period on the bike, with some low-resistance spinning in the pen, I opted for some more overall body movement and stretching with an off-the-bike recovery after races two and three. This was partly motivated by a sudden desire to be very close to the floor after my second all-out sprint effort (on the back of my second hard five-minute effort) in the space of about 20 minutes.
I found the off-the-bike sessions vastly more effective. I felt noticeably better in race three than race two, and delivered my best power numbers for the night, a feat which seemed implausible if not physically impossible. Physiology is a strange beast, though, especially combined with the dark science of sports psychology and motivation.
By race four, though, I was feeling worse for wear, only dragging myself back onto the bike for the sake of the overall points competition.

The availability of a 'green jersey' style of points competition on ZwiftPower was an appealing part of the event. With a points structure that extended well down the placings, but with a healthy premium for wins and podiums, it provided plenty of motivation, and I clearly wasn't the only one with eyes on that prize.
I certainly wasn't trying to do the math live, but in the end myself, DIRT's Paul Robertson, ZSUN's Clayton Payne, and ATP's Steve D'Alessandro staged an epic battle for the overall points crown that all came down to those final few hundred metres in the Volcano: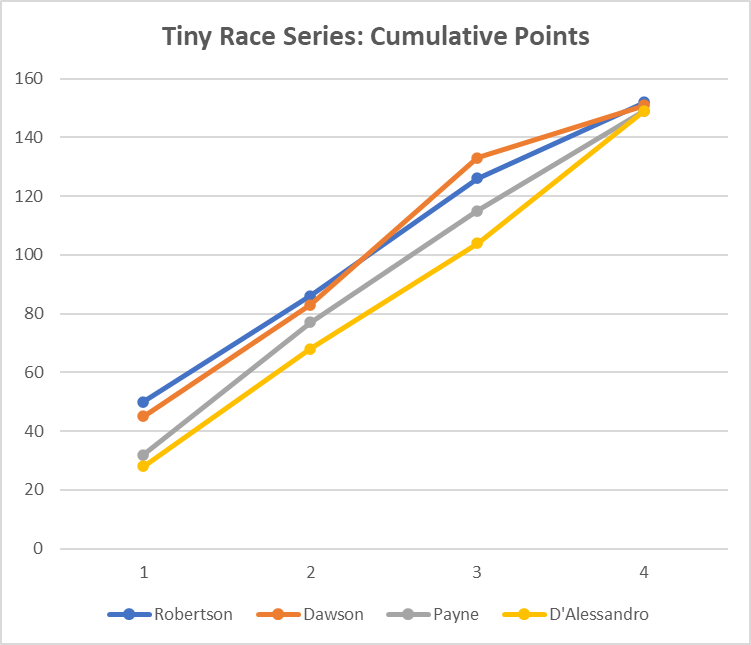 Robertson would come out victorious, with 10th in the final race enough to get him to 152 points, ahead of me on 151, with Payne and D'Alessandro on 149. I had paid dearly for a strategic error in the finale, holding onto my feather in the hopes of using it late to reel in positions. The margins involved here were incredibly thin. In race 1, Robertson pipped me by 0.034s on the line in Neokyo. D'Alessandro kept me off the podium in Crit City by 0.022s. Either result going the other way would have gained me the overall win.
These weren't even close to the hardest luck story of the night, though. In the Volcano, D'Alessandro and a Japanese rider (Noheyo Monio) actually dead-heated to the thousandth of a second. ZwiftPower awarded the win to Monio, depriving D'Allesandro of 5 points that would have won him the series.
Next Week
Eric's back with yet more torture. Read all about it in his week 2 preview article, and sign up for the races at zwift.com/events/tag/tinyraces.