Our newest Rebel Route was suggested by Zwifter Gene Kruger, who rides a slightly modified version of this route. Gene named this "Three Little Sisters" in homage to Zwift's official "Three Sisters" route which takes us over the Hilly, Volcano, and Epic KOMs.
Three Little Sisters, in contrast, takes us over the Hilly, Titans Grove, and Volcano KOMs – in that order. Each new climb is longer than the one before, and we took the shortest possible route to get from climb to climb.
Here's an animation of this route: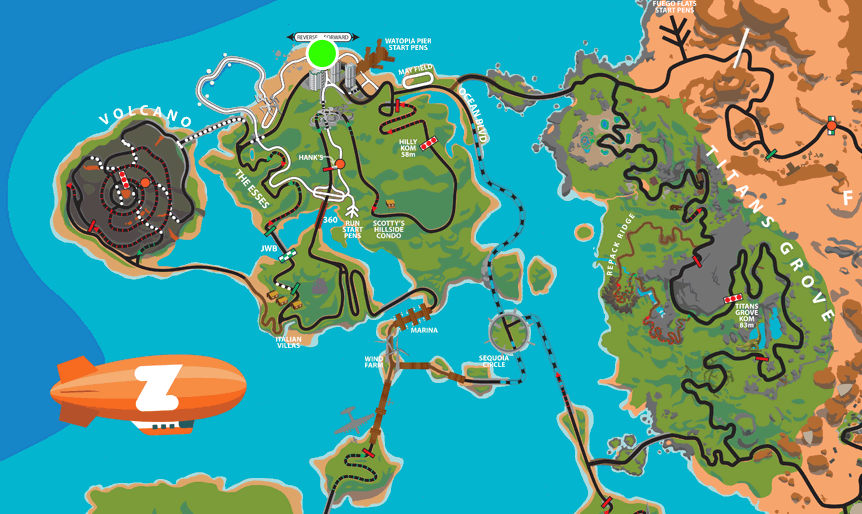 The Hour Challenge
The length and difficulty of this route make it perfect for a "1-hour challenge." Who can complete this route in under an hour? Let's see what you've got!
About Rebel Routes
"Rebel Routes" are Zwift rides which are not available on Zwift's routes list, thus requiring manual navigation.
The reward for your rebel ride? Exploring a new route, knowing you've gone where few Zwifters have gone before. And a Strava segment rank in the tens or hundreds instead of the thousands! They are included as a separate category on our Veloviewer Route Hunter leaderboard.
Route Description
This medium-length route begins at the downtown Watopia start/finish banner. Pick the Hilly Route from the route picker and the game will start you out at the right place.
You'll quickly hit the first climb of the ride – the very first timed KOM to exist on Watopia! The Hilly KOM is the steepest climb on today's route, but also the shortest. Hit it hard to finish in a couple of minutes, or take it easy. The choice is yours!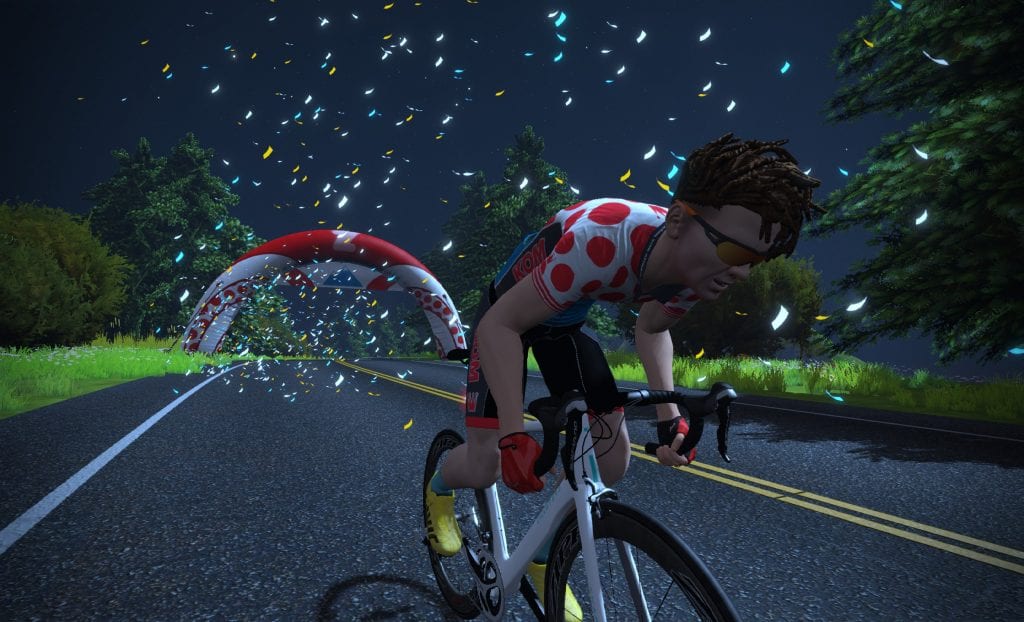 After the first climb you'll descend down through the statues and past Hank's Gas Station, then turn left onto Ocean Boulevard. A right turn at Sequoia Circle takes us toward the Epic KOM, but don't worry – we're not tackling that climb today! Instead, we'll turn left toward the desert and Titans Grove, then another left to get into the Grove.
Up the road a bit (just past the dinosaurs) is the start of our second KOM of the day. The Titans Grove KOM is really two sections of climbing with a small downhill in between. It's not a steep climb, but it's long enough to hurt if you're trying to grab that KOM jersey!
Once you crest the Titans Grove KOM you'll ride the rollercoaster roads down and out of Titans Grove then turn left to head back to Ocean Boulevard and downtown Watopia. Head through Watopia to the Volcano, riding around the mountain's north side to the entrance of the Volcano KOM – our third and final climb of the day.
This is our longest climb. It's not particularly steep, so use the draft of other riders for a little added advantage if you're trying to make good time.
Finish the Volcano climb with a hard final kick, then circle around the top and descend back to sea level. Finish the Volcano Circuit CCW and head back to downtown Watopia where the route ends at the start/finish banner. Well done!
Profile
The KOM banners on this course come at the 2km, 15km, and 30km markers. Each climb is bigger than the one previous.

Turn by Turn
Here are the turns you'll need to make to successfully complete Three Little Sisters. Start by choosing the Hilly Route.
Straight (Right) to KOM
Left to Sequoia Circle
Straight (Left) to Sequoia Circle
Right to Epic KOM
Left to Desert Flats
Left to Titans Grove
Left to Ocean Boulevard
Right to Downtown
Right to Downtown
Right to Volcano Circuit
Right to Volcano Circuit CCW
Straight (Left) to Volcano KOM
Straight (Left) to Volcano Circuit CCW
Left to Volcano Circuit CCW
Right to Downtown
Left to Downtown
Route details:
Distance: 37.7km (23.4 miles)
Elevation Gain: 401m (1316′)
Strava Segment
Rebel Route Suggestions
Got an idea for a great rebel route? Share it below and maybe we'll publish a post about it!