The latest Zwift update is now available on all platforms: Mac, PC, Android, iOS, and AppleTV.
Not sure if your Zwift install is up-to-date? Here's how to check >
This update includes new routes and badges, frames and wheels, some significant training plan/workout changes, and of course a pile of bug fixes. Here are the details…
New Frames and Wheels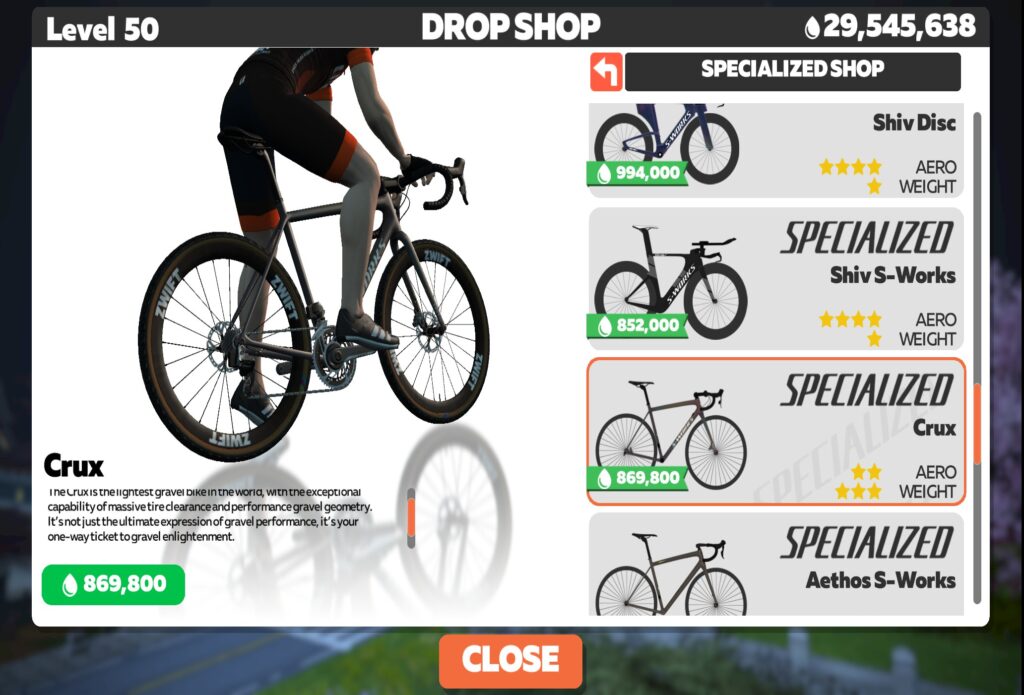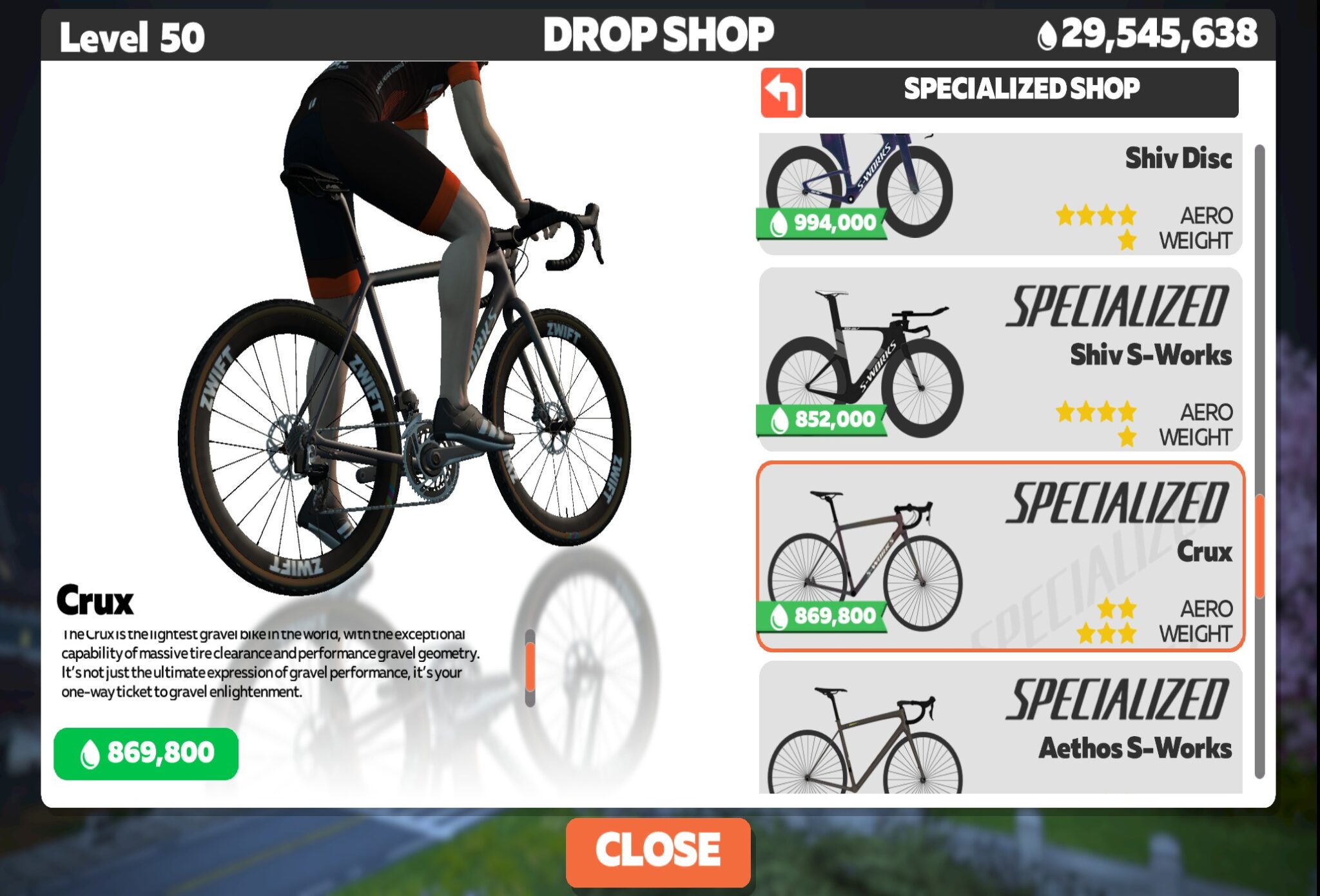 Two new bike frames have been added to the Drop Shop:
Specialized Crux (Level 17+, 869,800 Drops): 2 stars for aero, 3 for weight
Trek Speed Concept SLR 9 (Level 32+, 958,500 Drops): 4 stars for aero, 1 for weight
The Crux looks like it may be the lightest gravel bike in game, which will make things interesting when racing in places like the Makuri Islands Temple KOM and Watopia's Jungle Circuit. We'll run tests and publish results ASAP.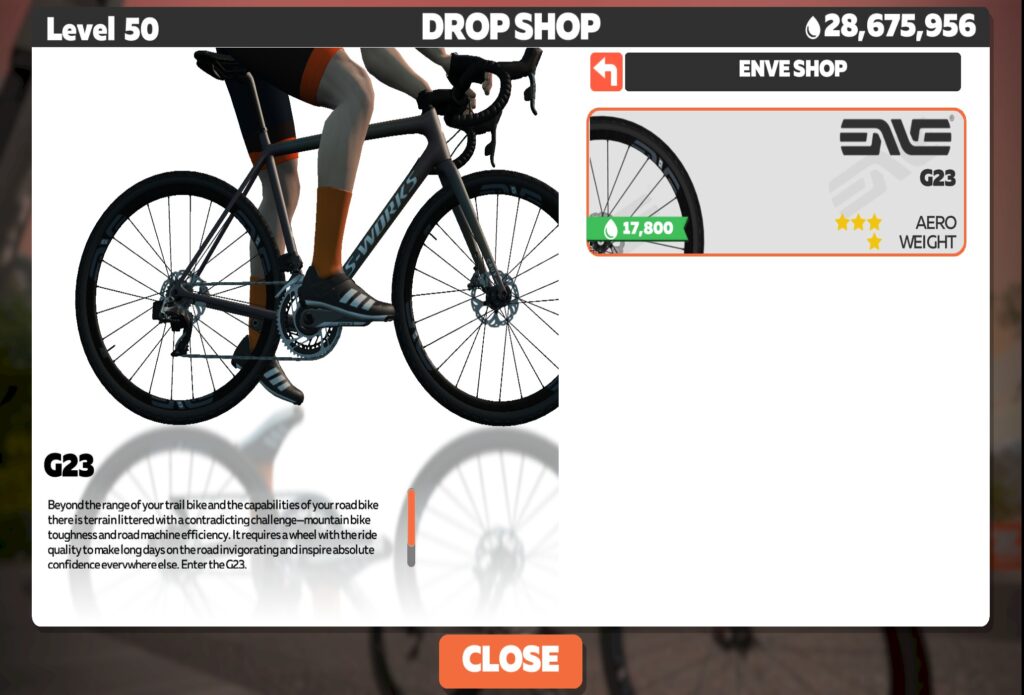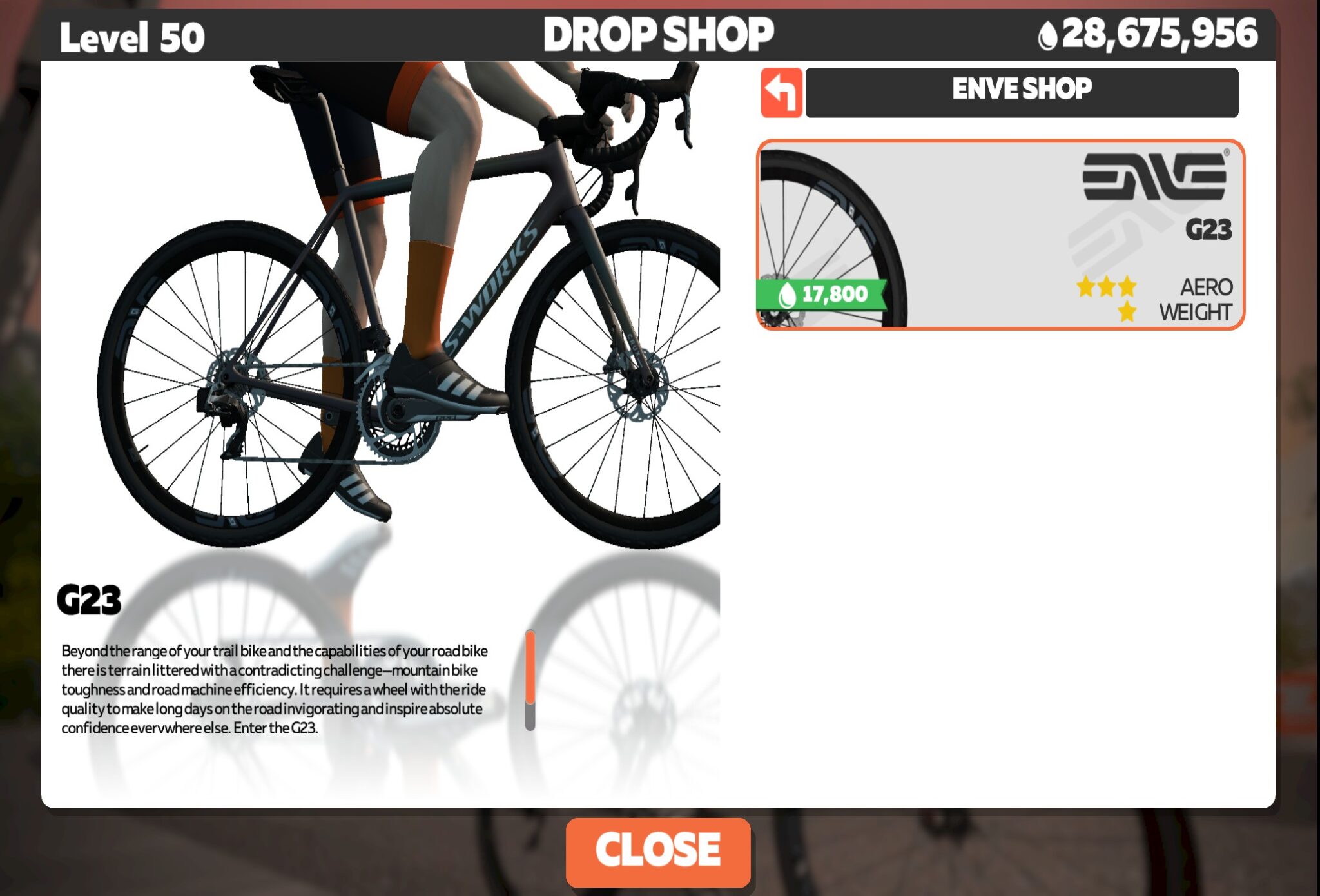 Two new gravel wheelsets have been added as well.
ENVE G23 (no level requirement, 17,800 Drops): 3 stars for aero, 1 for weight
Roval Terra CLX (no level requirement, 17,800 Drops): 3 stars for aero, 1 for weight
This is a notable development, actually, because until now, all the gravel bikes in game used the Zwift Gravel wheelset. (Similarly, all of the mountain bikes use the Zwift Mountain wheelset.) So this is Zwift's first expansion into offering wheelset options for gravel bikes.
Both wheelsets are low-priced with no level requirement, so they are very attainable by all Zwifters. Presumably, they perform at least slightly better than the stock Zwift wheelset. But we'll run tests and find out!
Groupset Bugs Fixed?
Zwift's list of bug fixes in this update includes this line: Fixed an issue with the SRAM RED 2021 rear derailleur being slightly underpriced, and a tad bit too light.
Our tests are indicating they've fixed the groupset issue that slowed the Cervelo S5 2020 – it seems to have returned to its original speediness. (We're not just why the text says it was a "tad too light" though, because that wouldn't make the frame slower…)
We're hoping this means Zwift has also turned their attention to the longer-standing Dura-Ace 9200 bug. Our tests so far seem to confirm this, but we'll publish hard numbers ASAP.
New Makuri Islands (and Other!) Routes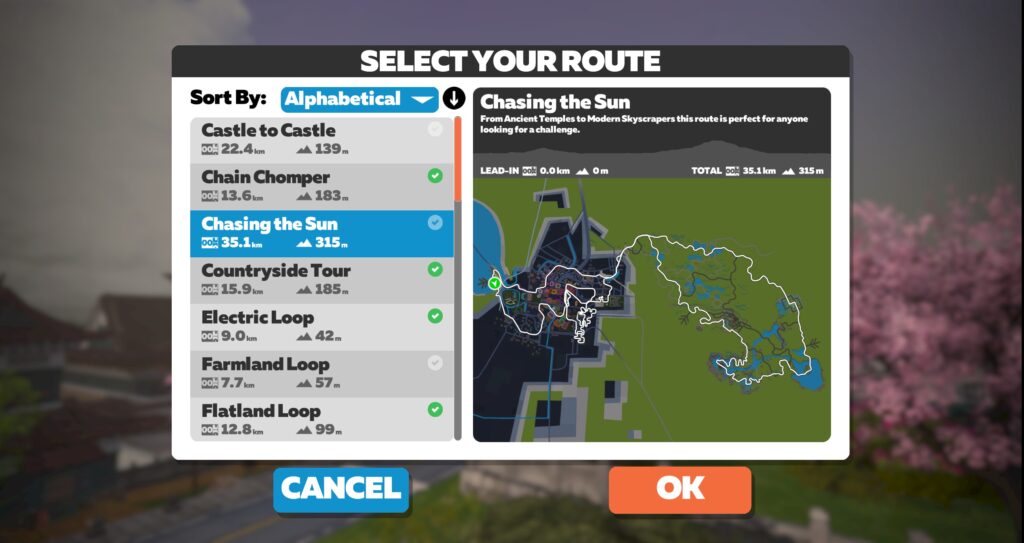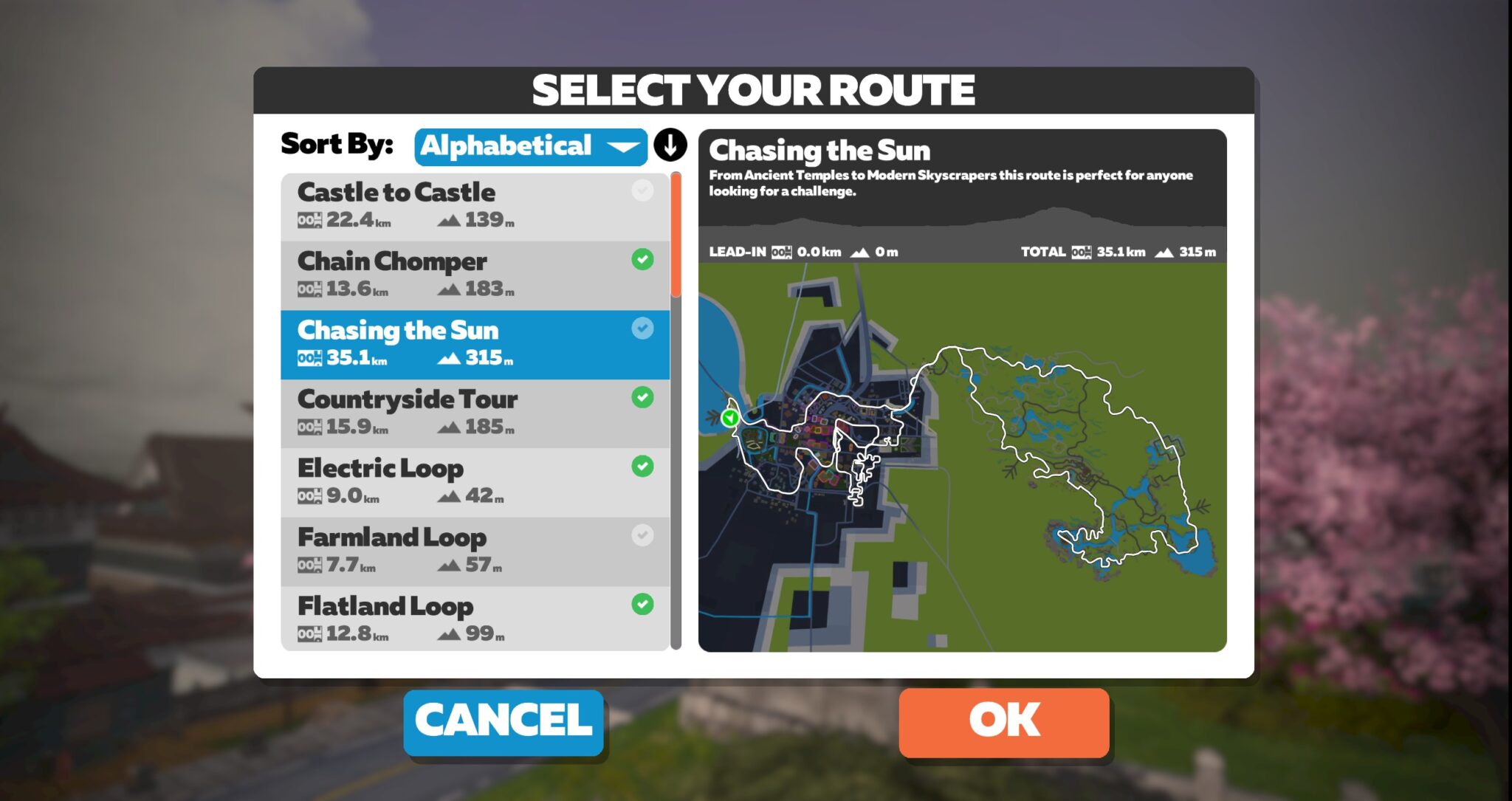 Two routes (and badges!) have been added to the Makuri Islands world. Not fresh tarmac, just fresh routes on existing roads:
Chasing the Sun: the longest and climbiest Makuri Islands route yet, this one takes you on two KOMs and four sprints.
Total distance/elevation: 35.1km/278m
Electric Loop: a flat, short circuit, this route is similar to Twilight Harbor, but in the opposite direction.
Total distance/elevation: 8.9km/30m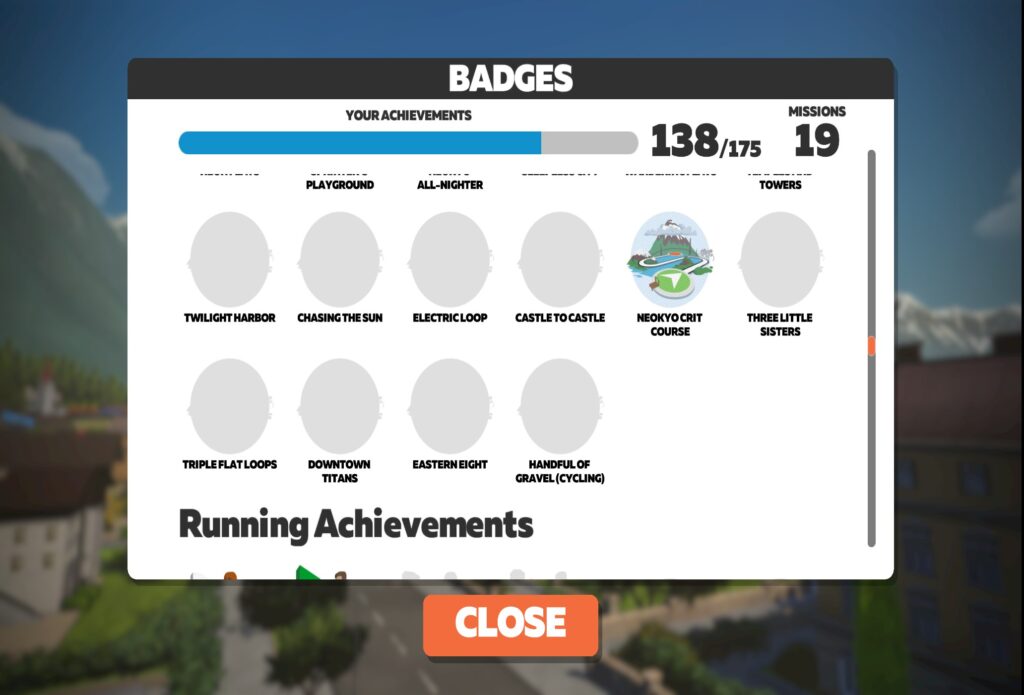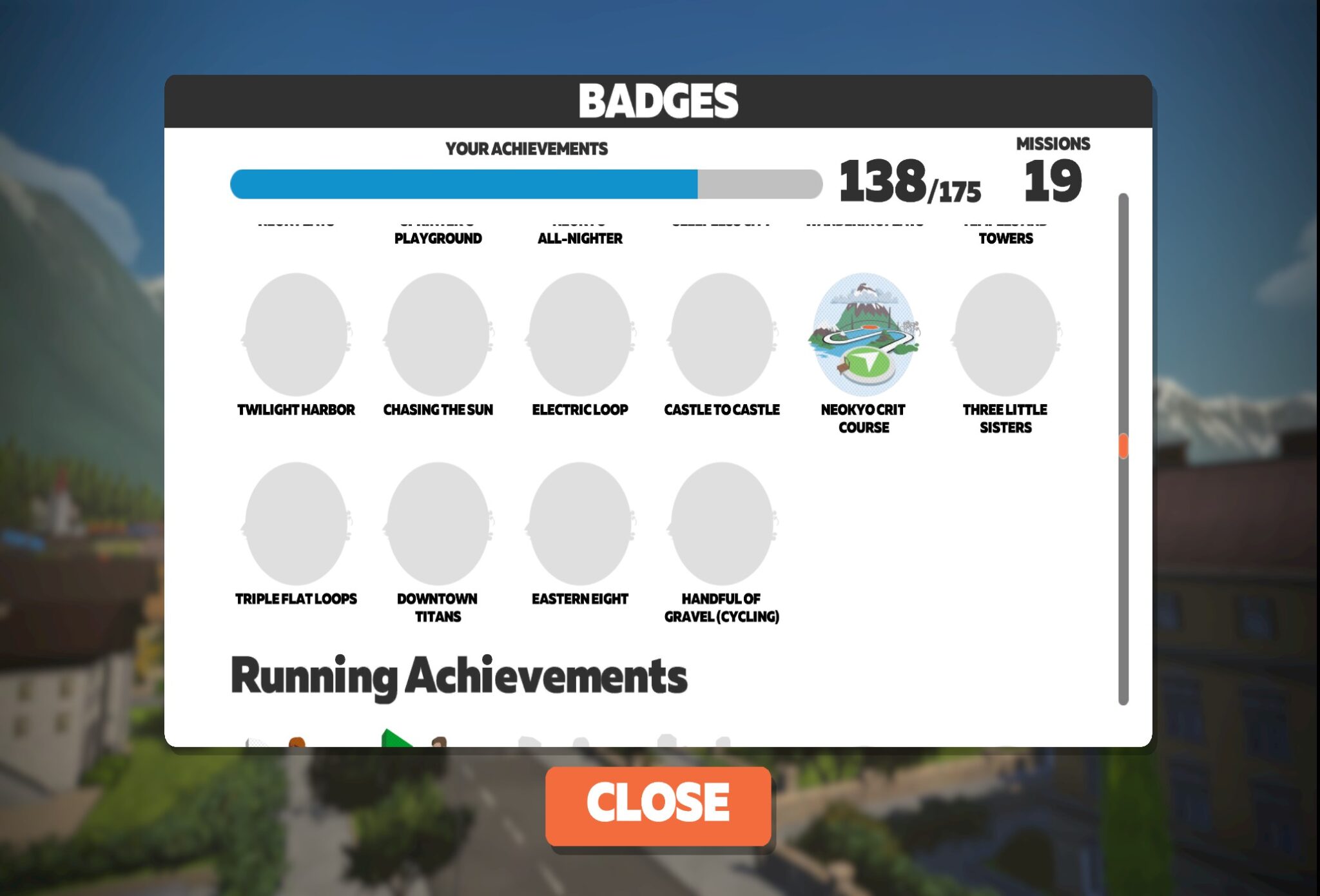 In addition to these free-ridable routes, several event-only Watopia routes arrived with this update… with names that may be familiar to Zwift Insider readers. While Zwift hasn't confirmed this, we wonder if they plan to use these new routes for the upcoming Tour of Watopia, whose homepage was just refreshed. Double XP, new route badges… registration opens February 22. More on this soon, we suspect!
New Workouts of the Week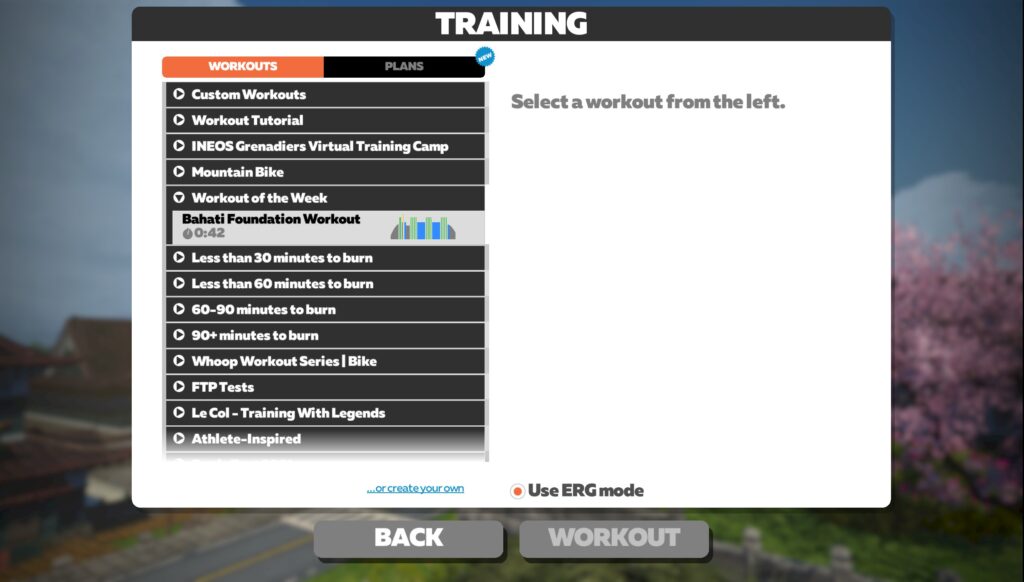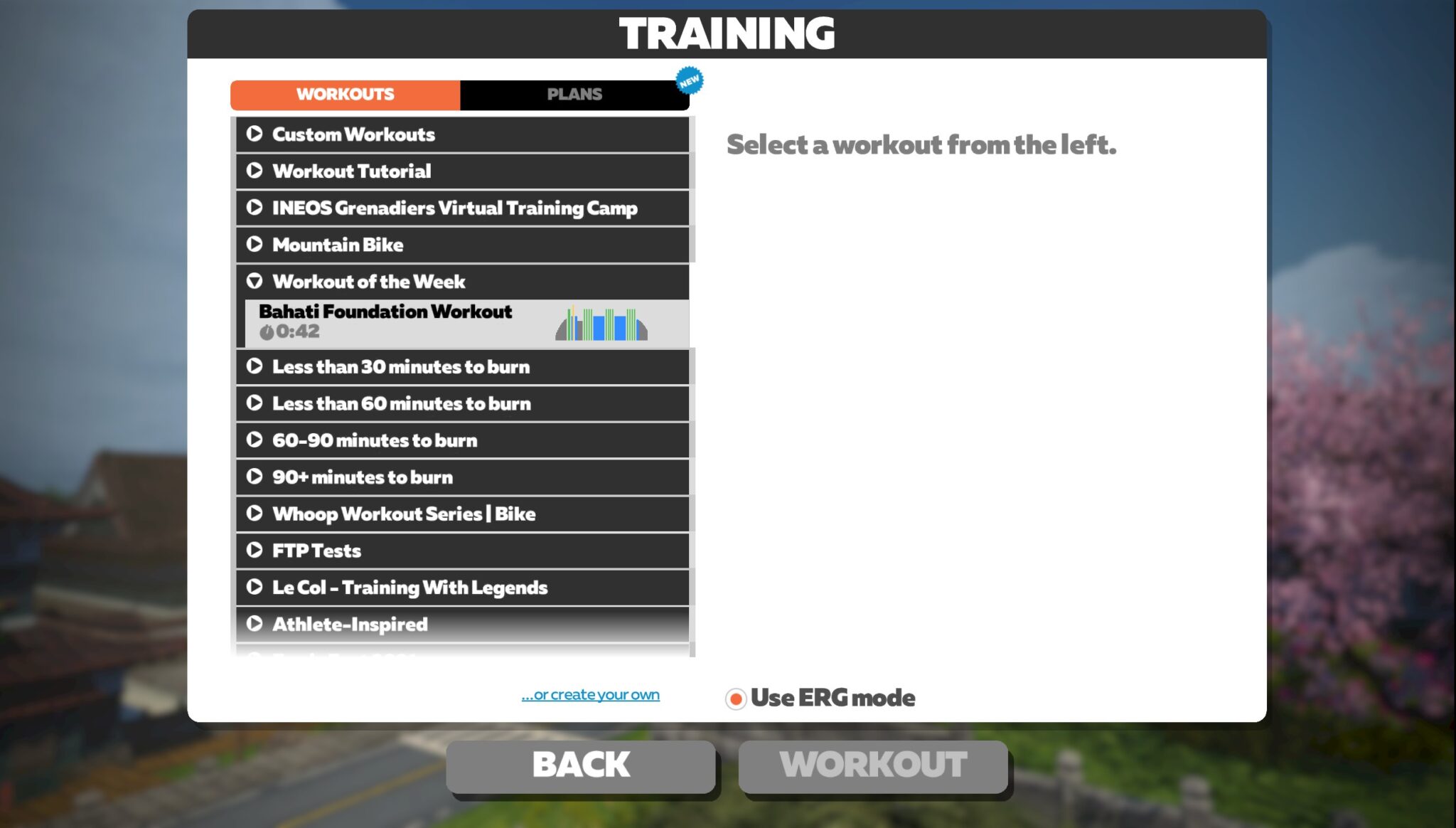 Workouts have been added to the on-demand list for the month of February and March. You can also see the current week's workout, which you can do on your own or in a Wednesday Group Workout.
Feb 14-20: Bahati Foundation Workout
Feb 21-27: Maize Wimbush's Windup
Feb 28-Mar 6: The Bernal
Mar 7-13: Kristin Armstrong – A Gentle Reminder
Workout FTP Bias Change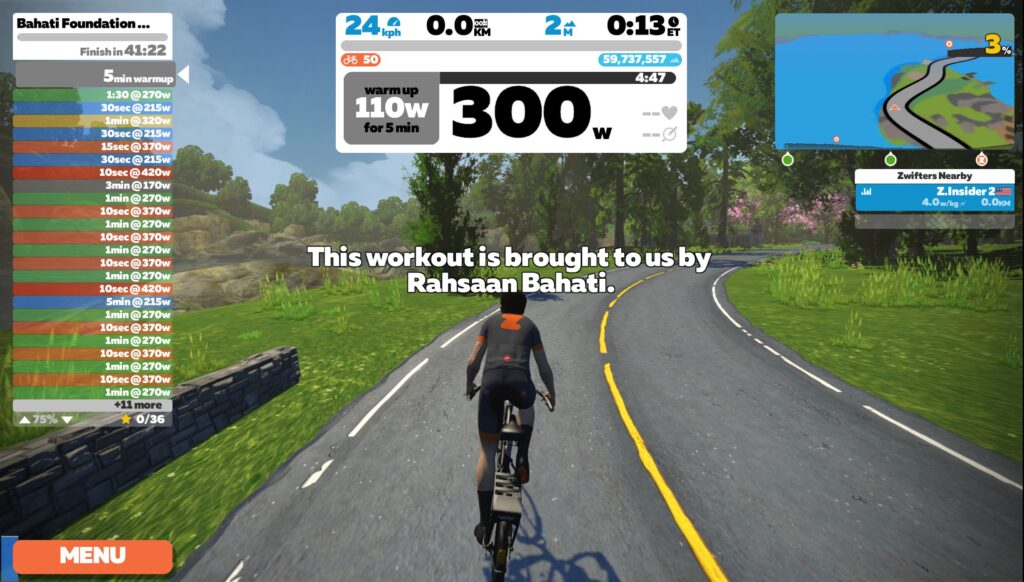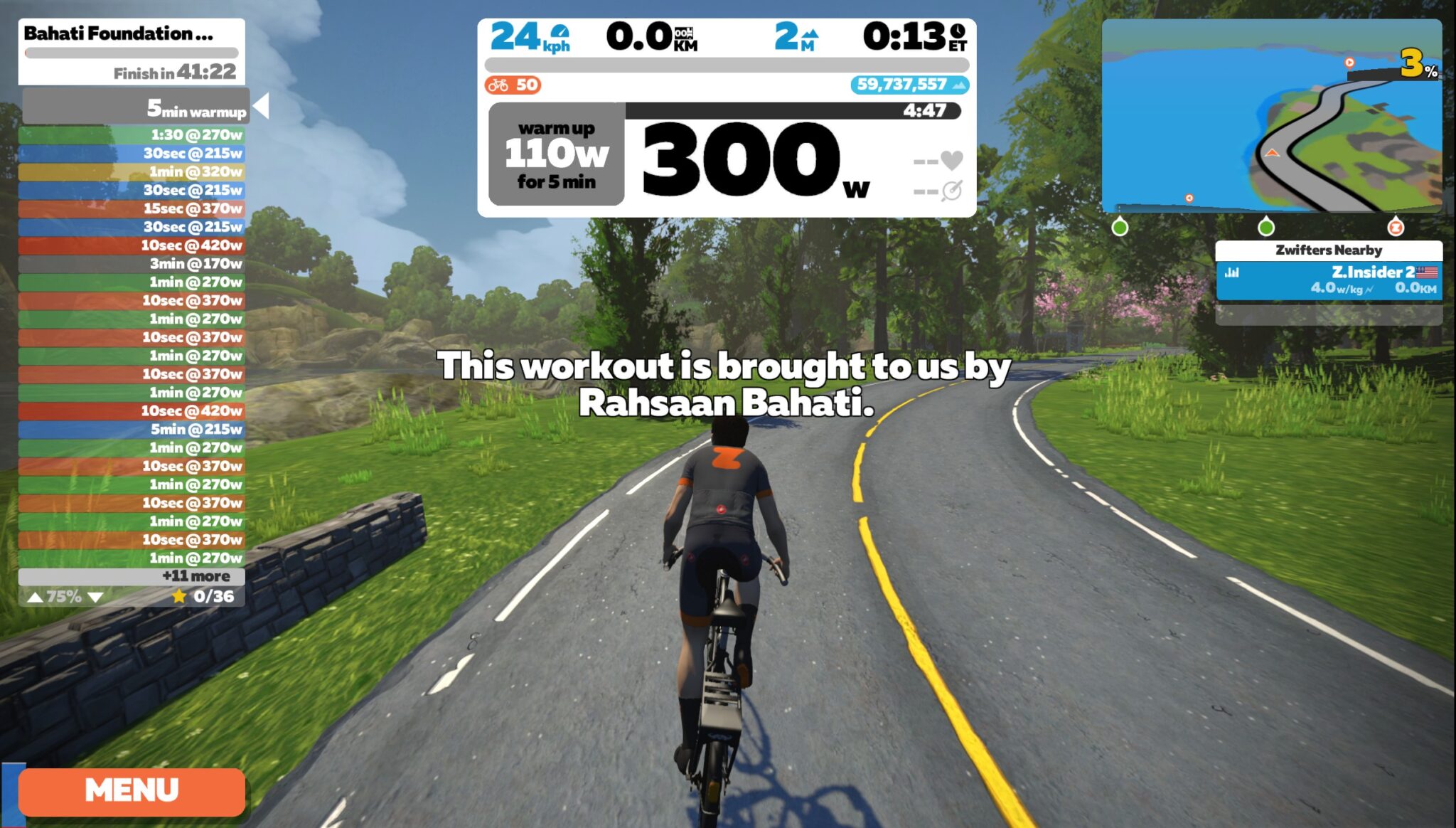 You can now adjust your workout's FTP bias down to -25% and up to +25%. Formerly, the limit was -10% to +10%. You can do this via the Companion app, or by clicking the bias arrows on screen, or using Page Up/Page Down on your PC keyboard.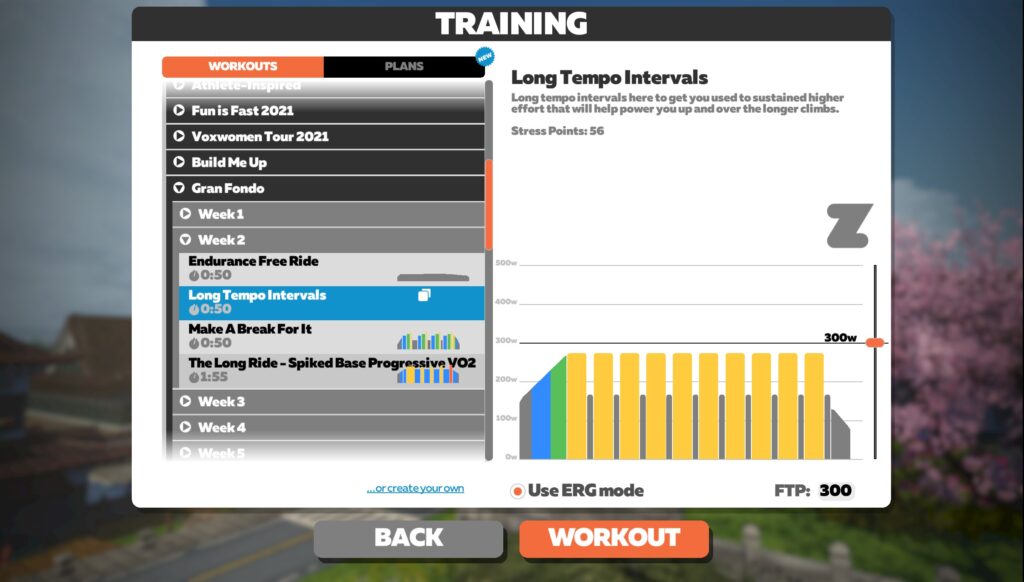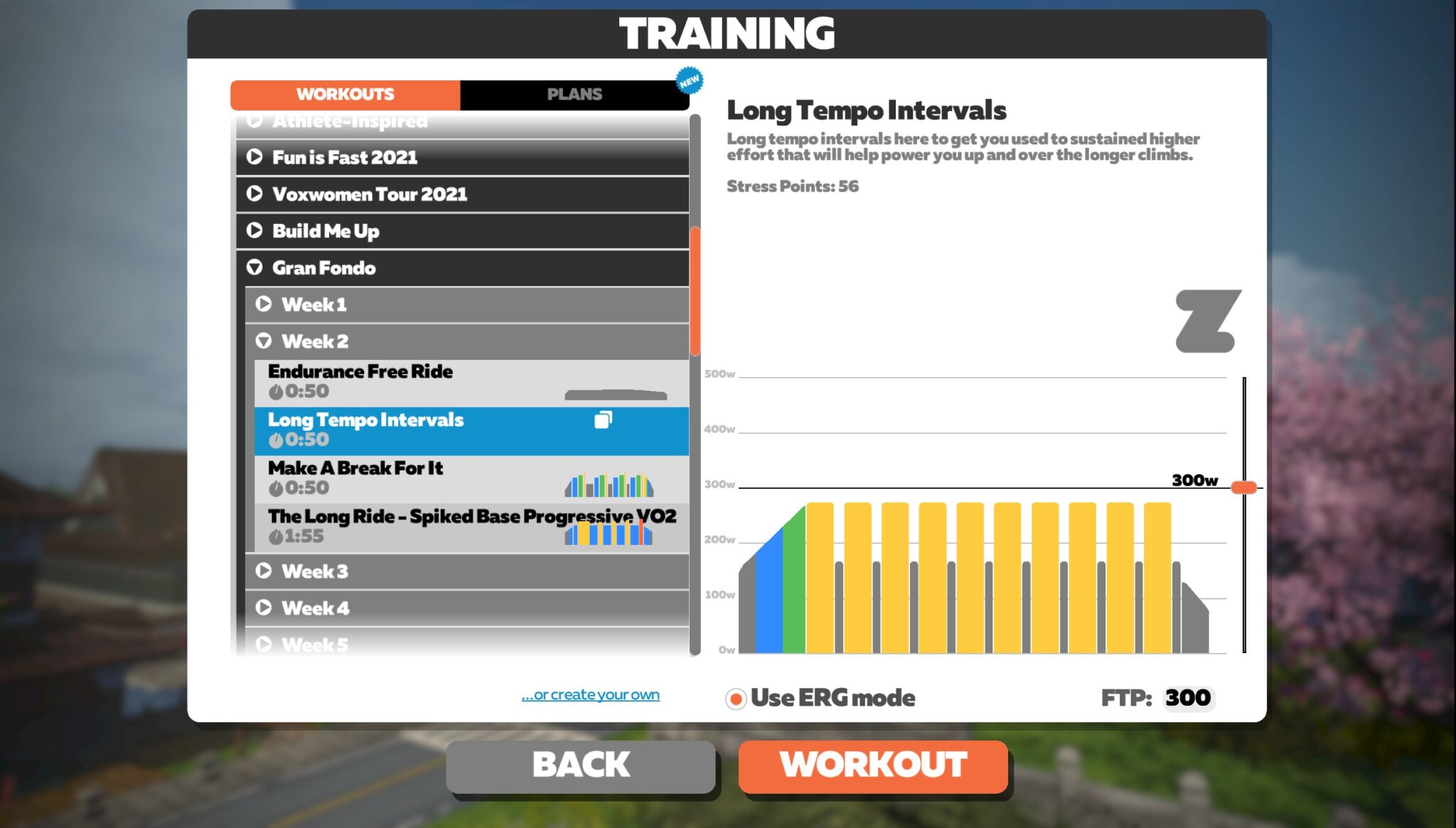 Zwift's three most popular training plans (Build Me Up, Pebble Pounder, and Gran Fondo) are now available as on-demand workouts. This lets Zwifters do the workouts with zero schedule constraints.
It's worth noting that signing up for the actual training plan may still be the smart move. Zwift says, "We continue to encourage you to commit to our full training plans as they are developed by professional coaches to achieve specific goals, provide structure, and follow suggested workout progressions. Plus, who can forget about those sweet sock unlocks!"
See forum discussion on this topic >
In the forum topic above, Zwift says, "In our next phase of work, we are continuing to fuel flexibility within our training plans, including unlocking workouts for longer periods and extending time in which workouts can be completed. These updates are under development and expected to roll out in the coming months." That's good news, as Zwifter have complained about the inflexibility of Zwift's "flexible" training plans since the day they rolled out.
Bug Fixes and Misc Improvements
Here's Zwift's list of fixes and improvements included in this update, with notes in italic from us:
Flexible Training Plan Workouts now unlock at 12:01am on Monday. We're not sure when they unlocked previously, but this seems like the right time to unlock stuff for the week.
Connectivity alerts will immediately disappear when the issue is resolved and will only remain on screen for 60 seconds if the issue remains unresolved.
Added a label above the Challenges UI in the pause menu to help Zwifters find their Challenges. Hopefully this means we'll get fewer emails asking "How do I sign up for the Tron challenge?"
Fixed an issue where an invalid day would be selected in the date of birth UI in certain situations.
Fixed an issue where the date of birth change would not be saved if unit of measure is changed before saving.
Fixed an issue where the save button would not work when updating run paces in the Zwifter profile.
Fixed an issue where suggested run paces would be saved even if the Zwifter cancels the change.
Fixed an issue causing XP to be awarded for certain skipped workout blocks. Take that, cheaters!
Fixed an issue causing certain workout blocks to appear invisible in the Workout Editor.
Fixed an issue with the gradient display in London when riding in the countryside. Is this the fix to the long-running London gradient bug? We sure hope so.
Fixed an issue causing activity title changes to not properly sync with 3rd party partner sites.
Fixed an issue with some segment times not being displayed correctly.
Fixed an issue where Pace Partner pace would be truncated.
Fixed an issue causing all running Pace Partners to show Category A.
Fixed an issue causing bikes to spawn at a strange angle. All bikes will now spawn parallel to the road.
Fixed an issue causing riders to swerve in some situations on the Railways and Rooftops and Sprinters Playground routes in Neokyo.
Fixed an issue that allowed some runners to make a U-turn in an event.
Fixed an issue where some Zwifters would be stuck at "Finding Riders" when late joining an event. Seemed like a fair consequence for showing up late, but if Zwift wants to be nice…
Fixed an issue causing a dead end to appear in the Neokyo mini-map.
Fixed an issue causing flickering in certain parts of the Rooftop Rendezvous route.
Fixed an issue where the whale in Watopia was flickering between timelines. We've ensured they will now remain in the best timeline. More evidence of Zwift's parallel universes.
Updated the name of our famous pizza socks to actually be called Pizza Socks in the garage. Who says Zwift's dev team isn't doing big things? Take that, haters!
See Wes Salmon's notes on this update release in the Zwift forum >
Questions or Comments?
If you spotted any other changes or bugs in the update, please comment below!